Grading the Green Bay Packers' Entire 53-Man Roster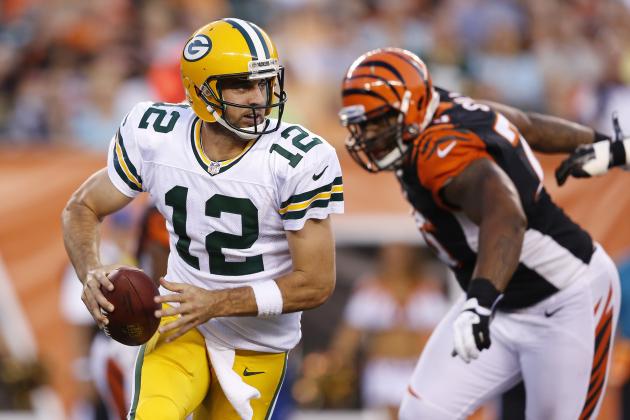 Joe Robbins/Getty Images
Aaron Rodgers
Even though the Green Bay Packers may have made a couple surprise cuts this past week and kept a few players on their roster that aren't household names, the core of the team is intact.
This is still a team that, despite losing in the playoffs, went 15-1 last season and will be among the best in the NFC again in 2012.
The Packers have a roster that's filled with key veterans at almost every position that makes them better than the average NFL team.
Begin Slideshow

»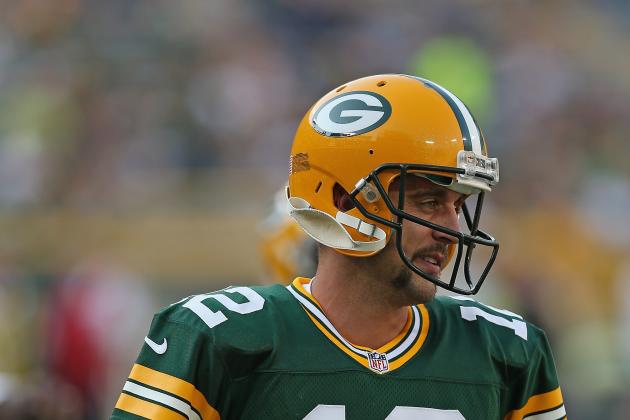 Jonathan Daniel/Getty Images
Aaron Rodgers
Quarterbacks: Aaron Rodgers, Graham Harrell
Aaron Rodgers alone deserves an "A" rating, but it's the uncertainty behind him that brings the Packers' quarterback position down to an "A-" level.
Without a doubt, Rodgers is among the best players at his position in the NFL. About the only players that can give him a run for his money are Drew Brees, Tom Brady and the Manning brothers.
As long as Rodgers is healthy, the Packers are in fine shape. But behind him, Graham Harrell doesn't inspire a whole lot of confidence.
For three out of four preseason games, Harrell played downright poor. In his final exhibition outing, Harrell finally had a positive performance, one that might have saved his job.
Still, he's never so much as played in a regular season game, and his ability to lead the Packers to victory in one game or several games is in question.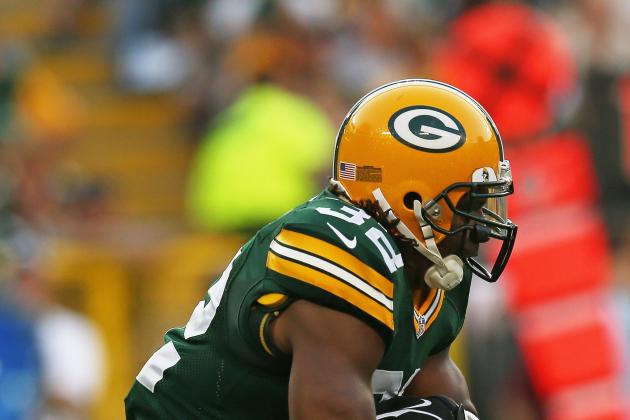 Jonathan Daniel/Getty Images
Cedric Benson
Running backs: Cedric Benson, James Starks, Alex Green, Brandon Saine, John Kuhn
Until the Packers see him in a regular season game, there's still a degree of uncertainty about Cedric Benson. But based upon the team's third preseason game when the starters played the entire first half, Benson gave the impression that he can really be a benefit to Green Bay's running game.
Fumbling has been an issue for Benson for the past several seasons—12 fumbles in the past two seasons alone. In the final preseason game, those concerns came to the fore by losing the ball against the Chiefs. Whether it continues to be an issue remains to be seen.
The future of James Starks is more up in the air than ever. Despite missing the past few weeks with a turf toe injury and no end in sight, the Packers decided not to place Starks on injured reserve. They are, however, at a point that they can no long rely upon Starks until he proves he can stay healthy.
Following last year's torn ACL, Alex Green has done nothing but good things upon his return. He hasn't exactly wowed anyone during training camp, but he's stayed healthy and durable, which is more than can be said about Starks. For at least the early going, Green will back up Benson, and he's probably only going to get better each day removed from his debilitating knee injury a year ago.
The Packers put some faith in Brandon Saine even though he missed several weeks of camp with a hamstring injury. If healthy, he has the potential to be Packers' third down back considering his speed and receiving ability out of the backfield.
For the time being, the third-down back role goes to John Kuhn who's also the only fullback on the Packers' roster. Kuhn isn't going to blow anyone away, but he's a reliable blocker, receiver and short-yardage runner.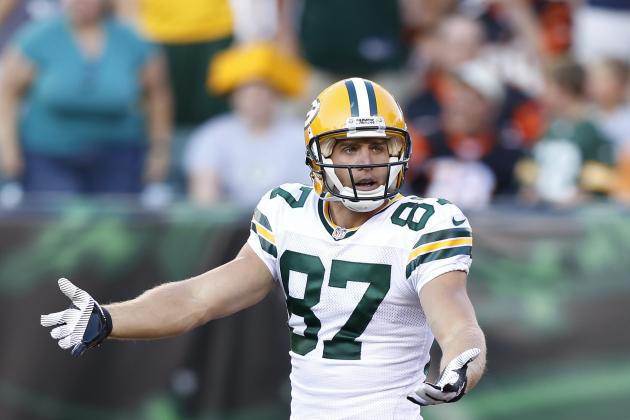 Joe Robbins/Getty Images
Jordy Nelson
Wide receivers: Greg Jennings, Jordy Nelson, Randall Cobb, Donald Driver, James Jones, Jarrett Boykin
Until proven otherwise, wide receiver is the best position on the Packers top to bottom.
Led by Greg Jennings and Jordy Nelson, they form an impressive starting duo that has fantasy football owners drooling. With how often the Packers pass the ball, they both figure to put up big numbers and won't necessarily prevent each other from getting their fair share of receptions.
Randall Cobb looks like he's about to take the next step in his progression. He'll still be the Packers' top kick and punt returner but he also figures to play a more prominent role on offense in 2012. His playmaking ability is only going to make the offense better and more dangerous.
Some have speculated Donald Driver's best days are behind him, but he didn't do anything during training camp to prove that he should have retired. He may play fewer snaps than he has in previous seasons but Driver is still in the team's plans.
In other speculation, James Jones was rumored to be a target of the Miami Dolphins via trade but nothing has come to fruition. Jones will do the same thing he's done for the past several years and that's be a possession receiver that's great at gaining yards after the catch.
Jarrett Boykin turned an impressive training camp and preseason into a spot on the Packers' roster by earning the Packers' sixth receiver spot ahead of players like Tori Gurley and Diondre Borel. His opportunities may be limited in the regular season, but he has a bright future.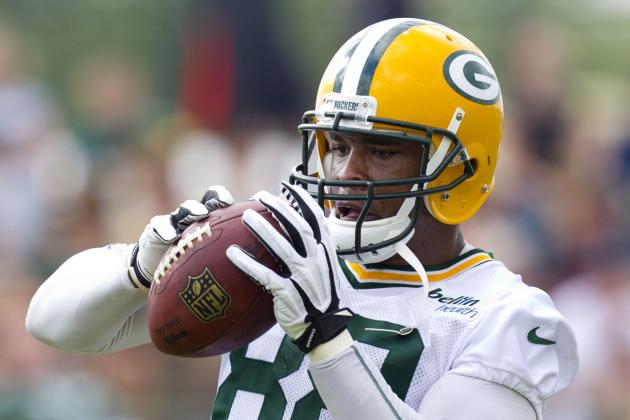 Jeff Hanisch-US PRESSWIRE
Jermichael Finley
Tight ends: Jermichael Finley, D.J. Williams, Tom Crabtree, Ryan Taylor
It's been said many times, Jermichael Finley has a ton of ability and potential. All that's left for him to do is make good on it.
Finley missed a lot of time during training camp but finally got healthy toward the end, played in the final preseason game and looks like he's ready for the regular season. The only question left is whether he can make a statement.
Joining Finley in the potential category is D.J. Williams who showed a lot of promise over the past month or so. He looks like he might be able to play a role on the Packers' offense, which is something he didn't really do as a rookie.
There's a little bit of uncertainty about Tom Crabtree considering the shoulder injury he suffered in the team's third preseason game. By making the 53-man roster, the Packers must have faith that Crabtree will not miss much time.
Ryan Taylor is in much the same boat as Crabtree, also missing some time late in training camp with a chest injury but he figures to be a key special teams player at the very least when he's healthy.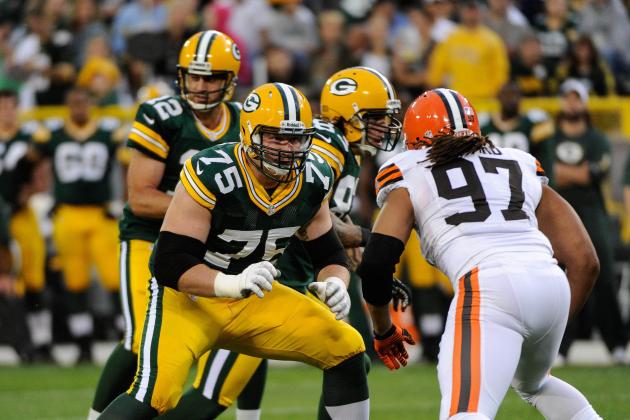 Benny Sieu-US PRESSWIRE
Bryan Bulaga
Offensive line: Marshall Newhouse, T.J. Lang, Jeff Saturday, Josh Sitton, Bryan Bulaga, Evan Dietrich-Smith, Don Barclay
The biggest question mark about the Packers' offensive line at the moment is its depth, but the starting five has very few question marks.
Left tackle Marshall Newhouse is relatively solid compared to the players the Packers experimented with and cut during training camp like Herb Taylor, Reggie Wells and Andrew Datko. He still has to prove, however, that he can be trusted to protect Aaron Rodgers' backside when the stakes are at the highest.
Guards T.J. Lang and Josh Sitton have both signed long-term contract extensions over the course of the past year and are a big part of the Packers' future plans. They may not be Pro Bowl performers yet, but it's not out of the question that they will be.
If there are any questions that Jeff Saturday is over the hill, he hasn't given any indication that's the case. He may not be part of the Packers' future for more than a season or two, but he's being expected to be their starter this season and play at a high level.
All Bryan Bulaga has done is get better every season, every game, and there doesn't appear to be any end in sight to that continual improvement. The Packers arguably have one of the better right tackles in the NFL in Bulaga and can consider themselves lucky for that.
The only two backups are veteran Evan Dietrich-Smith and and undrafted rookie Don Barclay, but it wouldn't be surprising to see the Packers make a move to acquire another offensive lineman in the next several days, because it's risky to enter a season with only seven on the roster.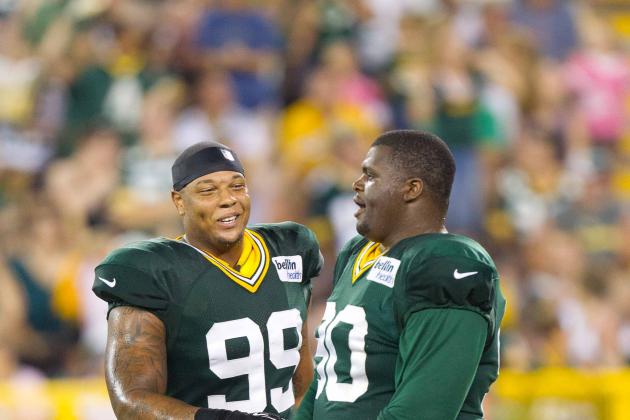 Jeff Hanisch-US PRESSWIRE
Jerel Worthy and B.J. Raji
Defensive linemen: B.J. Raji, Ryan Pickett, C.J. Wilson, Jerel Worthy, Mike Daniels, Phillip Merling
B.J. Raji might be the only three-down defensive lineman on the Packers defense at the moment, which is valuable in itself. They'd still prefer to see more pass rush out of him than they got in 2011. Maybe being part of a rotation will help him stay fresh.
Ryan Pickett and C.J. Wilson will be counted upon to be run-stuffers in the Packers' base defense and short-yardage situations. They might not exactly be great pass-rushers but they're not expected to be either.
The role of rushing opposing quarterbacks will fall primarily on the shoulders of a pair of draft choices: Jerel Worthy and Mike Daniels. They'll likely pair with Raji on passing downs as the Packers' tackles in their subpackage defense.
Earning the job of the Packers' sixth defensive lineman is Phillip Merling who was the 32nd overall draft choice of the Miami Dolphins in 2009. He has the potential to be a three-down player and pass-rusher but still has a lot to prove and will have to show more over the course of the next month if he's going to stick around once Mike Neal comes off his suspension following the first four games of the season.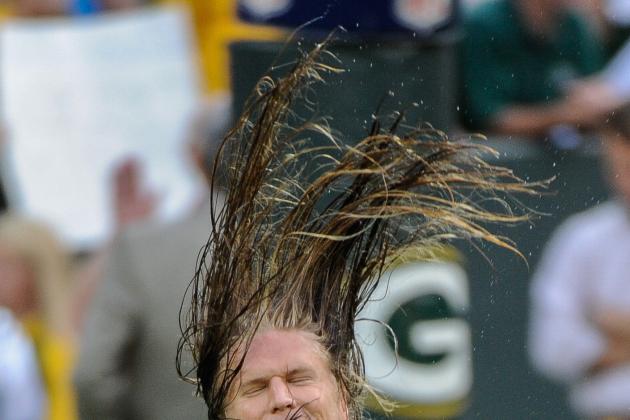 Benny Sieu-US PRESSWIRE
Clay Matthews
Outside linebackers: Clay Matthews, Nick Perry, Dezman Moses, Brad Jones
Perhaps more than any other position on the roster, the outside linebackers exceeded expectations over the course of training camp.
Clay Matthews has done extremely well over the past three seasons and will be expected to continue to play at a high level. He was joined by a couple of pleasant surprises at the outside linebacker position.
First-round draft choice Nick Perry got off to a slow start to training camp but seemed to get better as time elapsed. He showed a good display of strength and power but he'll have to diversify his pass-rushing repertoire.
Among all the rookies on the team, Dezman Moses might have turned the most heads with his solid play since being signed by the Packers back in April. He might have a difficult time finding playing time on defense but he should at least be a primary special teams player.
Brad Jones will also continue to be a special teams contributor and has the added value of being able to play inside linebacker as well.
Erik Walden may not be on the 53-man roster at the moment but he should be after spending a one-week suspension away from the team. His solid play during the preseason has all but guaranteed he'll spend another season with the Packers.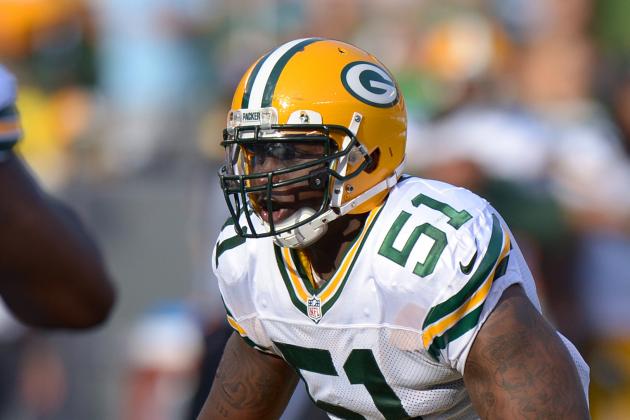 Jake Roth-US PRESSWIRE
D.J. Smith
Inside linebackers: A.J. Hawk, D.J. Smith, Rob Francois, Jamari Lattimore, Terrell Manning
Now that Desmond Bishop's season has officially come to a close, the Packers will depend upon A.J. Hawk to provide a veteran's presence at inside linebacker and be a leader of the defense. They would certainly benefit if Hawk could provide some big-play ability, too.
Taking Bishop's spot in the lineup will be second-year linebacker D.J. Smith. So far, Smith hasn't done anything to make anyone think that he can't do the job. He just has to prove he can do it for an entire season.
One of training camp's pleasant surprises was Jamari Lattimore who made the successful transition from outside to inside linebacker and will be a core special teams player.
There's some concern that Rob Francois will miss some time during the regular season with a hamstring injury, but as a backup, the Packers' fortunes will probably not be affected by Francois' presence or absence.
One of the more surprising player to make the Packers' roster is rookie Terrell Manning, but after investing so much into the young linebacker by trading up to get him in the draft, Green Bay is committed to his development.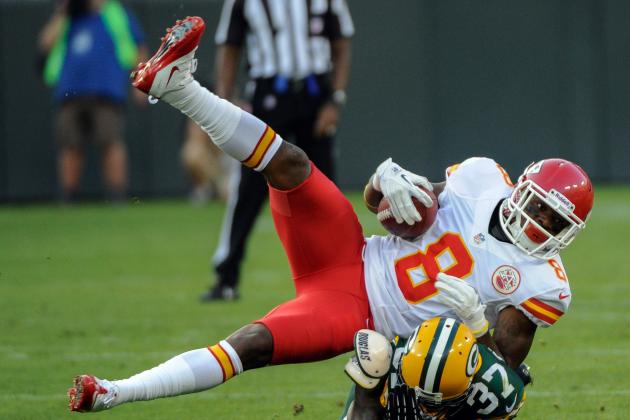 Benny Sieu-US PRESSWIRE
Sam Shields
Cornerbacks: Tramon Williams, Sam Shields, Casey Hayward, Jarrett Bush, Davon House, Brandian Ross
Coming into training camp, there was concern that Williams wouldn't be the same player after injuring his shoulder last season, but all signs are pointing in the right direction for Williams. He'll be counted upon to be a key player on the Packers defense.
There was a point in time when Sam Shields found himself in the coaching staff's doghouse due to a lack of aggressive play last season. He was demoted early in training camp but after coming back from an early-season elbow injury, Shields has come on as of late and is making a push to become the starter opposite Williams.
Davon House was stating his case to be a starter on defense before a shoulder injury stopped him in his tracks. It appears as if he avoided surgery and will return to action at some point in the future, but he has to prove he can be the same player he was early in training camp.
Once House went out, Casey Hayward got an opportunity to become a starter on defense but, in typical rookie fashion, had his ups and downs. Hayward has a lot of potential but still has to become a consistent performer.
Just as he's done since 2007, Jarrett Bush is making a play to be part of the Packers defense thanks to some aggressive tackling, although his cover skills are still in question. At the minimum, he'll be a special teams leader.
Brandian Ross has impressed enough to win a job as the sixth cornerback but with so much depth at the position, his spot on the team is in question if the Packers acquire another offensive lineman or Erik Walden comes back from suspension.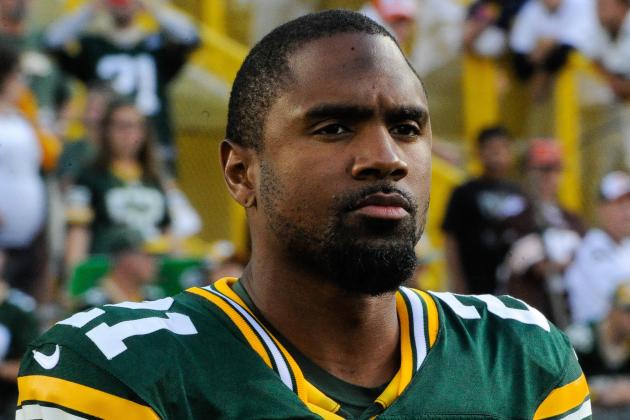 Benny Sieu-US PRESSWIRE
Charles Woodson
Safeties: Charles Woodson, Morgan Burnett, Jerron McMillian, M.D. Jennings, Sean Richardson
There's still some question how effective Charles Woodson will be as a safety in the Packers' 3-4 defense, but he brings a wealth of experience at the very least. He'll also continue to play a slot cornerback position when the Packers are in their subpackage defenses.
Morgan Burnett will be a starter and three-down player for the Packers but he has to take the next step and become an impact playmaker.
It's unknown who will step in at safety when Woodson moves to cornerback, but fourth-round draft choice Jerron McMillian may have the inside track on the job. He showed an ability to be an aggressive, in-the-box safety during training camp but still has to prove he can be effective in coverage.
M.D. Jennings was a bit of a disappointment after getting first crack to be the Packers' nickel safety and doing very little to show he deserves to be on the field. Still, he has experience in the Packers' system, and they're not giving up on him yet.
Sean Richardson made the 53-man roster as an undrafted rookie and shows a lot of potential. He should be a special teams player early in his career.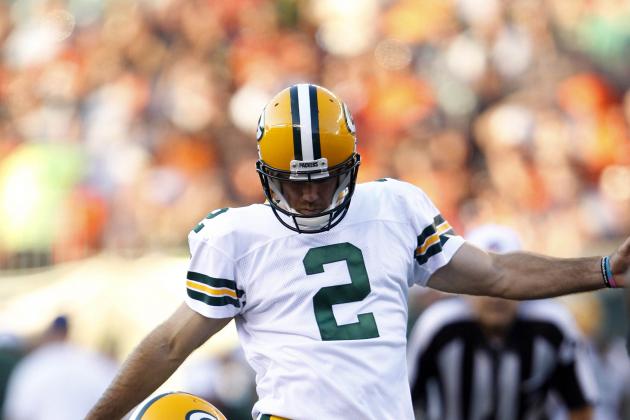 Frank Victores-US PRESSWIRE
Tim Masthay and Mason Crosby
Specialists: Mason Crosby, Tim Masthay, Brett Goode
None of the Packers' specialists had any competition during training camp and they've done well enough to prove they don't need any either.
Kicker Mason Crosby is coming off a career-best season in 2011, and the Packers hope he can keep up his high level of play for another year.
Punter Tim Masthay had the best season by a Packers punter in team history last year, at least from a statistical standpoint, and he seems to be getting better all the time.
Long snapper Brett Goode has yet to have a bad snap in his first three seasons in Green Bay and will get the opportunity for a fourth.