NFL: Ranking the 5 Toughest Schedules in September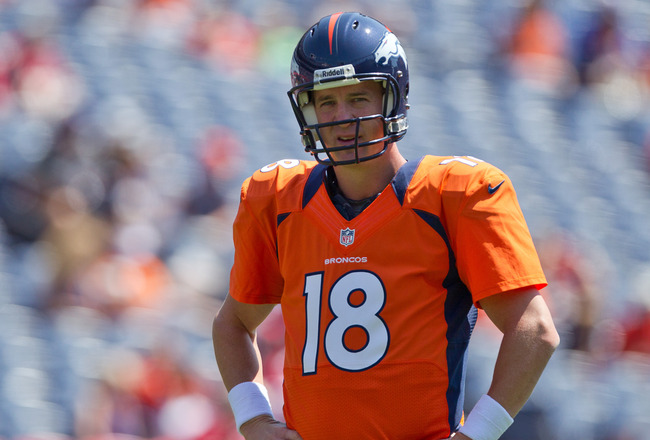 Justin Edmonds/Getty Images
In a league where a team only plays 16 games in a season, getting off to a good start is mighty important.
Sure there are those teams who come out of the gates a little rough and end up making the playoffs. There are also teams like last year's Bills who hit the ground running only to fizzle out at the end.
But it's really the teams that play the most consistent ball over several months that make the biggest impact, and that means starting off on the right foot.
Some teams will have an easy go of it and others will run the gauntlet. With that in mind, let's take a look at the 10 toughest schedules to open the season.
Kansas City Chiefs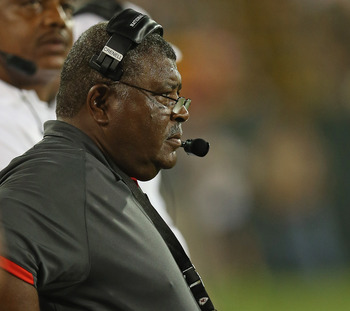 Jonathan Daniel/Getty Images
Week 1: Atlanta
Week 2: @ Buffalo
Week 3: @ New Orleans
Week 4: San Diego
The Chiefs have garnered some well-deserved attention this offseason as potential front runners for the AFC West crown.
This team was riddled with injuries in 2011, including two that cost them their electrifying tailback, Jamaal Charles, and their Pro Bowl safety, Eric Berry, for the season. Despite all this, Kansas City finished strong at 7-9, adding a big win over the Packers.
This year, however, Kansas City will have to come firing out of the gates if they want to contend.
Opening up at home is always fun, but not against an improved Atlanta team. Two travel weeks to a tougher-than-you-think Buffalo and New Orleans will prove to be two more battles for the Chiefs, while they open up their division schedule in week 4 against the Chargers.
I'd say Kansas City has a legitimate chance to win three of these games, but it wouldn't be a shock if they only came away with one.
New Orleans Saints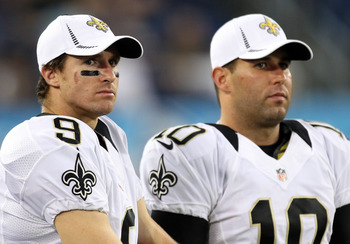 Joe Murphy/Getty Images
Week 1: Washington
Week 2: @ Carolina
Week 3: Kansas City
Week 4: @ Green Bay
As if the penalties of bounty-gate weren't a big enough slap in the face, the Saints couldn't be overly enthused when they saw how they'd be starting their 2012 season.
They should grab a win over Washington in Week 1, but who knows what RGIII will bring to the table in his first game and what the impact of all the sanctions and suspensions will be on the Saints.
Heading to Carolina could end up being a major shoot-out and Kansas City won't be a pushover in Week 3 (ask Green Bay).
Speaking of Green Bay, the Saints will head to Lambeau to round out a daunting September schedule.
New Orleans only faces one top-tier team in the first four weeks, but with all the things swirling around the Super Dome right now, KC and Carolina could prove to be trap games for the Saints.
Cleveland Browns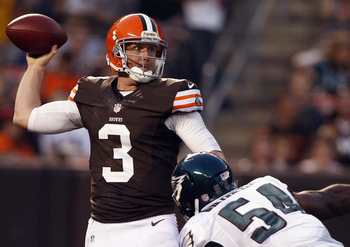 Matt Sullivan/Getty Images
Week 1: Philadelphia
Week 2: @ Cincinnati
Week 3: Buffalo
Week 4: @ Baltimore
Honestly, the Browns don't have a bad team on their schedule this year. And being a bad team themselves, that's not good news.
It could end up being a long September for a Cleveland team that boasts rookies at quarterback, running back and maybe wide receiver, depending on how well Josh Gordon plays.
Opening up with the Eagles isn't ever fun for anyone, but at least the Browns will avoid the Philly faithful and get to play at home. But two road-division games against the Bengals and Ravens with a home matchup against the Bills sandwiched in is pretty scary.
Brandon Weeden could suffer the most from the September schedule. He'll be facing some of the leagues top pass rushers, especially against the Eagles and Bills.
Cleveland doesn't figure to win many games this year (if any at all), and I wouldn't expect a great start from the dog pound in 2012.
Denver Broncos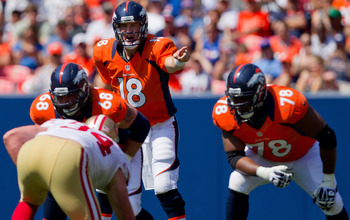 Justin Edmonds/Getty Images
Week 1: Pittsburgh (Sunday Night Football)
Week 2: @ Atlanta (Monday Night Football)
Week 3: Houston
Week 4: Oakland
Going by last year's numbers, only the Giants have a harder schedule than the Broncos in 2012.
Peyton Manning makes his triumphant return to the NFL in prime-time fashion, headlining nationally televised games in the first two weeks.
But Peyton and Co. won't be getting any free passes. Pittsburgh boasted the No. 1 pass defense last season and is always one of the toughest teams in the league. Atlanta will have home-field advantage for what should be a good ole fashioned shoot out.
The biggest game, however, may come when Houston comes to town. The Texans are very familiar with Manning and won't hesitate to try and make him uncomfortable. September rounds out with a visit from division foe Oakland.
Denver does get saved early a little bit in that they'll only play one road game. But Peyton Manning's first three weeks back will be no picnic.
Green Bay Packers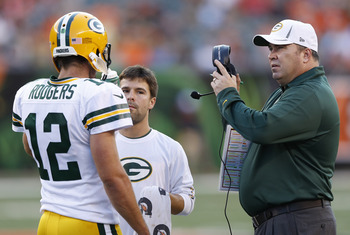 Joe Robbins/Getty Images
Week 1: San Francisco
Week 2: Chicago (Thursday Night Football)
Week 3: @ Seattle (Monday Night Football)
Week 4: New Orleans
I guess going 15-1 doesn't have its perks.
The schedule-makers gave no love to the Packers when they made the first quarter of their 2012 schedule. As if opening up with the 49ers wasn't enough, Green Bay will have to take on division rival Chicago on only four days rest. And that's four days after playing the 49ers. Think they'll be a little sore?
Green Bay catches somewhat of a break by getting a long rest before the long flight to Seattle, but then they're back on short rest to take on the Saints.
I'll be the first to say it if I must, the Packers aren't going 15-1 again this year. Their schedule (and division for that matter) is just too tough. But if Green Bay can come away from these first games with three wins, watch out.
Keep Reading