Notre Dame vs. Navy: Grades, Analysis for Irish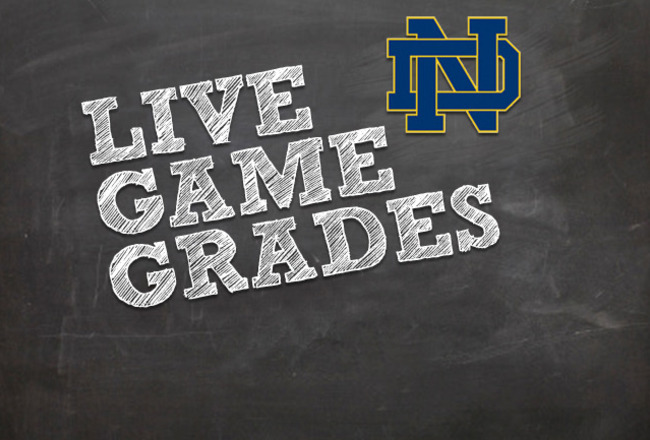 With all of the distractions that were surrounding Notre Dame, many thought this could be a trap game for the Irish. Traveling outside of the country was not hard enough, but playing with a first-year quarterback and a suspended starting running back had many thinking the Navy could pull off an upset.
After a 50-10 victory, it is clear that Notre Dame is an extremely talented team that can shock many people if they continue to do all of the little things correctly. This game was virtually over with when Notre Dame entered halftime with a 27-3 lead.
With a nice little victory to start the season, let's take a look at the grades for each unit.
Quarterback Everett Golson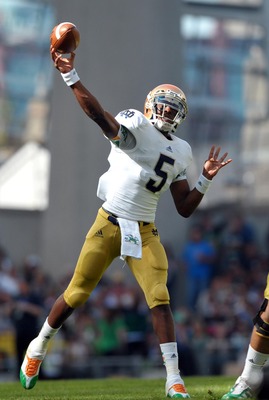 Matt Cashore-US PRESSWIRE
Besides a horrible throw that Everett Golson made in the red zone that was intercepted, the first-year starter had a solid outing. He did a terrific job of managing the game, completing 12 of 18 passes and throwing for 144 yards and a touchdown.
He looked comfortable in the pocket and was not looking to run every chance he had like most dual-threat quarterbacks do. He threw many accurate footballs and put them where only his receivers could get them.
Overall, you have to be impressed with what Golson showed in his very first game as a collegiate athlete.
Grade: B
Running Backs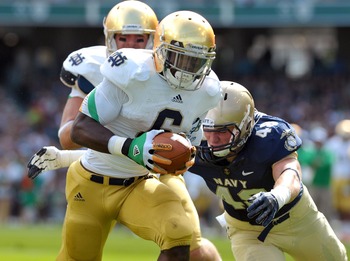 Matt Cashore-US PRESSWIRE
Cierre Wood, who?
With the suspended running back on vacation for the first two games, running back Theo Riddick led the way with 107 yards and two touchdowns. He looks much more comfortable at the running back position than wide receiver and will provide a solid 1-2 punch if he can continue to run like that.
George Atkinson also played well, averaging 11 yards a carry and breaking off a 56-yard touchdown run in the first quarter. With his explosive running style, it is clear that the Irish may have themselves one of the deeper backfields in the country.
Grade: A
Wide Receivers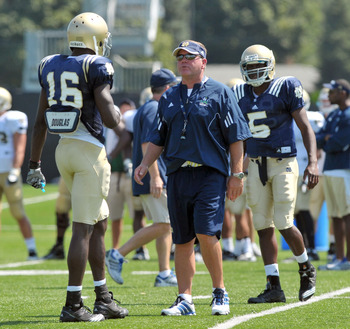 Matt Cashore-US PRESSWIRE
The Irish only threw the ball a total of 23 times, so there really isn't much to grade when it comes to the wide receivers. DaVaris Daniels led the way with 49 receiving yards and had the longest reception of the game, which was a 35-yard catch in the third quarter.
Other receivers that caught at least one pass was T.J. Jones, Daniel Smith and true-freshman Davonte' Neal.
With the way Notre Dame was running the football all day and a first-year quarterback, a passing game wasn't quite needed, so the receivers weren't included as much in this game.
Grade: C
Tight Ends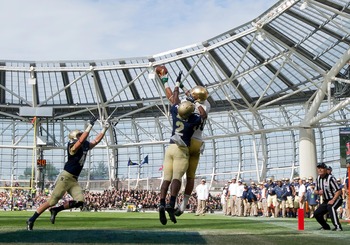 Matt Cashore-US PRESSWIRE
Tyler Eifert led the Irish with four receptions and had the privilege of catching Everett Golson's first touchdown pass of his career. He was a matchup nightmare for the Navy defenders and head coach Brian Kelly knew it. In the second quarter, Kelly ran the same play twice to Eifert in the end zone and there was nothing the Midshipmen could do about it.
Backup tight ends Troy Niklas and Ben Koyack also combined for two receptions for 53 yards.
Grade: A
Offensive Line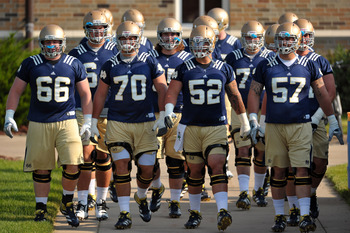 Matt Cashore-US PRESSWIRE
Coming into this game, we knew that Notre Dame had one of the best offensive lines in the country. Every starter on this line is an upperclassman and has many starts under his belt heading into the year.
And with the combination of size and experience, the Navy front seven was no match for these guys. They did a great job of protection up front and opening up running lanes for the many running backs that touched the ball today. The unit also did a good job of showing discipline, as there was only one false start penalty committed by the Irish.
When you dominate in the trenches the way Notre Dame did in this game, you aren't going to lose many football games.
Grade: A
Defensive Line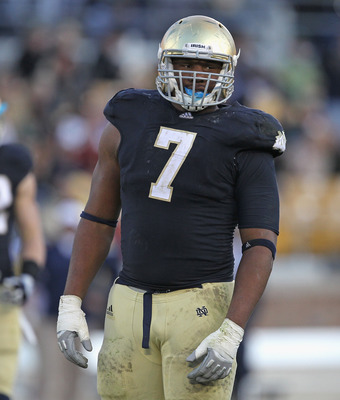 Jonathan Daniel/Getty Images
While the offensive line handled their business up front, the defensive line of Notre Dame wasn't too shabby either. The unit was consistency generating pressure and making things difficult for the triple-option of the Navy offense.
Players like Louis Nix and Kapron Lewis-Moore were making quarterback Trey Miller scramble around more than he would have liked and made things bothersome in the passing game.
Defensive end Stephon Tuitt also picked up a fumble and returned it 77 yards for a touchdown back in the second quarter.
Overall, you have to be pleased with how this unit performed, especially when many were questioning the lack of depth with the transfer of Aaron Lynch.
Grade: B
Linebackers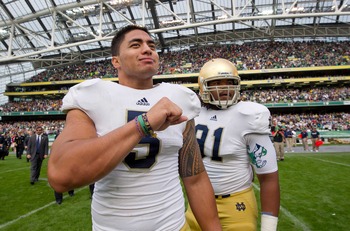 Matt Cashore-US PRESSWIRE
Is it too early to put linebacker Manti Te'o in the Heisman conversation? The senior, and leader of this football team, was key in a fourth down stop in the first quarter, had a fumble recovery in the second quarter, and intercepted a pass in the third.
There is a reason he is considered one of the top linebackers in the country and will be a first round pick in next year's NFL draft.
The fumble recovery and touchdown return by defensive end Stephon Tuitt was forced by backup Ishaq Williams, who also forced another fumble that was later recovered by freshman safety Dan McCarthy.
Overall, the linebackers were disciplined in the running game and did a great job of creating difference making plays throughout the contest.
Grade: A
Defensive Backs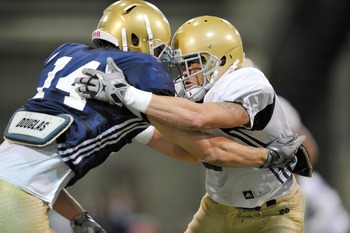 Matt Cashore-US PRESSWIRE
We knew that this Irish secondary had its fair share of depth issues and lack of experience, but there were many blown assignments in this game. Allowing Navy, of all teams, to go down the field and score on just three passing plays is simply inexcusable.
Safety Zeke Motta was beaten several teams in pass coverage and missed a few tackles throughout the game. Cornerback KeiVarae Russell showed that he is still raw at his cornerback position, as he did not look good out there either. And safety Jamoris Slaughter did a poor job of biting on a play-action pass, which resulted in a touchdown to begin the second half.
Navy was able to average 9.6 yards in the air and had 192 total passing yards.
Grade: D
Special Teams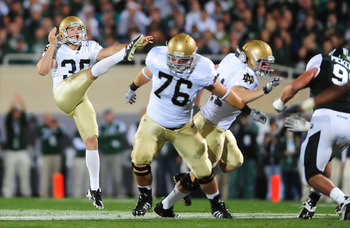 Andrew Weber-US PRESSWIRE
Maybe there is something in the water, but there have been many missed extra points so far in this opening weekend of college football and Notre Dame has been no exception. The Irish failed to convert on two extra points, as one was hooked terribly and the other was mishandled by placeholder Ben Turk.
The good news is that Nick Tausch did drill a 34-yard attempt and punter Ben Turk was able to pin one of his two attempts inside the opponent's 20-yard line.
Grade: D
Coaching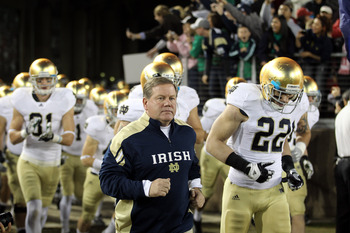 Ezra Shaw/Getty Images
I thought Brian Kelly did a fabulous job of calling this game. He eased his young quarterback into the game by not asking much of him and allowing him to build his confidence by making several quick and easy throws. He knew the offensive line was a mismatch for the Navy front seven and he took advantage of it by running the ball 46 times.
Defensively, he stuck to man coverage for most of the day and dared the offense to throw the football, which the Midshipmen are never really consistent at doing. He also was able to give his backup quarterback a whole quarter of reps, which will only help pay off down the road.
Overall, you can't complain with the job that the coaching staff did today.
Grade: A
Keep Reading

Notre Dame Football: Like this team?