For the Notre Dame Fighting Irish and the Navy Midshipmen, football season starts in a foreign land as the two squads open their season with a contest set in Dublin, Ireland.
The Irish come into this season led by third-year head coach Brian Kelly and star linebacker Manta Te'o, a senior who comes into the season considered the nation's top defender. Nevertheless, the biggest story for Notre Dame will be freshman quarterback Everett Golson, who will make his first career start on Saturday. An electric dual-threat, Golson beat out incumbents Tommy Rees and Andrew Hendrix for the spot.
On the other side of the field, the Midshipmen come into the season hoping to atone for a 5-7 season in 2011, the first losing year of Ken Niumatalolo's reign as head coach.
How can the Irish stop Navy from getting started on that quest? Here's a look at the keys to a Week 1 victory for the Irish.
Get a Big Performance from Cierre Wood Replacements
With preseason Heisman hopeful Cierre Wood suspended for the first two games of the regular season, the onus will be on Theo Riddick to come up big for the Irish.
The senior returns to running back this year after spending both 2010 and 2011 playing wide receiver. And if what Riddick has been saying is any indication, he couldn't be happier to be back at his former position (via the Chicago Tribune).
"I'm very comfortable now. Not saying I wasn't comfortable at wide receiver, but it was also still a transition. I've been playing running back since I was a little kid. To have the chance to do it on this type of level, which I really haven't, I'm just excited."
Expect Riddick to start and play the steady hand for the Irish while Kelly relies on George Atkinson III to spell his converted senior and provide some explosion to the offense. With Navy struggling on defense last season, allowing a whopping 2,243 rushing yards, it should be open season for the two backs.
Limit Turnovers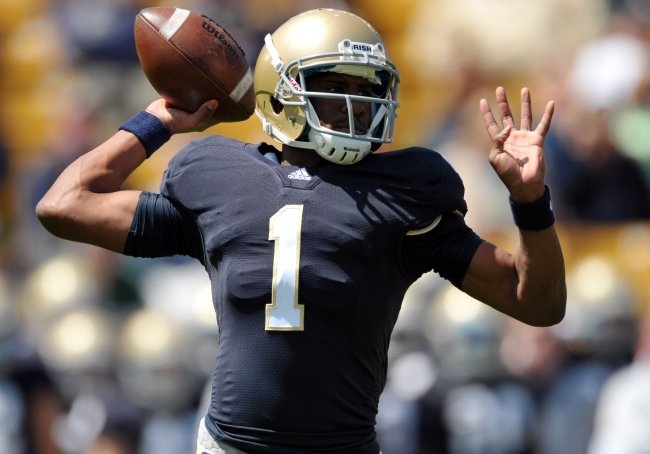 Matt Cashore-US PRESSWIRE
One of the Fighting Irish's biggest problems last season was turning the ball over. The team committed 29 turnovers last season, and 19 of those came from quarterback Tommy Rees.
If what Kelly has said so far this preseason is any indication, that shouldn't be the case in 2012.
When naming Golson his starting quarterback, Kelly went out of his way to effusively praise his freshman signal-caller's ability to hold onto the ball. According to the News-Sentinel, Golson has turned the ball over just three times since camp opened at the beginning of August.
Nevertheless, there's a massive difference between game speed and practice speed. While Golson has looked great in the very little we've seen from him, it still remains to be seen what he can do on a Saturday.
With a Michael Floyd-sized hole to fill at the receiver spot, Golson won't have the same level of skill positions on the outside to work with. If he can avoid turnovers and find a top receiver, it will go a long way toward proving that Kelly made the right decision.
Stop the Navy Rushing Attack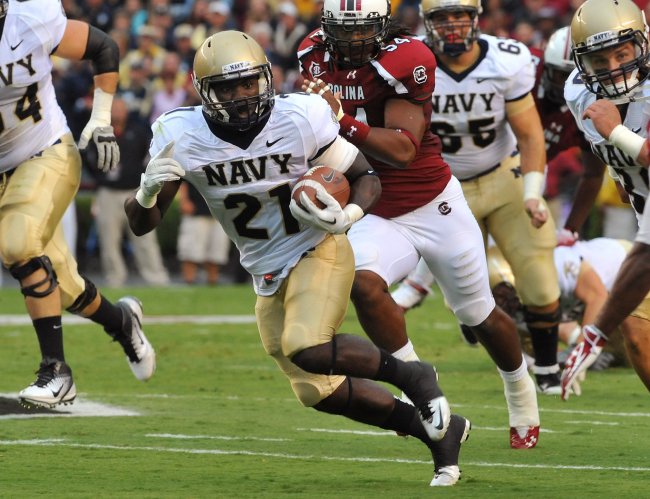 Al Messerschmidt/Getty Images
This almost goes without saying, but stopping the rushing attack should always be any team's top priority when playing the Naval Academy.
Last season, the Midshipmen had the fifth-most rushing yards in the FBS with 3,747 and this year's team should be no different. Though both of the team's leading rushers (quarterback Kriss Proctor and fullback Alexander Teich) have graduated, Navy's attack is far more about the system than any individual player.
Taking over this season will be a four-headed attack led by quarterback Trey Miller and returning rusher Gee Gee Greene.
Unfortunately for Miller and Greene, awaiting the Midshipmen is a group of talented linebackers led by Te'o. A likely first-round draft choice in the 2013 draft, Te'o comes into this season as a favorite to take home the Bednarik Award for the nation's best defender.
It's not likely that the Irish completely stop the ground game, but if Te'o and company can at least limit the attack, Notre Dame should win handily.