Notre Dame vs. Navy: Live Score, Analysis and Results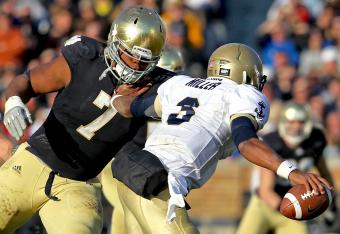 Notre Dame 50, Navy 10 -- FINAL
Notre Dame has defeated the Midshipmen of Navy 50-10, bringing the Irish to a 1-0 record to begin the season.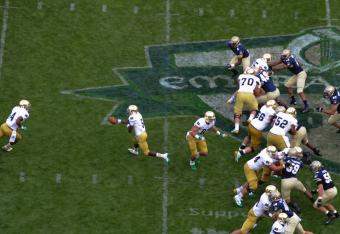 Rapid reaction:
Notre Dame won thoroughly behind a rushing game that plowed its way to 293 yards on the day. Surprisingly enough, out gaining Navy on the ground by 144 yards.
The rushing attack was also a large help to starting quarterback Everett Golson, who was in his first career start. Golson had a solid day, completing 12 of 18 pass attempts for 144 yards and one touchdown.
Irish fans didn't get to see Golson run the ball, as he did so well in high school.
With a full game under his belt, it'll be interesting to see whether or not Brian Kelly opens up the playbook next week.
One guarantee the Irish have is their rush defense, only allowing 149 yards to a Midshipmen offense that averaged 312 yards per game last season. However, the secondary remains full of question marks, with freshman KeiVarae Russell looking extremely raw in his first game.
It's a nerve-wracking concern for the Irish, who will play potent passing teams in Oklahoma, USC and Purdue.
Fortunately, the Irish got the win today, the 17th of the Brian Kelly era.
Notre Dame has defeated Navy 50-10. The Irish played a sound game, a welcome relief after last season's opener against South Florida was filled with turnovers and unexpected happenings.
A final analysis will come soon.
It's great to see Roby Toma get the second touchdown of his career at Notre Dame. Toma, a close friend of linebacker Manti Te'o, lined up at running back for the Irish's last score.
One player to keep an eye on is freshman left tackle Ronnie Stanley. The Las Vegas native was forced onto the depth chart following the departure of Jordan Prestwood.
If starting left tackle Zack Martin goes down with an injury, Stanley will be inserted to the starting lineup, a situation that head coach Brian Kelly would hate to find himself in.
What concerns me the most about today's game is the performance of the Irish secondary.
Next week, the Irish take on a Purdue team that likes to spread the field with four and five receiver looks. With two first-year starters at cornerback, the Boilermakers are a likely candidate to hang some large numbers on the scoreboard next weekend.
Creating turnovers was a problem for the Irish defense a season ago, but it has certainly been a strength today. Notre Dame has recovered two forced fumbles and picked off one pass from the Midshipmen.
Now it's up to the Irish to accomplish that task against teams such as Michigan, Michigan State, etc.
Andrew Hendrix has looked completely ineffective running the second team offense, which may be exactly the reason he fell so far behind in the battle for starting quarterback duties.
With the Irish carrying a 30-point lead into the fourth quarter, head coach Brian Kelly has opted to bring in the second team offense, led by quarterback Andrew Hendrix.
Interestingly enough, Cam McDaniel is getting the bulk of the carries with the second team, with George Atkinson on the bench.
An overlooked strength of this season's Notre Dame squad is the punting game. Ben Turk, the starter during the past two seasons, just nailed a punt inside Navy's 10-yard line.
With a weak secondary, having a punter to gain field position is a bigger help than most would think.
Theo Riddick has had a seamless transition back to his natural position of running back, compiling 107 rushing yards to this point in the game. His ability to run north and south while mixing in his agility will be a large boost to the Irish offense this season.
Riddick has taken the bulk of the carries today, which comes as a surprise to this writer.
I expected to see George Atkinson take a few more snaps. We'll see if Brian Kelly mixes him into next week's game against Purdue.
In his first game action since last season, Cam McDaniel turns in a nice run that put the Irish within the 10-yard line. The Texas native was switched from running back to cornerback during fall camp, and then switched back to running back when KeiVarae Russell got the start at cornerback.
McDaniel will provide a breather for George Atkinson and Cierre Wood, when Wood returns from suspension.
Davonte' Neal gave us a bit of a scare right there on the punt return, muffing the ball, but regaining control. Luckily, he was able to make a play of it, something that will aid the field position game for the Irish this season.
Neal, a true freshman, has had one offensive play, a quick jet sweep toss that was blown up in the backfield.
The point after attempts for the Irish have been abysmal thus far, as the unit has botched two attempts through two and a half quarters of play.
Holder Ben Turk, the starting punter, let the ball slip right through his hands on the previous PAT, an interesting development considering he has been Notre Dame's starting holder for the past two seasons.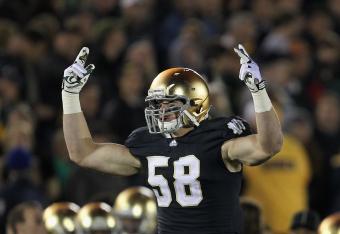 In perhaps the most interesting roster move of the off-season, Troy Niklas moved from outside linebacker to tight end.
Niklas showed off his prowess at his new position on a 29-yard reception from Everett Golson that put the Irish in the redzone. With Niklas at tight end, the Irish now have the ability to use multiple tight end sets that can free up either Tyler Eifert or Niklas on a given play.
KeiVarae Russell simply isn't ready to be a full-time starter at the college level. He used terrible technique against the Navy receiver on the touchdown pass, failing to whip out of his backpedal in time to beat the receiver to the destination.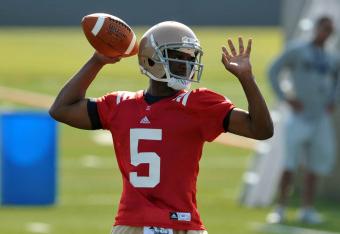 On the offensive side of the ball, Irish quarterback Everett Golson has been steady. The first-year starting quarterback has been aided by a potent Irish ground game that has out gained Navy 158 to 84.
Golson has completed six of 10 pass attempts for 74 yards and one touchdown. However, the most talked about aspect of his performance in the first half was his first interception of his first career start. It's a mistake that was bound to happen, but that simply cannot become habit.
With a full half of action now under his belt, Golson should experience a second half that will encompass the full potential of his game.
Through one half, I've noticed two areas of concern for the Irish.
First and foremost, the secondary has looked vulnerable, to say the least. Fresmman cornerback KeiVarae Russell has looked, well, new to the college game, to say the least.
Navy has had too many easy passes of at least 10 yards, something that Irish defensive coordinator Bob Diaco will be assessing over the half. I'd expect him to lecture cornerbacks Bennett Jackson and KeiVarae Russell to read pump fakes from Navy quarterback Trey Miller, so that they don't let the receiver leak out for a big gain.
Secondly, the Irish defenders have struggled with the face mask penalty thus far, incurring two penalties of the sort. Prince Shembo and Tony Springmann have each been flagged.
Navy nails the field goal to end the half. Notre Dame 27, Navy 3.
Wow. Another turnover by Navy, resulting in a fumble return touchdown from Notre Dame defensive end Stephon Tuitt. The 6'6", 303-pound defensive end rumbled his way down the field for the touchdown. Irish fans were nervous, as the play was under review for a short while.
And there's the first turnover from Irish quarterback Everett Golson. Mistakes from Golson were bound to happen, so let's hope this doesn't begin a streak of turnovers like we saw from Tommy Rees last season.
The interception Golson just threw came on a ball that was thrown far too late to the intended receiver. Just another lesson that a first time starting quarterback will learn at some point or another.
It's surprising to see Navy turn the ball over, as the Midshipmen preach ball security more than any other team in the country. Keep an eye on Navy's quarterback-center exchange for the remainder of this game. Another turnover may come of it.
I'm surprised to see Notre Dame go back to the same play two times in a row, but then again, it's more than difficult to stop a 6'6", 250-pound tight end. Tyler Eifert will help lessen the blow from Michael Floyd's departure.
Eifert presents matchup problems against most linebackers and all defensive backs, as his size gives him a tremendous advantage for jump balls over small defenders.
I know that Tyler Eifert caught that ball out of bounds, but the paint job on the field is mediocre, at best. It's difficult to discern the end zone from the white paint barrier at Aviva Stadium.
A player that I have picked on recently, DaVaris Daniels, appears to be out of Brian Kelly's doghouse, a place he spent for a majority of fall camp.
The 6'3", 190-pound Daniels has been an enigma since arriving at Notre Dame last fall.
He's the most likely candidate to attempt to replace all-world receiver Michael Floyd.
A Navy defender is down, and hasn't appeared to move his lower body at any point. It would be extremely unfortunate to see him suffer any type of season-ending injury, but that's what it's looking like to me. I hope I'm wrong.
This article is
What is the duplicate article?
Why is this article offensive?
Where is this article plagiarized from?
Why is this article poorly edited?