No. 14 Clemson vs. Auburn: Final Report Card, Player Grades for Auburn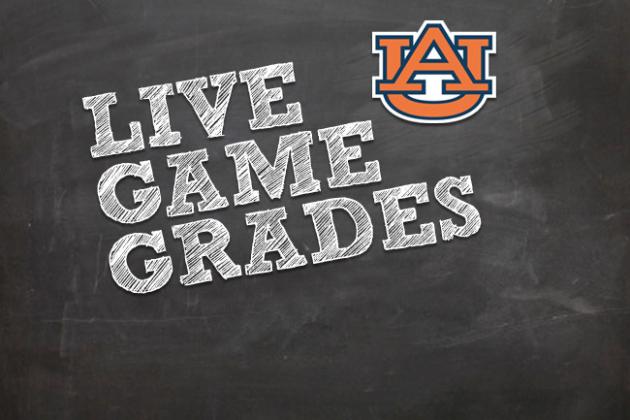 Auburn fought hard, but fell to Clemson tonight in the Georgia Dome by a score of 26-19.
Auburn falls to 0-1 and will try to get their first win on the road next week in Starkville, Mississippi against Mississippi State.
Here is our final report card and position by position grades for Auburn....
Begin Slideshow

»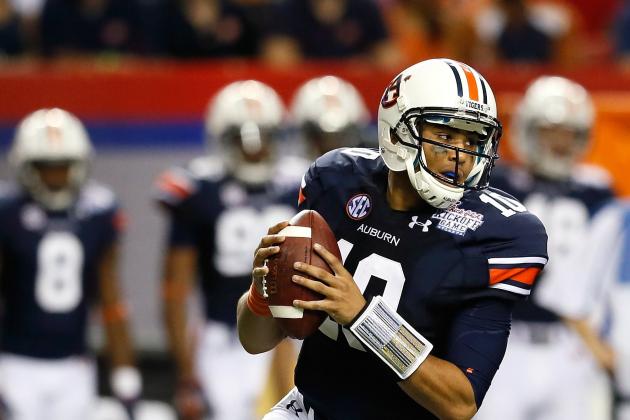 Kevin C. Cox/Getty Images

Kiehl Frazier made his first collegiate start and there were some bright spots and low spots.
Frazier made a beautiful throw to Emory Blake early in the game for his first career touchdown pass.
When Frazier felt pressure from the Clemson defense, his accuracy faltered badly. When given time, Frazier threw the ball pretty well. He showed off his arm strength on a couple of throws, including the touchdown pass to Blake. He also looked pretty comfortable under center.
Unfortunately, in the second half Frazier felt a lot of pressure and was flushed out of the pocket on many occasions. He rushed his throws and could not connect on some big plays.
It would have been good to see Frazier make more of an effort to distribute the ball to other receivers. Blake and Lutzenkirchen were the only two receivers to get looks.
Frazier ended up going 11 for 27 with 194 yards*. He threw one interception.
*All stats cited are courtesy of the Auburn University Athletic Department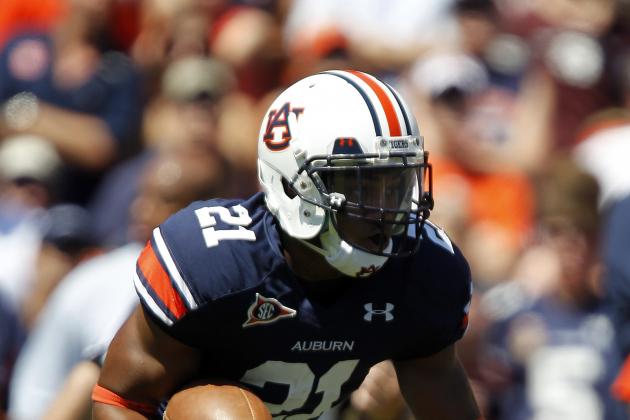 Butch Dill/Getty Images

Tre Mason and Onterio McCalebb got the bulk of the carries tonight for Auburn. Jay Prosch's presence was felt as he opened up a few holes for the running backs.
Tre Mason broke the 100 yard mark (106) on 14 carries. Most of Mason's runs were up the middle and McCalebb made most of the runs to the outside.
McCalebb added 82 yards on 12 carries. It may be hard to believe but it appeared that McCalebb may have gotten faster in the offseason. His speed, as Auburn fans know, is a difference maker.
We saw the potential at the runningback position and it could turn into a strength for this Auburn team.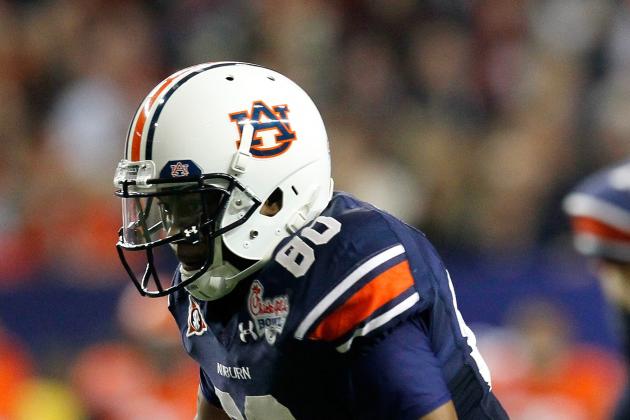 Kevin C. Cox/Getty Images

Emory Blake gets an A for his efforts. The other receivers? Not so much.
Blake made his presence known early in the game when he hauled in a 54 yard touchdown pass from Kiehl Frazier. He ended up with 109 yards on the night on four catches.
Besides Phillip Lutzenkirchen, Blake was the only receiver to catch a pass tonight. That must change if Auburn is going to have any success throwing the football this year.
There was some good downfield blocking from the receivers to spring some big runs for Onterio McCalebb and Tre Mason.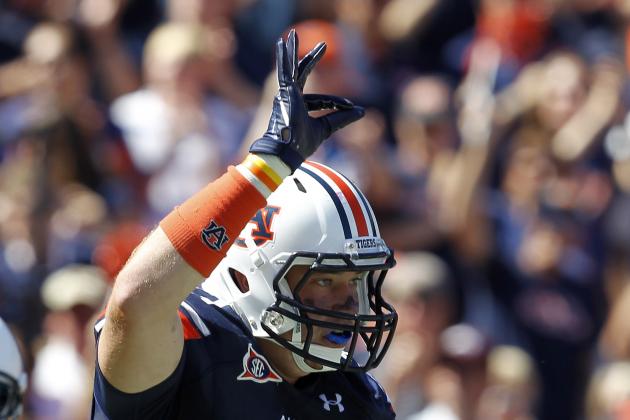 Butch Dill/Getty Images

Kiehl Frazier found Phillip Lutzenkirchen four times tonight for 71 yards. No other tight end was a target.
We saw Brandon Fulse get in the game in a two tight end set, but that is the only time that we heard his name.
Lutzenkirchen was his usual, reliable self tonight and will continue to be a go-to guy for Frazier all season long.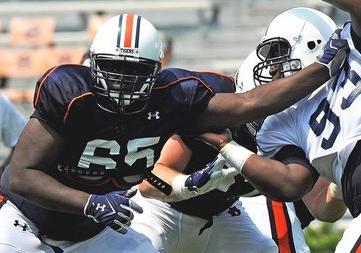 The young offensive line was a concern for Auburn coming into this season. Three Auburn offensive lineman were making their first collegiate start.
Tunde Fariyike got thrown into the fire and had to fill the shoes of All-American Reese Dismukes. Fariyike's name was not called that much tonight. That is a good thing. Only one time comes to memory that there was a bad exchange from the center to the quarterback.
The other offensive lineman were a pleasant surprise for most of the first half. Clemson began to get consistent pressure on Kiehl Frazier in the second half. Frazier was flushed out of the pocket and rushed his throws, leading to accuracy issues. The offensive line allowed two sacks of Frazier.
There were times where Tre Mason and Onterio McCalebb had some big holes to run through. Other times, not so much.
At least three of Auburn's six penalties came from the offensive line. The Auburn offense is just not good enough to give up free yards to the defense and put themselves in long distance situations.
This game tonight will be a good building block for a young Auburn offensive line. Coach Jeff Grimes will have a lot of teaching points for his group next week.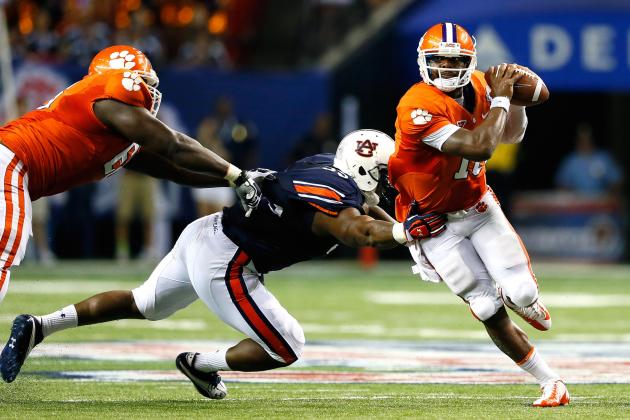 Kevin C. Cox/Getty Images

The Auburn defensive line was as good as advertised. Tajh Boyd dealt with pressure from the front four most of the night.
Corey Lemonier had two sacks and Dee Ford added one.
There were multiple times where Tajh Boyd was just out of the grasp of an Auburn defensive lineman but found a way to wiggle out of trouble.
Lemonier led the defensive lineman with eight tackles while Dee Ford added five. Kenneth Carter and Angelo Blackson had two. Nosa Eguae had one.
Auburn will need this type of play from the defensive line all year long in order to compete with the top teams in the league.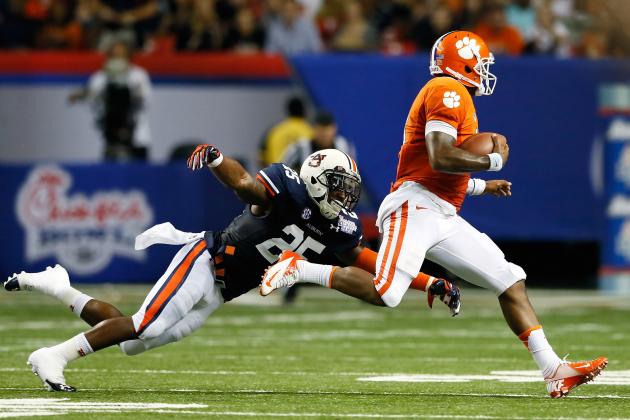 Kevin C. Cox/Getty Images

The Auburn linebackers may have nightmares of Andre Ellington for the rest of the season. There were a lot of missed tackles by the linebackers tonight.
The play that they will probably see will be Andre Ellington keeping his balance as Jake Holland let go of him thinking he was down. Once Holland let go, Ellington was off to the races. It looked eerily similar to the Michael Dyer run in the 2010 BCS National Championship game. Ellington finished the night with 26 carries and 231 yards.
Daren Bates picked up where he left off last year and once again led the Auburn defense in tackles with 14. He also had an interception. Jake Holland added 11 more tackles.
The linebackers did a good job at the initial point of contact. After that, things got bad. The linebackers must finish the tackle all the way to the ground and that was not happening. Ball carriers were simply bouncing off. Simple fundamentals were lacking in that regard.
On the bright side, there were a few blitzes that Brian Van Gorder dialed up and the linebackers looked extremely quick and aggressive.
The linebacker corps gets a D for their efforts tonight.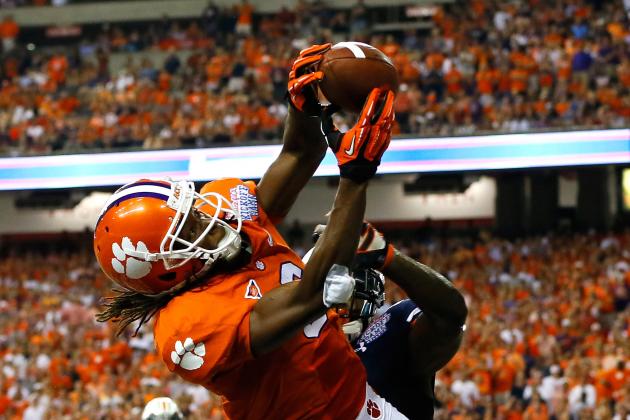 Kevin C. Cox/Getty Images

Most Auburn fans were at least looking for some improvement in the secondary play this season. Their frustrations from last season were not tempered tonight.
Even without Sammy Watkins, DeAndre Hopkins did plenty of damage. Hopkins had 13 catches for 119 yards and a touchdown.
What was a bad night could have been a lot worse. Clemson receivers dropped plenty of passes that could have been easy receptions.
On top of the poor coverage, there was poor tackling. It was far too common to see a Clemson ball carrier slip through the grasp of an Auburn defensive back tonight.
Dan Mullen cannot wait to test these defensive backs next weekend after the performance they put on tonight.
Ryan Smith and Jermaine Whitehead led the Auburn secondary in tackles with 12 and 11, respectively.
This unit now has a pretty low baseline on which to improve upon this year. The Auburn defensive backs earned an F against Clemson.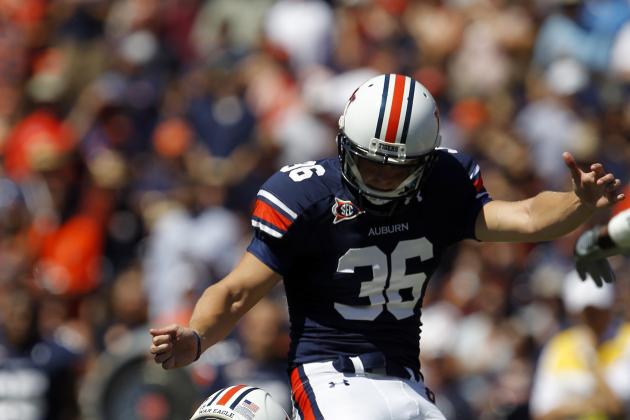 Butch Dill/Getty Images

Steven Clark continued his good punting from last season. His three punts averaged 39.3 yards and he landed two inside the 20 yard line.
Cody Parkey was perfect on four field goal attempts. His longest coming from 46 yards out.
Quan Bray only had one attempt returning a kickoff and returned it 21 yards. He also only had one punt return that ended up as a five yard return.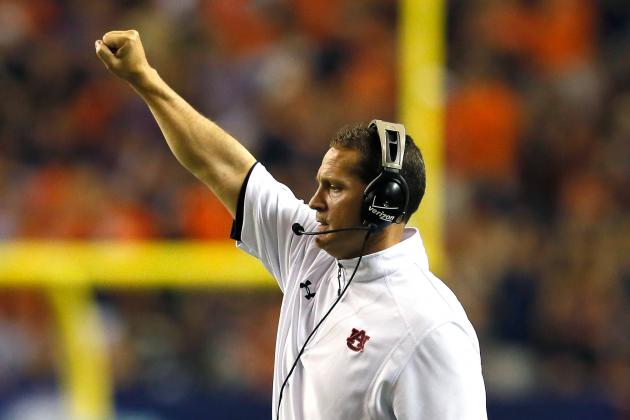 Kevin C. Cox/Getty Images

There were not very many head scratching decisions in this game. There are definitely some things that Gene Chizik's staff will need to correct before heading to Starkville next week.
The Tigers committed six penalties for 38 yards. As mentioned earlier, this Auburn team will not be good enough to give teams free yards.
You can be sure that Brian Van Gorder was not expecting to give up 500+ yards in his return to the college game. He did not see any Chad Morris type offenses in the NFL. As he promised, the defense was much more aggressive in blitzing.
Better halftime adjustments were expected from Brian Van Gorder and Willie Martinez in the secondary. Auburn defenders continued to play very loose coverage in the second half. Do they not trust their defensive backs in man-to-man coverage? It does not appear that they do.
Gene Chizik showed some good clock management skills late in the first half when he gave Clemson very minimal time to do anything before the half expired.
Scot Loeffler's play calling was decent. He gave Kiehl Frazier some plays that helped him build his confidence early on in the game before letting him loose on the 54 yard touchdown play-action pass to Emory Blake.
The Auburn coaching staff earns a C for their efforts in the loss to Clemson.