Northern Iowa at No. 12 Wisconsin: Live Score, Analysis and Results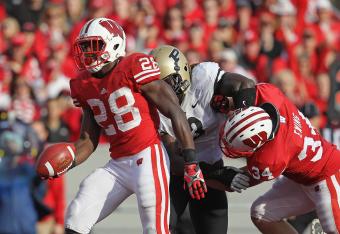 Jonathan Daniel/Getty Images
FINAL: Wisconsin 26, Northern Iowa 21
Fans got a little more than they bargained for in Madison with Northern Iowa visiting the 12th-ranked Wisconsin Badgers. The Badgers held on for a 26-21 victory after getting off to a slow start, but the Panthers almost gave Wisconsin more than they could chew on.
Stay tuned for a link to post-game grades from each unit on the Badgers.
As promised, here are the post-game grades I assigned to each unit of the Badgers. Enjoy!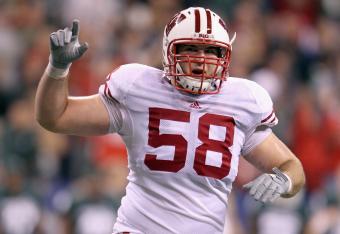 And they did just that.
Montee Ball seals it with a first down run. That noise you just heard was the entire state of Wisconsin exhaling. Huge props to Northern Iowa for coming into Madison and doing what they just did, but it wasn't quite enough.
FINAL: Wisconsin 26, Northern Iowa 21
STOPPED ON 4TH DOWN! Ethan Hemer deflects the pass from Kollmorgen on fourth down and the Badgers take over near midfield. All that left to do is run the clock out with 2:40 remaining.
Either the No. Iowa offensive line has really stepped up its blocking, or the refs are letting them play. Either way, the same pressure isn't being applied. 4th & 1 coming up for the Panthers.
No. Iowa is taking their shots down field, and no one can really blame them. Wisconsin's secondary isn't getting the job done. There seems to be a lot of confusion back there. The Panthers just converted a big third down.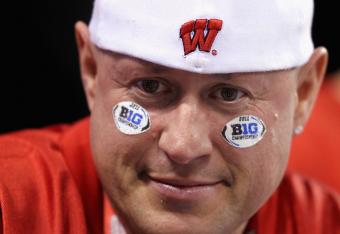 Oh my. Another three & out for Wisconsin. No. Iowa has the ball with a chance to take the lead, and there's plenty of time left on the clock. The Badger D needs to step up in a big way.
ANOTHER NORTHERN IOWA TOUCHDOWN!
The Panthers are within five after Kollmorgen finds Johnson again, this time on a 31-yard pass down the right side. We've got ourselves a ball game.
Wisconsin 26, Northern Iowa 21, 7:24 left in 4th
Big time conversion on fourth down. Kollmorgen threw it across the field right at the sticks, but the Panthers converted.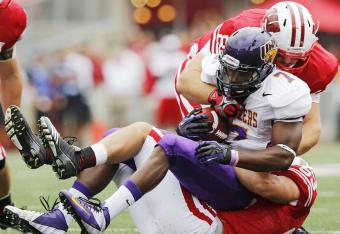 A three & out wasn't exactly what the Badgers had in mind, but the defense has forced a fourth down. With eight minutes left, No. Iowa takes a time out. Big play upcoming.
The nerves are back in Camp Randall for the Grateful Red. That was the last thing Wisconsin needed, giving up a big play after executing one of their own. The Badgers will look to milk the clock now with the ball back in their possession.
NORTHERN IOWA WITH THE ANSWER! A 56-yard catch-and-run by David Johnson one-ups the previous Badger touchdown as he somehow stays in bounds down the right sideline. There's no quit in the Panthers.
Wisconsin 26, Northern Iowa 14, 11:11 left in 4th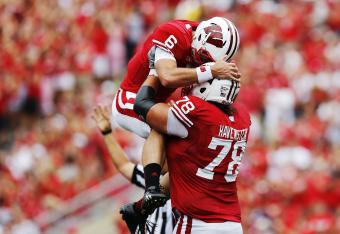 WOW! O'Brien hooks up with Abbrederis on a 53-yard touchdown pass a play after a crucial third down conversion. Abbrederis got behind the secondary after a beautiful play-action fake, and that should calm any of the nerves Wisconsin fans had before.
Wisconsin 26, Northern Iowa 7, 12:31 left in 4th
Contrary to many non-conference games at Camp Randall Stadium, the student section will probably be sticking around after Jump Around today.
It's Wisconsin 19, Northern Iowa 7 as the fourth quarter gets underway.
NORTHERN IOWA IS ON THE BOARD!
Kollmorgen finds tight end Chad Owens after spreading it out at the goal line and the lead is cut to 12.
Wisconsin 19, Northern Iowa 7, :47 seconds left in 3rd
No. Iowa knocking on the door after a big pass play on fourth down gets it down to the Wisconsin 5-yard line. Kollmorgen was buried but stood in there bravely.
Who else? Taylor stops Kollmorgen from reaching the first down. Credit to the secondary for forcing the freshman to tuck it and run. No. Iowa calls timeout to decide what they wanted to do on this critical fourth down.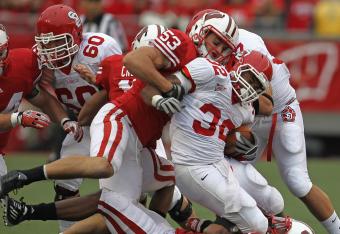 Linebackers Chris Borland and Mike Taylor are always near the ball, always making a play. Even though No. Iowa just got a first down, both guys were right there on the tackle.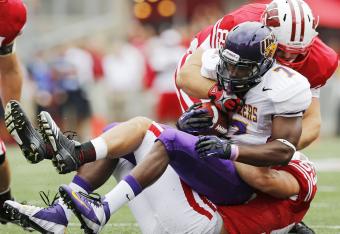 Northern Iowa has to start doing something on offense soon or else it's going to be too little, too late. They just got their first first down of the half.
Grass is green, the sky is blue and Northern Iowa just went three-and-out. Absolutely nothing doing on offense for the Panthers with the freshman leading the way at QB.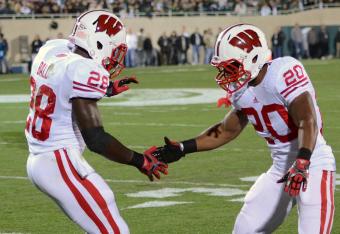 With that touchdown, Montee Ball is tied for fourth in Big Ten history in rushing touchdowns and is third in Wisconsin's all-time touchdowns responsible for list. He's virtually making history with every carry.
TOUCHDOWN MONTEE BALL!
He's now scored in 21 straight games. Not bad. Textbook drive from the Badgers. French's extra point is blocked, however.
Wisconsin 19, Northern Iowa 0, 10:22 left in 3rd
Ball with his biggest run of the day. Looks like Wisconsin will remain content keeping the ball on the ground and mixing in some short pass plays here and there. And why shouldn't they?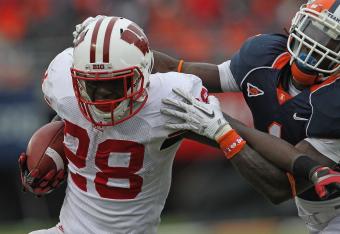 Montee Ball continuing his climb through the Wisconsin record books:
Montee Ball passed Nick Davis into seventh place on UW's all-time total yards list. #badgers

— Dave Heller (@dave_heller) September 1, 2012
More pressure. Another near interception. Another three-and-out for No. Iowa. The secondary won't be tested at all at this rate if Kollmorgen only has two seconds every drop back to throw the ball.
This article is
What is the duplicate article?
Why is this article offensive?
Where is this article plagiarized from?
Why is this article poorly edited?