Marshall at No. 11 West Virginia: Live Score, Analysis and Results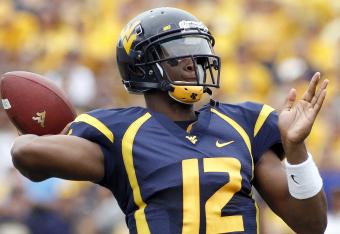 Justin K. Aller/Getty Images
Heisman Trophy contender Geno Smith and the West Virginia offense redefined efficiency in this one as the Mountaineers won big 69-34 over in-state rival Marshall in the Friends of Coal Bowl.
The Miramar, Florida native went 33-for-37 for 323 yards and four touchdowns in the win. He also ran for 65 and a score, as WVU put forth a more balanced offensive effort than any in the entire 2011 season.
Rakeem Cato compiled 413 yards to eclipse Smith, but the West Virginia rushing attack pounded the under-matched Thundering Herd defense.
The Mountaineers averaged 9.2 yards per carry, while Marshall averaged 2.9. The WVU rush was led by senior Shawne Alston, who looked like a whole different monster than what we saw previously in his career. He went for 123 yards and two touchdowns at an average of 7.7 per carry.
Marshall had a decent day offensively, but simply couldn't keep up with the WVU airraid machine, and the Mountaineers improved to 12-0 all-time against their rival.
Eight players accounted for touchdowns for West Virginia in the rout.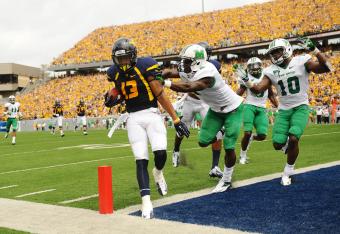 FINAL—West Virginia 69 - Marshall 34
The main takeaway from this game: The Mountaineers are who we thought they were on both offense and defense. WVU is nothing less than elite with the ball in its hands. If the Mounties can tighten things up on defense, they'll be in serious Big 12 if not national title talk.
West Virginia 69 - Marshall 34: 0:54 left in the game—Cato finds tight end Eric Frohnapfel for a touchdown. Marshall with 535 yards of total offense, while West Virginia has 644.
He found him this time but it was just short of the end zone. Marshall has it at about the five-yard line, first and goal.
The Marshall offense continues to work here as Cato now has more passing yards than Smith. The Herd is in WVU territory looking to add some more points.
Cato almost had another touchdown pass to Tommy Shuler, but he was just out of the back of the end zone.
Attendance for today's game 59,120.
URGENT— Geno Smith is wearing a visor. I see a coaching job in his future.
West Virginia 69 - Marshall 27: 9:50 left in the game—Marshall offense answers back with a methodical drive down field. Cato is now over 300 yards passing and an astonishing 13 Marshall players have recorded a reception in this game.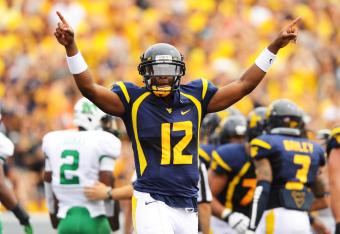 Geno Smith: 32-of-36, 323 YDS, 4 TD, 0 INT (10.1 yards per comp.) | 8 CAR, 65 YDS, 1 TD (8.1 ypc)
Stedman Bailey: 9 REC, 104 YDS, 2 TD (11.6 ypr)
Tavon Austin: 10 REC, 53 YDS, 1 TD | 3 CAR, 66 YDS (22 ypc)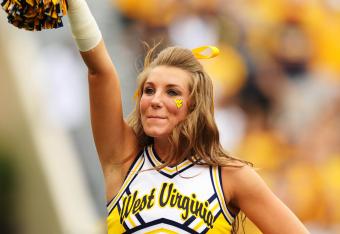 West Virginia 69 - Marshall 20: 13:04 left in the game—One play, six more points. Millard throws a beautiful fade to freshman receiver K.J. Myers.
I now officially feel sorry for Marshall.
And things continue to get worse for Marshall. Cato is picked off by WVU linebacker Doug Rigg and he takes it all the way inside the five-yard line.
WVU backup quarterback Paul Millard in the game now.
Smith laughing on the phone with his coaches up in the booth, I imagine the conversation went something like this:
Coach: "That was a nice drive Geno."
Geno: "Yeah, hahah!"
West Virginia 62 - Marshall 20: 14:24 left in the game—Geno Smith finds Stedman Bailey for his second touchdown reception of the game. It was set up by Ivan McCartney's first reception of the season for 52 yards, which put WVU inside the 10-yard line.
This certainly has to be it for Geno and the rest of the WVU first-stringers.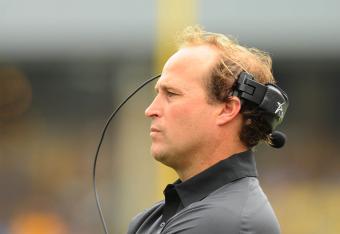 End of the Third Quarter—West Virginia has been dominant over the first three quarters of play, going into the fourth with a five-touchdown lead.
The Mountaineers are well on their way to improving to 12-0 all-time against Marshall.
Clouds are moving in though...
West Virginia 55 - Marshall 20 0:18 remaining in the third quarter—The holding call takes points off the board for Marshall. WVU corner Pat Miller had a nice deflection on third down to stall out the drive.
Justin Haig hit his second field goal of the day, this one from 29 yards.
Great throw and catch by Cato to Jermaine Kelson sets up an almost-touchdown run. But it was called back—holding again on Marshall as the Herd are back to the 12-yard line.
Kevin Grooms with a 19-yard run for Marshall. The Herd offense hasn't quit yet.
A holding call brings back a 50-plus-yard touchdown run for Marshall, adding insult to injury for the Herd.
West Virginia 55 - Marshall 17: 4:27 remaining in the third quarter—Bruuuuuuuuce! West Virginia's new Bruce, Isaiah Bruce, scoops up a fumble that was forced by "star" linebacker Terence Garvin and takes it the distance.
The only question now is how much longer the WVU starters will be in.
West Virginia 48 - Marshall 17: 4:32 left in the third quarter—That's a new one. On third and one, Geno fakes the half back dive, spins and runs it 28 yards into the endzone untouched. Marshall had no idea who had the ball on that play.
Every time Marshall has scored, WVU immediately answered back. The offensive efficiency clinic continues, as Geno is now 30-of-34 passing.
West Virginia 41 - Marshall 17: 8:00 left in the third quarter— Marshall quickly converts the blocked punt by C.J. Crawford into a touchdown. Travon Van took it in from the three-yard line.
That's Van's second touchdown of the day, though he only has 38 yards.
Marshall Blocked Punt—West Virginia's first punt doesn't go so well. Marshall with the huge block and the Herd offense takes over inside the redzone.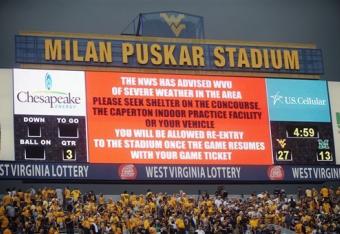 The all-too-familiar red lightning screen just came up on the jumbotron at Milan Puskar. Deja Vu.
Three-and-out for Marshall. West Virginia's defense came out with some intensity in the second half. Shaq Petteway sniffed out a Marshall screen on third down.
WVU has been winning the battle on both fronts. The defensive line has been very good and the offensive line has been great.
A thought: If Buie and Alston keep running like this, Garrison may be on his way to a redshirt. Of course, the key will be keeping those two healthy.
This article is
What is the duplicate article?
Why is this article offensive?
Where is this article plagiarized from?
Why is this article poorly edited?

WVU Football: Like this team?