Green Bay Packers: Free Agent Quarterbacks Who Might Interest Them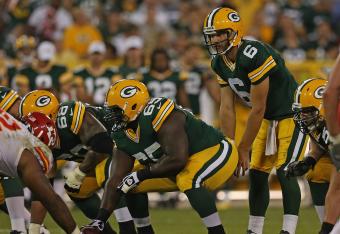 Jonathan Daniel/Getty Images
While Graham Harrell might have allayed some fears with his performance in the preseason finale, he still didn't have a good preseason as a whole, and beyond him on the roster is just rookie B.J. Coleman.
So will the Packers acquire another quarterback, perhaps a veteran? I'm not saying they will—after all, the Packers don't dip their toes into free agency often and they may have used up their 2012 free-agency moves on Anthony Hargrove and Cedric Benson.
However if they have the least bit of unease with Harrell/Coleman, these guys could be options.
Here are the quarterbacks who were cut today and what they might bring to the Packers' table.
Mike Kafka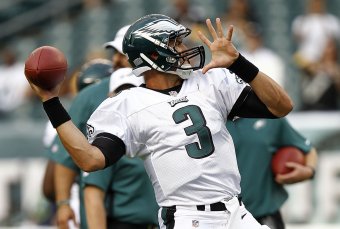 Jeff Zelevansky/Getty Images
Rumor had it that the Philadelphia Eagles were trying to trade him but found no takers, or more likely no takers at their price.
Kafka has very little arm strength and seems to need a long time to get through his progressions. I'm not shocked at all that Philadelphia had no takers, as just one preseason game worth talking about isn't worth talking about.
He wouldn't be a good fit for the Packers offense and is an unlikely target for them.
Seneca Wallace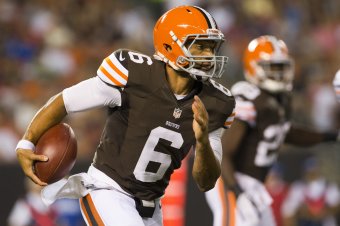 Jason Miller/Getty Images
I guess this means Colt McCoy is sticking.
Wallace has some West Coast offense experience, so he's used to quick decisions and moving in and out of the pocket. He has an average, arm but tons of game time, so he's got the veteran experience as well.
He couldn't beat out Colt McCoy for a spot, though, and he'd be a placeholder, not a permanent solution, as he still wants to start in the league. Mind you, that might be perfect for the Packers, who won't want a long-term vet when they can develop their own backups.
Wallace is a definite possibility if the team wants to make a move.
Brian Hoyer
One of the biggest shocks in the cuts for Friday was Hoyer, who had been marked as Brady's backup for some time. The Pats must really like Ryan Mallett.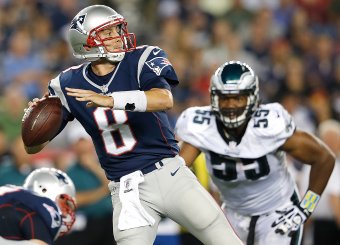 Jim Rogash/Getty Images
Hoyer was tendered at a second-round level this year and some thought he could have been tendered higher, though there were reports that he tried to catch on elsewhere before he signed a one-year deal.
For all the hype in the media, Hoyer looks average. He has had a 62.8 completion rate with 6.7 yards per attempt—certainly nothing to get sweaty about. His physical skills are pretty average.
He'd be a fine addition to the team, but I'm far from convinced he's a big upgrade over Harrell.
Josh McCown
McCown was also a little surprising, just because he'd had a good camp and the Bears had the QB implosion they did last season.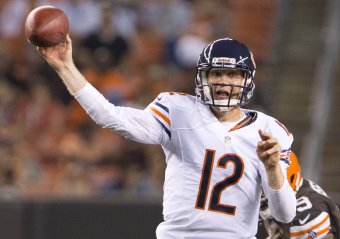 Jason Miller/Getty Images
However, McCown is who he is—a decent backup who has never been more than a second or third stringer, and he really hasn't even been more than a good third stringer lately. He could fit in fine in the Packers' offense, but he turns the ball over way too much. Some of that has been the fault of receivers, but a lot of it was him.
A veteran presence might be nice, but really, McCown would be just serviceable in a Packers offense, and God forbid the line would have any issues because he's about as mobile as a snail.
The rest
Case Keenum, Jordan Palmer, Tom Brandstater—really they aren't an improvement over Harrell. I included them to be thorough, but none of them are much to look at.
I've always liked Brandstater, but he's a backup, and not a special one.
So don't expect to see the team sniffing around them.
A trade for Matt Moore?
The media has clamored for a trade to replace or supplement Harrell for months now. Colt McCoy was the object of their affection before. I'm going to speculate on a new name: Matt Moore.
Moore played very well once, in Carolina. Since then, it's been less than impressive. Could he flourish under Mike McCarthy?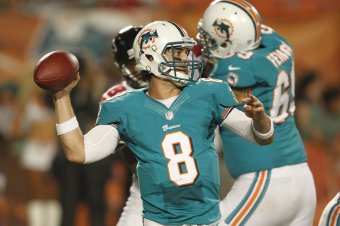 Joel Auerbach/Getty Images
I believe he could and might be a nice fit in Green Bay. I also think there is no way the Packers pay any price Miami would want.
The only way I could see this working would involve James Jones, who some have posited as being on the block and the Dolphins as interested.
For the right price, I believe it would be a win-win. Jones would free up space for another receiver to get some snaps and Moore would be a good safety valve behind or in place of Harrell once he got up to speed.
The Dolphins have no receivers worth much and a rookie quarterback who will need somebody to throw to.
This is pure speculation; the Packers are not a trade-happy organization.
It might be a good move to make, though, in addition to putting B.J. Coleman on the practice squad for a year.
In the end, the team will likely stand pat. The choices in free agency are, just like they were the whole offseason, not very enticing, and a trade, while possible, isn't a huge possibility.
They believe in Harrell, and ultimately they will sink or swim with who they have.
Check out the B/R NFC North Facebook page—like us and keep up with everything NFC North on Bleacher Report! Follow me on Twitter at @andrew_garda.
This article is
What is the duplicate article?
Why is this article offensive?
Where is this article plagiarized from?
Why is this article poorly edited?