2012 NFL Predictions: AFC Preview and Projected Standings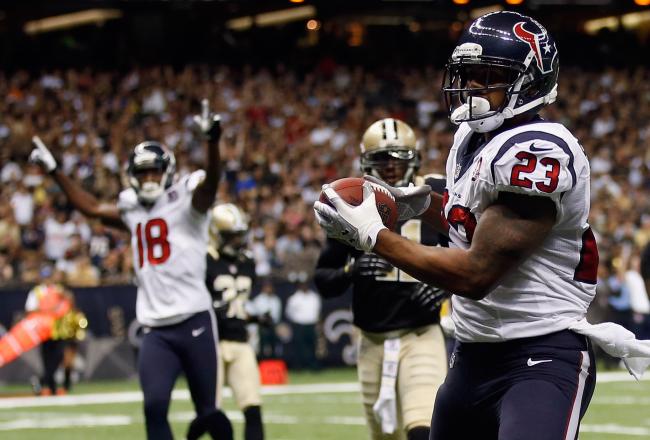 Chris Graythen/Getty Images
Using our NFL simulation engine, we have "played" the entire 2012 NFL season. Each game on this year's schedule was simulated 501 times.
The rosters and depth charts used were up-to-date and accurate as of August 30, 2012.
AFC Final Projected Standings (*Division Winner, +Wild Card)
I was recently asked what I thought the most compelling storyline was heading into the 2012 NFL season. With little hesitation, I answered Peyton Manning.
No matter what you think of the elder Manning brother, the NFL missed the conductor under center last season. Sure, there are numerous questions as he takes the reins in Denver. What about his neck? Can he stay healthy? Does he have enough offensive weapons? His detractors will continue to blow hot-air, rhetorical questions, not interested in your answer, but by that point stop listening.
If Manning can stay upright and lead the Broncos to the simulation engine's projected 9-7 record, it would be one of the best comebacks of all time. Manning could win Comeback Player of the Year and MVP in the same season. Although unlikely, that's compelling, don't you think?
But we must walk before we can run. So, let's evaluate Manning's competition in the AFC this season.
As has been the case on so many occasions in years' past, to win the AFC East crown, you must beat the New England Patriots. That task this season seems as daunting as ever.
This past offseason, the franchise adopted a fantasy football mentality signing every imaginable free agent receiver on the market (except Plaxico Burress). The Pats signed Brandon Lloyd, Jabar Gaffney (later cut), Jake Ballard, and Visanthe Shiancoe to add to their stable of Wes Welker, Aaron Hernandez and Rob Gronkowski. They ranked second in passing with 318 yards per game last season. My bet is they finish top in the league this year.
The Bills 26th-ranked total defense last season drastically improved, headlined by the signing of former Houston Texans All-Pro Mario Williams. Ryan Fitzpatrick (3,832 pass yards, 24 TD, 23 INT) was signed to a seven-year deal after a few impressive games last season, but ended with a thud—nine interceptions last four games. He'll get Fred Jackson back, who missed last six games with a broken leg, along with C.J. Spiller who is a nice change-of-pace back at the ready.
As for the Jets, we simulated the entire season with Mark Sanchez at quarterback. We love Mr. Tebow and wish him luck this NFL season, but until we learn more about his role, we're holding him out of our simulations.
At 7-9, the simulation engine was very generous to the Dolphins who will need to overachieve in the division to have a shot at the playoffs in 2012. A lot has changed since we released our first round of predictions three weeks ago, David Garrard got injured, Matt Moore is on the outside looking in and rookie Ryan Tannehill was named the starter. Reggie Bush stunned most NFL fans by finishing 2011 with four 100-plus yard rushing performances. The Dolphins need that effort for 16 games to contend in the East.
Here's a division that advanced three teams to the playoffs in 2011. Each of them, Pittsburgh, Baltimore and Cincinnati, are dealing with different issues heading into 2012 that hinder their chance to repeat that feat.
For Pittsburgh, it comes in the form of missing their leading rusher from a year ago and the holdout of their top receiver. Rashard Mendenhall, who averaged 4.1 yards per carry and scored nine touchdowns blew out his knee in the regular season finale against Cleveland. Steelers' general manager Kevin Colbert said he would be surprised if Mendy didn't begin the season on the physically unable to perform list for the first six weeks of the season.
This second batch of predictions accounts for Mendenhall missing the first six weeks. As for Mike Wallace and his 1,193 receiving yards and eight touchdowns, they are included because he signed and sealed his contract after a lengthy holdout. Now he just has to deliver in 2012.
Baltimore's defense—third in total, fourth in passing and second in rushing—lost one of their motors for the season in Terrell Suggs to an Achilles injury and Ed Reed, despite being in camp, has been wishy-washy in his commitment to the Ravens. Ray Rice rushed for 1,364 yards last year and 12 touchdowns last season. He has a new deal and an entire offense to carry on his shoulders this season.
The Bengals didn't re-sign Cedric Benson or his 1,067 yards rushing and six scores; sent number two receiver Jerome Simpson to Minnesota and are still working in camp to fill his open spot in the offense. Of Andy Dalton's impressive 3,338 yards and 20 touchdowns, 1,057 and seven went to A.J. Green—they aren't going to surprise defensive backs this season. Defensive coordinators have plenty of tape on the duo and it could be up to tight end Jermaine Gresham and new starting running back BenJarvus Green-Ellis to open up some space for Green downfield.
Cleveland's rookie running back Trent Richardson had minor knee surgery a few weeks back but is on schedule to start Week 1. On the other side of the ball, top defensive back Joe Haden is facing a possible four-game suspension for taking a banned substance. Rookie quarterback Brandon Weeden has been named the starter and Colt McCoy is sad. The first-string receiving corps (Massaquoi, Little and Gordon) have a combined four years of NFL experience. Good times ahead for the Browni in 2012 with a strong chance of growing pains.
The sim engine strongly believes the Houston Texans are the team to beat in the South. Die-hard NFL fans know that's not saying much. It's a very young division up against a hyper-offense when all cylinders are running in unison.
Matt Schaub returns from a foot injury that caused him to miss the last six games. Before he left he threw for 2,479 pass yards 15 touchdowns. Andre Johnson is taking it easy this training camp as he tries to avoid nagging hamstring/groin injuries that placed him on the shelf for a good chunk of last season. Everybody's favorite vegan, Arian Foster, is the catalyst for this offense. He, too, missed time in 2011 (three games), but still managed over 1,200 rushing and 600 receiving yards with 12 touchdowns.
The Titans won't get CJ2K back in 2012, but Chris Johnson should improve upon his 1,024 yards and four scores and no contract holdout. Our assumption was correct: Jake Locker took the starting job away from Matt Hasselbeck who tossed 3,571 yards and 18 touchdowns last year. According to our simulation engine, Locker is set to start all 16 games for the Titans.
The Jags are currently dealing with Maurice Jones-Drew's holdout but we left him in for all 16 games in our simulation. Blaine Gabbert will get a shot to start under center this season, but don't be surprised to see Chad Henne take plenty of snaps if the team starts slow.
Andrew Luck has veteran Reggie Wayne and college teammate/favorite target Coby Fleener at his disposal, but the Colts have plenty of holes to fill in this post-Manning era and it could be a bumpy ride in 2012. The simulation engine believes Indianapolis can manage four wins, which I think is fair as the offense has been overhauled. The defense is aging and could be the area the Colts clean up in the 2013 NFL Draft.
Can the Denver Broncos win the West in Manning's first season? Yes, but as we witnessed in 2011, this division is a mess and a few injuries here and there on different teams will send it into a tailspin.
Let's start with Oakland. If Darren McFadden can stay healthy—seven games played in 2011— for all 16 games (stop laughing) and Carson Palmer improves his 13-to-16 TD-to-INT ratio, with a full training camp and a glimmer of the talent he possessed before, the Raiders could squeeze in as a wild card. Their 29th-ranked defense in 2011 is still going to allow plenty of points, so the offense will need to carry this team into January.
San Diego was the sim engine's darling just a few seasons ago, but at 7-9, times have changed. Philip Rivers and his 20 interceptions were a season to forget. Perhaps some new blood in the passing game is what this offense needs. The team lost Vincent Jackson but added Robert Meachem and Eddie Royal. Antonio Gates is claiming this training camp is the best he's felt prior to the start of a season in quite some time, which is good considering his injured foot held him to only 778 receiving yards and seven touchdowns.
If you think about it, Kansas City finished 7-9 in 2011 without a good portion of their skill position players active. Jamaal Charles (ACL) missed most of the season, Matt Cassel (hand) missed seven games, Eric Berry (ACL) missed 15, and tight end Tony Moeaki (ACL) was missing in action completely. All those guys are back in 2012. The Chiefs could back up the simulation engine's claim of a nine-win season, if not more.
Throughout the 2012 NFL season, WhatIfSports.com will provide FOXSports.com its game predictions and fantasy projections on a weekly basis.
As always, all of our simulated NFL content is based on the statistical DNA of the league's 32 teams. The simulation process takes into account: team depth charts, injuries, passing yards, rushing yards, receiving yards, turnovers, rush defense, pass defense, offensive philosophy (pass versus rush), and minutia your brain can't handle at this time.
This article is
What is the duplicate article?
Why is this article offensive?
Where is this article plagiarized from?
Why is this article poorly edited?