How the Cowboys' Offense Can Succeed Without Jason Witten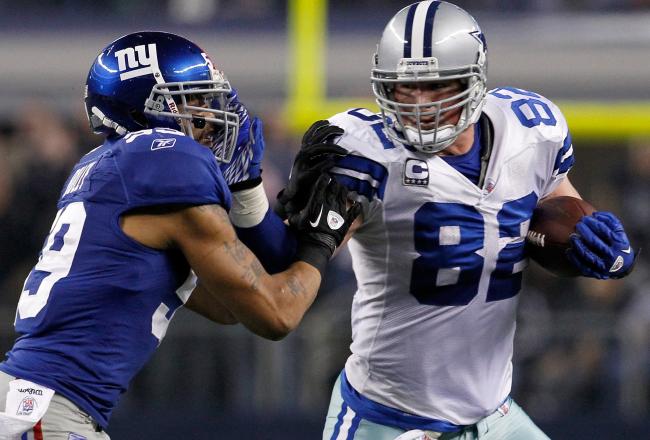 Tom Pennington/Getty Images
The Dallas Cowboys have to prepare as if Jason Witten will be out Week 1, because that's appearing to be a reality at this point.
According to Tom Orsborn of the San Antonio Express-News:
Jerry Jones suggested on his weekly radio show that the Cowboys are contemplating holding injured tight end Jason Witten out until the Week 2 game at Seattle, which is set for Sept. 16.

"If we can gain on it, in this case gain another 10 days at least before we played Seattle, which would be no contact here for the Giants game, there's almost 27 days difference," Jones told Dallas' KRLD-FM.
So to be better safe than sorry, let's potentially see what Dallas can do without Witten against the New York Giants to get a Week 1 win.
Never Lose Faith on the Ground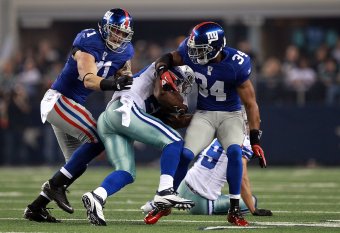 Ronald Martinez/Getty Images
One area where the New York Giants were vulnerable in 2011 was against the run.
Interestingly enough, Big Blue wasn't primarily attacked between the tackles as the pass defense was also susceptible. The Cowboys hurt themselves by being inconsistent on the ground last season, however, injuries never help either.
That said, DeMarco Murray and Felix Jones are a reliable two-back tandem and Big D must utilize this early on. As dependable of a blocker as Witten is, Dallas cannot steer away from feeding the ball carriers if he remains out.
The Giants front four is still one of the best units around and they will get immense pressure on Tony Romo if Jason Garret gets too pass-happy. Running between the guards and tackles enough can really wear down New York's front seven.
This won't give Dallas a whole lot of success but it's about remaining balanced and not abandoning the run game. Doing so makes the play-calling way more predictable. Guys like Justin Tuck and Chris Canty will react quicker to any developing play.
This isn't so much about manipulation as it is keeping Big Blue honest. The more Murray can pop New York for three-to-four yards, the more effective Romo and the 'Boys will be when passing.
Challenge Everyone in Coverage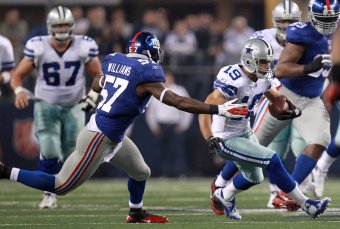 Ronald Martinez/Getty Images
When throwing the rock, Romo cannot get comfortable with targeting one or two players in New York's coverage.
Even if that brings positive result early, the Giants have proven to be arguably the best in-game adjusters around. Otherwise, any team with a gunslinger under center would avoid numerous sacks—and ultimately losses—to the Giants in January.
In other words, spreading the field and keeping the linebackers widened allows the intermediate game to open up more. Romo doesn't need to take continuous shots downfield when facing pressure because that too gives away play-calling tendencies.
Every time there's a one-on-one matchup, Romo has to challenge that defender in coverage. Whether it's Miles Austin, Dez Bryant, Kevin Ogletree or a running back leaking out, he has to exploit the single coverage.
His accuracy alone will force a Cover 2 safety to honor anything pressing deep to help over the top, which then opens up the middle and the Giants must then switch to Cover 1 or 3. No linebacker will blanket Murray one-on-one and as long as the ground game isn't scrapped, play-action is simply more useful.
Regardless of the cover scheme and matchups, forcing the single coverage to step up will expose the defense
Don't Get Fancy
What must the Cowboys do to beat the Giants?
No quarterback sprintouts off a bootleg from play-action or wide sweeps to expand the running game are needed.
Dallas just has to play straight up against the Giants and beat them moving forward, not anything lateral. As obvious as that sounds, New York remains quite the physical defense and no rolling out will see much success against an aggressive defensive line.
If there's any indication regarding Big Blue's physical impact, the postseason was a prime example.
Even though the Cowboys have an explosive offense with an improved defense, they can't get out of control. The running game should consist of up the gut runs, off tackle runs, counters and traps between the tackles. A quick-hitting dive play for the short-yard situations would be ideal also.
These are physical play calls that will hit the Giants hard early on, making Dallas the aggressor. As for the passing game, quick slants, tight end pop-passes, deep curls over the middle and posts when facing one-on-one will complement the ground attack.
New York is vulnerable inside and the faster developing plays negate any sort of pass rush. The five- and seven-step drops work well for play-action in the pocket because that freezes the second-level players and widens the intermediate zones.
In short, this is about attacking the Giants face-first and straight ahead. They're too good of a defense to try and go around or occasionally through. So, Big D might as well push forward and put the pressure on Eli Manning's offense.
Follow John Rozum on Twitter.

This article is
What is the duplicate article?
Why is this article offensive?
Where is this article plagiarized from?
Why is this article poorly edited?

Dallas Cowboys: Like this team?