Chicago Bears Say Two Is Enough, Release QB McCown & Trade for Cornerback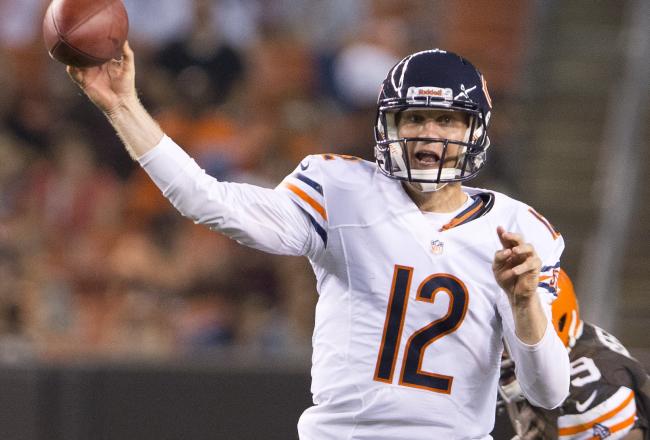 HEY BABBIT!!!!!!!!! (if you get that reference you are even older than I am)
Jason Miller/Getty Images
The Bears began their day of cuts with a bang—releasing quarterback Josh McCown (via ESPN).
It's a surprising move, not so much because McCown is a tremendous quarterback—he isn't. He's a decent backup who had a solid preseason.
He's never going to be more than he's been before—we've seen the ceiling and it isn't all that high.
All that aside though, you'd think the Bears would have a third quarterback given what they went through last season. Injury after injury after mediocre quarterback—the end result being a scuttled season.
Before we rush to judge this as foolish, we should take a long look at McCown.
His 29 completions on 46 attempts resulting in 245 yards, two touchdowns, one interception and four sacks aren't exactly Hall of Fame worthy. That's not to say he couldn't do fine in a pinch, but he's not likely to be a guy who carries the team to a Super Bowl if Jay Cutler and Jason Campbell went down.
Certainly he's no better than someone they could get off the street or in trade.
So rather than burn a roster spot on a guy who 1) will almost never see a snap in practice and 2) is unlikely to be a factor even if he has to play, the Bears let him go and will use that spot on someone more critical.
Now, it's possible there is someone out there they expect cut who they like better—a developmental quarterback who will pay off down the road. After all, this team has no such animal right now and a lot of teams like to develop a backup of their own.
However, even that might be a better use of the roster spot.
Much like trading fullback Tyler Clutts for cornerback Sherrick McManis from the Texans today.
The Bears have been interested in shifting away from the fullback type blocker and more toward a tight end/H-back type. So they get something for a positional player they weren't likely to keep, or at least a guy who wouldn't get used as much as he could be, while building depth at a position of concern.
Both are smart moves and will help the Bears get their roster ready for Week 1 against the Colts.
Check out the B/R NFC North Facebook page—like us and keep up with everything NFC North on Bleacher Report! Follow me on Twitter at @andrew_garda.
This article is
What is the duplicate article?
Why is this article offensive?
Where is this article plagiarized from?
Why is this article poorly edited?