Ranking Best 2nd Units Going into 2012-13 NBA Season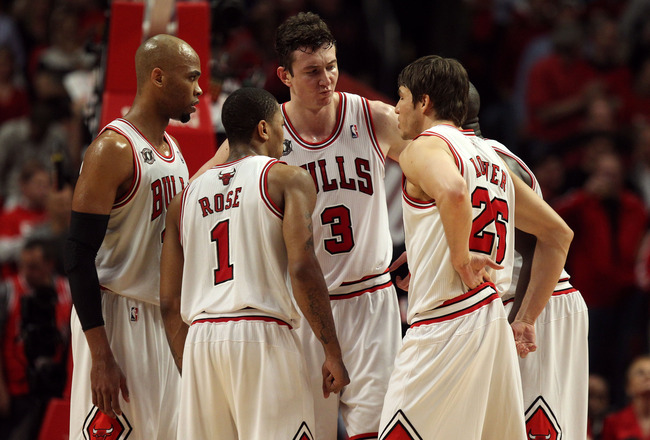 Jonathan Daniel/Getty Images
The Chicago Bulls almost certainly had the NBA's best bench last season, but a few things changed this summer.
That unit lost center Omer Asik, sharpshooter Kyle Korver, point guard C.J. Watson and defensive specialist Ronnie Brewer. General manager Gar Forman is banking on Kirk Hinrich, Marco Belinelli, Nazr Mohammed, Nate Robinson and rookie Marquis Teague to replace them.
He'll also be hoping for a lot of improvement from 22-year-old Jimmy Butler.
Is the Bulls bench still the best second unit in the league? Probably not.
But, is it still one of league's five best?
Let's see as we look at the five best collections of backups in the NBA.
5. Philadelphia 76ers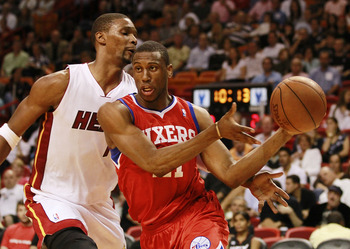 Marc Serota/Getty Images
It's not yet certain who will be included among head coach Doug Collins' starting five, but we can still conclude a few things about how good this bench will be.
His starting shooting guard and small forwards will come from a group including Thaddeus Young, Dorell Wright, Evan Turner, Jason Richardson and Nick Young. Because only two of those guys can actually start, that means the 76ers will have three starting-caliber swingmen coming off the bench.
Not too shabby.
With Spencer Hawes expected to slide over to the 4-spot and play alongside center Andrew Bynum, the depth in the paint is pretty good too.
Rookie power forward Arnett Moultrie could have a solid under-the-radar campaign and he'll be joined by 23-year-old Lavoy Allen and veteran center Kwame Brown.
Philly may not have many established stars b,ut it will make up for it with some pretty impressive depth.
4. Boston Celtics
Ronald Martinez/Getty Images
The Boston Celtics' bench went from its biggest weakness to an irrefutable strength seemingly overnight.
That had a lot to do with adding dangerous shooter Jason Terry, one of the league's best sixth men. Boston will also have either Courtney Lee or Avery Bradley coming off the bench, ensuring one of the deepest guard rotations in the league.
Jeff Green's return from an extended medical absence will mean Paul Pierce can take a breather now and then, and rookies Jared Sullinger and Fab Melo will give Kevin Garnett and Brandon Bass some help in the paint. The youngsters probably won't blow anyone away this season, but the Celtics could do a lot worse.
For what it's worth, they'll also have some veteran help from center Jason Collins and power forward Chris Wilcox.
When it's all said and done, Boston's improved depth ensures they'll remain a contender in the East capable once again of giving the Miami Heat a run for their money.
3. Miami Heat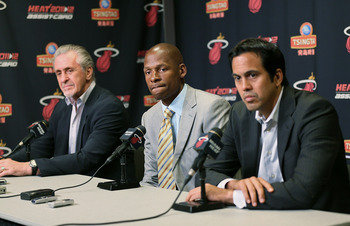 Mike Ehrmann/Getty Images
It's hard to believe a team with so much money invested in three superstars can put together a bench this good, but the Miami Heat found a way to do it.
This second unit was already pretty good when its primary components were Shane Battier and Mike Miller. Adding Ray Allen and Rashard Lewis to the mix gives the roster a ridiculous amount of depth on the wing, allowing head coach Erik Spoelstra to play LeBron James at the 4 whenever he wants.
Though the point guard and center spots remain a weakness for the Heat, the problem has more to do with the starters than who's backing them up.
Second-year point guard Norris Cole will continue his improvement, and veteran power forward Udonis Haslem ensures Miami has at least some depth in the paint.
It wouldn't be at all surprising to see the organization add another big man at some point in the near future, making this unit even better.
2. Denver Nuggets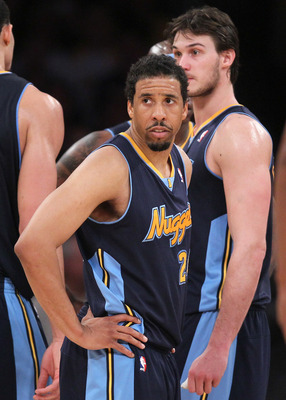 Jeff Gross/Getty Images
It's not entirely clear what the Denver Nuggets starting lineup will look like this season, but the second unit should be pretty special one way or the other.
At the very least, we know it will be led by veteran point guard Andre Miller, who's still one of the best facilitators in the game. It will also include either Wilson Chandler or Kenneth Faried, depending on who head coach George Karl opts to start at power forward.
Assuming JaVale McGee joins the starting lineup this season, that also means big men Timofey Mozgov, Kosta Koufos and Anthony Randolph will be coming off the bench.
There's a lot of length and talent in that rotation.
And, though they won't play especially prominent roles, Corey Brewer, Jordan Hamilton and Evan Fournier will all give Karl plenty of options to back up Andre Iguodala and Danilo Gallinari on the wing.
The Nuggets are young and they are deep.
They're also going to be pretty scary for the rest of the Western Conference.
1. San Antonio Spurs
Tom Pennington/Getty Images
Manu Ginobili doesn't single-handedly give the San Antonio Spurs the best second unit in the league, but he certainly doesn't hurt their case. He remains the team's best closer and arguably its best playmaker.
You can expect either Stephen Jackson or Danny Green to come off the bench next season, and it goes without saying they're both capable of being quality starters, albeit in a role-playing capacity.
In the paint, the Spurs boast a combination of Tiago Splitter, DeJuan Blair and spread-4 Matt Bonner, and don't forget about sharpshooter Patty Mills backing up Tony Parker.
If we stopped there, you could make a pretty good argument you're looking at the best bench in the league. The difference-maker, though, is Gary Neal, one of the game's best pure shooters and an absolute spark plug capable of scoring a lot of points in short order.
San Antonio's bench had a lot to do with the team's success last season. The depth helped keep aging veterans like Tim Duncan and Manu Ginobili fresh for the postseason, and the variety of scoring options gave the Spurs the best ensemble approach the league has seen in a long time.
Keep Reading