Both Georgia and Virginia Tech will kick off their college football seasons Sept. 3 with the Yellow Jackets attempting to move into the top 25 teams of the nation while bringing the Hokies down in the process.
Virginia Tech enters 2012 with a Heisman hopeful quarterback in Logan Thomas on offense and one of the NCAAs' best defenses on the other side of the football.
Georgia Tech on the other hand will be looking to finally turn the program back to its former glory with the triple option offense. The one derailing factor to this quest back to relevance for the Yellow Jackets will be if the defense cannot improve from its 2011 mark.
Thomas and the Hokies will be looking to exploit a defense that gave up 28 or more points in six contests last year.
The Yellow Jackets triple option did help the team win four of those games, where the defense let up that many points last season, however. The Hokies defense will be tested in this contest and it would be a huge feather in the cap of the Georgia Tech attack to put up considerable points on this unit.
Before diving too much into the nuts and bolts of this game, here's all the information you need to make sure you can tune into this Week 1 battle of the Techs.
When: Monday, Sept. 3 at 8 p.m. ET

Where: Lane Stadium, Blacksburg, VA

Watch: ESPN

Live Stream: Watch ESPN

Listen: 790 AM or 106.7 FM (GA) and 106.7 FM (VA)
What They're Saying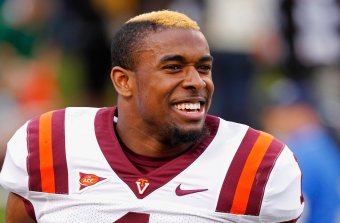 Geoff Burke/Getty Images
The Hokies are entering the new season feeling especially proud of their defensive unit, with cornerback Antone Exum telling Mike Barber of the Richmond Times-Dispatch (via WSLS) "we feel like we have the talent on our side of the ball to be the best defense that's ever come through here."
Those are some pretty big words considering Virginia Tech has had a football team since before the 1900s, but when you look at the statistics this team put up last year, it's hard to argue with Exum.
As Barber noted, defensive coordinator Bud Foster's unit finished second in total defense, against the run and scoring defense in 2011. This squad will look to better those numbers this year, starting against Georgia Tech.
Meanwhile, it may have nothing to do with X's and O's, but the Yellow Jackets did make waves through the Internet recently regarding a possible new helmet scheme. Georgia Tech quarterback Synjyn Days tweeted out a Yellow Jackets helmet featuring a honeycomb design.
He has since deleted the tweet, but The Hive has yet to take down its retweet from the quarterback:
RT @sdays10: New Helmets...Lets Get It 9/3 instagr.am/p/O63dLulA44/

—The Hive GT (@TheHiveGT) August 29, 2012
There's been no official word from the team if Georgia Tech will indeed don these new helmets against the Hokies, but hey, there's one more reason to tune into this game.
Georgia Tech Player to Watch: RB David Sims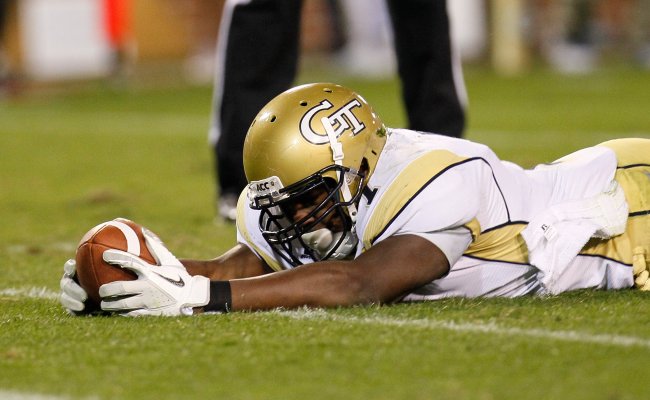 Kevin C. Cox/Getty Images
Technically in the Yellow Jackets offense, Sims is defined as a "B-back" in the triple option and he thinks that this offensive scheme should do well against the Hokies in Week 1. The rusher told the Associated Press (via the Cedartown Standard) "[Virginia Tech] has guys who've played against our offense, but if we come out and do what we're supposed to do, we should be pretty successful."
That offense might not be able to fire on all cylinders however, as Sims is coming off an offseason filled with shin injury woes.
No matter how much practice a player has been involved in, game-time speed can't be replicated. It will be interesting to see how effective Sims can be given his recent shin issues.
Virginia Tech Player to Watch: QB Logan Thomas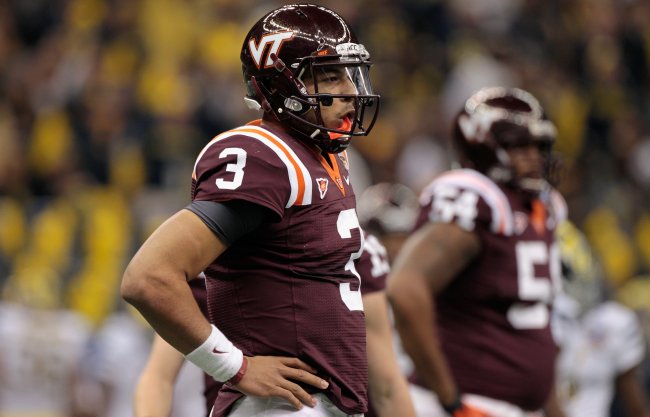 Chris Graythen/Getty Images
Last year when Thomas' Hokies defeated the Yellow Jackets, he racked up five total touchdowns in the game. That kind of success could be repeated against the 2012 Georgia Tech defense who has not seen much change from the rather lackluster unit of the previous year.
Thomas has proven that both his legs and arm can give the Yellow Jackets fits defensively. Considering the fact that he threw for 19 touchdowns through the air and scored 11 on the ground last season, Georgia Tech can at least say it wasn't the only team to have troubles with the dual-threat QB.
If Thomas wants to start convincing voters that he is Heisman worthy, he needs to replicate his 2011 performance against his Week 1 opponent and continue on from there.
Prediction: Hokies 42, Yellow Jackets 23
Virginia Tech just has too much offensive firepower and is simply going against the weaker defense in this one. The Yellow Jackets are going to have a hard time moving the football against this stingy Hokies defense.
Thomas and company should break through the Georgia Tech defense at some point during the game and that will be the deciding factor in this contest.