Cowboys vs Giants: 6 Things We Learned from New York's 24-17 Loss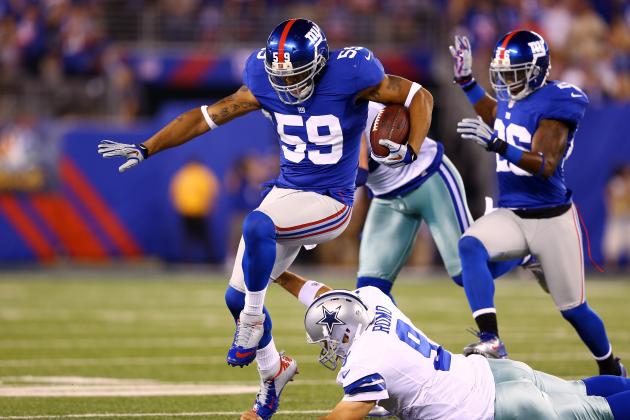 Al Bello/Getty Images

The New York Giants became the first Super Bowl champion to lose its season opener since 1999 on Wednesday night, and there are a number of things that can be taken away from this game.
This first thing is, don't panic. The Giants lost their opener last season to a Redskins team that had nowhere near the talent that this Cowboys team brought to the table.
It will be interesting to see how the Giants recover from this loss, but here are six things that we can take away from the NFL's season-opening game.
Begin Slideshow

»
Jeff Zelevansky/Getty Images

The Dallas Cowboys took advantage of a secondary that was extremely thin coming into the game. Second-year man Prince Amukamara was out with a high ankle sprain, and his replacement Michael Coe left the game early with a hamstring injury.
Kevin Ogletree owned the Giants secondary all night (particularly Cory Webster), as he caught eight passes for 114 yards and two touchdowns.
New York had better hope that both Amukamara and Coe's injuries are not to severe, because if they are, the Giants are in deep trouble.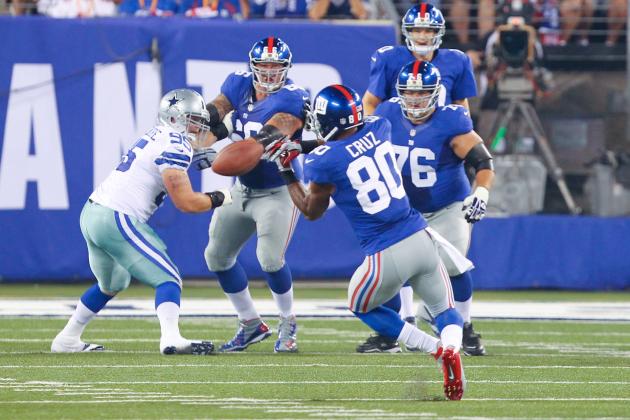 Jim O'Connor-US PRESSWIRE

Victor Cruz seemed to be out of sync from the beginning of this game.
The "sure-handed" wide receiver did not play up to his reputation, and he really killed momentum for the Giants on a number of key drives.
We can not continue to see this type of effort from Cruz, and I don't expect that we will.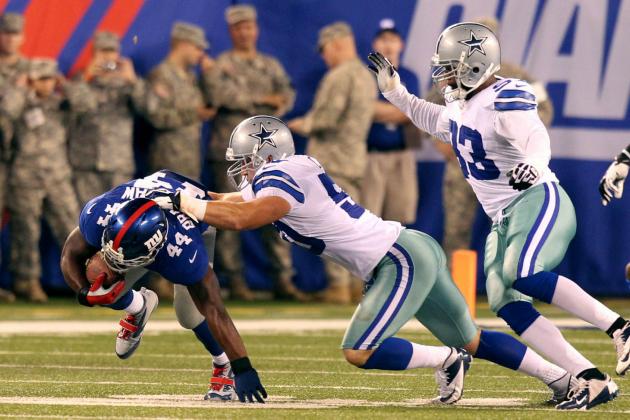 Anthony Gruppuso-US PRESSWIRE

The Cowboys defense gave the Giants' offense problems all night.
The unit locked up Victor Cruz and Hakeem Nicks to a combined total of 96 yards, and they shut down the Giants' running game to a mere 82 yards.
DeMarcus Ware was able to get to Eli Manning twice despite numerous double teams, and the Cowboys' overall unit looked to be playing in sync.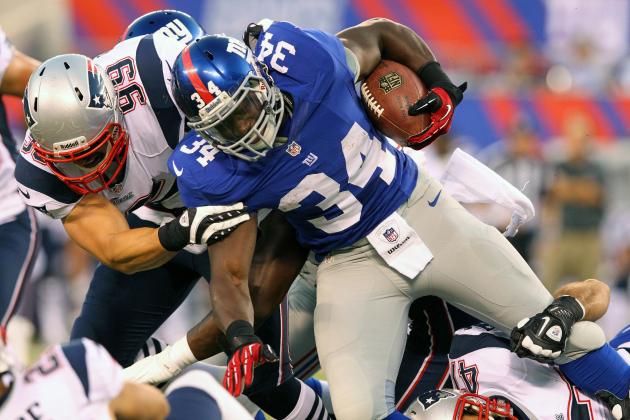 Brad Penner-US PRESSWIRE

David Wilson had a few opportunities early in the game, and he certainly didn't take advantage of them.
The rookie running back had two carries for four yards, with the second carry resulting in a fumble that the Cowboys recovered just outside of their red zone. Wilson has the ability to play in this league, but his mental game might not be ready to handle a large load just yet.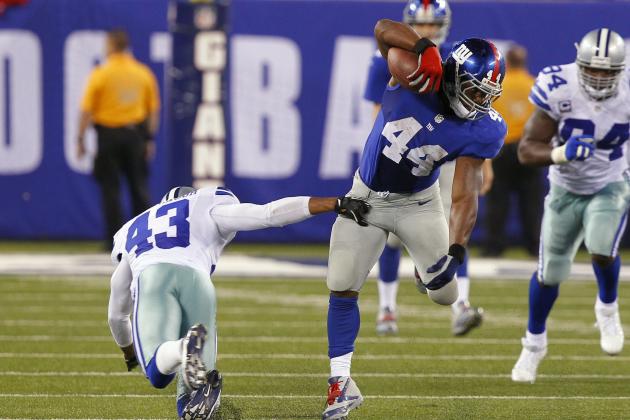 Jim O'Connor-US PRESSWIRE

The Giants averaged 4.3 yards per carry, but the running game was inconsistent all night long. This was because of the awful performance by the offensive line not only on the ground, but in the passing attack as well. The Giants had just 82 yards rushing while Eli Manning was sacked three times.
If the Giants want to have any chance of repeating, they are going to have improve moving the ball through the trenches.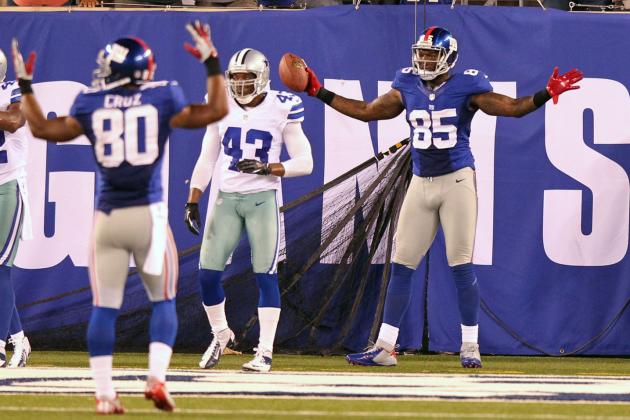 Anthony Gruppuso-US PRESSWIRE

Martellus Bennett had an impressive game for the Giants on Wednesday night.
The tight end handled DeMarcus Ware on a few plays and made a solid contribution in the passing game. He finished the game with four catches for 40 yards and a touchdown.
The Giants are going to need this type of effort from Bennett on a consistent basis.