LSU Football: Grading All 22 Starters from the Tigers Week 1 Game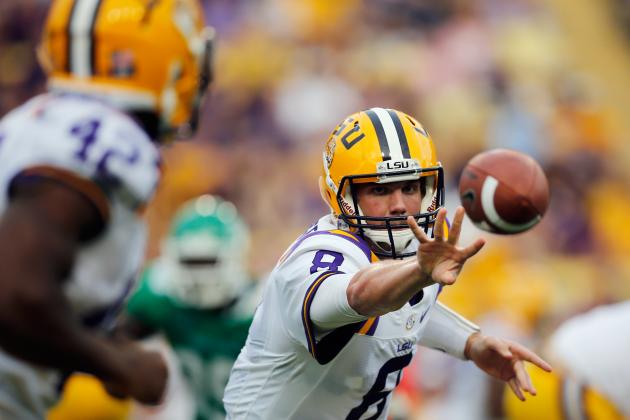 Chris Graythen/Getty Images

The LSU Tigers were dominant in their 41-14 victory against North Texas on Saturday, but they weren't that dominant.
Though the Tigers' athleticism was on full showcase, it was quite evident that this was the first game of the season.
LSU made mistakes but because they were so dominant upfront, it had no effect on the outcome of the game.
In the victory, LSU impressed and showed some cause for concern. The rotating defensive line was impressive, chinks were shown in the secondary's armor, the rushing game looked flawless and the passing game needs a little work.
But more specifically, certain players made plays while others failed to seize the moment.
Here are your post-Week 1 grades for all 22 starters.
Begin Slideshow

»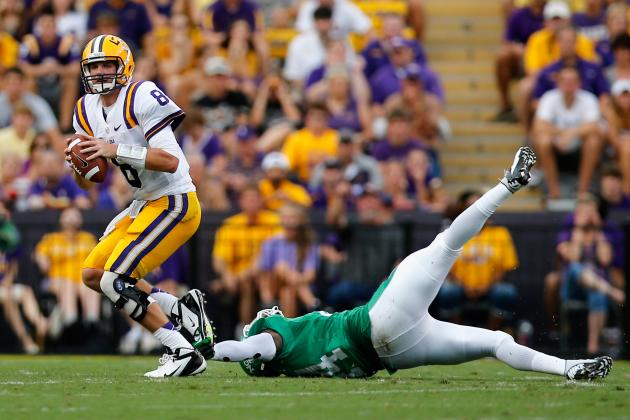 Chris Graythen/Getty Images

Zach Mettenberger didn't have the performance that many LSU fans had hoped he would, but it wasn't all his fault.
At the start of the game, Mettenberger was pressing and his throws were a bit off. Then he got his bell rung and was pulled from the game.
After he came back into the game, LSU's play-calling became very stagnant, and the only throws Mettenberger made were short-yardage passes. In other words, it felt as if Mettenberger was held on a leash.
Mettenberger finished the game with 192 yards, a touchdown and an interception, and that's disappointing considering the Tigers were playing North Texas.
Grade: C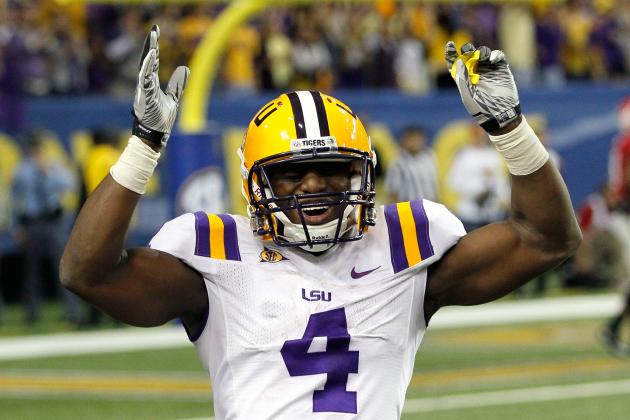 Kevin C. Cox/Getty Images

LSU's running back stable lived up to the hype.
Alfred Blue and Kenny Hilliard juked, ran around and ran through the Mean Green defense. Blue ran for 123 yards, while Hilliard rushed for 141.
In fact, this is the first time LSU had two running backs go over 100 yards since Dalton Hilliard and Garry James did it in 1982.
These were stellar performances by both men, and they proved that LSU has the deepest backfield in the nation.
Grade: A+
Joe Murphy/Getty Images

J.C. Copeland is the best fullback in the country.
Copeland paves the way for his running backs weekly, and because of his hard effort, the coaching staff threw him a bone in the season opener.
LSU ran a crossbuck trap with Copeland that allowed the big fella to trample over defenders and pick up some nice yardage.
And as if that wasn't enough, they pounded it with him late in the game and Copeland scored a rushing touchdown.
Grade: A+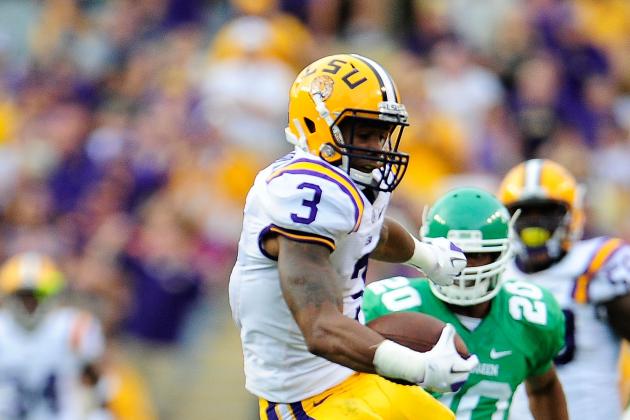 Stacy Revere/Getty Images

Odell Beckham made his impact in the return game.
With Tyrann Mathieu being kicked off the team, many wondered about the effect it would have on LSU's special teams. Beckham answered those questions quickly.
In the first quarter, Beckham took two punt returns to the house but because of a penalty, only one of them counted.
Beckham made plays when he was thrown to, but because the Tigers' passing offense was limited, Beckham's receiving statistics were lacking. Beckham finished with three receptions for 30 yards.
Grade: A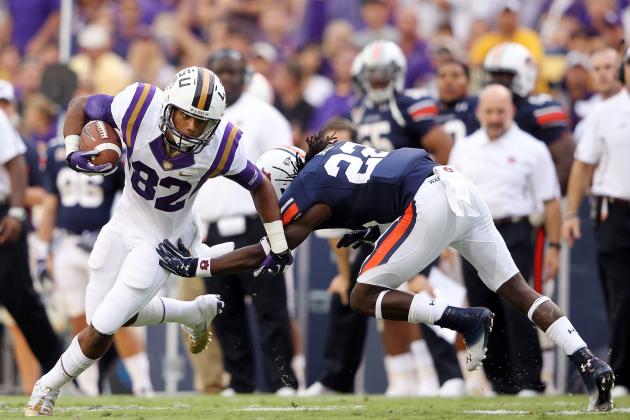 Jamie Squire/Getty Images

It's hard to believe that James Wright was listed as a starter and Jarvis Landry wasn't.
Wright hardly saw any balls thrown his way, while Landry was the Tigers' leading receiver.
Landry not only recorded eight catches for 82 yards, but he made spectacular plays all over the football field.
Landry made one-handed grabs and diving catches that showed off his incredible catching ability. Landry might become the full-time starter after this performance.
Grade: C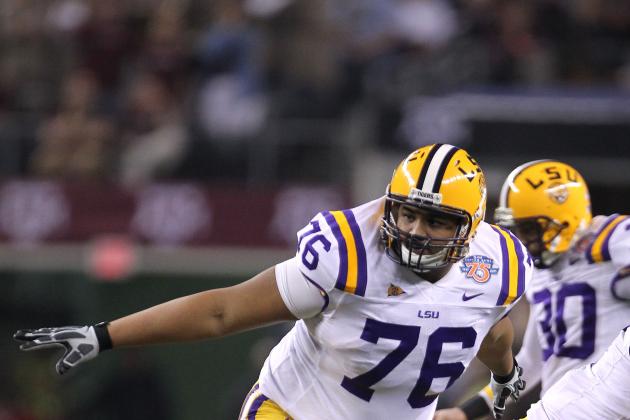 Matthew Emmons-US PRESSWIRE

Chris Faulk was outstanding as usual.
He sealed off the edge, which provided the backs with nice alleys on the outside to run through.
Faulk pass-protected well and proved to be every bit as good as he was last season. In other words, Faulk turned in another big-time game.
Grade: A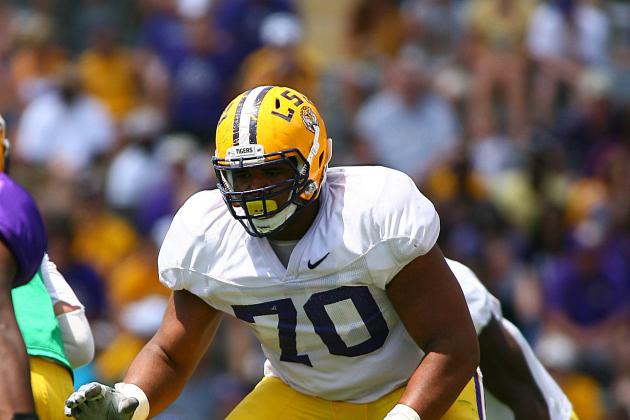 Spruce Derden-US PRESSWIRE

La'el Collins was as advertised.
He's a big offensive lineman that can carry his weight around the SEC.
Any time two running backs go over 100 yards each and the offense goes over 500 total yards, the hog-mollies upfront are usually the ones most responsible.
In LSU's win against North Texas, this was the case.
Grade: B+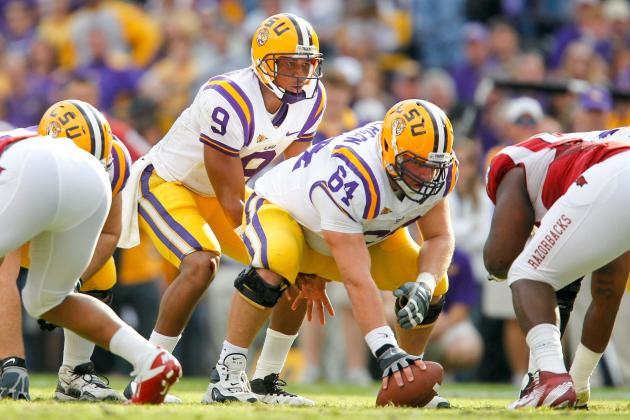 Derick E. Hingle-US PRESSWIRE

P.J. Lonergan is the anchor upfront.
Lonergan created holes for the running backs and helped keep the pressure off of Mettenberger from the interior.
Even more so, he didn't botch any snaps and had clean exchanges with Mettenberger.
Grade: A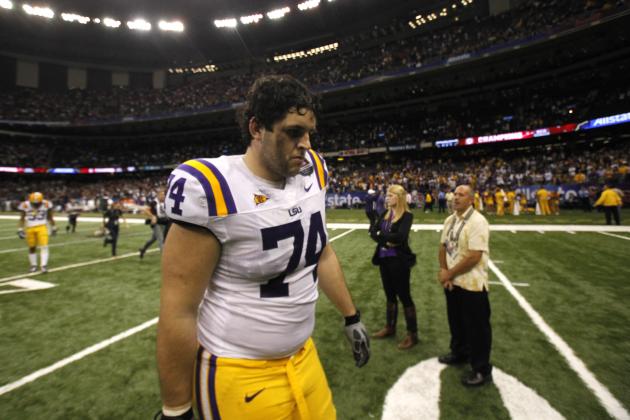 Derick E. Hingle-US PRESSWIRE

The Tigers were able to rush the football on the right side because Josh Williford and Alex Hurst created gaping holes upfront.
The first touchdown of the game by Hilliard was sprung by a block Williford made, and Hilliard—being as good as he is—finished the play with ease.
As good as Williford was for the Tigers' rushing game, he did have a touchdown called back for going downfield on a passing play.
That's a fundamental mistake the big guy can't have in SEC play.
Grade: B+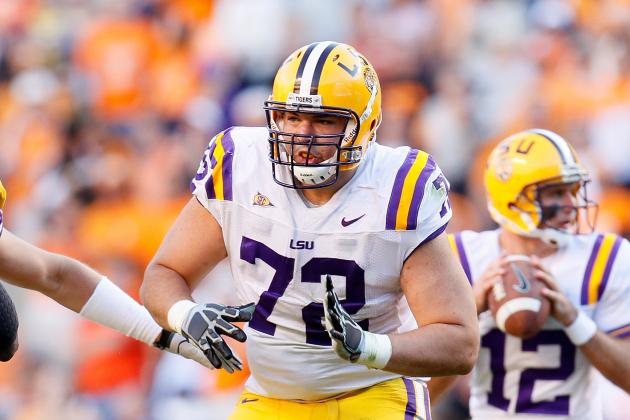 Kevin C. Cox/Getty Images

For the most part, Hurst was dominant.
What else would you expect from one of the best linemen in the SEC? Hurst is considered to be the Tigers' best offensive lineman, so he's held to a higher standard.
But he was beat in the second half, which made Mettenberger rush a throw and force the Tigers to go three-and-out.
For LSU's best lineman, more is expected out of him the future.
Grade: B+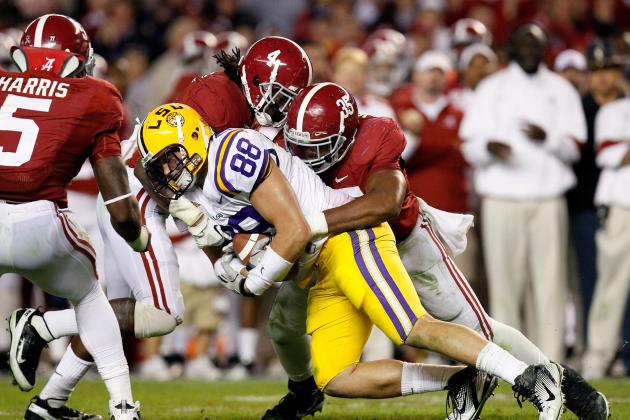 Kevin C. Cox/Getty Images

Chase Clement had a pretty good showing.
Clement was not utilized in the passing game tremendously, but when they threw it his way, he secured the catch.
What the Tigers used Clement for was the rushing game. Clement helped pave a path for LSU's running backs to rush through.
Grade: B
Stacy Revere/Getty Images

Barkevious Mingo is going to be one of the best defensive ends in college football this season.
Mingo had an impact early in the game against North Texas when they tried to run a speed sweep his way and he made a tackle for loss.
Mingo stayed at home all night and he covered receivers and tight ends pretty well when he dropped back.
Though LSU didn't register a single sack in the game, Mingo will have plenty this season.
Grade: A-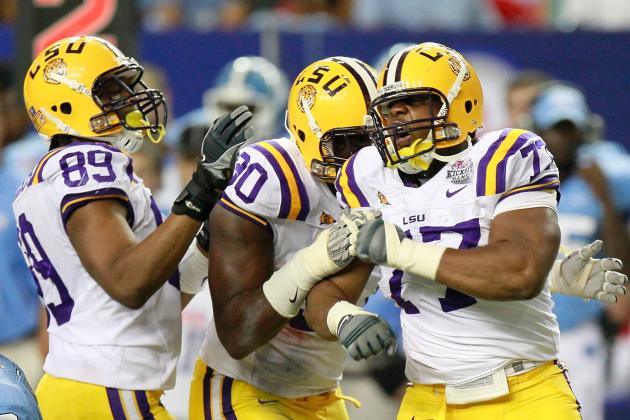 Kevin C. Cox/Getty Images

Josh Downs shouldn't be starting at defensive tackle.
Downs is a solid defensive tackle that would prove to be great relief off of the bench, but he was outperformed by Anthony Johnson against North Texas.
When Johnson came into the game, he penetrated the offensive line and made things happen.
Downs, on the other hand, had an average game but failed to make a huge impact.
Grade: B-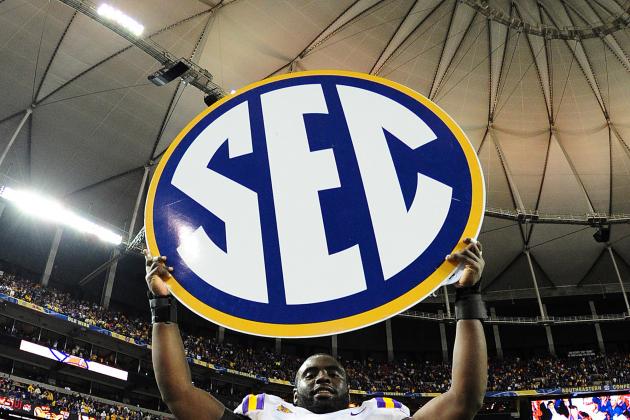 Scott Cunningham/Getty Images

It sure was funny to see Bennie Logan wearing No. 18.
Though he had a new number, it was still the same ol' run-stuffing Logan that was featured on the defensive line.
Logan was superb in rush defense and will be a handful for any offense lineman in the future.
He truly is a dominant force for this defensive line.
Grade: A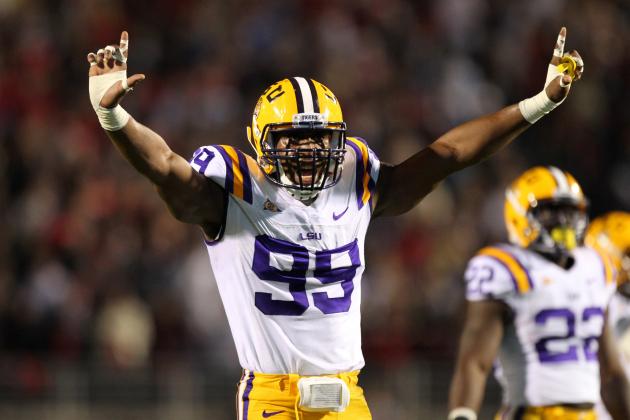 Joe Murphy/Getty Images

More is expected out of Sam Montgomery.
Montgomery didn't give up any big plays to his side, but he didn't register a single tackle, assist or sack in LSU's victory.
That's not exactly an All-American performance.
Montgomery will need to be more productive in the future for the Tigers.
Grade: C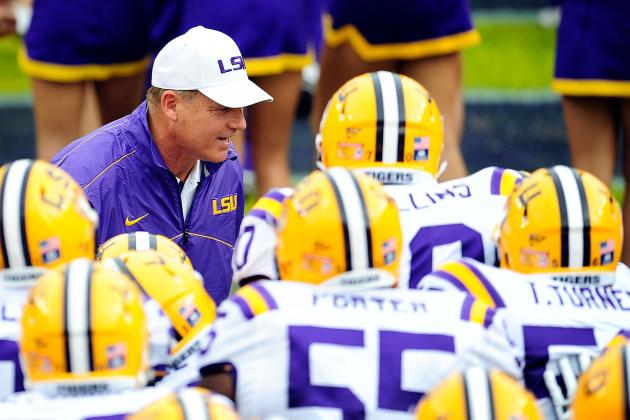 Stacy Revere/Getty Images

In his first start for the Tigers, Luke Muncie played pretty well.
It wasn't a spectacular performance by any means, but Muncie came up in run support and made tackles when needed. He also covered backs and receivers well.
There were moments when Muncie was blitzing off the edge, somewhat similar to how LSU would blitz Mathieu, and Muncie was picked up by the offensive tackle.
Defensive coordinator John Chavis might have to get a little more creative in the future.
Grade: B+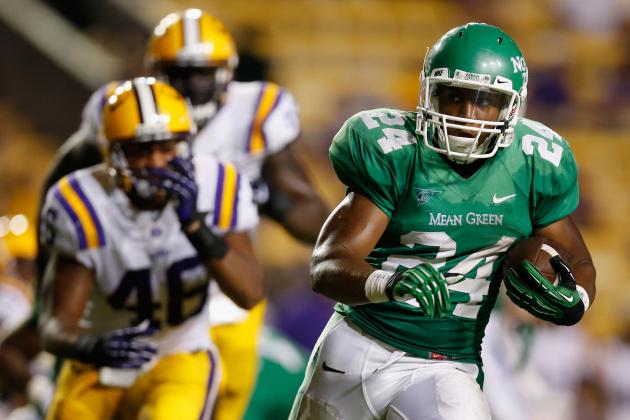 Chris Graythen/Getty Images

Kevin Minter started off great but started to slack deeper into the game.
Minter finished with six assisted tackles, but it's more about what he didn't do that should cause some concern for Tiger fans.
At the beginning of the game, Minter was stuffing the run with no problems, but later into the game, he took a few bad angles on tackles and didn't complete a few.
Perhaps it was just rust, but some improvements need to be made.
Grade: B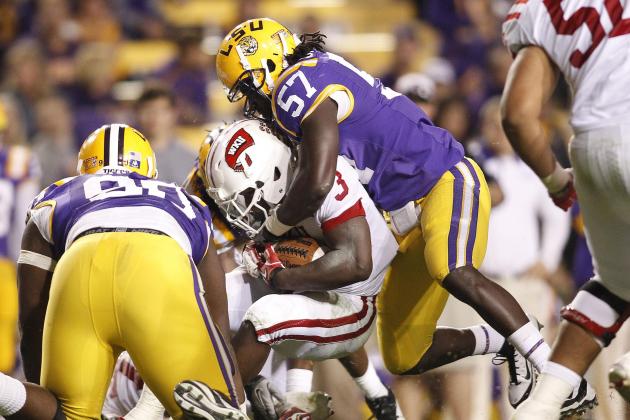 Crystal LoGiudice-US PRESSWIRE

Lamin Barrow led the Tigers in tackles with three solos and five assists.
He did that while getting injured and pulled from the game for a few snaps. The only good thing to come from Barrow leaving the game was the showcase of depth.
Deion Jones came into the game, and in his first college career snap, had a tackle for loss.
Barrow eventually came back into the game and played well.
Grade: A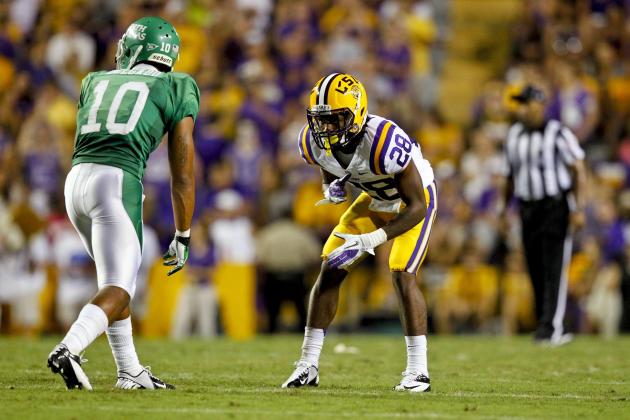 Derick E. Hingle-US PRESSWIRE

Jalen Mills had plenty of eyes on him during this contest.
How would the young cornerback fare in place of one of the most dynamic players in college football? Well, he was solid.
Whenever North Texas targeted him, Mills served as a blanket and had tremendous pass coverage.
It was a good first showing for Mills, but expect Washington to test him often next week.
Grade: A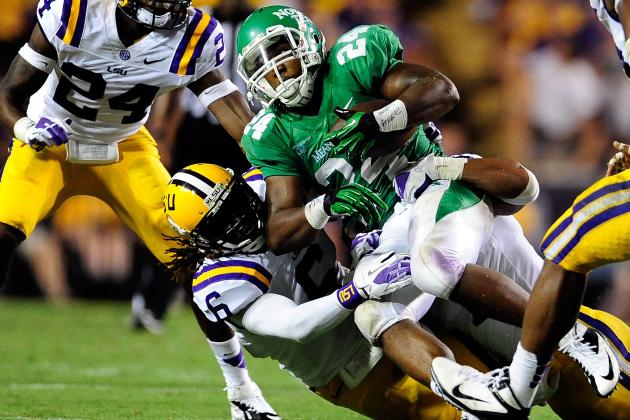 Stacy Revere/Getty Images

It sure is nice to see Craig Loston healthy.
He played an excellent game from the safety position, as he was laying licks on receivers and running backs.
Loston finished the game with one solo tackle and five assists. If he can stay healthy, he'll form a formidable duo with Eric Reid alongside him this season.
Grade: A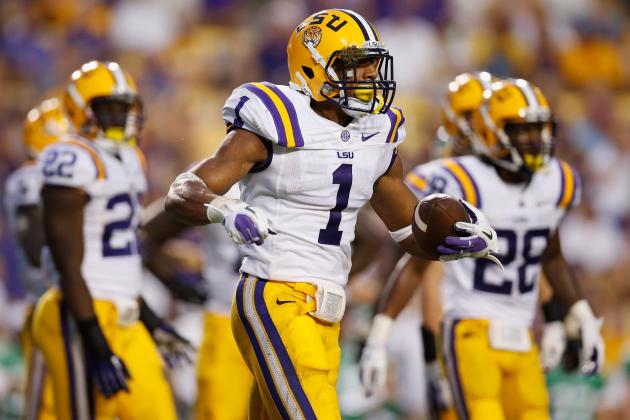 Chris Graythen/Getty Images

Eric Reid is fantastic, but he made a few mental mistakes against North Texas.
Reid was physical in the secondary. Not only was he strong in run support, but he made an incredibly athletic interception.
But, Reid undercut a route and missed an interception, which allowed a long touchdown play for the Mean Green.
Reid is too good to allow that to happen.
Grade: B+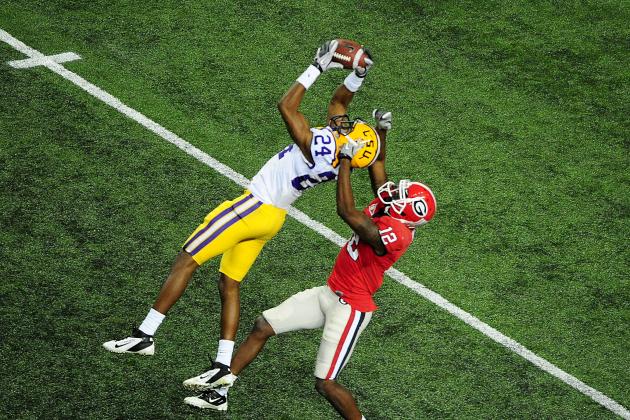 Scott Cunningham/Getty Images

Tharold Simon will be one of the best cornerbacks in the nation this season.
North Texas shied away from him early with good reason. In fact, North Texas quarterback Derek Thompson didn't even look Simon's way.
When Thompson did try his side, Simon shut down any thought of making a completion on him.
Simon is the next great cover corner for LSU, and he looked the part in the first game of the season.
Grade: A