Tennessee at North Carolina State: Live Score, Analysis and Results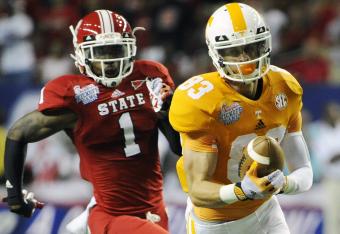 Final Score: Tennessee 35 - N.C. State 21
Tennessee scored 16 points in 38 seconds late in the first quarter to take an early lead in the Chick-fil-A Kickoff Game. It was a game that the Vols would never relinquish.
Tyler Bray completed 27-of-41 passes for 332 yards and two touchdowns to lead the Vols it was his seventh career 300-yard passing game. Junior college transfer wide receiver Cordarrelle Patterson stole the show, catching six passes for 93 yards and one touchdown, and rushing twice for 72 yards and a touchdown.
And, as promised, here are your postgame grades for the Vols from Friday night...
That will wrap it up here on the live blog from the Georgia Dome. A very solid win by Tennessee. The Vols have plenty to work on, but this is a win that Derek Dooley and Co. can certainly build upon.
Stay tuned for live grades for the Vols here on the SEC Blog.
Tennessee 35 - N.C. State 21 with 1:44 to go in the Fourth Quarter
Michael Palardy hit a 34-yard field goal late in the fourth to put what will likely be the finishing touches on a win over the N.C. State Wolfpack.
Second "S-E-C" chant dissipates due to lack of interest from...well...everybody.
This one hasn't been pretty by any means, but Tennessee has controlled this game virtually from the opening kickoff. That's a very good sign moving forward this season.
Glennon with MAJOR happy feet in the pocket on a 4th and 9 incompletition. 5:04 left and the Vols on the verge of putting a bow on this one.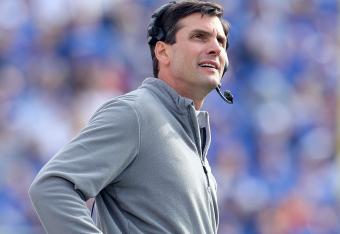 As quick as Tennessee took momentum from the Wolfpack, they just gave it right back. Justin Hunter let a fourth down toss slip through his fingers giving the ball back to N.C. State with 7:13 to play. The Wolfpack isn't dead yet.
Shortly before the 4th down play, a Tennessee fan randomly started chanting "Doo-Lee, Doo-Lee." He was serious, too.
Tennessee safety Eric Gordon just stole momentum away from the Wolfpack, picking Glennon off on 3rd and 6 and returning it to the N.C. State 33. Huge play from Gordon when his team needed it them most.
Ten minutes left, N.C. State down two scores with the ball and "Uncle Mo" on its side. This is getting interesting...
When Justin Hunter goes over the middle, it's like the parting of the Red Sea...literally. No Wolfpack defender around him ever. It's mind-boggling...or "mind-bottling," if you're Chaz Michael Michaels.
Tennessee can put it away here. Let it all hang out and let Tyler Bray go win the football game.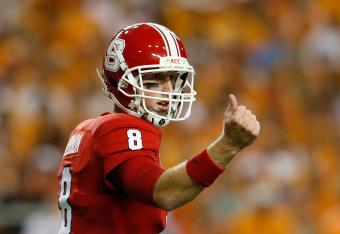 Tennessee 32 - N.C. State 21 with 13:46 to go in the Fourth Quarter: Glennon hits Bryan Underwood in the back of the end zone to keep faint hope alive for the Wolfpack.
End of the Third Quarter: Tennessee 32 - N.C. State 14
Tennessee 32 - N.C. State 14, 1:28 left in the Third Quarter: Marlin Lane had a great run down the left side, but the Vols couldn't punch it in. Michael Palardy hits a 20-yard field goal to make it a three-score game.
Glennon picked off by Tennessee safety Byron Moore deep over the middle. If the Vols punch it in on this drive......."EEEEESSSSSS EEEEEEEEE SEEEEEEEEEEE."
You wanted it, you needed it...the first "SEC" chant of the game....with 4:02 left in the third quarter and Tennessee up two scores.
Tennessee 29 - N.C. State 14, 4:17 to go in the Third Quarter: There's the running game that Tennessee has been looking for! Rajion Neal bulls his way in from eight yards out for the touchdown. A GREAT sign for the Vols.
Tennessee LB Herman Lathers has a shoulder injury and his return is "probable."
Tennessee certainly isn't throwing away from N.C. State defensive back David Amerson. In fact, it looks like the Vols are actually picking on him.
Justin Hunter's knee looks just fine. He just made a few cuts to reach across the line for a first down. He then found some room over the middle for a gain of 16 on 3rd and 10. Patterson's performance is nice, but the Vols need Hunter back to early 2011 form to be successful.
N.C. State using Mustafa Greene early in the third quarter. Glennon was clearly rattled in the second quarter, so a steady ground game would help matters for the Wolfpack
Halftime stats:
Tyler Bray: 15-of-24 for 225 yards and two touchdowns
Mike Glennon: 13-of-23 for 208 yards, zero touchdowns and one interceptions
Cordarrelle Patterson: Six catches for 93 yards and one touchdown, 67 rushing yards and one touchdown
Quintin Payton: Three catches for 118 yards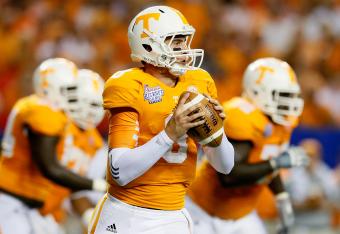 Halftime stats:
Total yards: Tennessee 348, N.C. State 238
Rushing yards: Tennessee 123, N.C. State 30
Passing yards: Tennessee 225, N.C. State 208
Halftime Score: Tennessee 22 - N.C. State 14
Controversy. Bray couldn't sneak it in on the first effort, and Brandon Bishop knocked it loose on second effort. Looks like Bray MAY have had it across the line, but the ruling on the field stands and N.C. State survives a big-time scare.
I think the nose of the football may have crossed the goal line.
This article is
What is the duplicate article?
Why is this article offensive?
Where is this article plagiarized from?
Why is this article poorly edited?

Tennessee Volunteers Football: Like this team?