US Open Tennis 2012: Breaking Down the Former Champs Still in the Hunt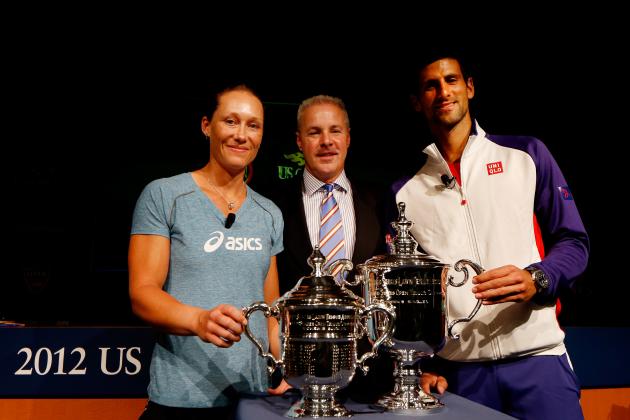 Chris Trotman/Getty Images

Just a cursory look at the draws for the 2012 US Open shows that there is plenty of star power to make up for the absence of Rafael Nadal. Even in an age of great parity in the men's game in which three competitors have dominated the Grand Slams for years, five former US Open winners remain in this year's field. These men are joined by three women, two men's doubles teams, three women's doubles teams, and a mixed doubles team, each who have won at least one US Open.
Though there are plenty of talented players with great chances to win for the first time at Flushing Meadows, the field is deep with former champions, each who has shown the ability to win under the lights in front of the raucous New York crowd.
Here is a look at the 14 former US Open champions who are still standing in this year's Open, and a look at their chances for winning another title.
Begin Slideshow

»
Alex Trautwig/Getty Images

The only Grand Slam men's singles winner since 2005 not named Federer, Nadal or Djokovic, del Potro has been playing his best tennis of late since his 2009 US Open title.
After his Open win, del Potro missed much of 2010 with a recurring wrist injury. He played respectably in 2011, winning two ATP tournaments and finishing as the runner-up in a third, but failed to advance past the fourth-round in any of his four Grand Slam attempts.
Del Potro played well at this year's Australian and French Opens, reaching the quarterfinal rounds before falling to Roger in both tournaments. He reached the fourth-round at Wimbledon, losing in straight sets to David Ferrer.
Del Potro has two ATP victories in 2012, and is approaching the level he was at when he won his Slam. It is hard to believe that he is only 23 years old, and it is the rare tennis fan who doesn't believe that he has at least one or two Slam titles in his future.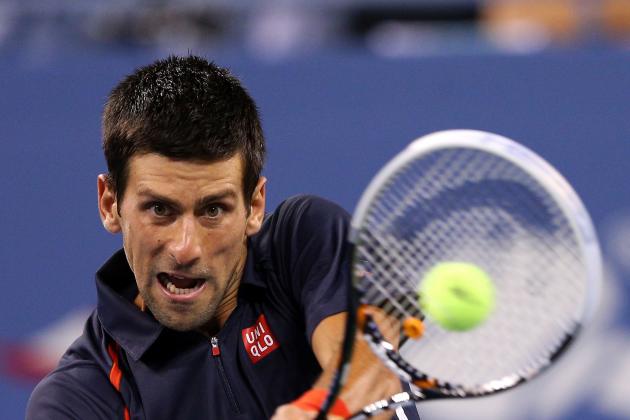 Cameron Spencer/Getty Images

Novak Djokovic has gotten some grief in the tennis world for his "disappointing" 2012 season. While it is true that Djokovic hasn't repeated his jaw-dropping 2011 season in which he won three Grand Slams and five Masters 1000 titles, his 2012 campaign has still been an impressive one.
After winning the Australian Open and the Miami Masters, Djokovic reached the finals at Monte Carlo, Rome and Roland Garros, each of which he lost to rival Rafael Nadal. He came out on top at the Rogers Cup, lost to Federer in the finals in Cincinnati, and just missed out on a medal at the Olympics after a loss to Juan Martin del Potro in the bronze medal match.
Freed from the burden of having to face Nadal again in the finals at the US Open, Djokovic is poised to reach his third straight US Open final. Federer is likely Djokovic's greatest fear, as much as Djokovic could fear anyone, as the Swiss Maestro defeated Djokovic in three close sets at the 2007 Open in the only Grand Slam final they have ever played against one another.
Djokovic is a completely different player than he was five years ago, however, and based on his demeanor and play thus far at Flushing Meadows, he appears to have all of the poise and confidence necessary to win his sixth Grand Slam.
Cameron Spencer/Getty Images

Top-seeded Roger Federer, fresh off his Wimbledon title and Olympic silver medal, easily breezed past his first two US Open opponents, defeating both Donald Young and Bjorn Phau in straight sets.
Federer next faces Fernando Verdasco of Spain, ranked number 26 in the world. Verdasco is at his best on hard courts, and the southpaw has a strong serve loaded with spin. Verdasco has twice reached the quarterfinals of the US Open, but has never advanced past the semifinals of a Grand Slam tournament.
Federer hasn't played Verdasco since 2009, when he beat him at both Indian Wells and the ATP World Tour Finals. Verdasco is much improved since then, but has not proven himself capable of beating tennis's elite.
A loss to Verdasco would be truly shocking for Federer, and he should have no problem advancing to the next round, where he would play the winner of the Mardy Fish-Gilles Simon match.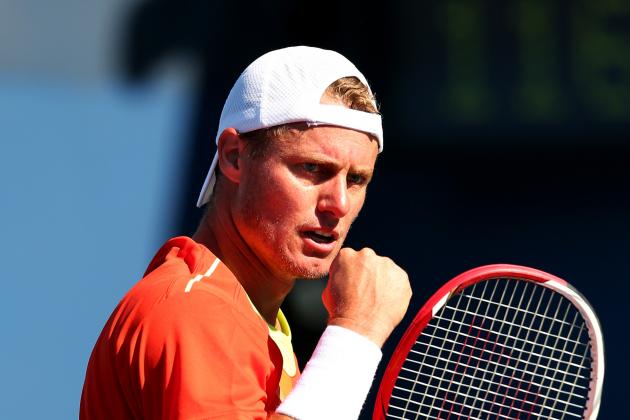 Matthew Stockman/Getty Images

It has been 11 years since Lleyton Hewitt earned his sole US Open championship at 19 years of age and a decade since his last Grand Slam win, and though Hewitt is still a very capable pro who can make deep runs in tournaments, it's very unlikely that the former phenom can advance much further in this year's US Open.
Hewitt came close to winning his first ATP event since his victory at the 2010 Gerry Weber Open at this year's Hall of Fame Tennis Championships in Newport, advancing to the finals before falling to repeat winner John Isner. Hewitt also looked strong at this year's Australian Open, advancing to the fourth-round of a Grand Slam event for the first time since the 2010 Wimbledon tournament.
Still, at 31 years old, Hewitt's best days are behind him, and he no longer has the stamina needed to win a major. He hasn't reached a Grand Slam quarterfinal since 2009, and hasn't reached a semifinal since the 2005 US Open. He was eliminated in the first-round of this year's French Open and Wimbledon, losing in straight sets at the latter.
Hewitt played well in his first-round match against Tobias Kamke, though he got off to a slow start and lost the first set 4-6. He faced a tougher opponent in Gilles Muller, ranked 56th in the world, winning in five closely fought sets. Hewitt advances to play David Ferrer, and it is hard to imagine Hewitt advancing past that match.
We are likely witnessing one of the last Grand Slam tournaments the three-time Slam winner (two as a singles player and one as a doubles player) will compete in, and though he likely won't advance much further, Hewitt is always well worth watching.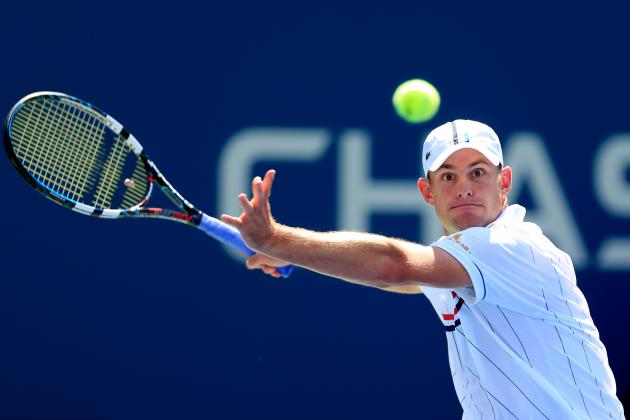 Chris Trotman/Getty Images

With his announcement that he would retire at the end of the US Open, Andy Roddick's quest for a second and final Grand Slam went from being a minor news story to one of the biggest of the tournament.
Roddick advanced to the quarterfinal round at last year's Open before he was dismissed by Rafael Nadal. Roddick has reached the quarterfinal round at eight US Opens, and he would clearly like nothing more than to win in his final tournament at his favorite Slam.
There was some talk that young Bernard Tomic could beat Roddick in their second-round match, but Roddick showed how difficult he is to beat at Flushing Meadows, and he won the match 6-3, 6-4, 6-0.
Roddick seems to be playing with more energy and enthusiasm that he has at any recent time, and he was clearly emotional at his match against Tomic. The New York fans will be behind Roddick even more than usual as he faces Italy's Fabio Fognini in his next match.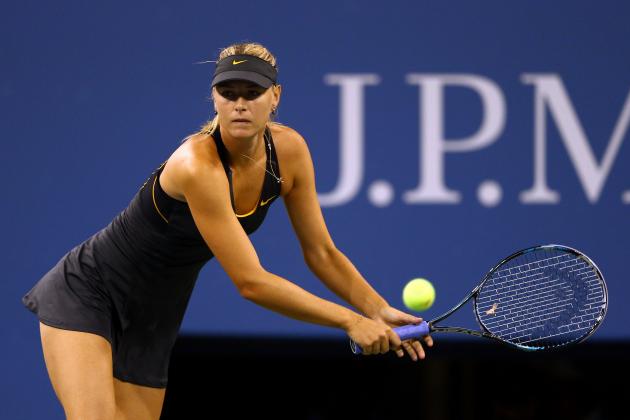 Al Bello/Getty Images

Though much of the media attention that surrounds Maria Sharapova is focused on the fact that she is no longer engaged to Sasha Vujacic, Sharapova turned in a spectacular performance in her third-round match against Mallory Burdette, winning 6-1, 6-1.
Sharapova missed the chance to play a warm-up tournament on hard court before the US Open due to a stomach virus, but she does not appear to have missed much. In fact, after winning the French Open and turning in deep runs at Wimbledon and the Olympics, where she won the silver medal, the time off may have done her more good than any warm-up tournament could have.
Sharapova has lost only eight games in her first three matches, and has hardly broken a sweat through the first three rounds.
Sharapova next faces Nadia Petrova in their fourth-round match.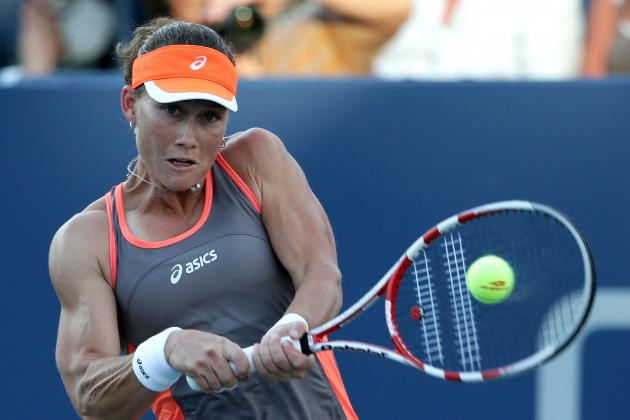 Elsa/Getty Images

Defending US Open champion Samantha Stosur was pushed early in her third-round match against Varvara Lepchenko, sliding by her opponent in the opening set 7-6 (5) before cruising to victory in the second set 6-2.
Stosur's play in Grand Slam events has been spotty since winning last year at Flushing Meadows. Though she reached the semifinals at the French Open, she exited in the first round of the Australian Open and the second round of Wimbledon. She has also failed to dominate in non-Slam events, advancing to the finals of only two tournaments since her Open win, losing at the HP Open in Osaka to Marion Bartoli and at the Qatar Total Open to Victoria Azarenka.
Stosur's advancement to the third-round marks only the third time in her US Open career that she has escaped the first two rounds, and along with Roland Garros, the US Open appears to be one of her two favorite Majors. She has played well, if not spectacularly this season, and while a repeat win is certainly possible, she will need many balls to bounce her way to claim her second Grand Slam victory.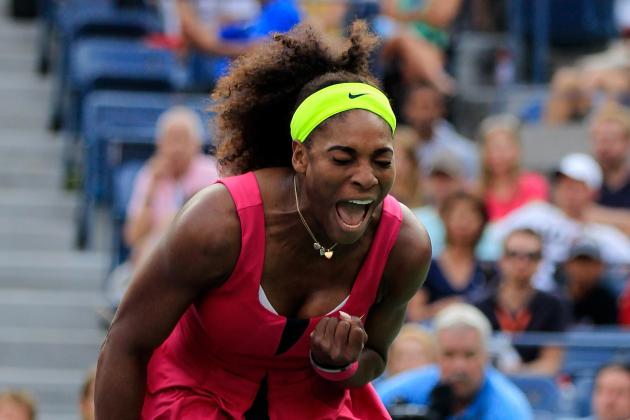 Mike Stobe/Getty Images

Serena Williams has looked nearly unbeatable for the past few months, since fully recovering from the health concerns that hampered her 2010 and 2011 efforts. After a disastrous first-round exit at the French Open, Williams showed her dominance on grass and won Wimbledon and two Olympic gold medals at the London Games.
Williams looked tired in her quarterfinal loss to Angelique Kerber at the Cincinnati Masters, only two weeks after her dual effort at the Olympics that undoubtedly left her exhausted. But Williams looks refreshed in Flushing Meadows, and after her dismantling of Maria Sharapova at the Olympics, it's hard to imagine anyone beating Williams in New York, where she has won three singles titles, two doubles titles and a mixed doubles title.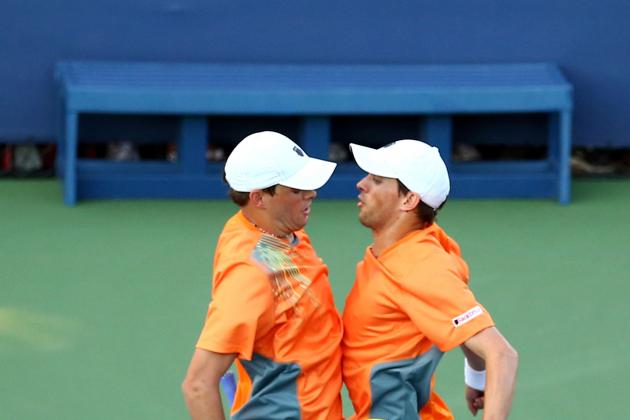 Al Bello/Getty Images

Bob and Mike Bryan easily dispatched their opponents Eric Butorac and Paul Hanley 6-3, 6-2 to advance to the the third-round of the doubles tournament. The brothers, seeded second in the tournament, are now the favorites to win their fourth US Open title as a duo after the first-round exit of top-seeded Max Mirnyi and Daniel Nestor.
The Brothers Bryan suffered their own surprise first-round exit at last year's US Open, the first time they failed to advance to the second round since 1999. They've reached at least the semifinals of 2012's three previous Grand Slam tournaments, reaching the finals at both the Australian and French Opens.
The brothers have won 11 men's doubles Grand Slam titles, most recently at the 2011 Wimbledon tournament. They last won the US Open in 2010, and after winning gold at the London Olympics and the title at the Rogers Cup just a few weeks ago, they seem to be carrying their momentum into the Open.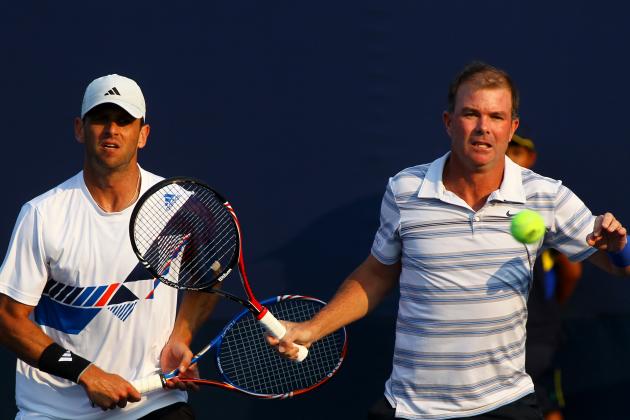 Alex Trautwig/Getty Images

Jurgen Melzer and Philipp Petzschner won their first doubles tournament as a team at the Zagreb Indoors in 2010, and since then have racked up four more tournament wins, including last year's US Open and the 2010 Wimbledon tournament.
Since their US Open win, the duo have had a tougher time. They lost in the finals at the Brisbane International in January and exited in the second round of the Olympics, the third round of the French Open and the third round of the Australian Open. Their best Grand Slam performance of the year came at Wimbledon, where they reached the semifinals before losing to Robert Lindstedt and Horia Tecau.
Melzer and Petzschner will face the British duo of Jamie Delgado and Ken Skupski in their third round match.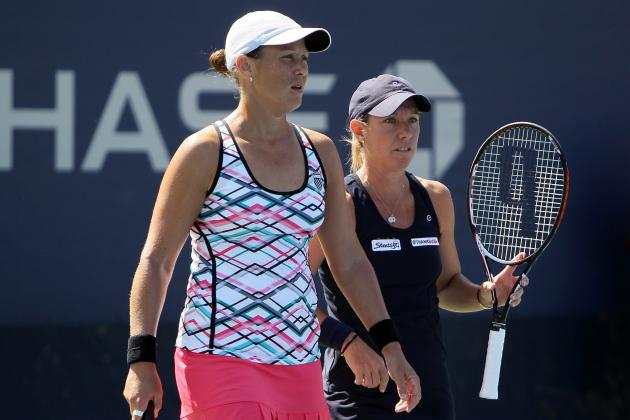 Alex Trautwig/Getty Images

Liezel Huber and Lisa Raymond are the top seeded team in the women's doubles tournament, and since the pair first teamed up in mid-2011, they have combined to win eight doubles tournaments, including last year's US Open.
After a spirited and at time close first round victory, Huber and Raymond won their second round match in straight sets. The pair will next face off against Su-Wei Hsieh and Anabel Medina Garrigues, who they are expected to beat with ease.
Huber and Raymond's greatest challengers at the Open will be the second seeded duo of Sara Errani and Roberta Vinci and the mighty Williams sisters.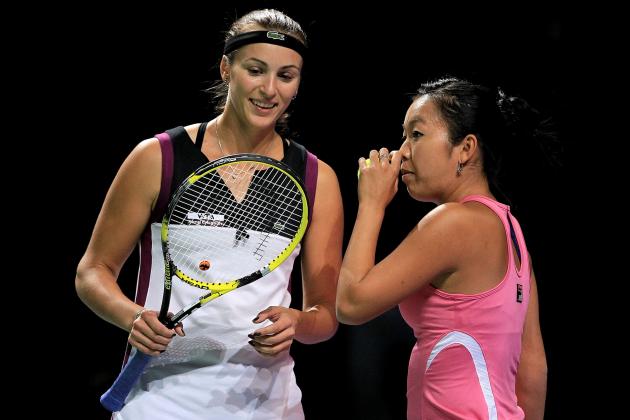 Matthew Stockman/Getty Images

Vania King and Yaroslava Shvedova are seeded fifth in the US Open, despite winning the doubles tournament at the 2010 US Open and losing in the final at the 2011 Open.
Since their win at the 2011 Kremlin Cup, King was the runner up in two doubles tournaments with other partners, first with Jarmila Gajdosova and then with Nadia Petrova. But Shvedova, who was also King's partner at their 2010 Wimbledon victory, is the best of many partners that King has teamed with in her career.
King and Shvedova slipped through a tight second round match against Nina Bratchikova and Alexandra Panova to reach the third round, where they will face Julia Goerges and Kveta Peschke.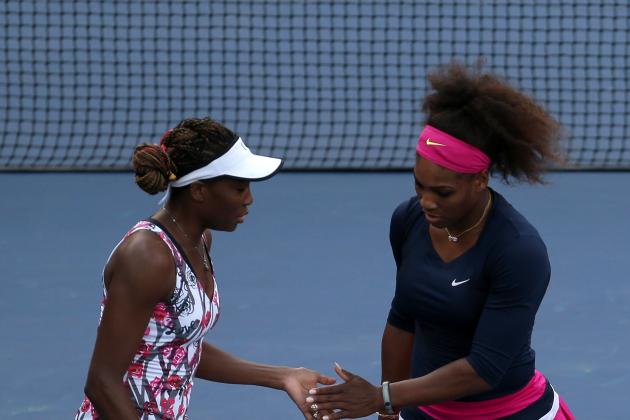 Elsa/Getty Images

Venus and Serena Williams have won 13 Grand Slams, 22 titles and three Olympic gold medals as a duo, and though Liezel Huber and Lisa Raymond are the top seeds in the doubles tournament, there is no duo that is more feared than the Williams sisters.
The Williams sisters hadn't won a Grand Slam doubles tournament since 2010 before their victory at the 2012 Wimbledon tournament, which they immediately followed up with a gold medal at the London Olympics. Though Venus is no longer the player she used to be, Serena is on top of her game, and sharing the duty of covering the court should allow Venus to conserve her stamina and play at a higher level than she demonstrated in her singles effort.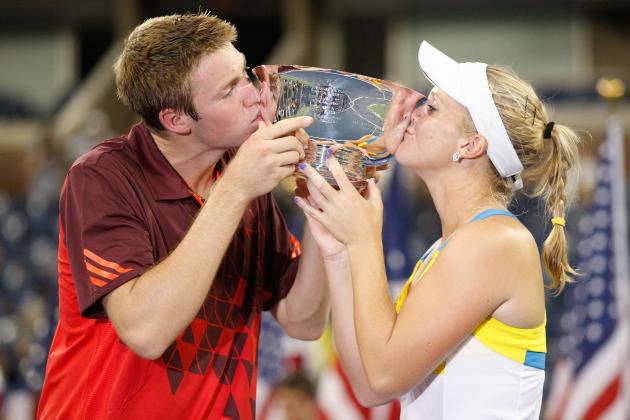 Jared Wickerham/Getty Images

With the countdown toward Andy Roddick's retirement in its final moments, the pressure on Jack Sock as America's great tennis hope will only amplify. Sock followed in Roddick's footsteps by winning the juniors title at the 2010 US Open, but since then his progress has been slower than many thought.
Sock returned to the victor's podium at the 2011 US Open, this time in the mixed doubles tournament. He teamed up with Melanie Oudin, and the two have been a nearly perfect pair.
Sock and Oudin won their first-round match over Katarina Srebotnik and Nenad Zimonjic. The pair will face Sanja Mirza and Colin Fleming in their second-round match.