Miami (OH) vs Ohio State: Final Report Card, Player Grades for the Buckeyes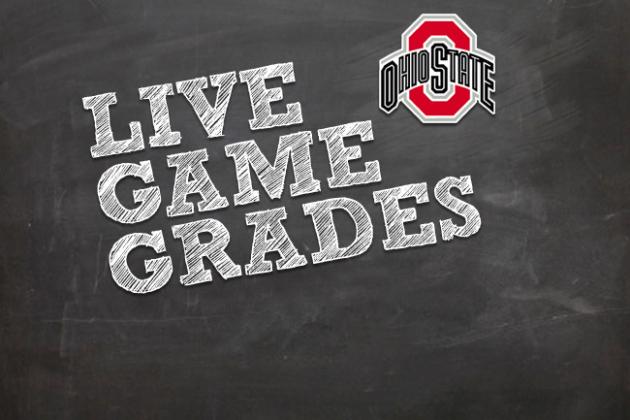 The Buckeyes struggled in the first quarter, trailing the Miami University RedHawks 3-0 after 15 minutes. But as the second quarter started, Braxton Miller and the Buckeyes flexed their muscle and crushed Miami for a 56-10 victory.
Check out Ohio State's final report card and our individual player grades for the Buckeyes.
Begin Slideshow

»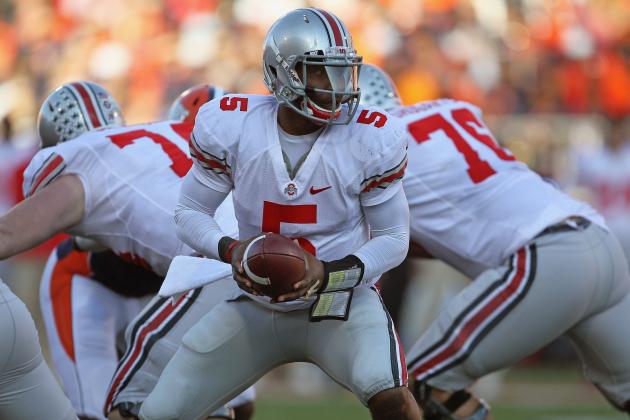 Jonathan Daniel/Getty Images

Braxton Miller - A
The sophomore quarterback started slow, completing just one of his first seven pass attempts for six yards in the first quarter. When the second quarter started though, Miller was dominant.
He finished the game completing 14/24 passes for 207 yards and two touchdowns, while also adding 161 yards and another touchdown on the ground. This would've been an A+ performance if not for the slow start.
Kenny Guiton - B
Guiton came in for Miller after he cramped up in the third quarter and played well. The junior from Texas completed 5-9 passes for 37 yards and also added 14 rushing yards, but his main job was to manage the game and hand the ball off.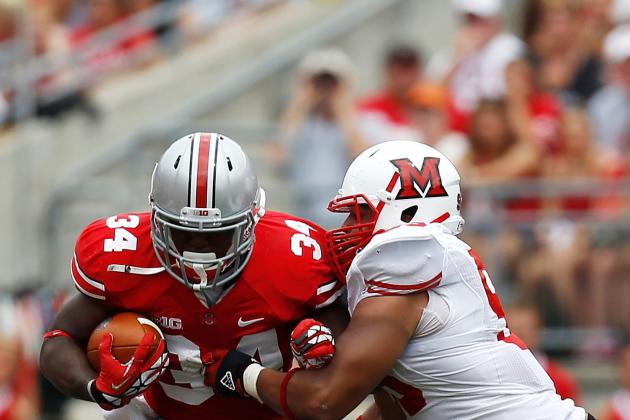 Kirk Irwin/Getty Images

Carlos Hyde - B+
Hyde, like Braxton, started slow in the first quarter, rushing for just eight yards on three carries. Things picked up in the second and the junior finished the game with 82 yards on 17 carries with two touchdowns.
The only knock on his performance was that he didn't break a big run — his long was just 16 yards.
Bri'onte Dunn - A
Dunn finally got some time in the fourth quarter and played very well. Despite Miami defenders keying on the road, the true freshman plowed through for 31 yards on seven carries and even scored a touchdown.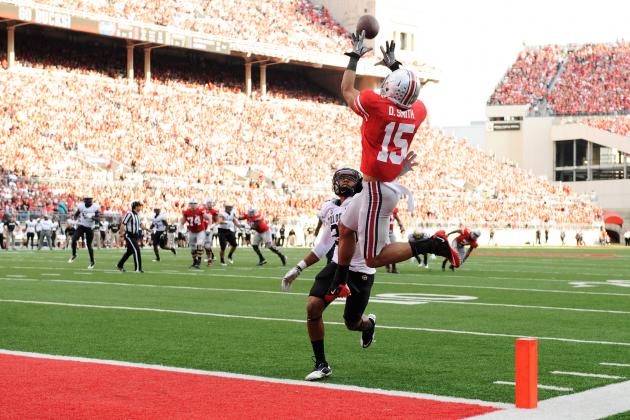 Jamie Sabau/Getty Images

Devin Smith - A+
Although the sophomore only made two catches for 31 yards, he may have snagged the catch of the year in the first game of the season. It was this catch that finally got the Buckeyes going on offense after struggling in the first quarter.
Corey Brown - A
Brown led the Buckeyes with seven catches for 87 yards and a touchdown. Brown was Ohio State's most consistent receiver all day, getting himself open and providing a security blanket for Braxton when he needed to evade pressure.
Evan Spencer - B+
Spencer caught three passes for a career high 54 yards against Miami. He would've had a long, easy touchdown catch if Braxton Miller hadn't overthrown the ball on one of his deep routes.
Jake Stoneburner - C
Stoneburner made the transition from tight end to receiver and the senior was almost unseen the entire game. He only hauled in two catches for 28 yards, but to his credit, the Miami defense was locked in on him all day.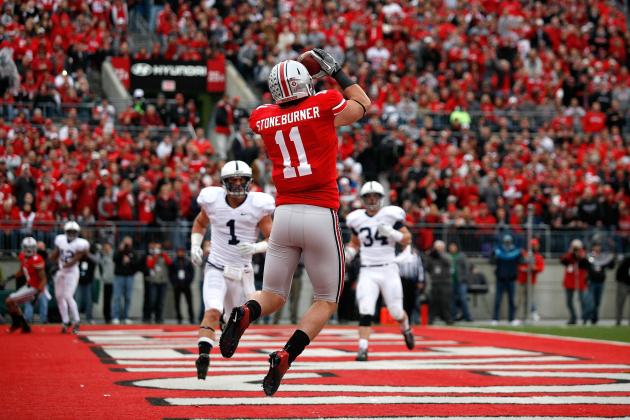 Kirk Irwin/Getty Images

Nick Vannett - C
There was a lot of excitement for both Vannett and Jeff Heuerman coming into the season, but Heuerman didn't record a single catch in the game and Vannett only snagged two catches for 13 yards.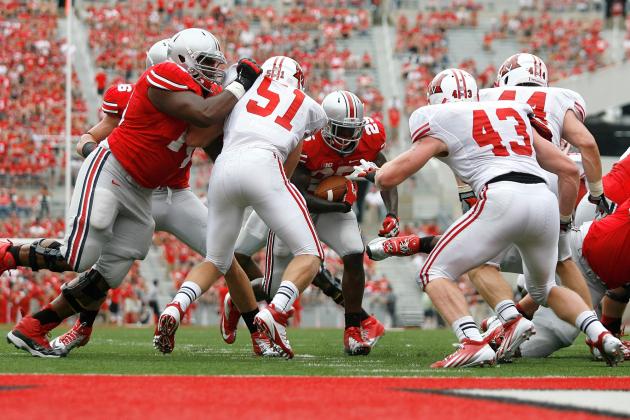 Kirk Irwin/Getty Images

Jack Mewhort - A
Mewhort played well in his first game at left tackle. Braxton's blind-side was protected well, and it was a key block from Mewhort that sprung Miller's 65 yard touchdown run in the third quarter.
Andrew Norwell, Marcus Hall - B+
Anytime your team rushes for 294 yards, you're doing something right. Ohio State's interior guards did a very good job opening things up inside for Miller and Hyde.
Corey Linsley - C+
Linsley played pretty well today, but a huge error on his part halted a scoring drive for the Buckeyes. Ohio State was driving down the field despite Miller being sidelined with cramps. Set up at the Miami 13 yard line, Linsley snapped the ball over Guiton's head for a 24 yard loss. The Buckeyes were knocked out of field goal range and had to punt.
Taylor Decker - B
Decker played well despite this being his first game as an offensive lineman. He did get flagged for a false start, something Buckeye fans grew frustrated with in Ohio State's last starting right tackle - J.B. Shugarts.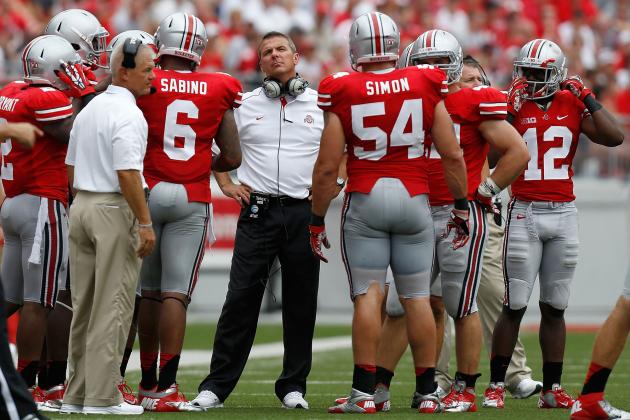 Kirk Irwin/Getty Images

John Simon - B+
Simon did a good job of applying pressure throughout the game, but Ohio State's best lineman didn't record a sack or a tackle for loss against Miami. He finished the game with just three tackles.
Garrett Goebel - B+
Goebel did a great job of doing what nose tackles are supposed to do, which is clogging up the middle. Although he only recorded one tackle and the coaching staff rotated a lot of guys in, he played well when he was in there.
Jonathan Hankins - A
Hankins and Goebel both did a great job inside and was one of the main reasons the RedHawks rushed for negative one yard throughout the entire game.
Nathan Williams - B+
Williams is coming off a knee injury, but he played with a speed today that suggested he's back and ready to make plays for the defense.
Adolphus Washington, Noah Spence, Tommy Schutt -- A
The three freshman defensive linemen for Ohio State that will get the most playing time this year combined for six tackles backing up their starters. Washington and Spence notched the only sacks of the game for Ohio State and Tommy Schutt recorded three tackles in run support.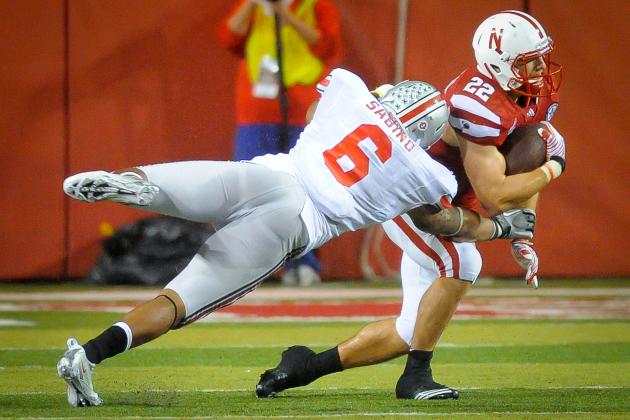 Eric Francis/Getty Images

Ryan Shazier - B+
Shazier played pretty well today and led the team with eight tackles, but the sophomore linebacker was picked on by Miami quarterback Zac Dysert in the passing game.
Etienne Sabino - B+
Sabino and Shazier also contributed heavily to Miami's struggles in the running game. Sabino finished the game with five tackles.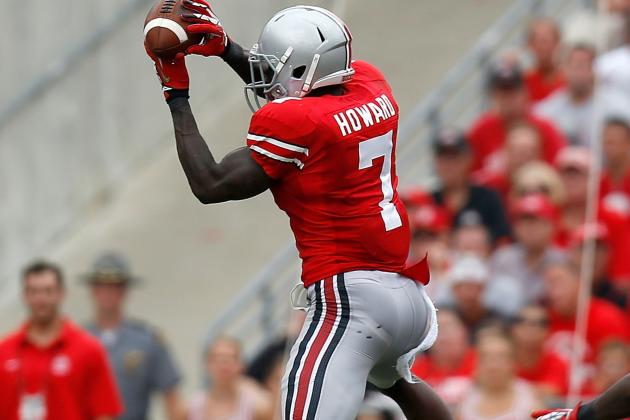 Kirk Irwin/Getty Images

Bradley Roby - B-
Roby and the rest of the secondary struggled with Miami's passing attack. Roby was decent in coverage and made a huge play for the Buckeyes when he recovered a botched Miami snap on a punt attempt in the endzone for a touchdown.
Travis Howard - B+
Howard snagged two interceptions from Dysert, which were huge because they were pretty much the only two mistakes he made against the Buckeyes.
Corey Brown - C-
The Buckeyes only surrendered one touchdown all day, and that was when Brown was absolutely scorched by Miami's Nick Harwell for a 44 yard touchdown.
C.J. Barnett and Christian Bryant - C-
Dysert and the Miami RedHawks threw for 313 yards, way too much yardage for a MAC team to pile up against the Buckeyes. Barnett and Bryant were out of position on a lot of Miami's biggest plays.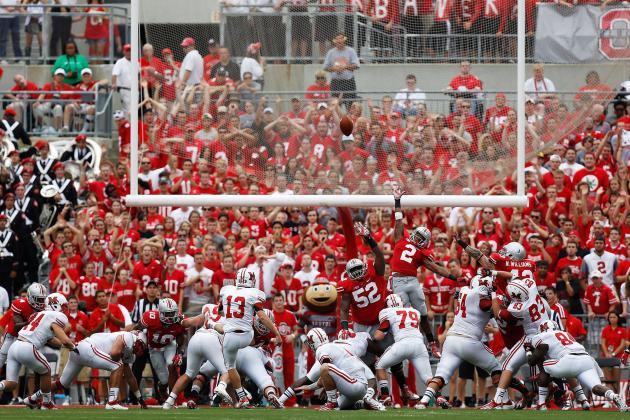 Kirk Irwin/Getty Images

Drew Basil - A
Basil was solid in the kicking game as none of his kickoffs were returned passed the 30 yard line. And although he didn't get a chance to kick a field goal, he did go 8/8 on extra points.
Ben Buchanan - B+
Buchanan had a few fantastic punts and a few that he probably wished he could have back. He punted seven times with an average of 42 yards a punt and only two of them rolled into the endzone for touchbacks.
Ohio State's return teams get an incomplete because they never really had the chance to make any plays. Armani Reeves had a few nice kick returns, but that was about it.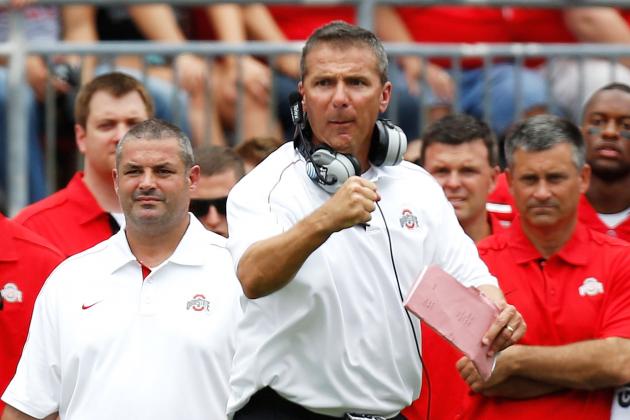 Kirk Irwin/Getty Images

Urban Meyer: A-
Meyer and his coaching staff struggled getting the Buckeyes settled down in the first quarter. The Buckeyes' offense was dismal and Zac Dysert did most of his damage through the air (165 of the 313 yards passing) in the first quarter.
But as soon as the second quarter started, the entire team fell into rhythm and coach Meyer called a great game. The Buckeyes scored 56 points against the RedHawks, most allowed by a Miami team since 1942.