Alabama vs. Michigan: Can Brady Hoke Out-Coach the Mighty Nick Saban?
Use your ← → (arrow) keys to browse more stories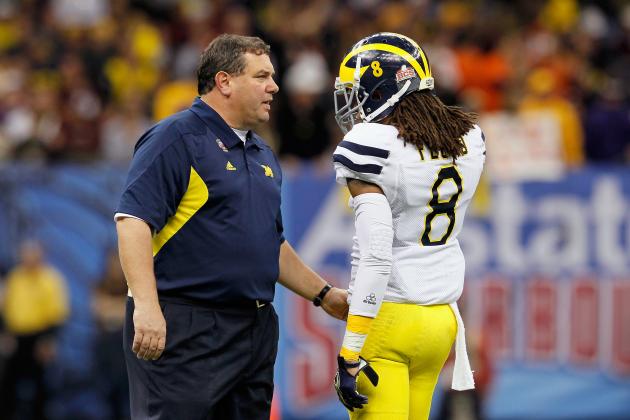 Kevin C. Cox/Getty Images

The clock is ticking, as we are just about 24 hours away from the Michigan and Alabama game taking place. Throughout the weeks we have broken down the players on each squad, given you the X-factors, the keys to the game and just about everything possible in between.
And while we get sucked into the hype of players such as Denard Robinson and Eddie Lacy, we can't forget about the coaching staff for both teams. Believe it or not, Nick Saban and Brady Hoke are going to play key roles in this game as well.
The matchup between the two coaches is just as interesting as Robinson trying to find a way to run all over this tough Alabama defense. Saban is already considered one of the best coaches in all of college football, while Hoke is quickly making a name for himself.
And while nobody is giving this Michigan team a chance on the field, can Hoke possibly find a way to gain an advantage on the sidelines?
It is no secret what Saban is going to want to do, he is an old-school head coach who has a very simple philosophy. He wants to get relentless pressure on the quarterback, stop the run by stacking the box, get off the field on third downs and on offense he wants to run the football. Not every team is capable of doing those simple things, but Saban is fortunate enough to have some of the best young players in the country that believe in his system.
Hoke also wants his team to be physical, as he has coached the defensive side of the ball his whole career. He continues to stress high energy to his players and wants to see toughness when out on that football field (via Pete Thamel of The New York Times):
My career has been spent on the defense. My career has been spent as a defensive line coach. The impact of every football game happens when the ball is snapped up front on both sides of the ball. In saying that, we have to have a mentality, we have to be the toughest guys on the football field. I know the eight years we were here when we had championships team and good teams, it's because both fronts were physical fronts.
The problem is that Hoke does not have many proven defensive linemen on this Michigan roster this season. In fact, that is one of the glaring weaknesses of this Wolverines football team and going up against one of the top offensive lines in all of college football does not make things any easier for this Michigan club.
The only way that the Michigan Wolverines have a shot at winning this game will come on the offensive side of the ball. Hoke is going to run many zone-read and option plays, trying to use the athleticism and speed of his senior quarterback and junior running back Fitzgerald Toussaint (if he plays). But once again, the problem is that Alabama has a defense that can match that intensity and speed on the football field, something Michigan isn't quite used to seeing in the Big Ten.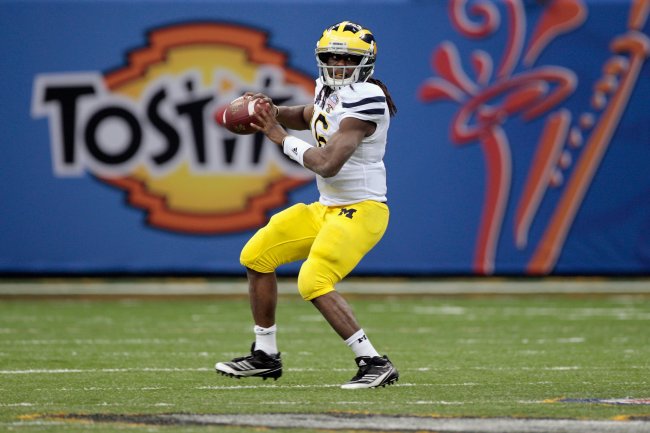 Chris Graythen/Getty Images
It all comes down to quarterback play.
Robinson, who only completed 55 percent of his passes last season, has to have the best passing game of his life for the Wolverines to win. Alabama is going to come into this game with the goal to stop the run and will have no respect for Robinson's ability to throw the football until he begins to complete passes consistently. If he is able to do so, this would open things up a bit so that the running game can become effective.
This matchup reminds me of last year's national championship game when Alabama quarterback A.J. McCarron was not considered much of a threat throwing the football. The Tigers were expecting a Saban team to run the football as much as possible, but instead, the Tide allowed their sophomore quarterback to throw the ball 34 times. He ended up completing 68 percent of his passes and was the difference maker on the offensive side of the ball.
Could Hoke outsmart Saban with his own trick by letting his senior throw the football more than usual?
Alabama has an advantage in nearly every category heading into this game. The potential difference maker is Robinson for Michigan, but he has to produce with his arm instead of his legs to give his team a shot in this matchup.