Boise State vs. Michigan State: Grades, Analysis for Spartans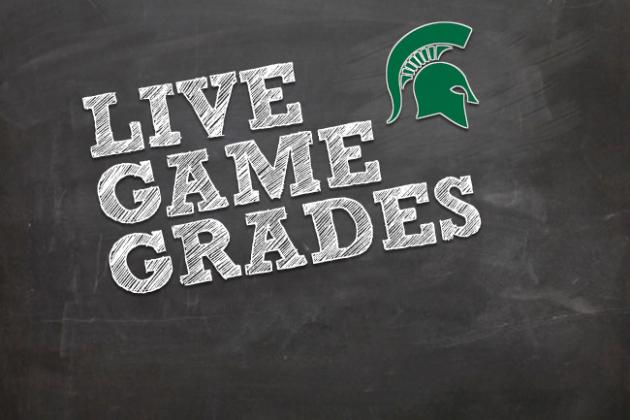 The Michigan State Spartans did not play as pretty as they would have liked, but they ended up surviving a close game against the Boise State Broncos and now begin the season with a 1-0 record.
The Spartans got off to a fast start in the first quarter, but due to sloppy play on the offensive side of the ball and turnovers, the game ended in a tight, 17-13 victory. Michigan State, which entered the season ranked No. 13 in the country, will now have a chance to move up in the rankings due to a victory over a ranked team.
We learned a lot about that team in East Lansing, so let's take a look at the post-game grades for your Spartans.
Begin Slideshow

»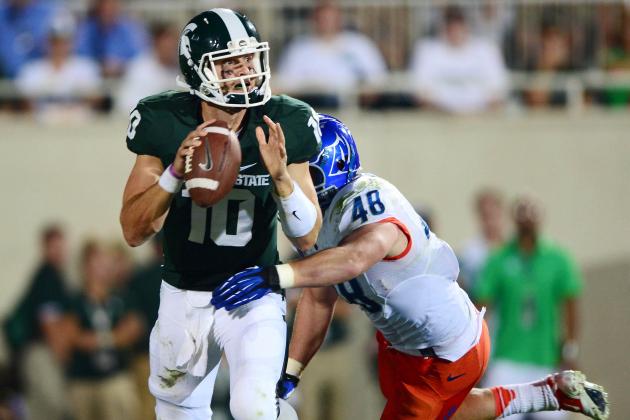 Andrew Weber-US PRESSWIRE

There are a lot of reasons to be excited about quarterback Andrew Maxwell, as he has many of the tools you look for in a solid quarterback prospect. But he did not do well under pressure in this game and often forced the ball into tight situations.
Although one of the interceptions was not his fault, he still threw three interceptions on the day, and it really could have been a lot more because of tipped passes.
I do like the fact that he made the throws that he needed to make in the fourth quarter, but he has to do a much better job of staying calm in the pocket when being pressured. Maxwell did throw for 248 yards; however, the turnovers really made this game much closer than it should have been.
Grade: C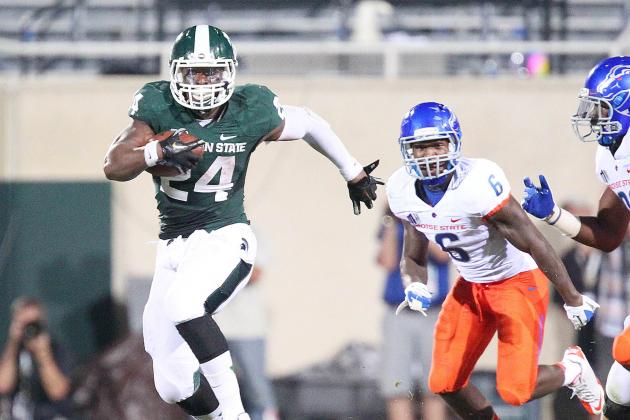 Mike Carter-US PRESSWIRE

When we are discussing offense for Michigan State, you only have to bring up one name, and that is running back Le'Veon Bell. He carried the ball 44 times, rushed for 210 yards, caught the ball six times for 55 yards and scored the game-winning touchdown. He touched the ball 12 times in the fourth quarter alone and really woke up some Heisman voters early on in the season.
Bell had more than half of the Spartans 461 total yards of offense. Without him in this game, I'm not sure the team in green would have been able to win this game.
Grade: A+
Gregory Shamus/Getty Images

We know Michigan State lost many of its receivers from last season, but this was an awful performance from this group. Way too many passes were either being dropped or bounced off of their chest and into the hands of a defender.
Tony Lippett was the leading receiver for the Spartans, finishing the game with three receptions for 62 yards, but one of his passes was bobbled and intercepted and then he later fumbled in the game. The other receivers on this team combined for just five receptions, which is simply pathetic and not a good sign moving forward if you are a Michigan State fan.
Grade: D
Andrew Weber-US PRESSWIRE

If we aren't talking about Le'Veon Bell on the offensive side of the ball, the credit should go to tight end Dion Sims. He finished the game with seven receptions for 65 yards and seemed to be the only other offensive player that was interested in the game.
Sims had an 18-yard reception on 3rd-and-6 at Boise States 25-yard line, which led to the eventual touchdown that gave the Spartans the victory. He also had a first down on third down with only three minutes left in the game to extend the drive and allow Michigan State to run the rest of the clock out.
Overall, this offense was a two-man show and Sims deserves a lot of credit for his performance.
Grade: A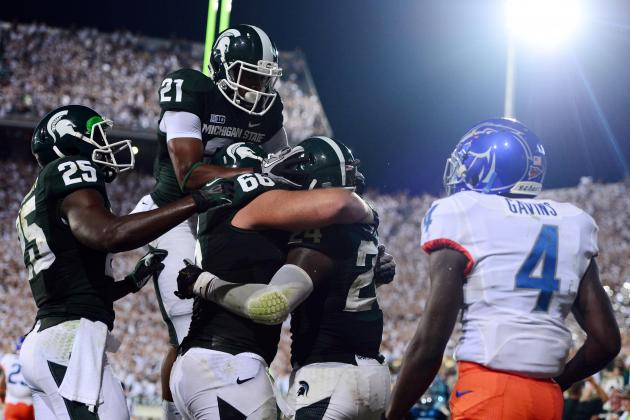 Andrew Weber-US PRESSWIRE

When both of your touchdowns are on the ground and you rush for 213 yards, you have to imagine that the offensive line did its job. Quarterback Andrew Maxwell wasn't pressured very much at all in this game and rarely was knocked to the turf.
The offensive line did a solid job up front all night long protecting their quarterback and of course, creating gaping holes for Bell to run through. The Boise State defensive line is very much undersized compared to the offensive line of the Spartans and this game clearly showed that.
Grade: B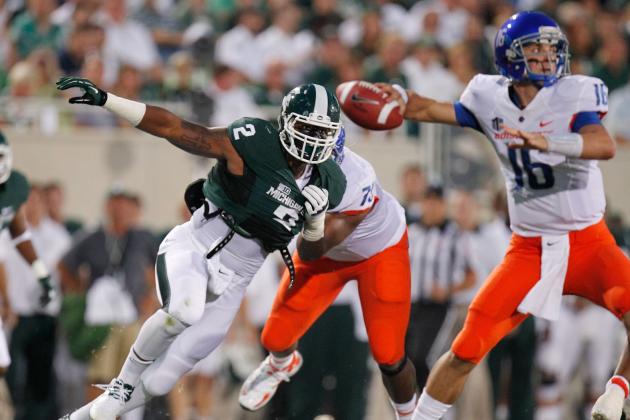 Gregory Shamus/Getty Images

There weren't any sacks in this game on either side, but Michigan State did not need any to be effective. From the very beginning of the game, the Spartans imposed their defensive will on this young Broncos team and generated relentless pressure up front.
Defensive end William Gholston was constantly in the face of quarterback Joe Southwick, and forced him to get rid of the ball before he would have liked. The running game for Boise was limited to just 37 rushing yards, which had a lot to do with terrific defensive line play.
This unit is experienced, deep and athletic, and they showed why they are to be feared across the Big Ten for the rest of the season.
Grade: A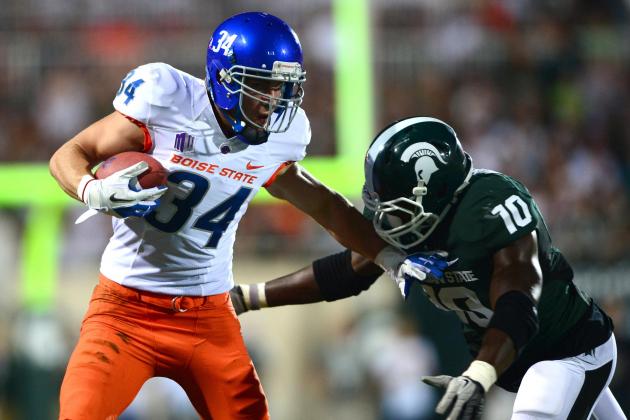 Andrew Weber-US PRESSWIRE

Senior linebacker Chris Norman had the hit of the night, as he separated a Boise State player away from the ball in the first half. Commentators were begging for a penalty, but I thought it was a perfectly clean hit and should have been on highlight reels everywhere.
Overall, all three linebackers played well and were extremely effective in helping to stop the running game of Boise State. Coach Mark Dantonio was dialing up tons of pressure on the Broncos and the group of linebackers did a solid job in pass coverage, stuffing the run and pressuring the quarterback.
Grade: B
Mike Carter-US PRESSWIRE

When you only allow 169 passing yards, I think you have done your job as a secondary.
RJ Williamson, a freshman safety, who is listed third on the depth chart, ended up with an interception that removed any chance of the Broncos coming away with at least a field goal.

However, cornerback Johnny Adams got beat on a deep ball for a 40-yard gain that led to a field goal for the Broncos. It may not sound like much, but the play occurred on a 2nd-and-24, which is really inexcusable.
Cornerback Darqueze Dennard also had a pass interference penalty in the middle of the fourth quarter that gave the Broncos a first down at the 50-yard line. He also got beat on the very next play, which would have been a touchdown had Boise States quarterback not slipped before throwing the football.
Overall, the secondary had its moments, but did not give up much to really complain about.
Grade: B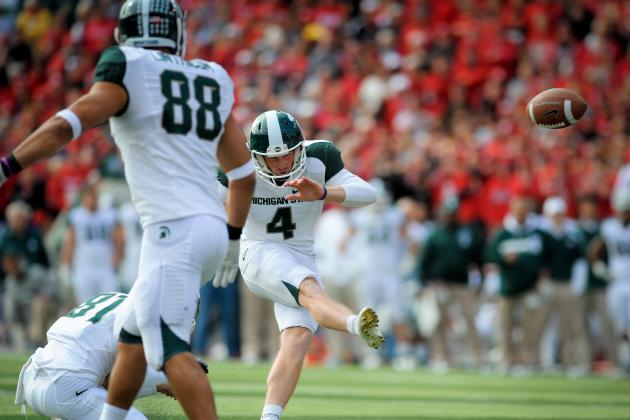 Eric Francis/Getty Images

Nick Hill returned a punt for 15 yards and averaged 21.3 yards on kickoffs. Kicker Dan Conroy hooked a 43-yard field goal in the third quarter, but did connect on both of his extra points and drilled a 50-yard kick in the first quarter.
Punter Mike Sadler also averaged 38.5 yards on his two attempts, including putting one inside Boise States 10-yard line.
Grade: C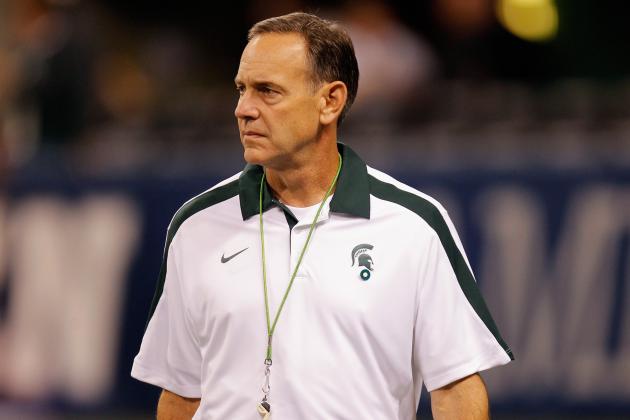 Gregory Shamus/Getty Images

I thought Mark Dantonio did a good job of coaching this game. He saw that Boise State could not handle the pressure up front, he kept the ball in his running backs hands all night long and it certainly paid dividends for this offense.
The only real problem I had with Dantonio is the fact that he decided to get greedy at the end of the second quarter by throwing the ball with only a few seconds left. The Spartans were in great field goal range and could have entered the half in a tied game. Instead, he decided to throw the ball with a first-year starting quarterback and it was intercepted, erasing a solid chance of producing points.
It could have been a much cleaner game for Michigan State, but overall you can't really complain since the Spartans emerged victorious.
Grade: B