Virginia Tech Football: 10 Important Storylines to Watch Develop Throughout 2012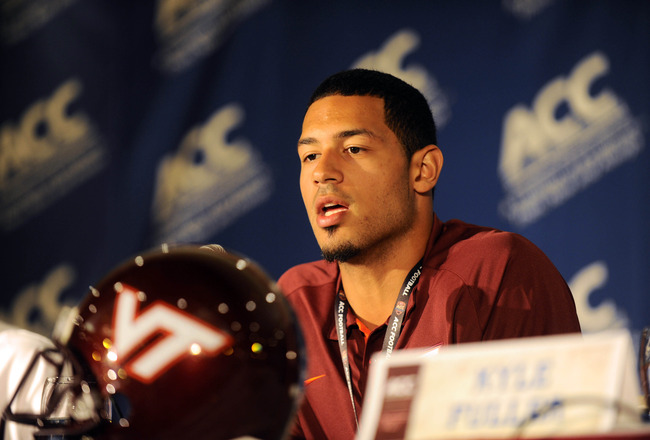 Logan Thomas is tasked with leading Virginia Tech to ACC glory.
Sam Sharpe-US PRESSWIRE
Virginia Tech has some interesting storylines brewing for 2012. Now that the college football season is upon us, it's worth investigating some plot strands to keep an eye on.
Until it happens, there will always be questions about Frank Beamer's ability to win the big games. Others may argue that there is actually a deeper problem within the recruiting that prevents the Hokies winning a national title.
Both of those things may be true...or not. That's a story for another day. All that matters right now is the 2012 season, which is already impossible to ignore.
Here are 10 items that should be of interest to Hokies fans as we move through the season.
The Development of Logan Thomas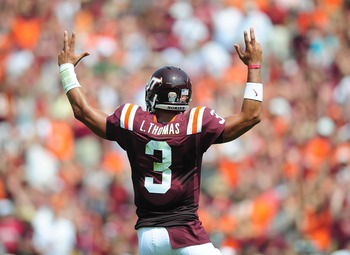 Thomas has to improve his accuracy if Virginia Tech are to succeed.
Andrew Weber-US PRESSWIRE
Has any Hokie had more expected of him than quarterback Logan Thomas has this year? His team has replaced all but three of last year's offensive starters, which leaves Thomas, center Andrew Miller and wide receiver Marcus Davis.
Thomas isn't likely to let any of this faze him, however. Nor is he likely to put too much stock in some of the 2013 draft boards that have him going early in the first round. Thomas spoke to Patrick Stevens at The Washington Times:
If the time comes and I am [taken in the first round], I thank the Lord for that. If not, I'll come out here and be the same person every day, fun-loving funny guy who loves the hard work and loves his family and friends as well.

It's not going to change if I go into the league first round, seventh round, undrafted or if I'm working in a tool shed somewhere.
As it seems incredibly unlikely that Thomas will return to college in 2013, it will be interesting to see how Thomas' offseason work translates into a game environment. Assuming he goes to the NFL in 2013, his deep-ball accuracy has to develop this year.
Now that he doesn't have his favorite receivers anymore, his accuracy in this area cannot be allowed to falter. His completion percentage was 59.8 last year, which really has to go up if the Hokies are to mount a serious national challenge.
According to Andy Bitter at The Roanoke Times, Thomas spent time in the offseason with George Whitfield, who has previously coached Cam Newton and Andrew Luck. This shows that Thomas is deadly serious about developing his craft.
If Thomas can run the offense like he is capable of doing—and in some cases, be the offense—then there will be a lot of things to celebrate this year.
Did the Defense Peak Last Year?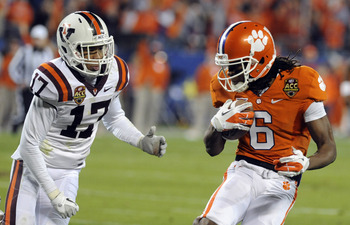 Kyle Fuller (left) returns to cornerback this year.
Sam Sharpe-US PRESSWIRE
Just like Logan Thomas, there is a great deal expected of the Hokies defense this year. The team brings back nine starters from 2011, so there are whisperings of recapturing the No. 1 total defense spot that the team held in 2005 and 2006.
Bear in mind these were defenses that featured the likes of Brandon Flowers and Vince Hall. It's a lot to ask, but it can be done. However, in order to do it, the Hokies need to overcome the deficiencies in their secondary.
Jayron Hosley has gone to the NFL, but Kyle Fuller returns to cornerback after a stint at whip linebacker last year. Antone Exum is likely to hold down the other cornerback spot.
If these two can stay on the field, everything should be fine. If any sort of injury strikes, however, the backups are not ready for the pace of college football. There's definitely talent there, but they need more time.
Mike Barber of The Richmond Times-Dispatch spoke to defensive coordinator Bud Foster, who shared similar concerns:
We have some talented young prospects with the freshmen, but right now, it's a whirlwind for them. And we're not slowing down for them. They have to come up to our level.
Defensive backs coach Torrian Gray was even less hopeful:
We're not ready, at least at this point, to compete to win a conference championship with those guys. They're not at that level, have a long way to go.
There was a run of season-ending injuries to the defense last year—Foster will be praying it doesn't happen again.
The Performance of the Offensive Line
Center Andrew Miller is the only returning starter on the offensive line.
Matthew Stockman/Getty Images
The only returning starter here is Andrew Miller, although David Wang comes back from his season-ending injury to start at left guard.
Michael Via has functioned as a good utility player for the Hokies, playing nearly everywhere along the offensive line. He moves to right guard this year, challenging redshirt sophomore Brent Benedict for the starting job (via The Washington Post)
The offensive line should get better as the season goes on. The more reps they get, the more familiar they'll be with each other. The only problem is that the first game of the season is against Georgia Tech, which is a must-win matchup.
There will be no time for easing the line in with straightforward games, during which they can get some confidence. The Hokies line will be up against an inexperienced Yellow Jackets defense, but it will still be an early test of character for them.
If they can keep their quarterback on his feet, it will give them a lot of encouragement going into the season—not to mention the relief that Thomas will feel.
Because they have a quarterback who can make plays with his feet, the O-line might be granted a few more mistakes than if they were protecting a pure pocket passer.
Due to his size, Thomas will be able to buy time and yards when the pocket breaks down, which he did quite effectively last year.
However, as any team with a dual-threat QB will attest, the more times they tuck and run, the greater their chance of injury. Thomas' predecessor, Michael Vick, has found that out throughout his career. Thomas is bigger, but it's unwise to just assume he'll be fine.
The line absolutely has to do its job, so make a note of its progress every few weeks and see how reassured you are.
How Will the Freshmen Perform?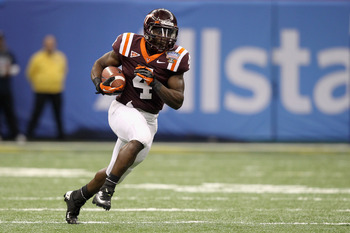 David WIlson is now in the NFL, so the Hokies must find a new rushing threat.
Matthew Stockman/Getty Images
With so many starters now graduated, it makes sense that there will be some freshmen taking the field this year. The question, as always, is whether they'll take the next step and prove they belong on the team.
With David Wilson joining Jayron Hosley in New York, there is a need to find a running back—or committee of backs—that can consistently gain yards for Beamer. Freshmen will form part of that solution, so it's worth paying attention to their progression.
Running back Trey Edmunds might find the journey a little easier than others, being the son of Pro Bowler Ferrell Edmunds. Speaking to Damien Sordelett at GoDanRiver.com (via WSLS.com), Edmunds explained the influence his father has had on his burgeoning football career:
For the most part, he's been my biggest role model throughout the whole process and throughout the whole time. He's been there day in and day out; he's someone I can always talk to, someone who gives me advice and he's someone I can look up to any time.
Having a father who played in the NFL is not unique to Edmunds among Hokies players—Jeron Gouveia-Winslow is in the same position—but coming in as a freshman, Edmunds will need the support of someone who has been there before.
Edmunds has forced his way into contention with good blocking and following through on his assignments, which is a skill some NFL players don't even have down.
Edmunds will need to pass fellow freshman J.C. Coleman on the depth chart, however, who has looked sharp in practice and suffering no ill-effects after fracturing his right hand.
Edmunds has improved from spring to fall practice, and Beamer will hope that his ascent continues into the regular season.
The Pistol Formation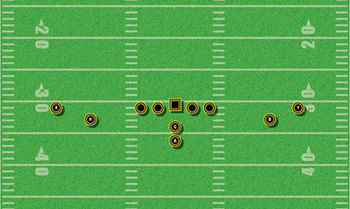 The pistol formation will be in use for 2012. (Photo via GobblerCountry.com)
During spring practice, Virginia Tech gave a glimpse of a new direction for 2012 when the offense lined up in the pistol formation on some plays. As they boast a quarterback who is 6'6", this could be a useful tool for them. When asked about it at the ACC Football Kickoff, QB Logan Thomas was optimistic (via CBSSports.com):
We only played around with it for a little bit. I think it's good for our running backs because they can hide behind me, and at the same time it gives me a threat to be able to run downhill. I think it's good, I think that we can use it. Hopefully it makes us better.
For those unfamiliar with the pistol, it—as the name suggests—is like a halfway point between lining up under center and in the shotgun. The quarterback will stand four or five yards behind center, with the running back directly behind him, two or three yards back.
This enables fast handoffs between the quarterback and running back, as well as giving the quarterback extra time in his drop, akin to the shotgun. The QB is also close enough to the line of scrimmage to read the defense.
From the running back's point of view, it gives him a short burst of acceleration going into the handoff—an advantage for gaining momentum as he approaches the line of scrimmage.
GobblerCountry.com ran an excellent feature by Josh Parcell that broke down how the pistol could be used most effectively within Virginia Tech's offense.
J.C. Coleman, for example, stands at 5'7". He will be lined up behind Thomas and will be entirely hidden from view. Parcell noted that if Thomas runs the same zone-read option as last year, it will confuse the defense by keeping the running back's intentions secret until it's too late.
It won't be a constant feature of the Hokies offense, but its advantages make it more useful than a simple gimmick. Look for its continuing use throughout the season.
Georgia Tech at Virginia Tech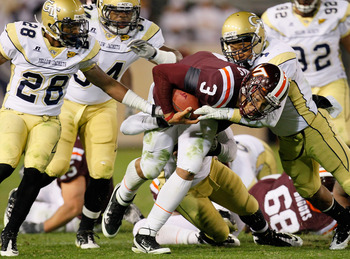 Georgia Tech present a real challenge in the opening game.
Kevin C. Cox/Getty Images
This game will start the season with a bang. The Yellow Jackets travel to Blacksburg on Monday night, knowing that whichever team triumphs here is likely to win the division. This is a nationally televised game, so both teams will be eager to impress.
The key for the Hokies will be to stop Yellow Jackets QB Tevin Washington making plays with his feet. In 2011, Washington's rushing threat was good enough to produce three touchdowns against Tech. He finished with 14 for the season, along with 987 rushing yards.
Virginia Tech knows the threat and is making plans to negate it. Jeron Gouveia-Winslow spoke to Sports Illustrated:
Really, we're focused on the run and that's what we want to stop. I think if we can get them to pass the ball... that's where we'll have the advantage.

Put the ball in the air; give us an opportunity for turnovers, incomplete passes, loss of downs. I wouldn't be surprised if they came out and tried to throw the ball on us, but I don't think that's what they're gonna do.
Of course, with the plan being to force Washington to beat them through the air, the Hokies risk exposing their vulnerable secondary. If nothing else, this will provide a good opportunity to assess how well they will hold up for the rest of the season.
It's going to be a real battle, and one that is worthy of its billing.
The Return of Tariq Edwards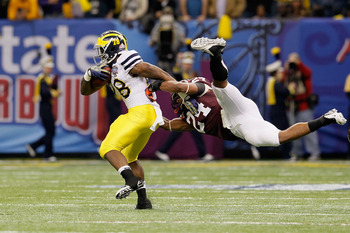 Tariq Edwards was a key figure at linebacker last year.
Kevin C. Cox/Getty Images
In March, Tariq Edwards underwent surgery to repair a stress fracture in his shin. The linebacker had a good season as part of a corps that was decimated by injuries, finishing with 71 tackles, two interceptions and 3.5 sacks (via The Washington Post).
Initially he was expected to miss no more than four months, but his recovery was more arduous than expected. He returned for the start of fall practice but then had to have an additional surgery to remove a screw from the rod in his leg.
It was recently announced that Edwards would miss the first game against Georgia Tech, which was no real surprise. There is now no set date for his return, which is a blow for the Hokies.
Although the linebacker position is one of depth this year, Edwards' veteran presence would help the team a great deal. His tackling numbers were good for third on the team last year, and his two interceptions were only bested by Jayron Hosley.
Although Bruce Taylor will likely step in again and provide excellent cover, Edwards is still eager to get back in as soon as possible.
Via The Richmond Times-Dispatch:
At first I was like, 'I want to be ready by the end of camp, Georgia Tech.' It's not there yet. I don't want to keep giving target dates and then I'm not there… I feel like I'll still be able to play this season and do that well. Everything, as far as my actual therapy, has been a lot faster than what I thought it would be
Virginia Tech at Clemson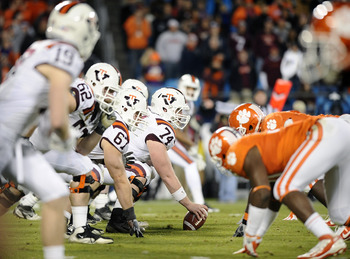 Clemson beat the Hokies twice last year.
Jared C. Tilton/Getty Images
After losing to Clemson in the ACC Championship Game, Tech will be looking for revenge this year.
The combination of Tigers quarterback Tajh Boyd and wide receiver Sammy Watkins—who was named National Freshman of the Year in 2011—will cause the Hokies secondary some problems, however, and it will be up to the cornerbacks to keep Tech in the game.
Although Watkins put up 1,219 yards last year—along with 12 touchdowns—DeAndre Hopkins hauled in five touchdowns and 978 yards, so the Tigers are by no means a one-dimensional team.
The upside for the Tech defense is that tight end Dwayne Allen has graduated to the NFL and will now be hoping to catch passes from Andrew Luck. Clemson has a strong rushing game, but the Tech linebackers will be confident in this matchup.
An area open to exploitation could be the Clemson defense, as evidenced by the 70-33 loss to West Virginia in the Orange Bowl last year.
There is a new defensive coordinator in Brent Venables, so there will be inevitable struggles with a new coach throughout the season. Their base system is the same 4-3 that David Steele ran, but there is still potential for misunderstanding.
If Andrew Miller can marshal the offensive line into a unit, then the Hokies should overpower the Tigers' front seven. Through this, there will be gaps for the running backs to exploit. In addition, it also gives Thomas the time he needs to make his reads and pick his passes. This can only be good for his accuracy.
The Tigers were victorious in both of their encounters last year, but don't expect them to have it all their own way this time around. It's really too close to call, but there's no question of this game's importance to both teams.
What Has Happened to "BeamerBall?"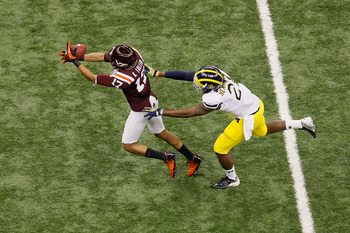 Kyle Fuller produced the only example of BeamerBall seen last year.
Kevin C. Cox/Getty Images
Scoring contributions from the defense and special teams have been a Frank Beamer specialty at Tech for many years.
Blocked field goals, blocked punts returned for touchdowns and constant pressure was the essence of "BeamerBall." Other teams could try and emulate it, but it was always the Hokies who had the most success.
Last season, however, this wasn't the case. The constant threat that Beamer-coached teams used to provide just wasn't there. Kyle Fuller scored a touchdown from a blocked punt against Appalachian State, but it wasn't exactly a close game up to that point.
It's not that the team wasn't capable of doing the things BeamerBall requires, either. They got close on more than one occasion last year, only to be flagged for roughing the kicker. Whether this is down to Beamer or the players themselves, this decline needs to be addressed.
TheKeyPlay.com ran an interesting statistic at the end of last season, which is worth publishing in full:
The Hokies only made 72 percent of their field goals last season. Compare that to 95-, 87-, 79-, 81- and 95-percent success rates in 2010 back to 2006, respectively.

Reality check, a Frank Beamer-coached team didn't have a dependable punter or kicker.
Wide receiver Danny Coale took over the punting job at the end of last season, which just goes to show how ineffective Tech was at getting it right. Freshman A.J. Hughes looks to be the starter for the job this year, with immediate expectations for improvement.
Senior Dyrell Roberts returns to the team on kick returns, which will be a definite plus. Andy Bitter remarked for The Roanoke Times that Kyshoen Jarrett has also shown some skill in this area in practice, as well as noting that the team went back to emphasizing the fundamentals of BeamerBall.
With the uncertainty surrounding the offensive line and secondary, it's absolutely vital that the defense and special teams help out with pressure. With no Wilson or Hosley to carry the load, someone else must be found to continue the BeamerBall tradition.
If anyone can find that person, it has to be Beamer. Right?
Florida State at Virginia Tech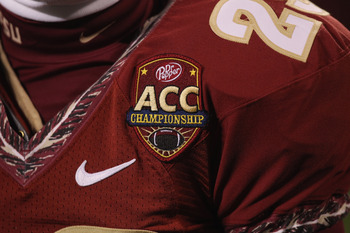 Could this regular season matchup repeat in the ACC Championship Game?
Streeter Lecka/Getty Images
This is being touted as a rehearsal for the ACC Championship Game, and with good reason. Florida State is back; haven't you heard? It gets tiresome to hear every year, but this season truly looks to be the year when FSU can lay claim to being "back."
They return 17 starters this year, including quarterback E.J. Manuel and six of their defensive front seven. This was a unit that ranked second against the run in 2011, so the Hokies will need every trick play, pistol formation and zone-read option that their quarterback can provide.
There's the tantalizing chance that both teams could go into this game undefeated, too, which would be a great spectacle for the ACC later on in the season. Lane Stadium is one of the most difficult places to come to and get a win, so the Hokies will be grateful to be at home.
On paper it looks to be Florida State's game to lose, but it's certainly not already decided. The emergence of stars over the course of the season cannot be discounted—just look at Robert Griffin III and Baylor last year—and momentum will play a big part.
The Hokies have the more difficult schedule, that much is certain. However, if they can come through the tough games mentioned earlier and emerge victorious, confidence will be sky high.
We saw last year that the Seminoles were more than fallible, with defeats to Wake Forest and Virginia proving it. If the Hokies come out to a full Lane Stadium and do everything right, they can take this game—and probably the ACC title game after that.
Frank Beamer needs to win the big games to get the doubters off his back. He'll have plenty of chances this year.
Keep Reading

Virginia Tech Football: Like this team?