New York Knicks' All-Decade Starting 5s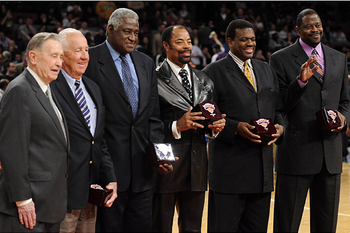 The New York Knicks have been around for over 65 years, fielding competitive teams during most of their history. Which starting five should represent each decade?
The Knicks were one of the original 11 teams formed for the inaugural season of the BAA (Basketball Association of America) in 1946-47. Three years later the BAA joined the NBL (National Basketball League) to form the NBA we watch today.
From the very beginnings, New York was a playoff team, making it to the postseason for each of its first 10 years in existence, from the BAA into the NBA.
Overall, the Knicks franchise has gone playoff-bound 41 times, made it to the Finals eight times and took home the title twice.
Who's responsible for all this?
These guys...
Photo: Dick McGuire, Richie Guerin, Willis Reed, Walt Frazier, Bernard King and Patrick Ewing.

1940's and 1950's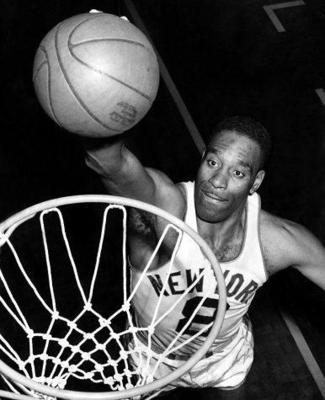 PG: Dick McGuire
SG: Carl Braun
SF: Bud Palmer
PF: Nat Clifton
C: Harry Gallatin
I combined those first pro-basketball formative years in the late '40's with the 1950's to come up with the Knicks first starting five.
Hall of Famer Dick McGuire is arguably the third best guard the Knicks has ever had (behind Walt Frazier and Earl Monroe). He led the NBA in assists in the league's first season, and went on to post more than 3,000 assists for New York. A multi-tool player, McGuire could rebound and score, too.
Carl Braun popped over 1,000 points six times in the 1950's for the Blue and Orange, a lot of points in the early days of the game.
Power forward/Center Nat Clifton, one of the first African-Americans to play the game, was a master of the boards, tearing down over 600 three times back in the 1950's.
Harry Gallatin is arguably the third best center to call the Garden home. He was ranked in the top 10 in PER (efficiency) six times (four of those in the top five). Other than his rookie year, Gallatin had double-digit points and rebounds per game every year as a Knick.
Finally, Bud Palmer. It was challenging to name a small forward for this era. There was no dominant Knick at the position. Palmer was the best player on the team over the first three years of its existence.
Honorable Mentions: Willie Naulls at power forward, guard Richie Guerin and Connie Simmons playing the four and five.
1960's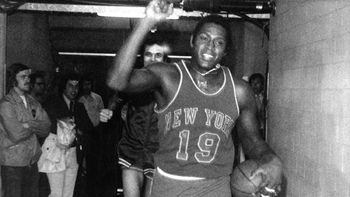 PG: Howard Komives
SG: Dick Barnett
SF: Cazzie Russell
PF: Johnny Green
C: Willis Reed
Now things get a little more interesting, and perhaps familiar. The 1960's started slow for the Knicks.They failed to make the playoffs the first seven years of the decade, the team's longest stretch in its early history.
But those 10 years would end in a championship, thanks primarily to the Knicks' best center of the decade, and perhaps even the team's greatest player of all time, Willis Reed. The 60's were Reed's.
Reed, Dick Barnett and Cazzie Russell were all instrumental in bringing that first title to New York.
In the 1960's, Barnett had five straight seasons of over 1,000 points, 200 rebounds and 150 assists.
Cazzie Russell was the best at small forward during this era, but he is rather weak compared to the other players. The Knicks did not have strong small forwards during the first two decades of their history.
Johnny Green was an animal on the boards pulling down 800 four years in a row, while pouring in over 1,000 points three of those times.
And finally, Howard Komives, who at point guard averaged 200 rebounds a year, dished and scored to the tune of 400 assists and 1,000 points too.
Honorable Mentions: Point guard Richie Guerin was really caught between two decades and so was outplayed in each first by Dick McGuire, then by Komives. Center Walt Bellamy was great, but not as great as Reed.
1970's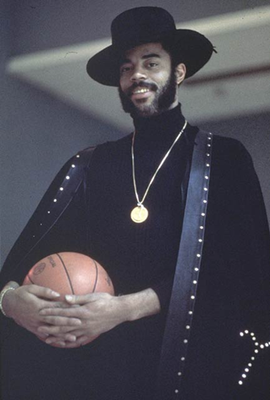 PG: Walt Frazier
SG: Earl Monroe
SF: Bill Bradley
PF: Dave DeBusschere
C: Phil Jackson
Willis Reed really only had two good years in the 1970's, and the Knicks searched in vain to find a center to replace him. The decade was filled with power forwards, like Jerry Lucas, filling the position.
Probably a controversial selection, I went with Phil Jackson. He was a lot better player than you may know. Though he played often the role of sixth man, Jackson's consistency over the decade must be noted. He played all 10 years in New York, averaging about 350 rebounds in the thick of it.
Hall of Famers Walt Frazier and Earl Monroe make up the best backcourt in the team's history.
And two more Hall of Famers and key players in the Knicks 1973 championship, Bill Bradley and Dave DeBusschere, take the two forward spots of the Knicks 1970's starting five.
Honorable Mentions: Jerry Lucas, center Bob McAdoo, point guard Ray Williams and power forward Spencer Haywood.
1980's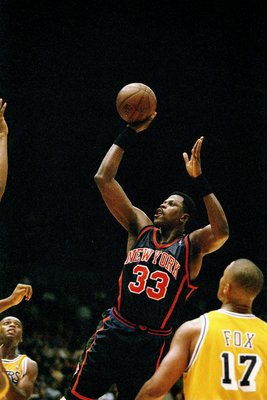 Jed Jacobsohn/Getty Images
PG: Rory Sparrow
SG: Trent Tucker
SF: Kenny Walker
PF: Louis Orr
C: Patrick Ewing
The Patrick Ewing era began in 1985-86, but it took a few years to develop. Gerald Wilkins was the leading scorer those first couple of seasons.
The battle for Knicks center of the 1980's was very close. Bill Cartwright tallied some big numbers early in the decade, when Ewing was still a Georgetown Hoya, but in the end, Patrick wins by tallying just slightly bigger numbers and ushering in a 14-year postseason streak.
Mark Jackson, like Richie Guerin, is a casualty here, caught between decades. In the 1980's, the Knicks best one-two were Rory Sparrow and Trent Tucker.
Sparrow hovered around 800 points a year, while doing his main job, passing the ball 500 times a season. Tucker was a big part of those early playoff teams. He sank over 400 three-pointers in his time as a Knick, and his defense was insane. How about 116 steals in a season, for example.
Then, a couple of odd selections at those troublesome forward positions again. Kenny "Sky" Walker and Louis Orr were the Knicks' best offerings at the three-four in the '80's. Neither were that great, but Walker's D was most intimidating. Orr added a bunch of steals to Walker's blocks, and could manage the floor, too.
Honorable Mentions: point guard Mark Jackson, small forward Gerald Wilkins, center Bernard King and forward Johnny Newman.
1990's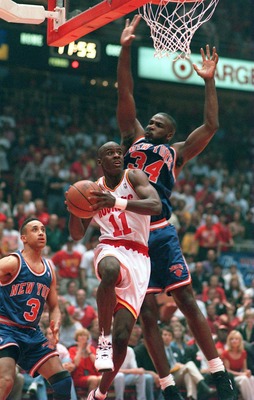 Getty Images/Getty Images
PG: Charlie Ward
SG: John Starks
SF: Larry Johnson
PF: Charles Oakley
C: Patrick Ewing
Ewing dominated the 1990's and is the only Knick to appear in two decades' starting fives.
This may be the most popular of the Knicks' lineups, at least today, but is it the best of them all? I don't know if they could take the 1970's starters, and a five-on-five against the 2010's starters would go down to the wire. Those three decades yield the best first teams.
Here, Charlie Ward and John Starks compose a confident and skilled backcourt.
And, finally, the Knicks sport some punch (literally) at the forward slots, with fan-favorites Charles Oakley and Larry Johnson.
Honorable Mentions: Shooting guards Allan Houston and Hubert Davis, point guard Greg Anthony, power forward Charles Smith.
2000's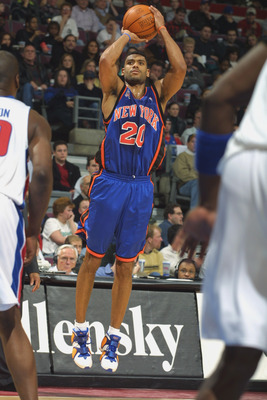 Tom Pidgeon/Getty Images
PG: Nate Robinson
SG: Allan Houston
SF: David Lee
PF: Kurt Thomas
C: Marcus Camby
Allan Houston has his day, after missing out on the 1990's squad. He's the best shooting guard of the 21st century and no one has come close to replacing him yet.
Nate Robinson had some great years for New York at the point and could do it all from rebounding to scoring (and represented well in the Slam Dunk contest, too).
David Lee showed some surprising stuff at the forward position, and was even the sole "all-star" of the team in eight years.
Two new 2012-13 Knicks made their marks here a decade ago. Kurt Thomas continued the Knicks' defensive theme with boards, blocks and a bunch of steals, not to mention personal fouls.
And Marcus Camby takes the center position of the 2000 lineup, mostly by default, as players like Frederic Weis (snicker), and everyone else after Ewing, just didn't work out.
Honorable Mentions: Point guard Stephon Marbury, shooting guard Latrell Sprewell, guard Jamal Crawford, center Eddy Curry, and forward Shandon Anderson
2010's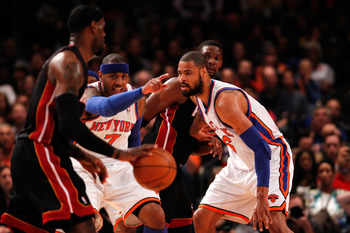 Jeff Zelevansky/Getty Images
PG: Raymond Felton
SG: Landry Fields
SF: Carmelo Anthony
PF: Amar'e Stoudemire
C: Tyson Chandler
And so we arrive at—mostly—the current team.
Before you have too much doubt about the 2012-13 Knicks, compare this fivesome (ok, minus Fields) to the other all-decade teams on the list.
If these current cagers play to their potential, the Knicks of the 2010's might just give those old-timers a run for their money in the history books.
Landry Fields makes the team by default. There's been no one else who's played shooting guard as consistently this decade. But give Iman Shumpert one more year and he'll catch up.
As for the other four players, hopefully they will cement their names in this decade's best lineup over the next few years.
Honorable Mentions: Point guards Chauncey Billups and Jeremy Lin, shooting guard J.R. Smith, guard Iman Shumpert and forwards Wilson Chandler and Danilo Gallinari
Keep Reading

New York Knicks: Like this team?