Transfer Window Grades: Rating Each EPL Team on Its Moves This Summer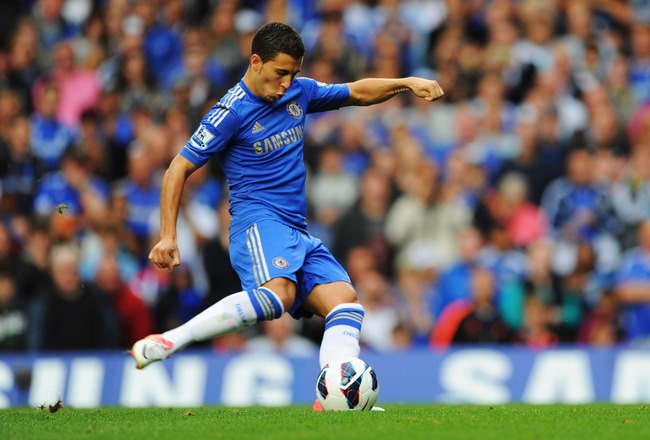 Michael Regan/Getty Images
Breathe a sigh of relief—silly season is finally over!
And as we reflect on what has surely been the most tumultuous transfer windows in recent Premier League history, it is time to award grades to every team for their wheelings and dealings.
Some, like Chelsea and Manchester United, have not been afraid to splash the cash in the pursuit of domestic glory, whilst others like West Brom and Norwich City have been far more frugal due to a lack of available spending money.
Some sides have addressed their needs, some have not.
But without any further ado, here are Bleacher Report's grades for all 20 EPL teams for their moves during the 2012 transfer window.
Swansea City: A+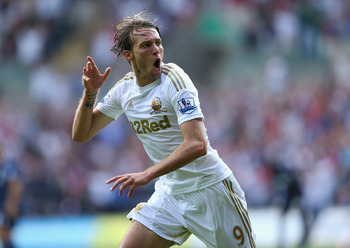 Richard Heathcote/Getty Images
Key Players In: Chico (£2.2m), Jonathan de Guzman (Loan), Michu (£2.2m), Ki Sung-Yueng (£6.1m), Pablo Hernandez (£5.5m)
Key Players Out: Joe Allen (£15m), Gylfi Sigurdsson (End of Loan), Scott Sinclair (£6.2m)
In truth, I really can't see how you could give Swansea City anything less than a glowing A+ report card for their activity this summer.
With three of the vital cogs in the team's midfield having departed and boss Brendan Rodgers lured to Anfield, it seemed that the odds were stacked against the Welsh side before the season had even started.
Michael Laudrup was an inspired choice to replace Rodgers—his attractive, fluid style of football has been embraced by the players, whilst his signings have already been proven astute to say the least.
Spaniards Michu and Chico have quickly adapted to the pace of British football and are arguably the bargains of the transfer window.
Ki Sung-Yueng should fit seamlessly into the central midfield alongside Michu and Leon Britton, whilst Pablo Hernandez is a very exciting option to have on the flanks.
Contrary to all expectations, Swansea City have emerged from a turbulent summer far stronger than when it began.
Chelsea: A
Mark Thompson/Getty Images
Key Players In: Marko Marin (£7m), Eden Hazard (£32m), Oscar (£20m), Cesar Azpilicueta (£7.7m), Victor Moses (£7.8m)
Key Players Out: Didier Drogba (Free), Jose Bosingwa (Free), Salomon Kalou (Free), Michael Essien (Loan), Romelu Lukaku (Loan)
Having won the Champions League last season, Roman Abramovich is well and truly back in the swing of things, spending a mountain of cash in a bid to regain domestic dominance.
Eden Hazard has been the best player in England these first few weeks of the league, ridiculing those who questioned the huge fee paid for him by the Blues.
Cesar Azpilicueta and Victor Moses will need to fight to earn a place in the starting team, but will provide excellent depth for boss Roberto Di Matteo.
Oscar too could very well become world class within the next few years, but will surely need time to adjust to the rigours of the British game.
Didier Drogba is the most notable player to leave and will be missed if Fernando Torres' fine form suddenly comes to an end.
Under the young Di Matteo, Chelsea are currently looking like the best-positioned club in England to spoil the Manchester monopoly.
Manchester United: A-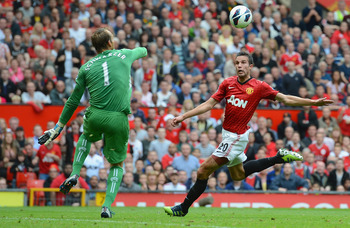 Shaun Botterill/Getty Images
Key Players In: Shinji Kagawa (£14m), Nick Powell (£4m), Robin van Persie (£24m), Alexander Buttner (£4.4m), Angelo Henriquez (£4.8m)
Key Players Out: Michael Owen (Free), Ji-Sung Park (£2.7m), Dimitar Berbatov (£4.4m)
Forget Robin van Persie; Shinji Kagawa has been Sir Alex Ferguson's shrewdest piece of business this summer and is fast becoming a fan favourite at Old Trafford with his creativity in the trequartista role.
The Dutchman on the other hand almost comes with a certified guarantee that he'll bang in 25 goals this season and has already gotten off to a decent start for United.
Nick Powell and Angelo Henriquez are talented youngsters for the future, whilst Alex Buttner is an energetic option for the fading Patrice Evra.
In not reinforcing in the defensive/holding midfield position though, Sir Alex is optimistically putting all of his faith in Michael Carrick, Anderson and Darren Fletcher.
Time has finally been called on the underwhelming United career of Dimitar Berbatov, who leaves for over £25 million less than what was paid for him.
Whilst Ji-Sung Park will be missed, I'm sorry to say his best days have already passed.
Southampton: A-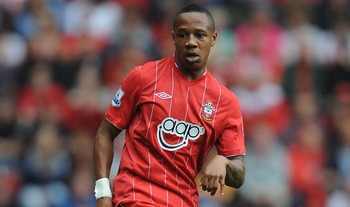 Christopher Lee/Getty Images
Key Players In: Nathaniel Clyne (£2.8m), Steven Davis (£880k), Jay Rodriguez (£7.6m), Gaston Ramirez (£13.3m), Emmanuel Mayuka (£3.5m)
Key Players Out: None
After a seven-year absence, Southampton have finally returned to Britain's top flight with Nigel Adkins at the helm.
The Saints may enter the season as one of the favourites to go down, but are a team that shouldn't be taken lightly.
In signing Gaston Ramirez, they have smashed their budget to bring in one of the most highly rated attacking midfielders in Europe.
They have done well to win the hotly contested race for young right-back Nathaniel Clyne, who had impressed with his performances in the Championship for Crystal Palace last season.
But as good as marquee signing Jay Rodriguez could be, Southampton may have overpaid for the striker.
They certainly got a steal in central midfielder Steven Davis, though thanks to Rangers' financial meltdown, a player who will walk into the first team.

Tottenham Hotspur: A-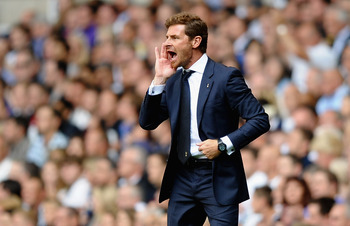 Laurence Griffiths/Getty Images
Key Players In: Gylfi Sigurdsson (£8.8m), Jan Vertonghen (£11.m), Clint Dempsey (£6.6m), Hugo Lloris (£8.8m), Moussa Dembele (£15m), Emmanuel Adebayor (£5.6m)
Key Players Out: Luka Modric (£26m), Rafael van der Vaart (£11.4m), Vedran Corluka (£6.1m), Niko Kranjcar (£6.1m), Louis Saha (Free), Steven Pienaar (£4.5m), Giovani dos Santos (£880k)
Tottenham has been a revolving door of talent this summer, with new boss Andre Villas-Boas overseeing a complete overhaul of the club's squad.
Gylfi Sigurdsson and Jan Vertonghen arrived for a combined £20 million—a fair price for two talented players in the peak of their career.
Villas-Boas has done well to steal American Clint Dempsey away from under the noses of other Premier League clubs, whilst Moussa Dembele will provide both steel and flair to the central midfield.
I have doubts over the moves for Emmanuel Adebayor and Hugo Lloris though. In the former's case, one wonders if his heart is still in the game.
In the latter's case, paying over £8 million for a goalkeeper (no matter how good he is) when there is already a more than capable option in Brad Friedel (no matter how old he is) at the club is a questionable decision.
Luka Modric and Rafael van der Vaart depart and will be missed no matter who their replacements are.
Tottenham has gotten good prices for the departing Croatians Vedran Corluka and Niko Kranjcar, but the same cannot be said for Giovani dos Santos, who leaves for less than £1 million.
Despite the obvious wealth of talent in the squad, the much-changed Tottenham lineup may struggle to crack the top four this season.
Arsenal: B+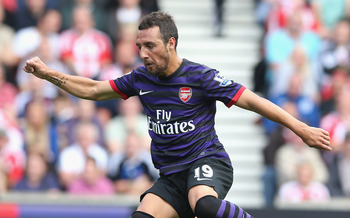 David Rogers/Getty Images
Key Players In: Olivier Giroud (£12.8m), Lukas Podolski (£10.9m), Santi Cazorla (£16.5m)
Key Players Out: Carlos Vela (£3.3m), Robin van Persie (£24m), Alex Song (£16.7m), Nicklas Bendtner (Loan)
Despite the talent that Arsene Wenger has been able to bring to the Emirates this season, the biggest storyline surrounding Arsenal this summer has certainly been the departures.
Olivier Giroud and Lukas Podolski are no doubt talented forwards, but will struggle to fill the hole left by Robin van Persie, at least in their first couple of seasons at the club.
Alex Song will be missed too, and one could argue that Wenger hasn't enough depth in the holding midfield position as a result.
Santi Cazorla on the other hand has already looked like being a fantastic signing, providing the sort of creative flair that made Cesc Fabregas a legend at the club.
Nicklas Bendtner never really fit in at Arsenal and has consequently been shipped off to Juventus on loan.
Arsenal will have a real battle on their hands to break into the top three this season, but if anyone is the man for the fight, it's Arsene Wenger.
Manchester City: B+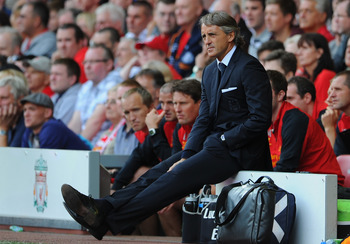 Michael Regan/Getty Images
Key Players In: Jack Rodwell (£13.2m), Javi Garcia (17.7m), Maicon (£5.2m), Scott Sinclair (£6.2m), Matija Nastasic (£13.3m)
Key Players Out: Nigel de Jong (£3m), Adam Johnson (£11m), Emmanuel Adebayor (£5.6m), Stefan Savic (Free)
Manchester City proved the most active team on transfer window deadline day, spending close to £40 million at the 11th hour.
Their best signing may turn out to be central midfielder Javi Garcia, who is a fine replacement for the departing Nigel de Jong.
Scott Sinclair and Jack Rodwell may struggle to break into the first team, as will central defender Matija Nastasic, but make no mistake, all three are very talented youngsters with the potential to make the grade further down the line.
Maicon on the other hand is well past his prime and looks like being an unnecessary addition to the squad.
Boss Roberto Mancini will be pleased to get the huge contract of Emmanuel Adebayor off the books as he seeks to repeat last season's league triumph.
Everton: B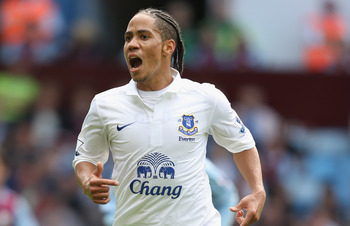 Mark Thompson/Getty Images
Key Players In: Steven Naismith (Free), Steven Pienaar (£4.5m), Kevin Mirallas (£6.7m), Bryan Oviedo (£3.9m)
Key Players Out: Tim Cahill (£1.1m), Joseph Yobo (£2.2m), Jack Rodwell (£13.2m)
The king of efficient austerity, Everton boss David Moyes has had yet another relatively successful summer in the transfer market.
Kevin Mirallas already looks like being a real bargain and will prove a fantastic option in attacking midfield.
It must be frustrating for Moyes though to have had to pay an extra £1.5m to buy Stephen Pienaar back from Tottenham less than a year after he departed Goodison Park. However the South African is best served playing with the Toffees and should be glad to be back where he belongs.
Naismith could be a real steal from Rangers whose worth may have been close to £5 million if the Scottish club had been able to sell.
Everton have gotten a good price for young Jack Rodwell, who has perhaps disappointed recently having shown great promise as a teenager.
Club stalwart Tim Cahill shouldn't be too missed; the Australian's form having dipped considerably over the past couple of seasons, whilst Everton have done well to get over £2 million from Fenerbahce for Joseph Yobo.
Liverpool: B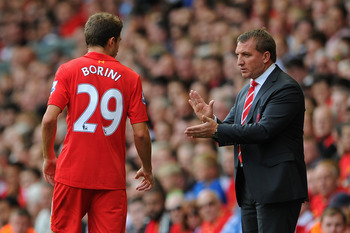 Michael Regan/Getty Images
Key Players In: Fabio Borini (£10.5m), Joe Allen (£15m), Nuri Sahin (Loan), Oussama Assaidi (£3.5m)
Key Players Out: Dirk Kuyt (£1m), Alberto Aquilani (£7.7m), Maxi Rodriguez (Free), Andy Carroll (Loan), Craig Bellamy (Free), Jay Spearing (Loan), Charlie Adam (£5.4m)
Many were questioning the £15 million fee paid for Joe Allen, but having seen him dictate the flow of Liverpool's recent clash with Manchester City, such doubt is quickly diminishing.
Fabio Borini is a good signing—he's an energetic workhorse, a player who will quickly earn the respect of the Anfield faithful like Dirk Kuyt did before him.
Nuri Sahin arrives on loan, though a huge question mark will hover above his head until he displays the type of ability that made him one of Europe's hottest commodities whilst at Borussia Dortmund.
Perhaps Brendan Rodgers' best move so far has been to re-sign Luis Suarez to a new deal, for he will certainly thrive in the new system.
Club hero Kuyt moves on, and it's a pity that Alberto Aquilani and Craig Bellamy weren't given opportunities to shine under the new manager.
In truth, Andy Carroll wont be too missed—the big man never really made the grade on Merseyside. But the club are looking noticeably short in attacking options without him.
West Brom: B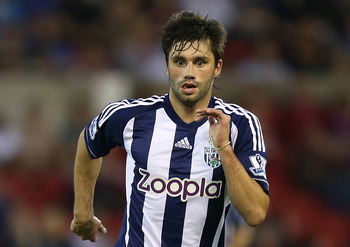 Pete Norton/Getty Images
Key Players In: Yassine El Ghanassy (Loan), Claudio Yacob (Free), Ben Foster (£4.4m), Romelu Lukaku (Loan), Goran Popov (Loan)
Key Players Out: Paul Scharner (Free), Joe Mattock (Free), Nicky Shorey (Free), Simon Cox (£2.2m)
With Roy Hodgson long gone, it is difficult to imagine West Brom improving on their 10th position of last season.
Nevertheless, the Baggies have made a decent start to the current season and could yet prove a surprise package to many.
Cladio Yacob is an interesting arrival from Argentinian club Racing and may prove a steal in the vital holding midfield role.
Loan signing Yassine El Ghanassy's biggest asset is his speed and should trouble opposition defences when given too much space.
Acquiring Lukaku on loan from Chelsea is fantastic news for Baggies fans as well.
Austrian rock Paul Scharner leaves the club, as does journeyman left-back Nicky Shorey.
Clarke may be giving up a little early on Joe Mattock though, who is a decent prospect at left-back.
Reading: B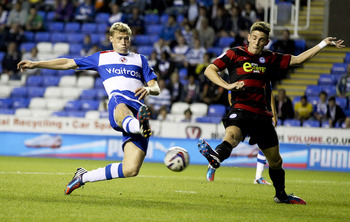 Ben Hoskins/Getty Images
Key Players In: Pavel Pogrebnyak (Free), Adrian Mariappa (£3.3m), Chris Gunter (£2.6m), Nicky Shorey (Free), Danny Guthrie (Free), Garath McCleary (Free)
Key Players Out: None
Reading have been efficient this summer, spending very little on genuine talent.
Pavel Pogrebnyak is a physical striker in the peak of his career and is someone who has already proven he can bang in goals at a good rate in the Premier League.
Chris Gunter and Adrian Mariappa deservedly make the move up a division, whilst Danny Guthrie is a solid midfielder despite doubts about his temperament off the field.
Winger Garath McCleary has also shown great promise in the team's early games.
If Brian McDermott can get his team to adapt quickly to life in the Premier League, he has the talent available to achieve a finish well clear of relegation danger.
Sunderland: B-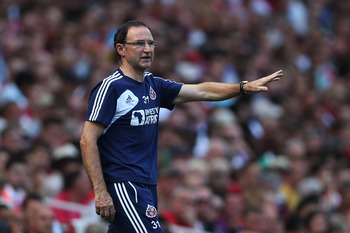 Julian Finney/Getty Images
Key Players In: Adam Johnson (£11m), Steven Fletcher (£13.3m), Carlos Cuellar (Free)
Key Players Out: Asamoah Gyan (£6.6m), Kieran Richardson (£2.2m), Craig Gordon (Free)
Sunderland boss Martin O'Neill has long been one of the most reliable managers in the Premier League and will no doubt lead his team to a comfortable finish this season.
Signing Adam Johnson from Manchester City is a great move, with the English winger showing his quality in spurts at his previous club.
O'Neill though may have overspent on Wolves' Steven Fletcher, who is a natural goal scorer, but a lot more could have been bought for the £13 million paid for him.
The unfortunate saga of Asamoah Gyan finally comes to an end, with the Ghanaian making a permanent move to the UAE having already spent last season on loan at Al Ain.
The expensive goalkeeper Craig Gordon also leaves the club for nothing.
In reflection, Sunderland have had a relatively successful transfer window and are deserving of their B- pass mark.
West Ham: B-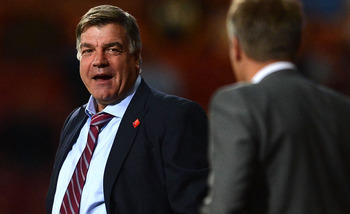 Christopher Lee/Getty Images
Key Players In: Modibo Maiga (£5.2m), Mohamed Diame (Free), Jussi Jaaskelainen (Free), James Collins (£2.8m), Matt Jarvis (£8.3m), Andy Carroll (Loan), Alou Diarra (£2.2m), Yossi Benayoun (Loan)
Key Players Out: Frank Nouble (Free), Rob Green (Free), John Carew (Free), Sam Baldock (£1.6m)
The major story concerning West Ham this transfer window has certainly been the acquisition of Liverpool's £35 million man, Andy Carroll, on loan.
But although the striker impressed at the recent European Championships, it would be foolish to assume that he'll settle in straight away alongside former teammate Kevin Nolan at the London club.
Modibo Maiga has the potential to be the next Papiss Cisse if he can stay fit, whilst Mohamed Diame is an excellent defensive midfielder who is yet to reach his true potential.
At £8.3 million, boss Sam Allardyce may not have gotten the right price for the diminutive winger Matt Jarvis though.
He may have overpaid a little for James Collins too, but the tough Welshman could yet challenge Winston Reid for a starting berth alongside James Tomkins in central defence.
The London club have also had a real clear-out, dumping a couple of quality young players in Sam Baldock and Frank Nouble, but have done well to get rid of some dead-weight at the same time.
QPR: C+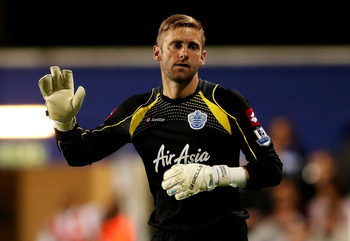 Scott Heavey/Getty Images
Key Players In: Jose Bosingwa (Free), Julio Cesar (Free), Rob Green (Free), Junior Hoilett (Free), Fabio (Loan), Samba Diakite (£3.5m), Esteban Granero (£3.9m), Ji-Sung Park (£2.7m), Andy Johnson (Free), Stephane M'Bia (£4.8m)
Key Players Out: Paddy Kenny (£440k), Heidar Helguson (Free), Joey Barton (Free)
If Mark Hughes were assembling a team on the FIFA 12 video game, QPR might be in with a shot of making the top four this season.
But in reality, all bringing in Julio Cesar, Jose Bosingwa, Rob Green, Andy Johnson and Ji-Sung Park does is blow up its wage bill with a good half-a-dozen players well past their prime.
Junior Hoilett could well develop into a top-class player, but the jury will be out on marquee signing Granero from Real Madrid.
Stephane M'Bia is another decent purchase, with the versatility to play in either central defence or defensive midfield.
But Hughes has already shown itchy fingers in replacing Rob Green with Julio Cesar after only two games—a move which shows a definite lack of patience.
Samba Diakite is a decent player when he doesn't throw himself into tackles like a madman, whilst signing Manchester United's Fabio on loan is a bit of a coup.
Don't rule out Hughes' side pulling it all together come November/December.
Fulham: C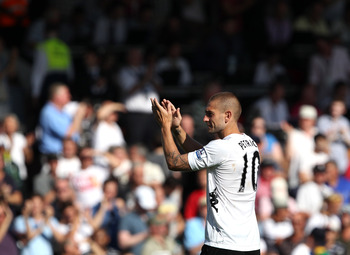 Jan Kruger/Getty Images
Key Players In: Hugo Rodallega (Free), Sascha Riether (Free), Mladen Petric (Free), Dimitar Berbatov (£4.4m), Ashkan Dejagah (£2.2m)
Key Players Out: Dickson Etuhu (£1.6m), Danny Murphy (Free), Orlando Sa (Free), Andy Johnson (Free), Pavel Pogrebnyak (End of Loan), Moussa Dembele (£15m), Clint Dempsey (£6.6m)
Fulham have lost a good deal of talent this summer in Moussa Dembele and Clint Dempsey, as well as Russian striker Pavel Pogrebnyak.
The loss of Dembele will perhaps impact them the greatest, as their central midfield will lose a dominating factor that will be very difficult to replace.
Nevertheless, in being able to persuade Dimitar Berbatov to make the move to Craven Cottage, boss Martin Jol has pulled off a real coup and will do his utmost to shape his team around the enigmatic Bulgarian striker.
Mladen Petric and Hugo Rodallega are both steals to replace the departing Orlando Sa and Andy Johnson.
But with the club's biggest assets departing, it remains to be seen whether or not Fulham have really strengthened its squad this summer.
Aston Villa: C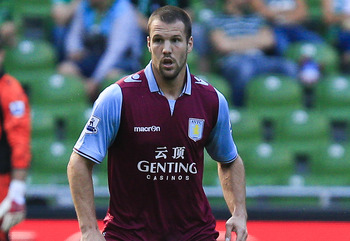 Martin Stoever/Getty Images
Key Players In: Brett Holman (Free), Karim El Ahmadi (£2.4m), Ron Vlaar (£3.3m), Matthew Lowton (£3.3m), Christian Benteke (£7.7m)
Key Players Out: Jean Makoun (Free), Carlos Cuellar (Free), James Collins (£2.8m), Emile Heskey (Free)
There seems to be a curse hanging over Villa Park at the moment.
Aston Villa have got a talented, relatively young, British- and Irish-centered squad that just can't seem to pull it all together on any given Saturday.
With the inept Alex McLeish finally given his marching orders, Paul Lambert has perhaps been the best signing the club have made this summer.
Young Belgian powerhouse forward Christian Benteke has potential in abundance, but may run the risk of going the same way as Romelu Lukaku of Chelsea.
Ron Vlaar is a tough, uncompromising central defender to rival Richard Dunne and Ciaran Clark for a place in the team.
Villa have had to cut their losses on Jean Makoun, a signing that never looked like working, and have also released the versatile Carlos Cuellar.
Oh, and England's answer to Pele—Emile Heskey—has also left the club. Farewell Emile, you will be missed.
Stoke City: C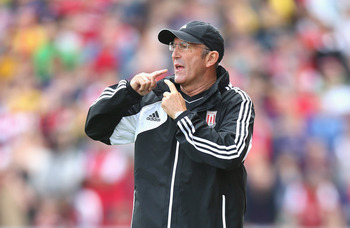 David Rogers/Getty Images
Key Players In: Michael Kightly (£3m), Geoff Cameron (£1.9m), Charlie Adam (£5.4m)
Key Players Out: Ricardo Fuller (Free), Salif Diao (Free), Jonathan Woodgate (Free)
Stoke City's biggest splash this summer has been spending over £5 million on Liverpool's Charlie Adam, a solid move that is relatively low risk.
Michael Kightly also arrives with the tag of being one of the most injury prone players in England, but if the tricky winger can stay fit, he should prove a decent signing.
Tony Pulis may have secured a bargain in Geoff Cameron, a talented American defensive midfielder who moves from the Houston Dynamo.
In terms of exits, Diao and Fuller will not be missed, but it's a shame that the Jonathan Woodgate experiment didn't work out for the Potters.
Stoke may hover above danger for much of the season, but Pulis has turned the club into a real barnacle in recent years and should stick around in Britain's top league for a few more years to come.
Newcastle United: C-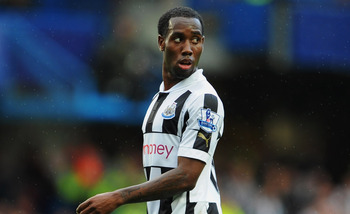 Michael Regan/Getty Images
Key Players In: Vurnon Anita (£7.4m), Gael Bigirimana (£1.1m)
Key Players Out: Leon Best (£3.3m), Fraser Forster (£2.2m)
Newcastle United have made some absolutely killer purchases over the past couple of years, but this summer have resisted making a significant dip into the transfer market.
Vurnon Anita is a quality player hailing from Ajax's famed youth setup, but may struggle to get in the team over Cheick Tiote and Yohan Cabaye.
The £1.1m spent on Gael Bigirimana won't see a return for a good few years as the young Burundian was signed for his potential more than anything.
Irish forward Leon Best will not be missed, with Demba Ba and Papiss Cisse more than capable of leading the line this season.
All in all, the club have decided to keep things status quo for the time being, as they seek to replicate the excellent form that saw them shoot up the Premier League table last season.
Norwich City: C-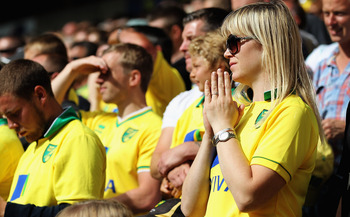 Matthew Lewis/Getty Images
Key Players In: Stephen Whittaker (Free), Robert Snodgrass (£2.8m), Michael Turner (£1.6m), Sebastien Bassong (£2.6m)
Key Players Out: None
For financial reasons, Norwich City have had to have been very tidy this summer, spending little on a number of decent, if underwhelming, role players.
Stephen Whittaker, a right-back for Rangers, arrives having been a very solid, just as Michael Turner was in central defence for Sunderland.
Robert Snodgrass is a winger who has spent the majority of his career in the League Championship, but who is capable of stepping up to England's top flight.
Sebastien Bassong will do a job at the back, but isn't yet a first-class defender.
Nevertheless, Chris Hughton will have a tough job on his hands keeping the Canaries away from the jaws of relegation.
Wigan Athletic: D+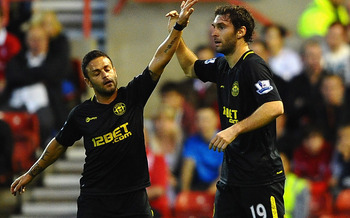 Laurence Griffiths/Getty Images
Key Players In: Ivan Ramis (£5.2m), Arouna Kone (£3.3m), Ryo Miyaichi (Loan)
Key Players Out: Hugo Rodallega (Free), Mohamed Diame (Free), Victor Moses (£7.8m), Connor Sammon (£1.3m)
Roberto Martinez will have a real battle on his hands trying to keep Wigan Athletic in the Premier League this season.
Although Ivan Ramis has been a quality defender in his native Spain, he may have trouble adapting to British football in the same manner as Antolin Alcaraz did.
Martinez will be disappointed to have had to let go Mohamed Diame and may come to regret seeing Hugo Rodallega leave as well, with the Colombian striker already impressing at new club Fulham.
The departure of the side's most important player of last season, Victor Moses, to Chelsea will leave the most significant hole in the Wigan attack though.
But Martinez has proven he can keep a weak team with low expectations and a shoestring budget in Britain's top league before.
Keep Reading