No. 24 Boise State at No. 13 Michigan State: Live Score, Analysis and Results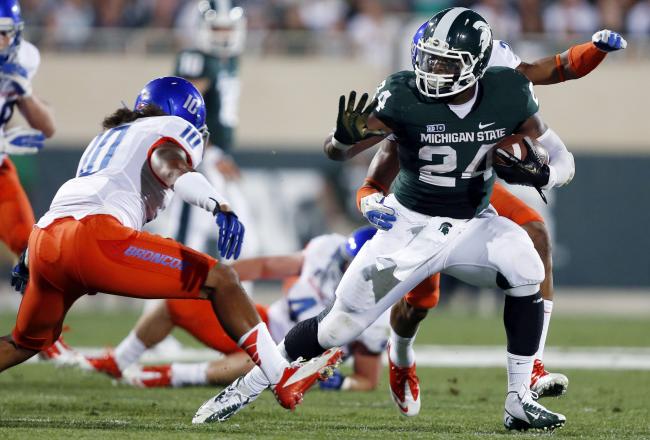 Final Score: Michigan State 17 Boise State 13
Look for follow up articles here on Bleacher Report with complete analysis and break downs.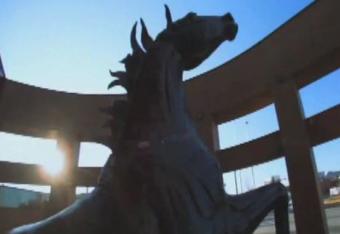 Final thoughts:
Boise State doesn't look like they will have the down year some might think.
Michigan State looks good, especially Bell, but they will have to fix that passing game if they want to make the Rose Bowl.
Some of that is the Broncos secondary, which is a strength of the Boise State defense.
However, both teams are going to make some noise this season.
For post game grades for the Broncos check out the breakdown here on Bleacher Report.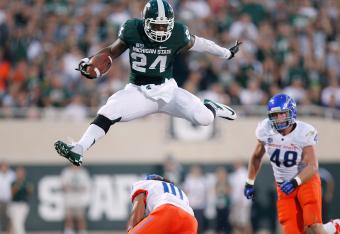 PLAYER OF THE GAME:
Le'Veon Bell
44 Carries, yes 44 carries for 210 yards and 2 Touchdowns....
No player shined more than this Bell
Michigan State takes a knee....
Incredible game, sloppy, but both teams are tough.
Look for Boise State to improve and look for Michigan State to keep on the path to Roses!
01:03 4th Quarter
Michigan State 17 Boise State 13
1st and Goal for the Spartans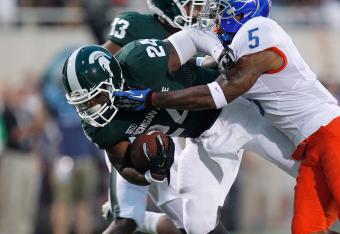 First Down......
Michigan State can put this game away now..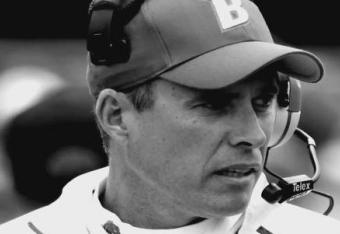 Boise State time out 01:42 left in the 4th Quarter....
Only chance realistically is a fumble...
They could hold them to a field goal, but it would leave nothing on the clock...
BELL is the REASON
Michigan State is leading....
He is ALSO
the reason they will win, unless the Broncos can stop him
A sloppy, but entertaining game, is slowly grinding to an end....
The Broncos only hope is to stop the Bell from ringing
Its Bell Time....
If the Broncos can stop him, they may still have a chance....
IF
BIG 4th DOWN
Incomplete
Boise State turns it over on downs....
4th and 2
Boise State is going for it....
They get it, but then its no good MICHIGAN STATE called timeout....
Two passes in a row that should have been touchdowns....
Southwick missed on the first because he fell down
Then Southwick overthrew
Pass INT
Burks climbs the defender to get the call....
Third and Short...
Boise State Converts...
SCORE: Michigan State 17 Boise State 13
4th Quarter 08:12 left in the game...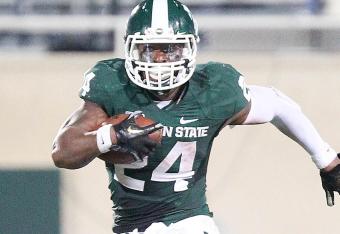 Michigan State TOUCHDOWN
Bell AGAIN!!!
The Spartans go back up on the Broncos
PAT is GOOD
Score: Michigan State 17 Boise State 13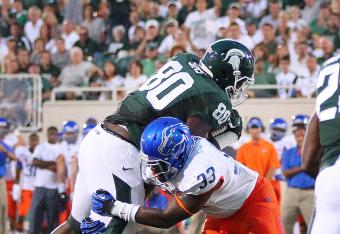 HUGE 3rd DOWN FOR MSU
They convert....
Tight End grabs it 1st and Goal for the Spartans
Boise State doesn't have an offensive touchdown...
Is it the ineffective offense?
Is it the incredible defense of Michigan State?
Could it be a bit of both?
What do you guys think?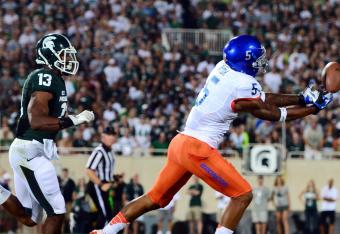 Hats off to both teams....
No lack in hustle, maybe execution, but plenty of hustle
Michigan State in good field position 12:40 4th Quarter
Third and Loooonngg for the Broncos.....
Michigan State offsides...
Gives the Broncos 5 more yards now 3rd and 9
BAD THROW BY SOUTHWICK
4th down, BSU will punt
Comparing Joe Southwick to Kellen Moore isn't fair at all...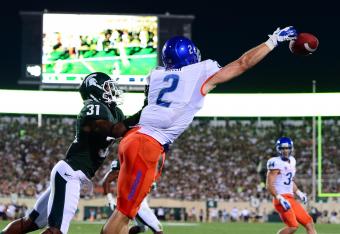 Boise State takes over inside their own 10 yard line.
This will be a big task for an offense that hasn't done much tonight....
Michigan State has actually out gained Boise State 348 to 179
However, the Spartans have 4 turnovers to Boise States 2....
4th Quarter coming our way....
Thank God football is back!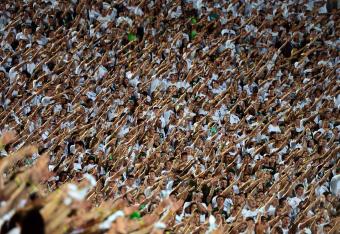 END OF THE THIRD QUARTER

Score: Boise State 13 Michigan State 10
This article is
What is the duplicate article?
Why is this article offensive?
Where is this article plagiarized from?
Why is this article poorly edited?