UCLA vs. Rice: Grading the NFL Draft Prospects from Thursday Night's Opener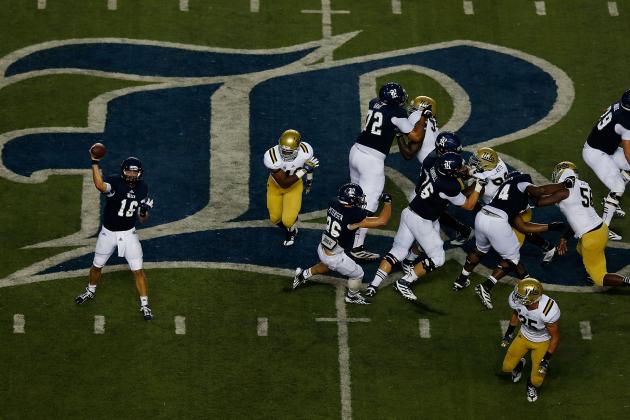 Scott Halleran/Getty Images

In person, it was clear that the primary difference between the UCLA Bruins and Rice Owls Thursday night was not skill-position talent. Of course, UCLA is loaded in that area, but Rice's skill players aren't bad either.
But Thursday night's dominating 49-24 UCLA win illuminated the importance of quality depth and physical domination by the offensive and defensive lines.
UCLA, aided by Datone Jones on the defensive line and Jeff Baca on the offensive line, reminded football observers that great play in the trenches is ultimately the key to victory in football, no matter the level.
Of course, the Bruins were aided by outstanding efforts from senior running back Johnathan Franklin and tight end Joseph Fauria as well.
Begin Slideshow

»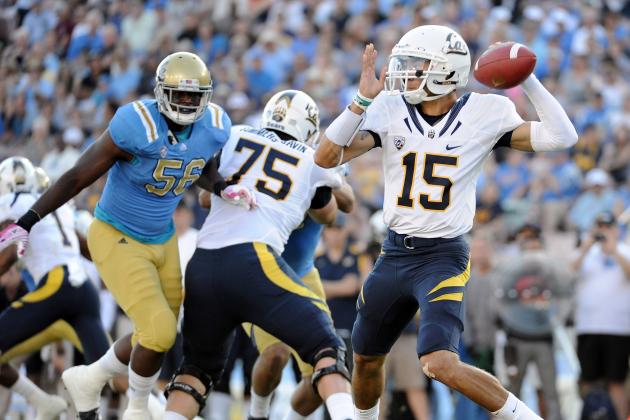 Harry How/Getty Images

Never mind numbers. Never mind supposed draft stock entering the season or preseason all-conference selections.
Thursday night Datone Jones proved that he has everything an NFL team will want in a five-technique defensive end, also known as a 3-4 defensive end.
It helps that, on Thursday night, the Bruins lined up a majority of the time in a 3-4 setup, while other times they dialed up some NFL schematics by playing just two-down linemen. No matter how many guys had their hands in the ground, if Jones was in the game then the defense was almost certain to succeed.
Rice's first touchdown drive took place when Jones came out of the football game.
The 6'4", 275 lb. behemoth is truly a beast with a motor. Despite his monstrous size, he chases plays well whether they be run to his side or away from him.
In fact, no matter where the ball is going, it seems that Jones makes just about every play. Needless to say he is an active defensive end. He has great lateral quickness and strength, which make him a great run defender.
And against Rice, he had no issue getting in the backfield to create pressure on the quarterback and open lanes for other defenders to get into the backfield.
Without Jones, the Bruins defense isn't much to write home to mom about. With him, they could become a very nice unit. That's what makes him a great NFL prospect.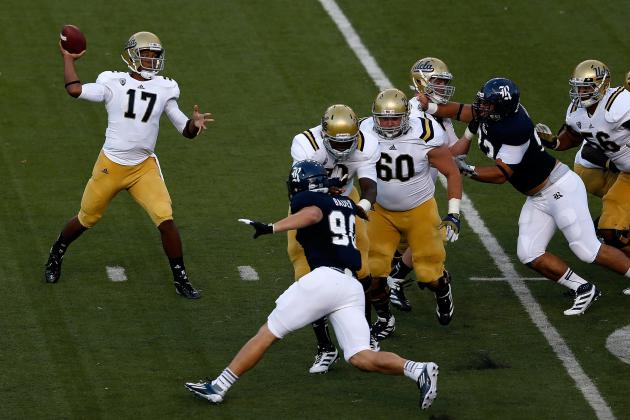 Scott Halleran/Getty Images
Jeff Baca, No. 60, looking for someone to block in Thursday's college football opener vs. Rice.
Jeff Baca is a 6'3", 298 lb. right guard for the UCLA Bruins. Thursday night he made just one mistake.
It was on a third down dropback pass. Baca was working the slide protection scheme and decided to help inside against a double-team. The Rice defender then ran a twist to get outside of Baca, thus forcing UCLA quarterback Brett Hundley to step up and scramble.
Baca should have recognized the twist quicker and slid back outside to cut off the exterior pressure. Hundley would have been able to stay in the pocket and possibly find an open receiver down the field.
Yet overall, Baca's performance on Thursday night was quite impressive. He was dominant in the running game, which was partially exhibited by the Bruins' 343 yards on the ground.
His road grading came in part because of his aggressive physicality and strength. He possesses an attitude of domination, whereby he wants a pancake on every play.
In pass protection, Baca does a great job one-on-one against his defender of creating a wide base and extending his long arms to just stop the defender in his tracks. It's like he's an anchor, and he moves the guy wherever he wants.
Keep in mind, Baca and the UCLA offensive line outweigh Rice's defensive line significantly. But don't think that Baca's performance was simply the product of poor competition.
Under Jim Mora and the new UCLA coaching staff, there is no doubt that the senior right guard has a great chance to see his NFL stock rise significantly this season.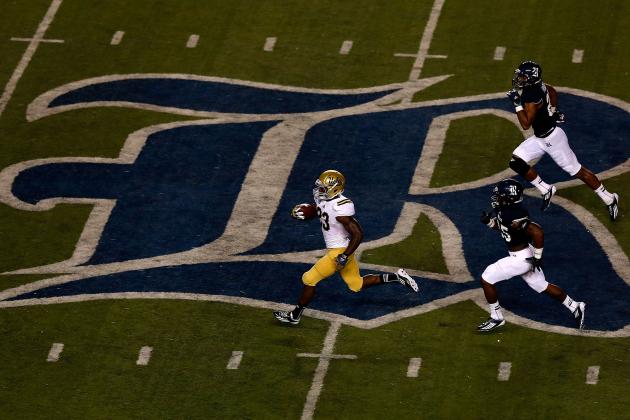 Scott Halleran/Getty Images

There goes Jonathan Franklin, again.
It seemed like every time you looked up Thursday night, Franklin was running 20 yards ahead of the closest dark blue jersey. Franklin finished with 214 yards on just 15 carries.
And that is no accident. Watching Franklin, you see a stout running back with tremendous vision, quickness, strength, power and determination. At 5'10", 198 lbs. he reminds me of Pierre Thomas—also a smaller runner who is actually a better inside runner than outside and a great pass receiver.
Those are the same traits Franklin exhibits with regularity on the football field.
He also showed an amazing ability to pick up pass-rushers head on and keep them away from Brett Hundley in key situations.
He may not be Marcus Lattimore, but Franklin clearly showed Thursday night that he can be an effective NFL running back soon.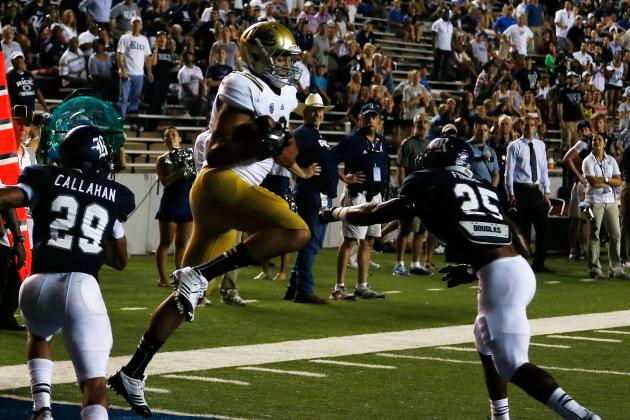 Scott Halleran/Getty Images

Rarely do you see a tight end in college football who is 6'7", 255 lbs. and say he could get bigger and probably not lose any explosion or ability to get open down the field.
Yet, Joseph Fauria showed on Thursday that he can get a lot better. And he's already a darn good player. In fact, in the red zone, he is pretty much the college football version of Jimmy Graham, who can box a guy out and keep the defender at arm's length as he skies to catch the football. He did that in the fourth quarter Thursday night to score the Bruins' second-to-last touchdown.
Like Graham, he is a smooth athlete for his size and can run almost any route. He probably has better hands than Graham and uses those same hands effectively to get off pass coverage and get open.
And he has the power and RAC ability to shed tacklers and create more yardage for his team.
Blocking is a bit of a concern, but against a weaker Rice defense, Fauria did a nice job and showed good effort in that area of the game.
Again Fauria had a nice night Thursday night and proved that he can only improve.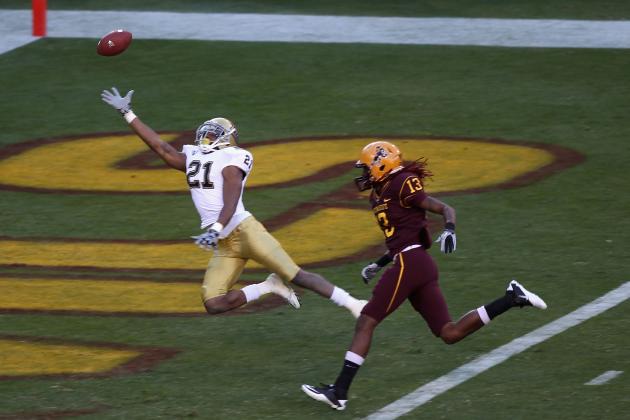 Christian Petersen/Getty Images

Aaron Hester is one of the players I was most excited to see Thursday night. And that is why I walked away most disappointed.
While Hester was solid in man coverage and showed good instincts in zone coverage, he looked awful as a run defender and when guys caught the football.
He routinely missed tackles because he did not break down effectively. There were plays, though, where it looked as if Hester had no desire to make a tackle.
He proved that he is not a physical football player. It's unfortunate because that eliminates any potential for him to move to safety, should a team decide that he is not quick enough or agile enough to handle the cornerback position.
Luckily, Hester still has plenty of time to raise his stock, seeing as the NFL draft will not take place for another eight months or so.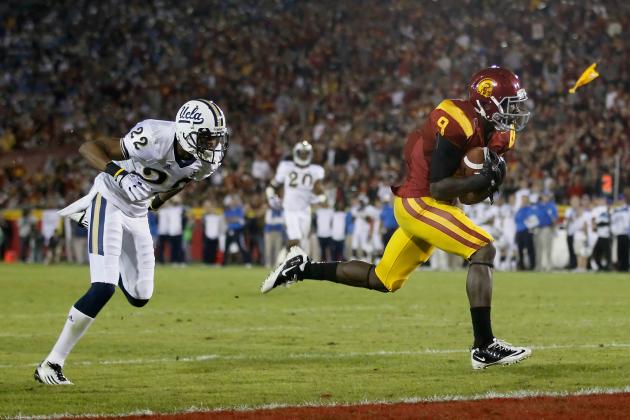 Jeff Gross/Getty Images

Sheldon Price came into this, his senior season, as the second corner on a UCLA defense with talent in its defensive secondary but that needed to prove that the unit could play good football.
Thursday night Price showed exactly why he is the second corner and ranked low on the draft prospect list.
Though he matches Aaron Hester's height at 6'1", he is 15 lbs. lighter (weighing in at 180 lbs.). Yet he is a little more physical than Hester.
The difference is that Hester is more than adequate in coverage, whereas Price seems to get whipped in man-to-man coverage every time a pass is thrown his way.
But in zone coverage, he did show good awareness of where the football is and even intercepted a pass early in the first quarter by simply being aware of where the football was.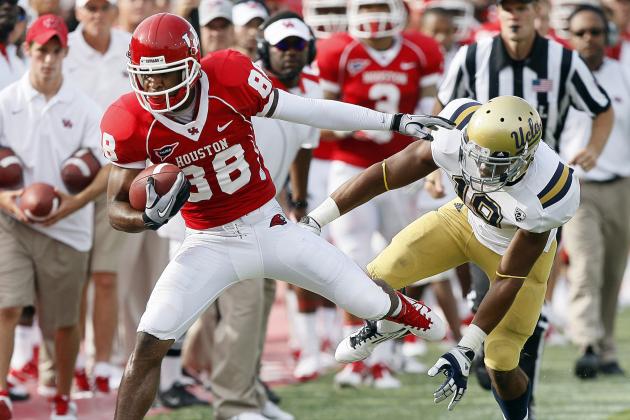 Bob Levey/Getty Images

Due to an injury sustained early in the first quarter, Dalton Hilliard barely saw action on half of UCLA's defensive snaps Thursday.
When he was in the football game, he showed great instincts. He nearly picked off a bubble screen early in the game (most likely the play he hurt himself).
Against the run, he showed himself to be quick in diagnosing the play. That said, he struggled to make tackles since he didn't break down.
Hilliard has the natural ability. He needs to become a better finisher, one of the traits that makes a good safety.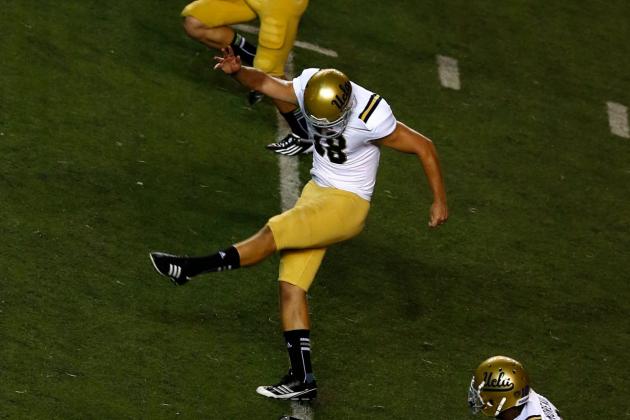 Scott Halleran/Getty Images

Punters often play a key role in football games. Unfortunately they often don't get their due.
Thursday night, Jeff Locke was almost perfect. Between kickoffs and punts, Locke attempted 15 different kicks. Not one of them netted a Rice return.
Punting-wise credit some amazing hang time. Kickoff-wise, Locke simply booted the ball out of the end zone almost every time.
He has a leg, and he's not afraid to use it. His three punts inside the 20 and a 43.7 yard average showed why he will likely be kicking on Sundays next season.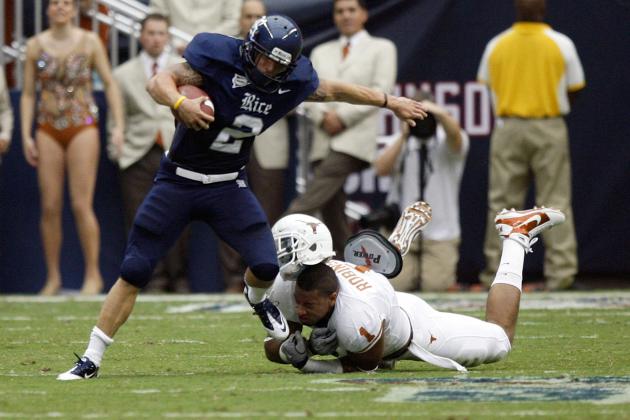 Bob Levey/Getty Images

Most likely you remember Sam McGuffie from his one season at Michigan under Rich Rodriguez. He was a running back there, but in this season he has transitioned to a slot receiver, exclusively.
On Thursday night, it was readily apparent why. Despite coming in at just 5'11", 200 lbs. McGuffie proved that he can do everything a Patriots-type slot receiver should do. He ran great routes over the middle and to the sideline.
He went up and over defenders to make tough catches and took the quick pass and got yards with his legs.
McGuffie looked a little bit like the Patriots' Wes Welker. It should surprise no one if he becomes the next great slot receiver after this season.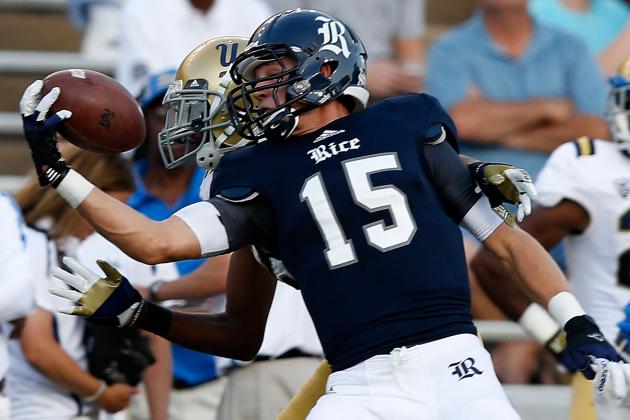 Scott Halleran/Getty Images
This is not Luke Wilson or Vance McDonald. But it is Jordan Taylor. Taylor is a fair representation of the Rice TE duo.
I combined Luke Wilson and Vance McDonald because there were not enough photos to accurately represent the tight end duo.
Truthfully, though, Wilson and McDonald are not altogether very different as prospects. Both lack the strength that you would want to see in a blocking tight end. And neither possess the skill set to get open consistently in the NFL.
Both are, and can continue to be, effective college players, though.
Of course, the sophomore Jordan Taylor did make Sportscenter's Top 10 with this remarkable catch against the aforementioned Sheldon Price.