Chicago Bulls: All-Decade Starting Fives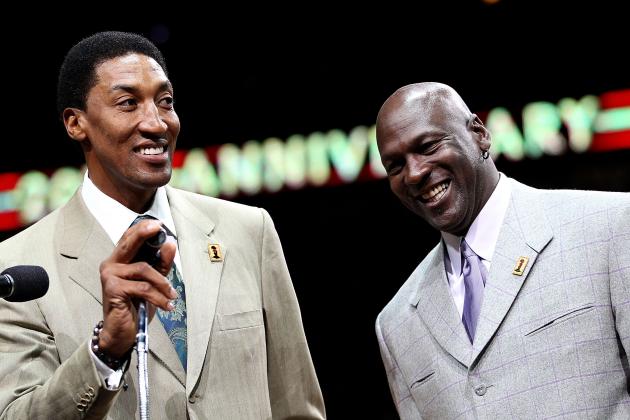 Jonathan Daniel/Getty Images
Scottie Pippen and Michael Jordan made the Bulls All-Decade team of the '90s.
Which current Chicago Bulls' players make up the Bulls' All-Decade starting five from this brief decade? What players would have made the All-Decade team during the previous decade?
The Bulls as a franchise is historically rich.Their NBA debut as an expansion team was on October 15, 1966 versus the St. Louis Hawks.
After starting their inaugural season in victory, the Bulls went on to post the best record for a NBA expansion team. They also qualified for the playoffs that season.
The Bulls have won more NBA championships (six) than any team except for the Los Angeles Lakers (formerly Minneapolis Lakers 1949-1960) and Boston Celtics. They have been division winners nine times, as well as being crowned the Eastern Conference champions six times.
There were many great players who wore the black and red uniforms, including arguably the greatest basketball player of all-time, Michael Jordan. Selecting their best possible starting five from each decade is a daunting, but rewarding task as it offers us a deep look into the Bulls' legacy.
Begin Slideshow

»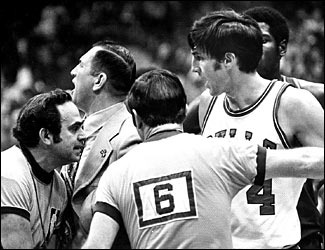 For the Bulls, jerry Sloan played the same way he coached, tough.
I am too young to have seen these guys play so; I acquired help from a few friends of mine who were around and remember the Bulls in their early years.
From I gathered they recognized the following players as being good enough to make the All-Decade Starting Five for the Bulls from 1966-1970.
Guard: Jerry Sloan, 1966-76
Sloan, described by many as tough-as-nails during his playing tenure, spearheaded the Bulls playoff run in their first two seasons. His style of play was defense and rebounding. Not many players Sloan's height (6'5") can average eight rebounds per game. Sloan played the game the same way he coached the game.
Forward: Bob Boozer, 1966-69
Robert Boozer, no relation to Carlos Boozer, had a respectable three seasons in a Bulls uniform. He averaged no less than 18 points with the team and he was a rugged defender and rebounder. Boozer also played with Sloan on the two Bull's playoff teams.
Center: Tom Boerwinkle, 1968-78
Boerwinkle was ahead of his time regarding how he defended his NBA counterparts. He played tough man-to-man defense on the likes of Bill Russell and Wilt Chamberlain. Boerwinkle was also an effective double-double player in the '60s and was a brilliant passer for his position.
Forward: Bob Love, 1968-76
Love was a potent scorer who did not reach his full potential with the Bulls until the 1969-70 season. That was when he averaged 21 points and a career-best 8.7 rebounds. Love was tough on opposing defenders and could score in a variety of ways.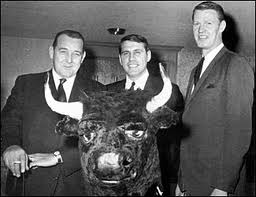 In their inagural season Johnny "Red" Kerr (right) was their first head coach.
Guard: Chet Walker, 1969-75
Chet "The Jet" Walker, came, saw and dominated once he played for the Bulls. Averaging 21.7 points and 7.7 rebounds in the 1969-70 season, he showed that he indeed was a two-way basketball player. Swift with the ball in his hands and deadly with his shot, Walker was a force during his tenure with the Bulls.
Sixth-man: Clem Haskins, 1967-70
Haskins had a solid NBA career but saw it cut short due to knee injuries. In 1969-70, Haskins had his best season as a pro scoring over 20 points per game.
Again, this team was the hardest for me to select as I was not alive to witness them play. This group contains many of the names we recognize as the best in an era when the Bulls were just in the beginning stages. Giving a second glance at the Bulls' All-Decade starting five of the '60s there were a few quality players that did not make the cut.
One of those players is point guard Guy Rodgers. Rodgers is still the Bulls' franchise leader in total assists in a season with 908. At the time it was set, the single-season assist record was also the most in NBA history.
Haskins won the nod over Rodgers because he played more overall seasons for the Bulls.
Did you know: Johnny "Red" Kerr was the Bulls first-ever head coach?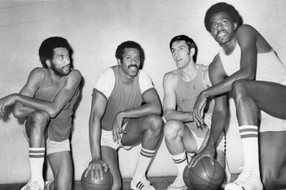 Norm Van Lier, Chet Walker, Jerry Sloan and Bob Love (from left to right) were "Chicago-tough" in the '70s.
Guard: Jerry Sloan
After his first few seasons with the Bulls, Sloan enjoyed more success. His "No. 4" jersey became the first ever retired by the Bulls.
Forward: Chet Walker
Walker's success carried over to the next decade as he teamed with Sloan for a number of years.
Center: Artis Gilmore, 1976-82, 1987-88
"The A-Train" was a dominating force the moment that he put on a Bulls' uniform. The Bulls had to wait five years for Gilmore to play for them after drafting him in 1971. Gilmore spent five years with the ABA before playing a game with the Bulls. His worst season was in 1979-80 season when he only appeared in 48 games because of injuries.
Forward: Bob Love
Love graces the Bulls' '70s team because of his consistency as a Bull. He was the second Bulls' player to have his jersey ("No. 10") retired.
Guard: Norm Van Lier, 1971-78
"Storming" Norm was a tenacious defensive player. If you shot a layup against Van Lier, you paid the price for it with a chop across the chest. If you were a bit too loose with the basketball, not only did he take the ball from you, Van Lier would deliver an elbow for good measure. Van Lier was "Chicago-tough" and his pairing with Sloan was arguably one of the greatest defensive duos ever.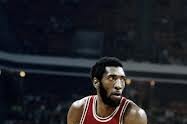 Clifford Ray was a double-digit rebounder everytime he was on the floor.
Sixth-man: Clifford Ray, 1971-74
Ray completed the defensive-minded Bulls' teams of the '70s. He was a double-digit rebounding threat every time he was in the game.
There was a ton of carryover from the '60s All-Decade starting five to the '70s list. Joining Sloan, Love and Walker was Gilmore, Van Lier and Ray.
This list resembles the actual Bulls' starting five for much of the '70s. The only exception was Boerwinkle who, in the beginning of the decade, was a solid contributor. Given the debut of Gilmore and the defensive prowess of Ray, it was difficult to place Boerwinkle in this group. His statistical decline also factored in the final decision.
Did you know: the Bulls had several players that went into coaching during this decade? Jimmy Collins (University of Illinois-Chicago), Matt Guokas (Philadelphia 76ers and Orlando Magic) and Rick Adelman (current Minnesota Timberwolves coach) just to name a few.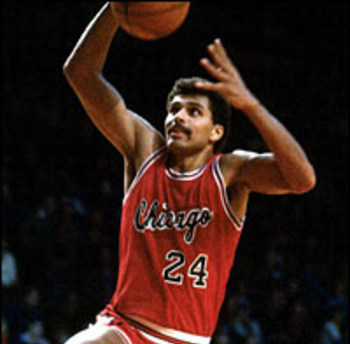 Before Michael Jordan there was Reggie Theus. Theus played with flair rarely seen in the NBA during the early '80s.
Guard: Michael Jordan, 1984-93, 1994-98
"His Airness" is by far the greatest player to put on a Bulls' jersey. He is also the best player ever to play in the NBA as believed by most basketball followers. Jordan's career statistics: 30.1 PPG, 5.3 APG, 4.7 RPG, and 2.3 SPG. Putting fear in the hearts of his opponents was a specialty in the '80s and that was before the NBA titles.
Forward: Charles Oakley, 1985-88, 2001-02
Oakley never got his due with the Bulls but he gets it here. If physicality had a face on it, it would bore the face of Oakley's. He was a tough rebounder who played hard and fouled hard, setting the tone on defense before the Bulls went on their run of championship.
Center: Artis Gilmore
Gilmore gets the nod over the underachieving centers the Bulls had in the '80s.
Forward: Orlando Woolridge, 1981-86
The issue with Woolridge was never ability as he had an abundance of talent. His problems were substance abuse. Those demons ruined a promising career that never saw its promise. Few players could score the way Woolridge could. It is a shame many of us never saw talent reach its peak.
Guard: Reggie Theus, 1978-84
Before Michael Jordan, there was Theus. Theus could score with the best of them and he added flair to his game. His final season with the Bulls was the worst of his career. In the 1983-84 season, Theus struggled mightily and eventually, was traded to the Kansas City Kings.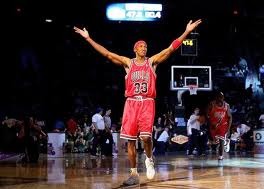 Scottie Pippn was the most versatile player in Bulls' history
Sixth-man: Scottie Pippen, 1987-98, 2003-04
The Bulls acquired Pippen from the Seattle Super Sonics in a draft-day trade in 1987. It should go down as the greatest trade in Bulls' history.
Going with Oakley and Woolridge over Pippen was an easy proposition. I am sure to get some criticism over this, but as great as Pippen is, not giving the other players their respect would have been an injustice.
Woolridge averaged no fewer than 16 points after his rookie season. During his Bulls tenure, he shot over .500 from the field.
As for Oakley, I weighed his defense versus Pippen's toughness in the early stages of his career. Advantage: Oakley.
Did you know: George "The Iceman" Gervin played his final NBA season with the Bulls?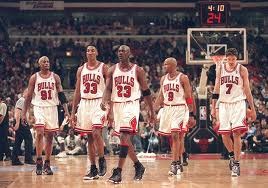 The Bulls teams of the '90s were the best in Bulls' history.
Guard: Michael Jordan
Simply the best, Jordan solidified his status after leading the Bulls to six NBA titles. He left the Bulls after the death of his father in 1993, but later returned to add more accolades to his legendary name.
Forward: Scottie Pippen
Pippen came into his own after the 1989-90 campaign. His overall game as a small forward rivals only a handful of players in NBA history. Not only was Pippen the best defender for the Bulls, he was designated the point-forward, running the Bulls' offense. In the process, Pippen paved the way for teams to develop players from his mold.
Center: Bill Cartwright, 1988-94
The Bulls traded for Cartwright in 1988 in deal that sent Oakley packing, and his impact will forever go down in Bulls history. He seamlessly replaced Oakley's toughness due to his 7'1" frame. Many people remember him for his sharp elbows, but few recall how Cartwright set the tone early on the offensive end.
Forward: Dennis Rodman, 1995-98
"The Worm" was one of the most hated opposing players in the eyes of Bulls fans. Rodman, not surprisingly, wormed his way into our hearts during his three-year tenure. Not known for his scoring, Rodman outsmarted foes with his rebounding (15.3 RPG as a Bull) and his fearless defense. Few players have had more of an impact without scoring as Rodman has had.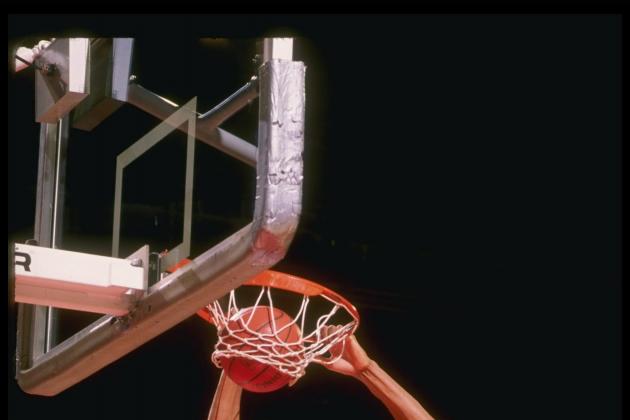 Jonathan Daniel/Getty Images
Watch out for those elbows!
Guard: Ron Harper, 1994-99
Harper, brought in to replace the scoring void left by Jordan (Jordan briefly retired 1993), never quite lived up to his role. After a season, then Bulls' coach Phil Jackson created a role for Harper that fit—defensive stopper. The role proved vital for not only the Bulls but for Harper as well. His assignment was using his height advantage to blanket smaller guards and force turnovers.
Sixth-man: Toni Kukoc, 1993-00
Kukoc was the whipping boy of Jordan and Pippen in the 1992 Olympic Games. How they defended Kukoc during the Olympics gave him a preview of what to expect once he made the jump to the NBA.
The choices here were easy. Save for the guard trifecta of Harper, John Paxson and B.J. Armstrong. Neither player was an offensive juggernaut. Harper was at times the least effective offensive player of the three. It was Harper's impact on defense that gave him the edge over two deserving guards.
Bison Dele (formerly Brian Williams) was given some consideration at the sixth-man position. Barely acknowledged as the Bulls low-post offensive threat off the bench, the Bulls do not win the 1996-97 NBA Finals without his six points and three rebounds per game. Small contributions to some but for those who watched the playoffs that season, understand the story.
Did you know: Fred Hoiberg (1999 Bulls) coaches for Iowa State?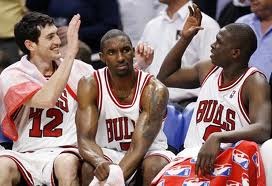 The early part of the new century featured some down years. These three Bulls helped get the team back to respectability.
Guard: Derrick Rose, 2008-current
Rose is considered the savior of the Bulls' franchise. If he stays healthy, Rose will go down as the second-best Bull, second only to Michael Jordan. A shooting guard in a point guard's body, Rose flashed the tools to become one of the greatest ever to play the game.
Forward: Elton Brand, 1999-01
How can a player make the All-Decade team after playing two seasons? Brand was that good with the Bulls and the power forwards were average at best. With the Bulls, Brand put up double digit scoring and rebounding totals in consecutive seasons. Brand became the first Bull to win NBA Rookie of the Year since Jordan.
Center: Eddy Curry, 2001-05
Curry's name will make some people cringe but the last time the Bulls had a low-post scoring option was when Gilmore played. The Bulls were justified in drafting the local product who, former Bulls' coach Scott Skiles once famously suggested had to "jump" in order to get rebounds. Curry had his share of shortcomings, but looking at the centers in franchise history, he was one of the best.
Forward: Luol Deng, 2004-current
Few players are as under-appreciated as Deng. With much of the early parts of his career marred by injuries, Deng's in-game contributions constantly went scrutinized. Deng is a good defender and solid jump shooter, though I wonder if injuries to his wrist put any limitations on his development.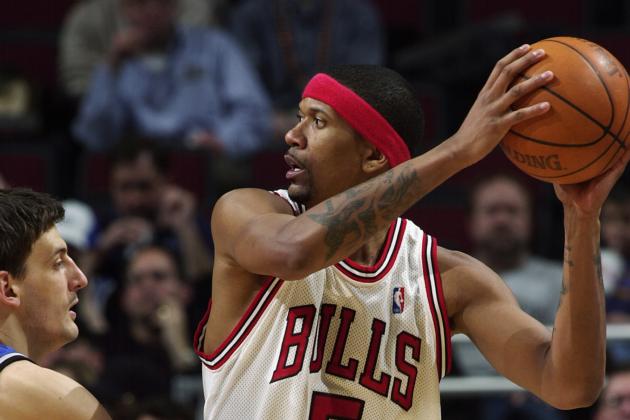 Jonathan Daniel/Getty Images
Jalen Rose came really close to making the list.
Guard: Ben Gordon, 2004-09
Gordon should have been a NBA All-Star at least once. His best season as a Bull and a pro was the 2006-07 season. Gordon averaged a career-high 21.7 points, scoring over 35 points five times and playing in all 82 games. As a result, the Bulls went on to win 49 games. At that time, it was the most wins the Bulls had in a season after Jordan's second retirement.
Sixth-man: Kirk Hinrich, 2003-10, current
Hinrich was the decade's most versatile players for the Bulls. He defended three positions effectively and was a coach on the floor.
Should I take Gordon over Hinrich, or Hinrich over Gordon? This was the most difficult decision regarding this decade. Gordon is in a class by himself offensively, but Hinrich is the better defender. I went with Gordon because there were times that he carried the Bulls on his back to victory.
I came close to adding both Jalen Rose and Meta World Peace.
In Rose's case, he was a star who never received the respect he deserved. He wore the Bulls uniform with pride and played with a purpose.
As for World Peace, he brought back the nastiness to the Bulls lineup. Sadly, it did not translate into wins.
Did you know: World Peace apparently applied to work at a Best Buy?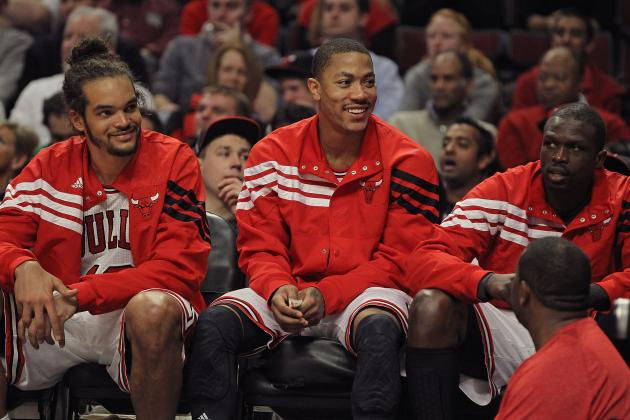 Jonathan Daniel/Getty Images
These three Bulls have a chance to make more history.
Guard: Derrick Rose
Currently rehabbing a torn ACL, Rose looks to bounce back and continue his great play. Rose won the NBA MVP award in the 2010-11 season. He was only the second Bull to win the award.
Forward: Loul Deng
Deng finally got his due; it came in the form of an NBA All-Star appearance. He is fast becoming one of the best perimeter defenders in the league.
Center: Joakim Noah, 2007-current
Many people ridiculed the Bulls for drafting Noah in the 2007 NBA Draft. After vowing that Noah would never be a productive player, one prominent Chicago columnist promised to eat his words if he were proven wrong. Noah has not only surpassed expectations, he has become a top-five NBA center. Very few can rebound with Noah, who reminds us every day of a poor man's Dennis Rodman.
Forward: Carlos Boozer, 2010-current
Boozer, the player that Bulls fans love to hate, is actually one of the best power forwards in Bulls' history statistically. That goes to show how thin the Bulls are in terms of franchise power forwards. After Rodman, Brand, Bob Boozer and Horace Grant, which power forward were better than Carlos Boozer is. Even Bob Boozer and Grant is a stretch.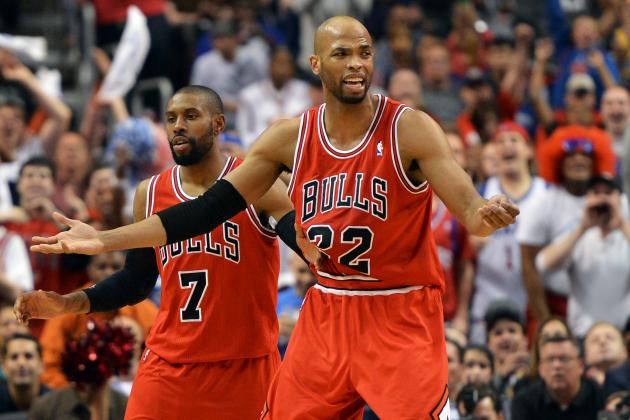 Drew Hallowell/Getty Images
Watson makes the All-Decade list by default while Gibson nearly took Boozer's starting spot.
Guard: C.J. Watson, 2010-12
Watson was better than what we witnessed in a Bulls' uniform. We saw a player who held back his offense in order to do whatever the Bulls asked him to do.
Sixth-man: Taj Gibson, 2009-current
There may be a few arguments about why Gibson is not in the starting five. Gibson is a better defensive player than Boozer is, but Boozer is a superior offensive player.
There was not much of a discussion here as the Bulls are only two seasons into this decade. I am hoping at least two players from the current roster will make the All-Decade starting five in the years to come.
Jonathan Daniel/Getty Images
Michael Jordan is the greates Bull ever and arguably greatest NBA player of all-time.
Guard: Derrick Rose
The greatest point guard to play for the Bulls is also the youngest player on the list.
Forward: Scottie Pippen
Pippen was the most versatile player in Bulls' history.
Center: Artis Gilmore
"The A-Train" was the Bulls best and only All-Star center to date.
Forward: Dennis Rodman
It was a choice between Rodman and Walker. Rodman receives the nod for helping the Bulls win six titles.
Guard: Michael Jordan
Must we even debate this selection? Jordan is the best ever, period!
The Bench
Forward: Bob Love
Forward: Chet Walker
Forward: Loul Deng
Center: Bill Cartwright
Guard: Jerry Sloan
Guard: Norm Van Lier
Guard: Ben Gordon