The Pittsburgh Pirates find themselves in the heart of the National League playoff chase heading into September, a game behind the St. Louis Cardinals for the final wild-card spot as of August 30.
As the Bucs aim to surpass the Cardinals and the Los Angeles Dodgers, they can look to their Triple-A roster for support. The Pirates have a lot of depth through the Triple-A level, and several potential September call-ups can help fill holes on the Major League roster.
Bench Depth
The Pirates have been guilty of fielding a pretty poor bench throughout the season. Players like Yamaico Navarro and Drew Sutton have spent way too much time with the big club.
With rosters expanding and minor league seasons ending, the Bucs will have the opportunity to promote guys who have been playing every day in order to stay sharp. Alex Presley, who it appears is already on his way to Pittsburgh, and infielder Chase d'Arnaud are two good examples of this type of player.
Matt Hague, who has spent a fair amount of time in Pittsburgh this year, may be brought back to the Bucs, and it is likely that Eric Fryer will be added as the third catcher. Fryer will not get much playing time, but his availability as an emergency catcher will allow the Pirates to freely use Michael McKenry as a pinch-hitter when Rod Barajas starts.
An interesting longshot candidate is Brock Holt, who has performed very well since his recent promotion from Altoona. Holt could use more seasoning in Triple-A, but the Pirates are thin at middle infield.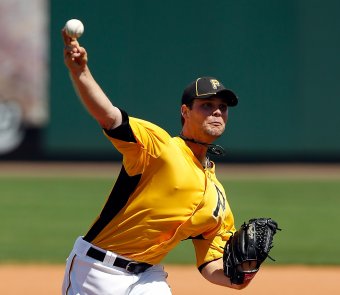 J. Meric/Getty Images
A No. 5 Starter
After releasing the ineffective Erik Bedard, the Pirates are looking for a No. 5 starter. Kevin Correia is the primary veteran option, but he is not the answer. Luckily, the Bucs once again have several options in the minor leagues.
Like Presley, Kyle McPherson appears to be on his way to Pittsburgh this weekend, so he may be the current favorite to replace Bedard. McPherson is a strong option who looked very good in his brief call-up last week. His excellent control and good secondary stuff make him a viable option at the back end of the rotation.
Jeff Locke, who has had a couple spells with the Pirates already, represents another option. Locke doesn't quite have the upside of McPherson, but the southpaw is more experienced and also sports good control.
If the Pirates seek to go the Brock Holt longshot route, Phil Irwin is always an option. Irwin has been red-hot in the minors, and while he is probably not ready for a Major League pennant race he is an intriguing option to have.
Fresh Arms in the Bullpen
The biggest impact of September call-ups may be the reinforcements they will provide for the Pirates' thinning bullpen. Following the Brad Lincoln trade, the Pirates have struggled to get consistent innings from relievers other than Jason Grilli and Joel Hanrahan. There is plenty of help in Indianapolis.
There was a time recently when Bryan Morris seemed like the next Pittsburgh back-end reliever. Though he is currently slumping, he remains that guy and it is likely the Pirates will give him a shot at the Major League level. The same goes for Chris Leroux.
Justin Wilson is another pitcher who is almost certain to get called up. He looked good in his cup of coffee last week as well, and he can succeed as a left-handed strikeout reliever at the Major League level.
Other potential call-ups include former eighth-inning specialist Evan Meek and long-reliever Daniel McCutchen.