Baltimore Ravens: Why Ray Lewis Is Team's Most Important Veteran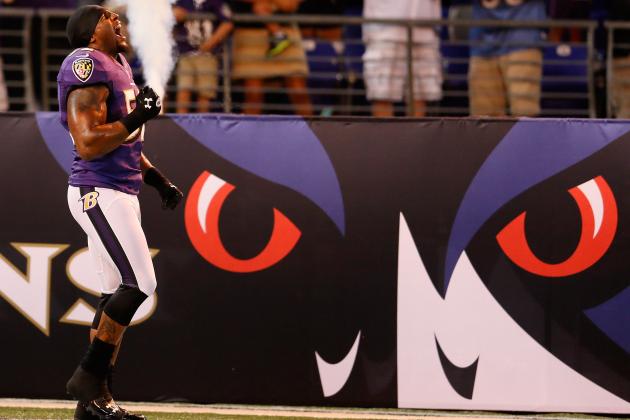 Rob Carr/Getty Images
Ray Lewis has been a Raven his entire career
Over the past decade plus, the Baltimore Ravens have been one of the more consistent teams in the NFL, beginning with their Super Bowl victory in 2000.
That was Ray Lewis' fifth year playing professional football, and he was in the midst of the prime of his career, which frankly began in his sophomore season.
Despite the Ravens' success in the past 12 years, they have not been able to make a return appearance to the Super Bowl.
The 2012 playoffs ended in heartbreak, as the Ravens lost 23-20 to the New England Patriots. Lee Evans missed a potential game-winning catch late in the fourth quarter. Then, Billy Cundiff missed a 32-yard field goal wide left that would have tied the game.
Lewis announced to Mike Freeman of CBSSports last year that if the Ravens won a Super Bowl that he would retire. However, he also added that if they did not win, he was not sure when his career would end.
Ray Ray is back for season No. 17, and he's going to be the most important player out there for the Baltimore Ravens.
Are you surprised?
Begin Slideshow

»
Patrick McDermott/Getty Images
Suggs leaves a gap in the Ravens defense after winning the Defensive Player of the Year award last season
While the Ravens defense did not fair well statistically last season in terms of points per game (19th) and yards per game (28th), it has generally been regarded as one of the most fearsome defenses in the league.
And for good reason.
With players like Ray Lewis, Terrell Suggs, Ed Reed and Haloti Ngata as staples, the overall team has largely been led on the defensive side of the ball.
Unfortunately for the Ravens, Lewis becomes an essential player this year after an injury to Suggs and the departure of fellow outside linebacker Jarret Johnson to the San Diego Chargers.
Suggs was placed on the physically unable to perform list on Tuesday, meaning he must sit out the first six weeks of the Ravens' season. He will likely miss even more time after tearing his Achilles tendon in April.
After spending his first nine seasons in Baltimore, Johnson signed a four-year deal with the Chargers.
Lewis has always been the centerpiece of the Ravens defense, calling the signals and leading in intensity. However, it will be difficult to replace the two starters on either side of him.
Suggs, who recorded a league-leading 14 sacks, was named the Associated Press NFL Defensive Player of the Year in 2011. He accompanied his sack total with 70 tackles and two interceptions.
Johnson was regarded as a premier run-stopper from the outside edge, an area where the Baltimore defense actually excelled, allowing the second-least total rushing yards last season. He compiled 56 tackles and 2.5 sacks.
Seeking to replace these two on the linebacker unit are Albert McClellan, Sergio Kindle, Courtney Upshaw, Paul Kruger and Brendon Ayanbadejo.
Kruger seems to be a favorite to take one of the outside positions, leaving McClellan, Kindle, and the rookie Upshaw to battle it out for the other starting job. Ayanbadejo has played a concentrated role on special teams in the past.
Jameel McClain plays the second inside linebacker position in the Ravens' 3-4 defense.
The Ravens defense will still be a frightening matchup for NFL offenses despite the loss of two key players, especially with Lewis directing traffic.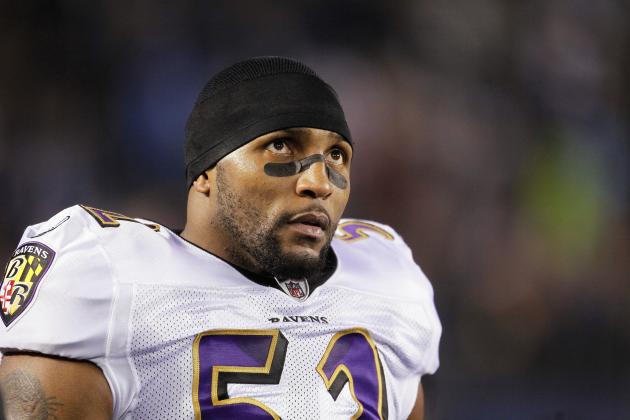 Jeff Gross/Getty Images
Lewis will be 37 at the start of this season
Ray Lewis is a grandfather in NFL years.
Entering his 17th season in the NFL, Lewis has stated that the only reason he is still active is to win another Super Bowl ring. As referenced earlier in an article by Mike Freeman, Lewis proclaimed before the 2011 season:
My son will be a junior this year. I only play this game for another ring. If we can win it this year, and I'm being brutally honest with you, if we win it this year, I'm gone to then spend as much time as I can with him. I'm gone to be with my son. And I feel like now we have enough pieces in place to make a good run at the Super Bowl.
While the Ravens barely missed the Super Bowl last season, Lewis has no intention of challenging George Blanda's NFL record of 26 active seasons.
Then again, if any player has the mindset and physical ability to continue playing into his 40s, it would be Lewis:
I don't know when it will all be over for me. People want to use my age against me. They say I'm too old. People fear getting old. I don't fear that because now I have wisdom and a tough body to go with that wisdom.
Usually it is the players who avoid much contact during games that have been able to have extended careers, such as kickers and punters.
But Lewis has found a way to triumph over Father Time and continue performing at a high level.
While his stats may have taken a hit this past season, recording only 77 tackles, which is the lowest total in a non-injury season of his career, Lewis remains a force to be reckoned with on the field.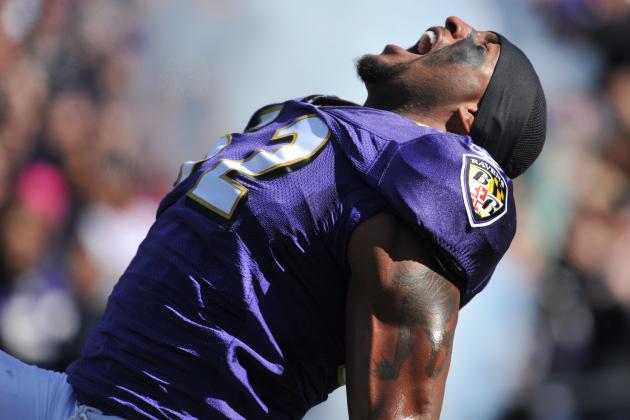 Larry French/Getty Images
Lewis will go down as one of the best linebackers of all time
Ray Lewis will be a first-ballot Hall of Famer and will go down as one of the most decorated defensive players to ever take the field.
Let's take a look at what he has accomplished.
13 Pro Bowl appearances in 16 seasons (two of which he was injured) places him tied for second all-time with Jerry Rice and Reggie White.
He's a seven-time Associated Press First Team All-Pro player, which is arguably a more distinguished award than a Pro Bowl selection.
He won the Associated Press Defensive Player of the Year honor in both 2000 and 2003.
He was named the Super Bowl MVP in 2000 as well.
Finally, Lewis has accumulated an Approximate Value of 218, good for seventh all-time and second among active players (Peyton Manning stands at 220).
Approximate Value, or AV, is a number created by Pro Football Reference founder Doug Drinen in "an attempt to put a single number on the seasonal value of a player at any position from any year (since 1950)."
Coming from the defensive side of the ball, that is quite an impressive statistic.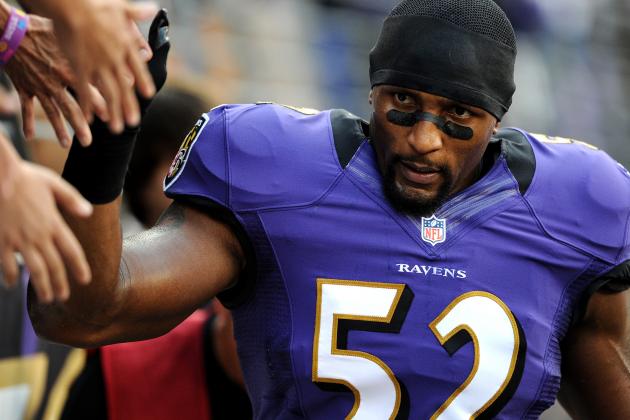 Patrick Smith/Getty Images
Lewis knows how to pump up his teammates
He has made his accomplishments on the field well known.
In the locker room, he has made his inspirational speeches something of a trademark.
Ray Lewis is the unofficial captain of the Baltimore Ravens. He takes it upon himself to motivate his teammates before, during and after each game.
Little does the average fan know, however, that Lewis has extended his exceptional oratory skills to more than just his teammates.
Kevin Clark of the Wall Street Journal explains how Lewis "just likes firing people up." He has given both impromptu and scheduled speeches to college and high school sports teams, Fortune 500 companies, and he has also spoken at Under Armour corporate events and appeared in their commercials as well as Madden commercials.
Track teams, wrestling teams, whatever it is, whatever the request is, if it fits, no matter what it is I go.
Many of these speeches are surprises, adding to the excitement and inspiration of Lewis' speeches.
You can see his pre-game speech to the Stanford basketball team before an NIT Tournament game here, and his Madden '13 speech is here.
They are both bone-chilling and galvanizing.
Lewis will be looking to do the same for his Ravens in the upcoming season.