Power Ranking the Biggest X-Factors in the NBA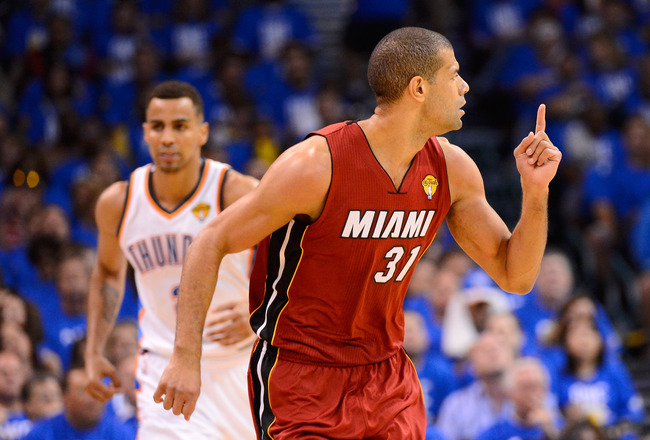 Ronald Martinez/Getty Images
Shane Battier wasn't much of a scorer for the Miami Heat last season, at least until the NBA Finals.
After averaging just 4.8 points per game during the regular season, he dropped 11.6 through those all-important five games against the Oklahoma City Thunder. His team needed a role player to step up and start burying three-pointers, and that's exactly what Battier did.
Of course, his defense was indispensable throughout the season. Teamed with LeBron James, Battier helped give Miami the best wing defense in the league.
He may not have been a star, but he was certainly an X-factor and one of the principal differences between the Miami team that choked in the 2011 NBA Finals and the dominant iteration that was so successful a year later.
Following in Battier's footsteps, here are the 10 biggest X-factors going into next season.
10. Evan Turner, SG, Philadelphia 76ers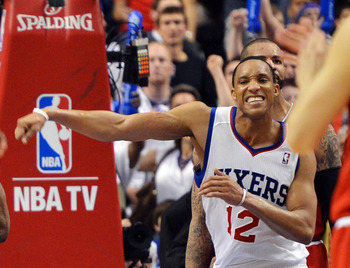 Drew Hallowell/Getty Images
The Philadelphia 76ers know what they can expect from up-and-coming studs like Jrue Holiday and Thaddeus Young. They probably have a pretty good idea of what they can expect from newcomers like Andrew Bynum and Jason Richardson as well.
The question is whether Evan Turner can take a giant step forward in his third year.
If he does, he could become one of the team's go-to options and serve as more than the rebounding and passing role player he was last season. If he doesn't, he could quickly lose playing time to more established shooters like Richardson and Nick Young.
The 76ers have improved significantly. Just how significantly depends in large part upon the No. 2 overall pick in the 2010 draft..
9. Ray Allen, SG, Miami Heat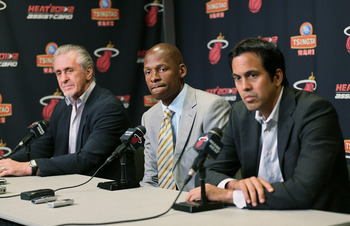 Mike Ehrmann/Getty Images
Shane Battier remains an important part of the Miami Heat's title ambitions, but Ray Allen may be the most important variable this season.
If he can remain healthy and effective, it won't be easy to outscore this team.
If he starts to show signs of his 37 years or otherwise becomes too much of a liability on the defensive end, he'll quickly slide down the Heat's now-deep rotation of wing players. It might not be enough to derail the defending champions from repeating, but it will certainly make things harder.
In other words, while Allen isn't the difference between this club winning and losing, he'll certainly affect just how dominant they are this time around.
8. Caron Butler, SF, Los Angeles Clippers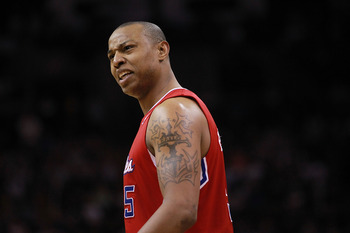 Ronald Martinez/Getty Images
Caron Butler played an important role in his first season with the Los Angeles Clippers, but he was hit-or-miss in the playoffs thanks in no small part to a fractured left hand.
As Butler struggled and went, so did the Clippers. They had to gut out a seven-game first round against the Memphis Grizzlies only to be swept in short order by the San Antonio Spurs. There's no question L.A. missed Butler's normally consistent production.
They'll have a bit more insurance this season with small forward Grant Hill in the fold, but that won't make Butler any less essential to this team's hopes of contending.
You know what you'll get out of Chris Paul and Blake Griffin; what you get out of Butler may be the difference.
7. J.R. Smith, SG, New York Knicks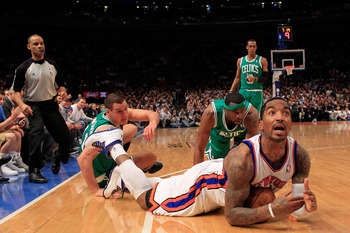 Chris Trotman/Getty Images
J.R. Smith is as streaky as they come.
He falls in love with the three-point line like no other, and that can be either a good or bad thing. Smith will either shoot his team back into games or out of them entirely.
The New York Knicks certainly have other scorers, but Smith is the most lethal one on the perimeter. If he can become a consistent and efficient contributor next season, he could very well develop into NYC's second or third scoring option.
If he's firing on all cylinders, the Knicks will look a heck of a lot more like a contender.
6. Mike Conley, PG, Memphis Grizzlies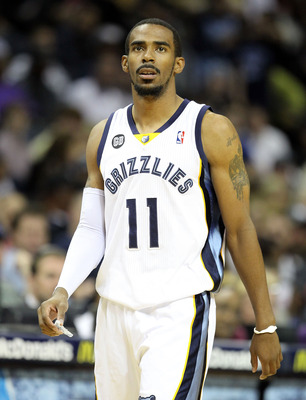 Andy Lyons/Getty Images
Mike Conley had another solid season, but he was all over the place in the Memphis Grizzlies' first-round series against the Clippers.
He distributed the ball consistently enough, but his shooting was hardly on par. He twice shot better than 60 percent from the field, but he also shot under 40 percent in three of those seven games.
It wasn't good enough to put Memphis over the top in a tight series, and that kind of production won't be good enough for the Grizzlies to seriously contend the coming season.
That said, Conley is capable of playing much better. He's no All-Star, but he's one of the league's most underrated players.
5. JaVale McGee, C, Denver Nuggets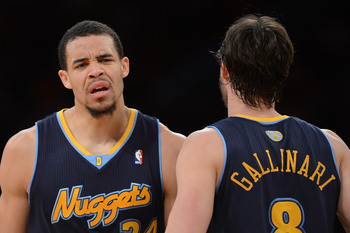 Harry How/Getty Images
The Denver Nuggets are seemingly comprised of nothing but young X-factors, and none will be more decisive than 24-year-old JaVale McGee.
When McGee was dominant in the first round against the Los Angeles Lakers, his Nuggets followed suit. When he disappeared from the offensive end, their lives got a lot harder. With this team on the verge of taking its next step and becoming a contender, a successful season from McGee would go a long way in making such a leap possible.
Given just how few big men in this league consistently make a significant impact on both ends of the floor, McGee's evolution is something to keep an eye on.
If he becomes one of the league's best centers, the Nuggets will become one of its best teams.
4. Gerald Wallace, SF, Brooklyn Nets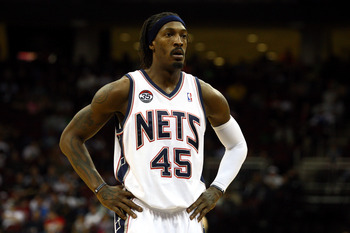 Chris Chambers/Getty Images
Gerald Wallace is the quintessential X-factor.
He's a solid scorer capable of impacting games on the offensive end, but his bread-and-butter is doing everything else.
No, really—everything.
Wallace defends, rebounds and creates opportunities for his teammates. The 30-year-old has turned himself into one of the most well-rounded swingmen in the league over the course of his last eight seasons.
His contributions will be especially important to the Brooklyn Nets. As talented as this squad's starting unit may be, it won't be known for its defense. Wallace can and must help change that if this team has any hope of actually contending for a title.
3. Manu Ginobili, SG, San Antonio Spurs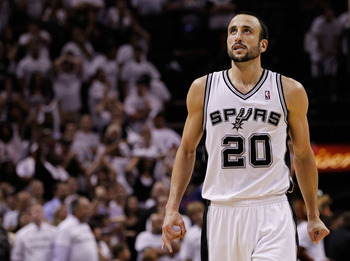 Tom Pennington/Getty Images
Manu Ginobili isn't just an X-factor; he's one of the game's all-time great X-factors.
Frequently deployed as a sixth man, Ginobili has long been the difference between the San Antonio Spurs' good teams and the Spurs' championship teams. Even at 35, that very much remains the case.
When Ginobili played injured through the first round of the 2011 playoffs, his Spurs were upset by the eighth-seeded Memphis Grizzlies. Injuries again threatened to derail Manu and the Spurs in 2012, but he rounded into shape in time for the club to sweep the first two rounds of the playoffs.
If he can reprise that effort, San Antonio will be back with a vengeance.
2. James Harden, SG, Oklahoma City Thunder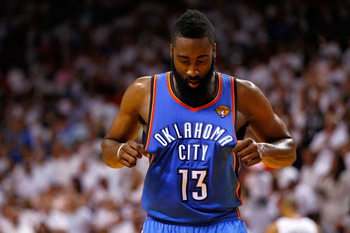 Mike Ehrmann/Getty Images
Sixth men almost always play a decisive role in their team's fate, so it's no surprise that the NBA's Sixth Man of the Year lands so high on this list.
Understandably overshadowed by superstars Kevin Durant and Russell Westbrook, it's easy to forget just how instrumental this guy is. It's not that James Harden is flying under the radar, it's just that his importance is easily overlooked.
The 2012 playoffs were a microcosm of exactly that.
Harden averaged 18.5 points when OKC prevailed against the San Antonio Spurs in the Western Conference finals. A series later, he averaged just 12.4 points while shooting 38 percent from the field against the Miami Heat. We all know how that turned out.
If the Thunder expect to see different results next time around, it will have to start with Harden.
1. Pau Gasol, PF, Los Angeles Lakers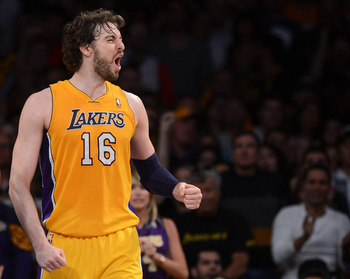 Harry How/Getty Images
Yes, you can certainly make the argument that Pau Gasol is more star than X-factor.
But, by the Los Angeles Lakers' standards, he counts for the purposes of this list.
He may now be the third- or fourth-best player in the Lakers' starting lineup, but he's still incredibly important. His ability to shoot and facilitate from the high-post will make life easier for Dwight Howard, just as it did for Andrew Bynum.
He'll also give Steve Nash a skilled pick-and-roll partner, ensuring L.A. has a consistent go-to play regardless of what happens with the new Princeton offense.
Keep Reading