Ravens at Rams: Final Preseason Week 4 Report Card for Baltimore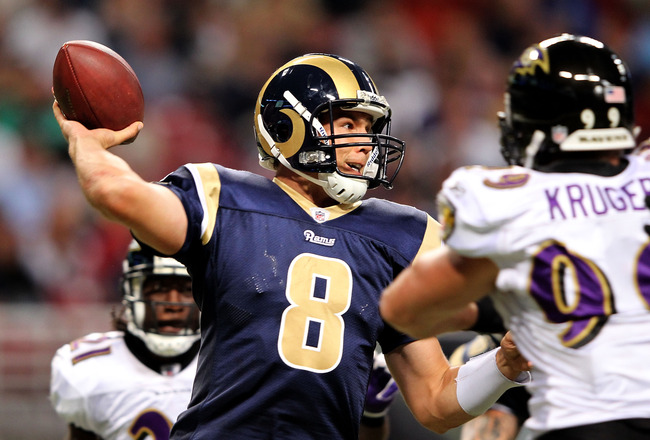 Jamie Squire/Getty Images
The Baltimore Ravens lost to the St. Louis Rams in their final week of preseason action with a score of 31-17.
The Ravens looked over-matched against the Rams starters, allowing the Rams to jump out to an early lead.
The Ravens starters did not make a significant appearance, meaning that this game will be most important for the players on the fringes of the Ravens roster.
Here are grades for all the players to make a significant impact on this game.
Quarterbacks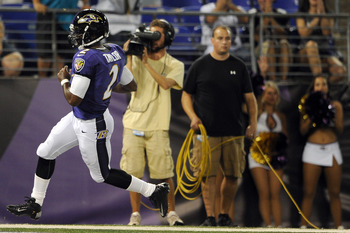 Patrick Smith/Getty Images
Tyrod Taylor—C
Tyrod Taylor started the game and looked completely out of place against the Rams starters. He failed to move the offense, and he played a very conservative game.
The only positive thing to take from his performance is that he avoided mistakes.
Curtis Painter—B
Curtis Painter made some incredible throws tonight, but he still lacks accuracy and touch on a lot of his throws.
The offense did run much better with him in the game, but that could be a result of the Rams' inserting their backups into the lineup.
Running Backs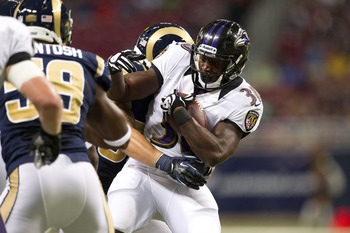 David Welker/Getty Images
Bernard Pierce—B+
Pierce looked a lot more decisive tonight, and he paired that with some nice power. Unfortunately, he didn't get very good blocking.
When the starting offensive line is in front of him, Pierce will be a real threat.
Bobby Rainey—B-
Sadly, this was Rainey's worst game in a Ravens uniform. He made some costly mistakes, including a drop that led to an interception.
Rainey is still a dynamic pass catcher, though, as well as a good runner on draws and misdirection plays. If Rainey doesn't make this roster, I'll be surprised.
Anthony Allen—C+
Anthony Allen did some good things tonight, especially in the passing game. Unfortunately, he did not show the burst on running plays that the rookies showed.
Damien Berry—B
Berry looked explosive when he had the ball in his hands, but he didn't get many opportunities.
Wide Receivers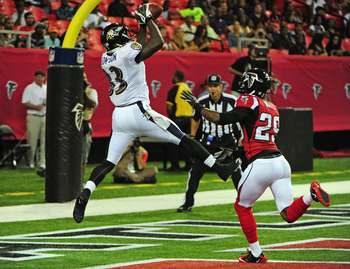 Scott Cunningham/Getty Images
Deonte Thompson—A+
Deonte Thompson showed enough today to earn a roster spot. He looked like a poor man's Torrey Smith, with the speed and body control to get open and make touch catches.
Thompson not only deserves to make the roster, but he deserves to get real reps this season.
Tandon Doss—B-
Doss dropped a pass that led to an interception, but he was otherwise spectacular. Doss has strong hands and runs precise routes.
Doss might not rack up big stats this year, but his development has been enjoyable to watch and should continue.
LaQuan Williams—C
LaQuan Williams dropped a screen pass that was a bit too high. Williams seems to drop a pass every game.
While capable of making incredible grabs, Williams' hands are just too inconsistent.
Logan Payne—B+
My heart ached for Logan Payne when he dropped a pass toward the end of the game. He has played so well this preseason, but he just hasn't done enough for the Ravens to justify dropping one of their talented youngsters.
Tight Ends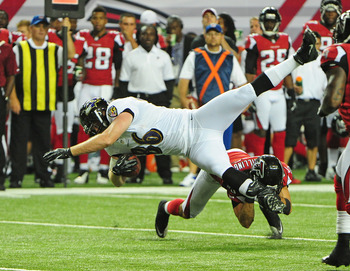 Scott Cunningham/Getty Images
Billy Bajema—B+
Billy Bajema has had a nice preseason, catching a touchdown tonight and cementing his roster spot.
Matt Balasavage—C-
Balasavage got some extensive playing time tonight, but didn't do much with it. His hands are suspect, but his blocking was solid.
Offensive Line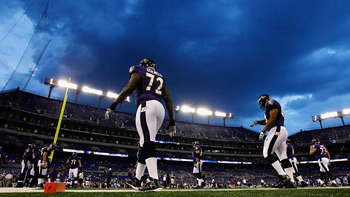 Rob Carr/Getty Images
Kelechi Osemele—D
Kelechi Osemele was legitimately bad tonight. He got completely abused by Chris Long in both the running game and the passing game. Osemele is a long way from starting.
Ramon Harewood—B+
I liked what I saw out of Harewood tonight. He was the Ravens' best offensive linemen, routinely pushing his guy downfield.
Gino Gradkowski—B
Gradkowski did a solid job of anchoring the line tonight. The interior looked pretty solid.
Justin Boren—B
Boren was solid tonight as well until his injury. He should make the roster.
Cord Howard—C
While Howard wasn't quite as bad as Osemele, he still struggled to handle the Rams pass rush.
Defensive Line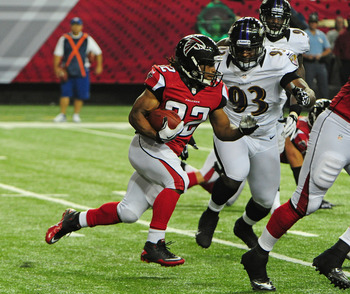 Scott Cunningham/Getty Images
Bryan Hall—B
Hall did a good job holding position and setting the edge, and he is one of the most athletic linemen on the team. He didn't make any splash plays, but he did his part.
DeAngelo Tyson—A
I loved what I saw out of Tyson tonight. He has great burst, which led to him getting a few pressures tonight. He also held positioning well. Tonight really helped his cause in making the roster.
Terrence Cody—D
For a potential starter, Cody was really abysmal tonight. He got pushed around on virtually every snap. His performance tonight probably guarantees Ma'ake Kemoeatu the starting job.
Art Jones—C
Like Cody, I expected better from Jones, since he has a chance to be a starter. Unfortunately, Jones did nothing to stand out and was occasionally pushed around.
Ishmaa'ily Kitchen—B+
Kitchen was mostly silent tonight, but he held his own and made a big sack. His hustle and strength were impressive.
Linebackers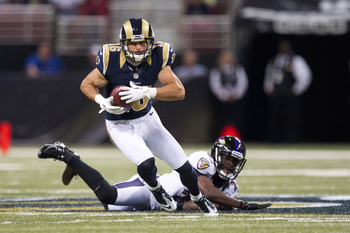 David Welker/Getty Images
Paul Kruger—D
Paul Kruger looked lost in coverage and got abused in run-support. He didn't look like a worthy starter tonight.
Brendon Ayanbadejo—F
As bad as Kruger looked, Ayanbadejo looked worse. Ayanbadejo was targeted by the Rams in pass defense, which worked as he gave up multiple big plays.
Albert McClellan—B
McClellan was probably the best Ravens linebacker tonight. He sets the edge like Jarret Johnson, but he is also extremely athletic. While not a threat as a pass-rusher, McClellan does everything well.
Sergio Kindle—D
Kindle hurt himself immensely with a stupid penalty that gave the Rams a first down. That lack of discipline won't help himself or the Ravens. Kindle didn't really do anything else of note.
Nigel Carr—C+
Carr occasionally got picked on, but he held his own and bounced back from mistakes. I liked a lot of what Carr did tonight, as he looks like a high-intensity player. He's mistake-prone, though, so he needs major seasoning.
Defensive Backs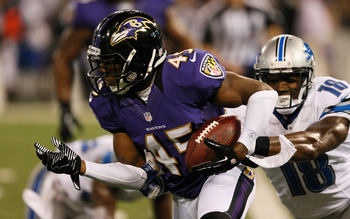 Rob Carr/Getty Images
Jimmy Smith—C
Jimmy Smith fell down on a regular basis tonight, which was probably a fluke. When he stayed on his feet, he looked fine.
Omar Brown—A
Omar Brown was the Ravens' best defensive player tonight. He was a sure tackler and displayed solid instincts. If Brown doesn't make the team, I'd be surprised.
Asa Jackson—B
Jackson actually looked pretty good in coverage, but his tackling is suspect.
Christian Thompson—B
Thompson made some nice plays, but was mostly quiet. He was the lesser of the two safeties tonight, but the two safeties played pretty well together.
Chykie Brown—B
I liked Brown's coverage for the most part, but he still has to develop. He struggled with underneath routes tonight.
Special Teams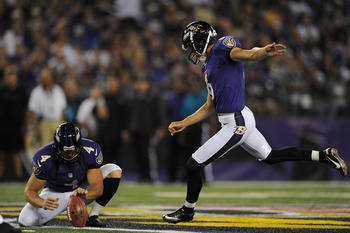 Patrick Smith/Getty Images
Sam Koch—A+
Koch got off an excellent punt from his own end zone and also managed to get some distance out of a tipped punt. He's as steady as they come.
Justin Tucker—B
I'm not going to fault Tucker for his 57 yard miss. That's a tough kick, and he had the leg to get it there. He did nail a 49 yarder, which was a beautiful kick.
Deonte Thompson—B+
Thompson was the only returner to do some good things tonight. He's explosive and has a knack for finding the hole.
Coaching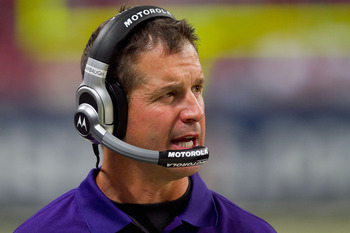 Dilip Vishwanat/Getty Images
John Harbaugh—B
I liked that Harbaugh was fiery at halftime, and I liked that he stuck by his young guys. The team didn't look good tonight, but he got the most out of his young players.
Cam Cameron—C
The play-calling to start the game was embarrassingly conservative. With Painter in the game, the offense became more aggressive and actually tried to win the game. Cameron should have tried to run a pro-style offense instead of just running the ball every down in the first half.
Dean Pees—C
The defense got pushed around and looked undisciplined early. Some young players showed great development, though.
Keep Reading

Baltimore Ravens: Like this team?