UFC on FOX 5: Will Alexander Gustafsson Earn a Title Shot with a Win over Shogun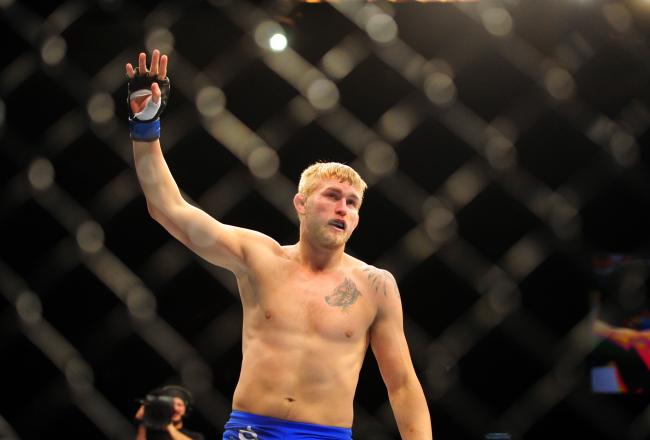 Mark J. Rebilas-US PRESSWIRE
The whole UFC 151-turned-UFC 152 fiasco has calmed somewhat now that the event is back on and will come complete with a main event intact.
That main event, of course, will feature light heavyweight champion Jon Jones and middleweight contender Vitor Belfort, who will compete for the 205-pound title.
Now, it is possible that Belfort becomes the UFC's new light heavyweight champion, but his role in contesting Jones seems more grounded in saving an event than anything else. After all, Belfort hasn't fought at 205 in about five years, so it's difficult to say he earned the shot based on recent credentials.
More than anything else, Belfort is a stop-gap contender. He might pull off the upset, but once his fight against Jones ends, he either becomes champion, returns to middleweight or moves to the back of the light heavyweight line. Regardless of the fight's result, UFC 152 will mark the last time Belfort is a divisional contender, at least for the foreseeable future.
After he completes his bout with Jones, Belfort's spot will be repopulated by faces more familiar with the contemporary 205-pound title picture. One of those faces will belong to Swedish striking phenom Alexander Gustafsson, who will attempt to parlay his December showdown with Mauricio Rua into a 2013 title shot.
Though the 25-year-old's name was strangely absent from UFC 151/152 talks, it seems that Gustafsson cannot be too far away from fighting for gold, and as the division's landscape currently stands, a win over a guy like Rua may just put him over the top.
With a win over Rua this December at UFC on FOX 5, Gustafsson becomes a logical challenger to Jones (or Belfort), seeing as how he brings credentials (he'd be on a six-fight win streak) and novelty to the title scene (especially if Jones retains his belt). He also brings some international flavor I'm sure the UFC would love to build a fight around, and a skill set deserving of the hype such promotional tactics would likely thrust upon him.
Throw in that his 77-inch reach comes about as close as anyone can to Jones' 84-inch span and there seems to be plenty of reason and logic behind naming Gustafsson the next in line for a title shot, should he best Rua.
However, the light heavyweight title picture has become so muddled as a result of the UFC 151/152 catastrophe that reason and logic do not help us navigate the landscape all that well. There are others with unique, though still legitimate claims, to contendership.
What about Dan Henderson? If he is ready to go in the first quarter of 2013, would he get preference? What about Machida? He was supposed to be next in line after Henderson, and may remain ahead of Gustafsson even if he stays inactive for the foreseeable future. And then there is Chael Sonnen, who could conceivably half-win, half-talk his way into a title shot before too long.
Though a win over Rua would make Gustafsson one of the division's most viable contenders for early 2013, there may just be too much going on in the division for him to secure a title shot. Though it is with the realm of possibility he gets the nod for beating Shogun, the chance of that happening is decidedly smaller than him needing at least another victory before getting his shot.
If the UFC gives the shot to Hendo next, we may see the winner of Gustafsson vs. Rua face Machida, or if Machida gets the promotion's green lights, Hendo. But that just depicts two scenarios. There are plethora of others more likely to take form than Gustafsson getting his title crack before anyone else.
Unless the UFC puts together a Jones vs. Machida fight very quickly—say one for January—don't expect Gustafsson to being fighting for UFC in his first contest of 2013. And even then the possibility may be contingent on Henderson's availability and Sonnen's mouth.
This article is
What is the duplicate article?
Why is this article offensive?
Where is this article plagiarized from?
Why is this article poorly edited?