Kansas City Chiefs vs Green Bay Packers: Preseason Week 4 Live Score, Analysis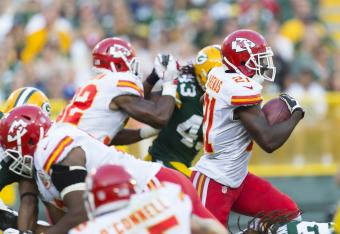 Jeff Hanisch-US PRESSWIRE
The preseason came to a close in Green Bay when the Packers beat the Kansas City Chiefs 24-3 on Thursday evening.
The story of the evening was Packers backup quarterback Graham Harrell who led the Packers to three touchdown-scoring drives.
It was an uneventful fourth quarter in Green Bay.
Outside of a Mason Crosby field goal four seconds into the final frame, it was punt after punt for both the Packers and the Chiefs.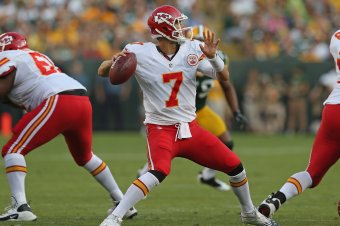 Jonathan Daniel/Getty Images
No matter who's been in at quarterback for the Kansas City Chiefs, they haven't been able to get anything going.
As a team, the Chiefs have completed nine of 17 passes for 77 yards early in the fourth quarter, which has worked out to an average of 4.5 yards per pass.
Neither Matt Cassell, Brady Quinn or Ricky Stanzi has done much of note this evening.
With five receptions for 82 yards, Jarrett Boykin is doing his best to convince the Packers to keep them on their roster.
Even if it's not in the cards to stay in Green Bay, Boykin can consider this an audition for the 31 other teams in the NFL who might consider picking him on waivers or trading for him on Friday when all NFL teams have to cut down to 53 players.
One player not looking good for the Packers is inside linebacker Terrell Manning.
Manning hasn't done anything to stand out during training camp and has failed to capitalize this evening while getting an extended look.
From two sources...
<blockquote class="twitter-tweet tw-align-center">
One of the bubble guys I wrote about in six-story package was Manning. Blew tackle that would have stopped run well short of first down.
— Packer Report (@PackerReport) August 31, 2012
<blockquote class="twitter-tweet tw-align-center">
Not a good night for Manning. Had Shaun Draughn broken down for tackle and comes up empty. Big gain.
— Tyler Dunne (@TyDunne) August 31, 2012
Graham Harrell directed his third touchdown-scoring drive culminating in a 12-yard touchdown pass to rookie wide receiver Jarrett Boykin.
It goes without saying that Harrell is having himself a good evening that will go a long way towards quieting his critics and giving the Packers a good reason to keep him on their 53-man roster.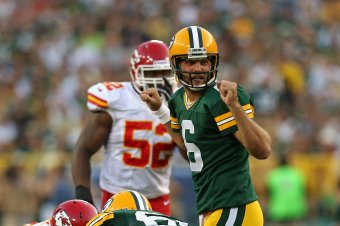 Jonathan Daniel/Getty Images
Through the first three preseason games, the Packers have averaged roughly 4.0 yards per pass.
As evidence of how well they're playing in the final preseason game, mainly behind quarterback Graham Harrell, the Packers are averaging 13.7 yards per pass at halftime.
To start the game, the Chiefs converted 10 straight first downs before the Packers even converted their first.
Ever since Graham Harrell has entered the game at quarterback, however, the Packers offense has been on fire.
They've almost caught up to the Chiefs in first downs as Kansas City only holds a slim 11-9 edge at halftime.
Graham Harrell continues his solid play by leading the Packers' to a second touchdown-scoring drive.
Not only did he get credit for a touchdown pass to Alex Green on a 17-yard screen pass, but perhaps more impressive was the way he converted a third-and-14 play in Chiefs territory earlier on the drive.
The night couldn't be going any better for Harrell.
Mike Neal might be suspended for the first four games of the regular season for violating the league's banned substances policy, but he's making an impression in the final preseason game...
<blockquote class="twitter-tweet tw-align-center">
That's at least twice where Neal has blasted into the backfield.
— Packer Report (@PackerReport) August 31, 2012
It isn't lost upon the teammates of Graham Harrell how important the last scoring drive was to him...
<blockquote class="twitter-tweet tw-align-center">
Alex Green in for the two-yard touchdown. Graham Harrell needed that. Getting a lot of pats on the back on the sideline.
— Tyler Dunne (@TyDunne) August 30, 2012
Graham Harrell's first possession of the game was just what the doctor ordered.
After a slow start to the preseason, Harrell had two long completions in a row to set up Alex Green's two-yard touchdown run to put the Packers on top.
The first was a 27-yard strike to tight end Jermichael Finely up the seam, followed the next play by a bomb to wide receiver Tori Gurley for 54 yards that put the Packers' inside the Chiefs' five-yard line.
Packers cornerback Sam Shields intercepted quarterback Brady Quinn in the endzone to prevent the Chiefs from scoring.
This marks the second consecutive game Shields has intercepted a pass. Combined with his more physical play in his tackling, Shields is really coming on as of late.
Shields has been in the doghouse and was demoted after seeing a lot of playing time last season, so it was really important for him to come out and have a good outing.
A pair of backup linebackers are having a good evening for the Packers...
<blockquote class="twitter-tweet tw-align-center">
Dezman Moses labeled Brady Quinn on that throw. Pressure by Erik Walden from the other side. Both OLBs with solid summers.
— Tyler Dunne (@TyDunne) August 30, 2012
The play was beautiful from a Packers' perspective. Walden pressured Quinn right into Moses, and Moses was able to put a hard hit on Quinn.
With the Packers' failing to get anything going on their first offensive series, they allowed Aaron Rodgers and the rest of the starters to come out for another possession.
The result was the same. The Packers offense couldn't get a first down, and now Aaron Rodgers' night is almost certainly over.
Brady Quinn led the Chiefs on a nice, long drive on his first series of the game, but couldn't get in the endzone.
The Packers displayed a bend but don't break defense allowing the Chiefs to drive into the Packers' red zone but only allowed a field goal.
The Packers couldn't get anything going in their first offensive possession and punt the ball away.
Tim Masthay has pinned the Chiefs inside their own 20.
Aaron Rodgers' night is probably over, but at least the Packers didn't suffer any injuries on offense.
On the Packers' first offensive play from scrimmage, running back Cedric Benson got the ball and promptly fumbled.
Fumbles are a concern with Benson who has fumbled 12 times in the past two seasons alone.
The Packers did recover, however, and will maintain possession.
The Chiefs drove into Packers' territory on their first drive, but kicker Ryan Succop missed a long, 54-yard field goal.
The Packers will take over near midfield and Aaron Rodgers will probably play in his only series of the game.
On the first play from scrimmage, Packers defensive lineman B.J. Raji stayed on the ground and had to be attended to by trainers.
He walked off the field under his own power. Have to imagine Raji's night is over regardless of the severity of the injury.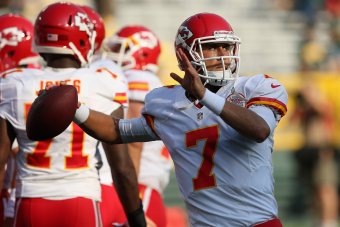 Jonathan Daniel/Getty Images
The Packers kick off and the Chiefs receive. Quarterback Matt Cassell will lead Kansas City.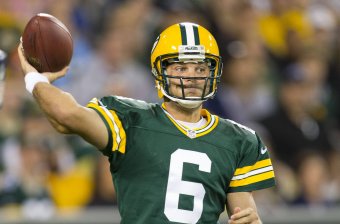 Jeff Hanisch-US PRESSWIRE
John Rehor of Cheesehead TV cited Mike McCarthy's weekly radio interview before Thursday's game...
McCarthy is very defensive in speaking about Harrell. Says his performance is a conversation that has received too much attention

— John (@jrehor) August 30, 2012
It isn't surprising that McCarthy would defend one of his players, but it's hard to believe that Harrell's performance has received too much attention.
The quarterback position is the most important in football, and if anything were to happen to Aaron Rodgers, Harrell would have one of the most scrutinized jobs in all of America.
Besides, he's brought the criticism upon himself with a preseason passer rating of 53.7. If he would even be playing average, he'd have a lot less critics. At this point, Harrell is not even average. Tonight will be an important game for him.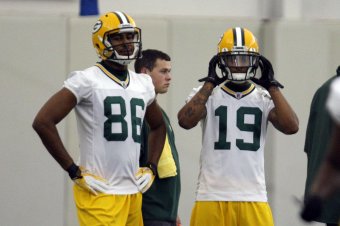 Mary Langenfeld-US PRESSWIRE
Tonight is an important game for Packers wide receivers Tori Gurley and Diondre Borel, both of whom are fighting for a spot on the 53-man roster.
Neither has had a particularly impressive training camp and both of them could use a standout performance that will help their chances of making the team.
Each of them brings their own strengths to the Packers. Gurley is a bigger, taller target in the passing game while Borel is faster, more mobile option. They'll be looking to make an impact this evening.
One former Packer won't be suiting up for the Chiefs on Thursday night, but he'll be replaced by a first-round draft choice in Kansas City's starting lineup...
Top pick Dontari Poe will start at NT for the Chiefs. Former Packer Anthony Toribio is inactive.
— Packer Report (@PackerReport) August 30, 2012
The inactive players for the Packers this evening have been announced...
#Packers Inactives tonight: Woodson, House, Starks, Francois, Saturday, Datko, Pickett, Driver and Crabtree
— Wes Hodkiewicz (@WesHod) August 30, 2012
Left off the inactive list are tight ends D.J. Williams and Ryan Taylor who have recently missed practice time due to injury.
At one point, there was concern that the Packers would be thin at tight end for this evening's game, but that doesn't appear to be the case anymore. Williams and Taylor will join Jermichael Finley and Brandon Bostick at the position.
This article is
What is the duplicate article?
Why is this article offensive?
Where is this article plagiarized from?
Why is this article poorly edited?

Green Bay Packers: Like this team?