Friday's Big Weekend Preview
Matthew Stockman/Getty Images
Finally, it's here. After all the baseball games and "meh" UFC fights and my (somewhat) convincing arguments that you should watch WWE, I can finally write about football in this space. Legit, good, not preseason football.
College football, welcome. We missed you. And it's Labor Day weekend. With all apologies to the boaters and BBQ-ers out there, the best part of this weekend will be spent in front of a TV.
No. 24 Boise State at No. 13 Michigan State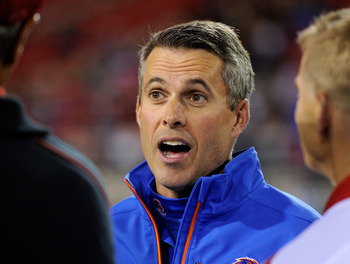 Ethan Miller/Getty Images
When: Friday, 8 p.m. (ET)
TV: ESPN
Why You Should Watch: With apologies to South Carolina vs. Vandy, this is the first game of the season I'm really excited to watch, and it's not just because my parents (rightfully) raised me to be a Michigan State fan.
The annual Boise Takes On A Big Conference Team Game has become great theatre, and I'm excited to see what the Broncos—the sans Kellen Moore Broncos—can do against a Spartans team—a sans Kirk Cousins Spartans team—in the first game of the season.
No. 14 Clemson vs. Auburn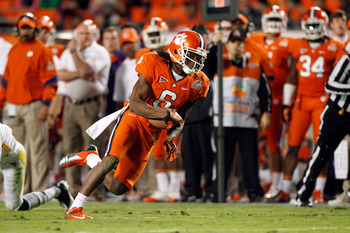 J. Meric/Getty Images
When: Saturday, 7 p.m. (ET)
TV: ESPN
Why You Should Watch: This is the beauty of options. When NFL games turn out to be duds, you're pretty much out of luck unless you've spent $10,354 to buy Sunday Ticket. Not true with college football. If the game I'm going to mention next turns into a rout (or is airing a commercial), flip the channel and watch an ACC vs SEC battle.
No. 8 Michigan vs. No. 2 Alabama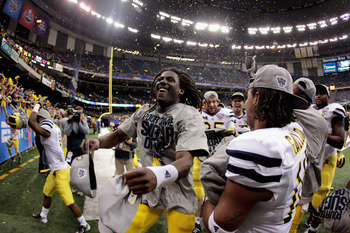 Chris Graythen/Getty Images
When: Saturday, 8 p.m. (ET)
TV: ABC
Why You Should Watch: This part really writes itself. This is the game we've been waiting for all offseason: Alabama's bruising defense vs. Michigan's shoelace-less led offense. I don't care what I'm doing, I will be making my way to a television to watch this game. (Prediction: I don't think Denard will be as happy as he was the last time we saw him on a football field).
NASCAR: AdvoCare 500
Jerry Markland/Getty Images
When: Sunday, 6:30 p.m. (ET)
TV: ESPN
Why You Should Watch: While it sounds nearly impossible to get footballed-out, you don't want to over-stuff yourself on football (we've still got the NFL for goodness sakes) too early in the season. And considering Sunday's college football games are pretty weak, watching the final race before NASCAR's chase (their version of the playoffs) is a solid option.
For drivers like Carl Edwards (No. 99 above), this is an all-or-nothing race to make the postseason. Plus, holiday weekends are better with 43 cars making ungodly amounts of noise with their 900 horsepower engines.
Baseball: Take Your Pick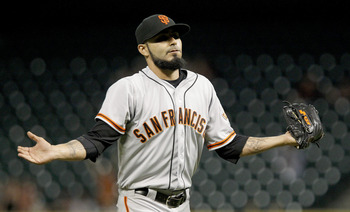 Thomas B. Shea/Getty Images
When: All weekend
TV: Local affiliates, FOX, ESPN, MLB.tv
Why You Should Watch: As my man above illustrates here, why not? For all the ribbing this piece does on baseball, it's a great way to kill some time. Especially for my Giants, who spend most the weekend playing day games in Chicago. Giants at 11 a.m.? Sign me up.
Keep Reading