Bears vs Browns: Final Report Card, Player Grades for Cleveland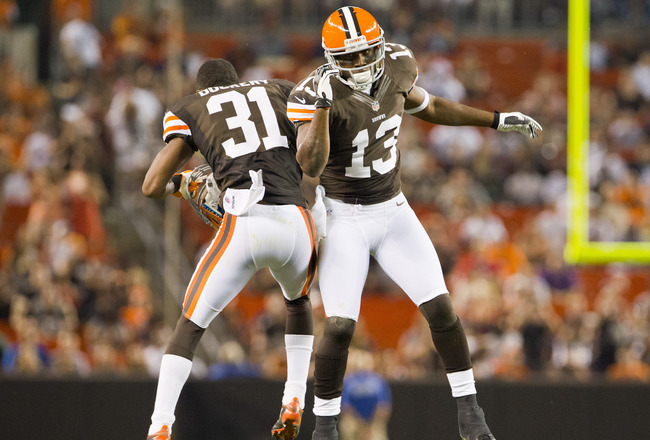 Jason Miller/Getty Images
The Cleveland Browns fell to the Chicago Bears by a score of 28-20 after their Week 4 matchup at Cleveland Browns Stadium Thursday night.
Cleveland played good but back-to-back miscues leading to Bears' defensive and special teams touchdowns turned out to be the deciding factors in this one.
Several key positional battles between roster bubble players played out throughout the evening. However, it remains unclear which wide receiver, linemen, safety and linebacker the Browns will retain after their final cuts on Friday.
Quarterbacks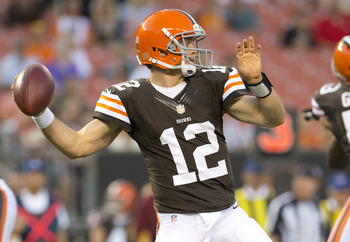 Jason Miller/Getty Images
Thaddeus Lewis—C
Thaddeus Lewis took over the quarterbacking duties in the third quarter. He looked to run first on most plays but made made a couple decent throws in between. Also, he threw an interception that was returned for a touchdown.
His lone interception came off of a circus catch following a deflection, miss and bounced ball from Josh Gordon's foot.
Seneca Wallace—B+
Wallace relieved Colt McCoy in the second quarter. He started by throwing a dart to Josh Cribbs.
His second possession was much, much better. His first pass was a strike to Josh Cribbs and then he broke a 20-yard run to move the Browns within striking distance.
He capped off an 80-yard second-quarter drive with a touchdown to Rod Windsor on a play-action pass play.
Colt McCoy—F
Colt McCoy Left Greg Little out to dry on the opening drive and then checked down on 3rd-and-long and came up short on the first down.
McCoy's first pass on his second drive was intercepted by Jeremy Jones on a pass intended for Jordan Norwood. He was sacked and checked down more throughout the rest of the first quarter before finishing the night with a passer rating of 9.2.
He completed two of five passes for 16 yards with one interception.
Running Backs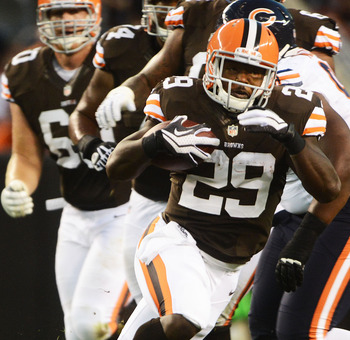 Eric P. Mull-US PRESSWIRE
Montario Hardesty—C+
Hardesty had another relatively quiet night. He broke out a 14 yard run and didn't fumble in limited action Thursday night. After his 14 yard run he boosted his yards per carry to 4.0 after only managing 10 yards on his previous five runs.
Brandon Jackson—A
Jackson continued to make a case for himself as the team's No. 2 running back. He ran efficiently between the tackles leading to a touchdown in the second-quarter.
He finished with seven carries for 49 yards.
Adonis Thomas—A
Thomas had a nice 13 yard catch but struggled early in finding holes. He show-cased his speed, though, on an exciting 64 yard run after bouncing off of the defensive line and cutting back and taking the ball up the far sideline.
He followed that with a nice dive over the pile of the Bears' goal line defense for a touchdown.
Wide Receivers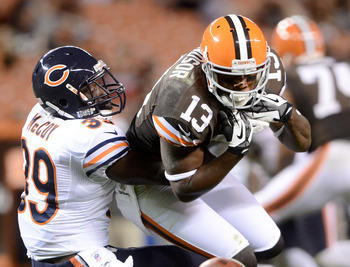 Eric P. Mull-US PRESSWIRE
Greg Little—C
Little's lone target bounced off his hands. To his credit, it was jarred loose by a defensive back as Colt McCoy let the pass hang a little and left Little little chance of hauling it in.
Travis Benjamin—D
Benjamin dropped a third down pass from Colt McCoy and then later fumbled a punt return. His roster spot is secure but he needs to work on catching and holding onto the football if he is going to make an impact on Sundays in 2012.
Josh Cribbs—A-
Cribbs had two big catches that helped move the sticks for the Browns on two of Seneca Wallace's drives. He didn't provide a spark in the return game but showed off his ability to find space in the secondary and get open for Wallace.
Josh Gordon—C+
The rookie caught a 17 yard pass but then whiffed on a tipped pass on the following drive. The ball fell through his arms, bounced off a defender's foot and then up and into the hands of a Bears defender who took it to the house for a Bears touchdown.
Rod Windsor—A
Windsor had a nice two-yard grab on a play-action pass in the back of the end zone. He also had another grab on an out route to the sideline from Thaddeus Lewis.
Josh Cooper—D
Cooper dropped a wide-open pass on third-and-short that led to a Browns punt. He didn't have any other targets and blew his one chance at making his case for not being cut on Friday. While he was originally thought to be a bubble player due to his familiarity with Brandon Weeden
Tight Ends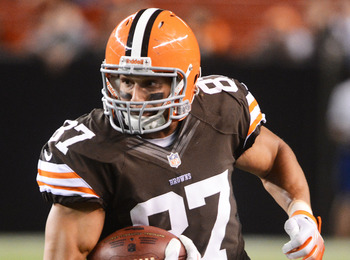 Eric P. Mull-US PRESSWIRE
Evan Moore—A
Moore had a nice 12 yard grab for a first down but was silent other than that for the night. It remains to be seen whether or not Moore's performance this preseason will be enough to warrant the Browns keeping four tight ends going into the season. He certainly hasn't stood out, stayed healthy or proved he can be a consistent option in the passing game.
Dan Gronkowski—D
Gronk also added his own 12 yard reception late in the fourth quarter on Thursday night. He is on the outside looking in on a relatively deep tight end position for the Browns.
Offensive Line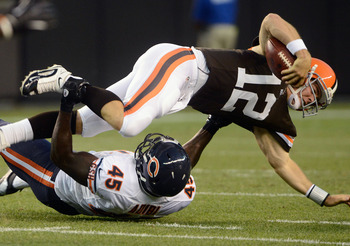 Eric P. Mull-US PRESSWIRE
Jarrod Shaw—C-
Shaw gets singled out here for a bad holding call on a scramble by Seneca Wallace. Wallace ultimately threw an incomplete pass and the Bears declined the penalty leading to a Browns punt.
Garth Gerhart, Dominic Alford, John Greco, Ryan Miller—C
The Browns' offensive line didn't start moving people into the Bears' reserves entered in the third quarter. There were a limited amount of penalties, with exception to Shaw and another holding call in the first quarter that turned a 12 yard gain into a third and 25 scenario.
Defensive Line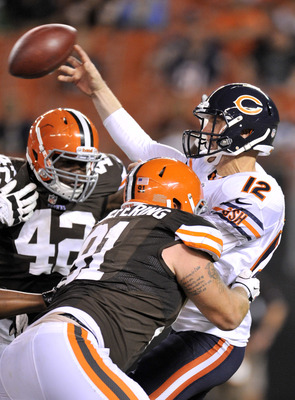 David Richard-US PRESSWIRE
Emmanuel Stephens—B+
Stephens, who the team will likely keep at defensive end, played a limited amount of snaps in the first quarter. He looked explosive off the ball and was in on two tackles.
Kiante Tripp—B-
Tripp, battling for a roster spot, came out with a decent performance. He got after the quarterback and was noticeable out there for the Browns' defense.
Ronnie Cameron—B-
Cameron, an undrafted free agent who was cut by the Bears a couple of weeks ago, disrupted a Josh McCown pass after blowing up the middle of the Bears' offensive line.
Brian Schaefering—B
Schaefering may be a casualty of the numbers game when roster cuts come, but he went out swinging with a nice performance Thursday night. However, he still has a chance to make it and his four tackles and hit on McCown were the highlights of the night for the defensive lineman.
Linebackers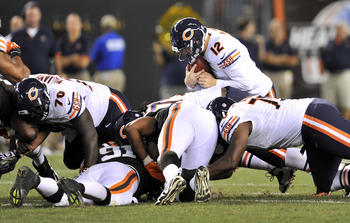 David Richard-US PRESSWIRE
James-Michael Johnson—B+
Johnson went to the locker room after suffering an injury before half time. He recorded four tackles and looked solid prior to the injury.
Benjamin Jacobs—B
Jacobs had a nice tackle for a loss to set up a third-and-long for the Bears. He also made a couple nice tackles in space, demonstrating solid fundamentals. In a thin LB group, he has a shot to make the team but has been outplayed by L.J. Fort to this point.
Craig Robertson—B+
Robertson earned a pass deflection after he nearly picked off a pass in the second-quarter. He was also very active on the defense as he attempts to the make the Browns' roster at outside linebacker. He racked up six tackles on the night.
L.J. Fort—A-
The undrafted free agent isn't making it easy for the Browns to part ways with him. He had a team high seven tackles in his final audition for a roster spot. Six of those were solo.
He had an impressive tackle for loss in the second quarter and completely blew up another run at the line-of-scrimmage during the third quarter. Josh McCown saw him a couple times on roll outs and boot plays in which Fort chased him out of bounds.
Defensive Backs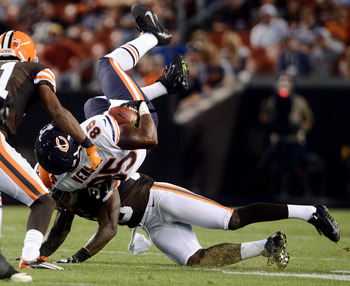 Eric P. Mull-US PRESSWIRE
Buster Skrine—B
Skrine played well in limited action on Thursday night. For the most part, Skrine looked to be in position in the small amount of time he saw.
James Dockery—C-
Dockery was beat once pretty badly but recovered with a nice pass deflection after that. He had two deflections on the game. The worst part of Dockery's night were the two pass interference calls attributed to him. One put the Bears inside the Browns 10 yard-line and set of a touchdown.
David Sims—C+
Sims was beat by running back Armando Allen out of the backfield for an 11-yard touchdown pass. He made some other plays but wasn't able to distance himself further from Tashaun Gipson for a possible Browns' roster spot.
Tashaun Gipson—A-
Gipson was all over the place on defense and special teams. He was everywhere making tackles and also picked off McCown on a deep attempt to Dane Sanzenbacher.
Trevin Wade—B-
Wade had a nice pass deflection in the first quarter but was also beat over the top for a touchdown by Dane Sanzenbacher. He did make some other plays, though, such as his stuffing of an attempted bubble screen.
Special Teams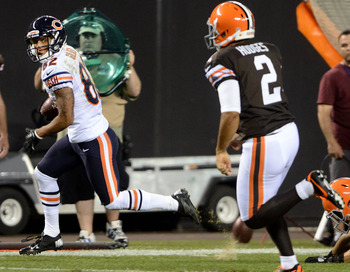 Eric P. Mull-US PRESSWIRE
Reggie Hodges—C-
Hodges punted pretty well when he got the ball off. Although Rod Windsor was blown up and pushed back into him, Hodges didn't seem to be paying attention to anything other than the football before it bounced off of Windsor and was returned for a touchdown.
Phil Dawson—A
Dawson was reliable and knocked in both of his field goal and extra point attempts.
Travis Benjamin—F
Benjamin had a nice return but it was nullified after he lost the handle and turned the ball over on a fumble to the Bears. Ultimately, the Browns' defense held and go the ball back but it came at a pivotal moment in the fourth quarter and it crushed the momentum the team had built.
Coaches
Andrew Weber-US PRESSWIRE
Pat Shurmur—C
Shurmur's pulling off Colt McCoy after the first quarter and Seneca Wallace after the second quarter were questionable moves. The team saw little of McCoy, and even less success. After Wallace seemed to catch fire in the second quarter, Shurmur sat him.
I think many people would have liked to have seen how he came out in the second half and responded to that success after sitting on it during the half
Dick Jauron and Brad Childress—C+
Both called considerably and predictably conservative games for their respective units.
Chris Tabor—F
Back-to-back weeks with a Browns' punt blocked inside the team's red zone is not acceptable by any measure. Tabor has taken some scrutiny since he took over as the special teams coach a season ago and isn't looking sharp through the preseason.
Keep Reading

Cleveland Browns: Like this team?