Minnesota Vikings: Rookie Spotlight on Harrison Smith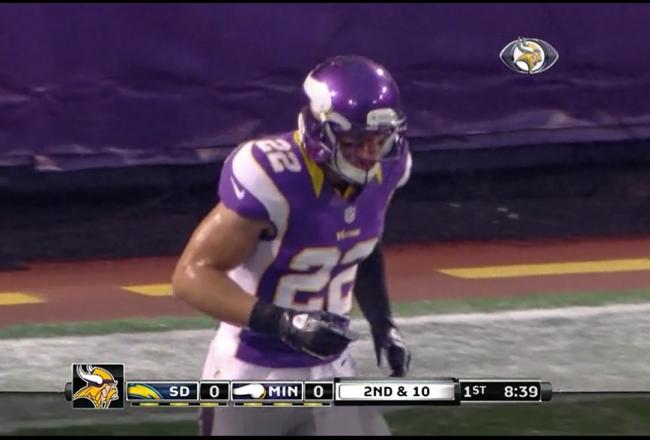 footage via NBC

If you read the NFC North blog, then you know I wasn't a big fan of the move back into the first round for Harrison Smith, given I saw no team looking at him between where the Vikings were and where they moved to.
However, I do believe that if you like a guy, you go get the guy. So really, I think it worked out, and in part because Smith has been pretty good overall in practice and games.
He struggled a little against the San Diego Chargers, so I thought I would break down that game for his performance spotlight
You got the good and bad in that game.
Let's take a look at the first play. As we do, though, remember there are limitations to film study—you don't know plays and responsibilities completely. I chose plays which appear clear-cut, but we have to keep in mind they might not be.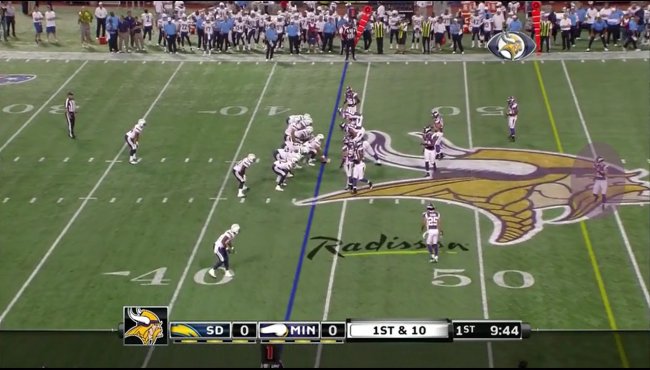 On this pass, you can see Smith deep, defending against a long pass, which, as it stands, Chargers quarterback Charlie Whitehurst delivers.
Robert Meachem streaks down the right sideline, ahead of the coverage. Smith, as is his role, moves to assist the cornerback, but his angle is a little too shallow.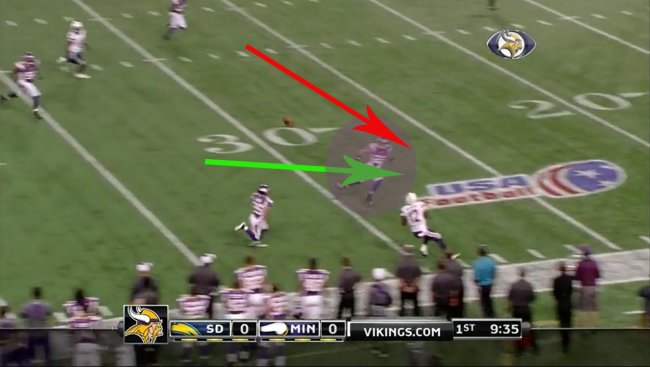 He comes across the flat of the field right at Meachem, whereas he should have had a slightly steeper angle to lay a hit on the receiver after he catches the ball.
The fact is, he isn't going to get there in time to disrupt the pass, even though the throw from Whitehurst is a duck. Smith didn't react fast enough.
So he should have moved at an angle which would have allowed him to make a play after the catch to prevent a touchdown. The red arrow shows the shallow, flat angle he took, while the green shows an angle which would have brought him into position to make a play.
As it stands, Whitehurst threw a terrible ball—not only a duck, but one which fell short of his receiver, not leading him. Meachem had to stop to catch the ball, and even then, couldn't hold on.
Had Whitehurst led Meachem or Philip Rivers been the quarterback, not only would Meachem likely made a nice catch in stride, but he would have in all likelihood zoomed past Smith.
Smith would have come in behind him and probably ended up trailing the play.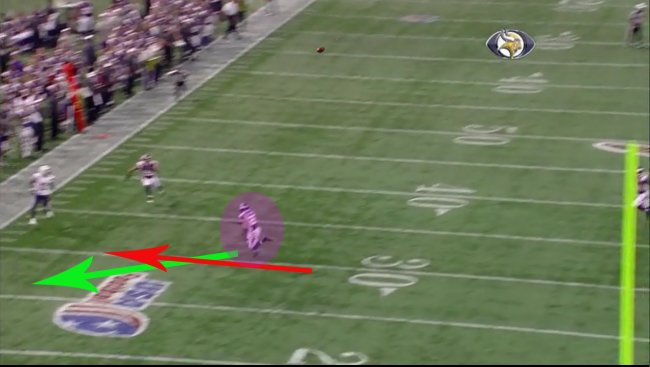 This second camera angle shows it even more clearly—again, the red arrow is the angle he takes, the green, the one he should have taken.
Since Meachem dropped the ball, Smith and the secondary lucked out.
The next play is the opposite side of the coin. Smith again plays deep, and this time, ends up in a very good position to make a play, though Whitehurst's general lack of skill kills that as well.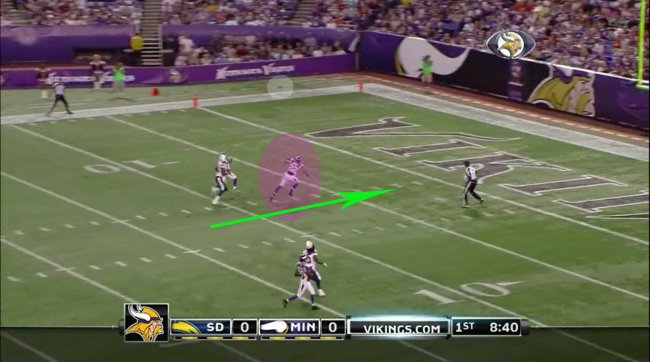 Look at where Smith is—ahead of the play and the receiver, eyes on the ball the whole way. Not only will the receiver not get to the ball while bracketed by two members of the secondary, he'd find Smith in perfect position to defend the ball, and had the ball been thrown well (say, anywhere remotely near the receiver), Smith would likely have had an interception.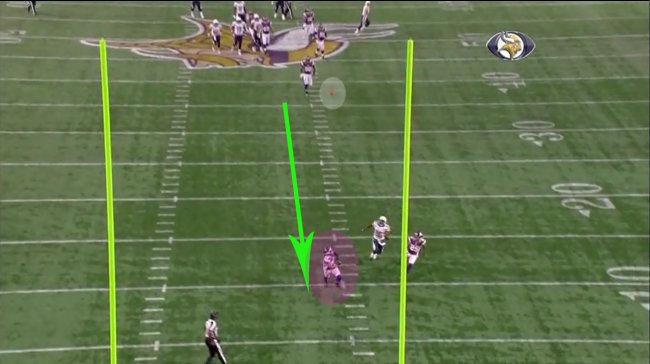 As it stands, the ball sails over everyone's head—but here was a good play where Smith was in the right position and placed himself where he could disrupt a play if need be.
The final set of caps are an even split between the "good news" and "bad news" for Smith.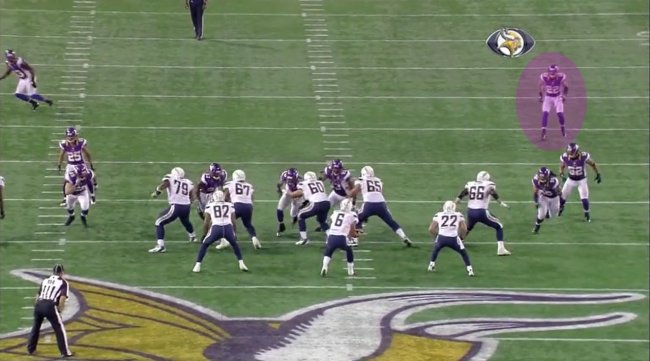 As you see in this first shot, Smith is a little close to the line, getting set to cover the left and intermediate area. He's already watching the quarterback as the ball is snapped.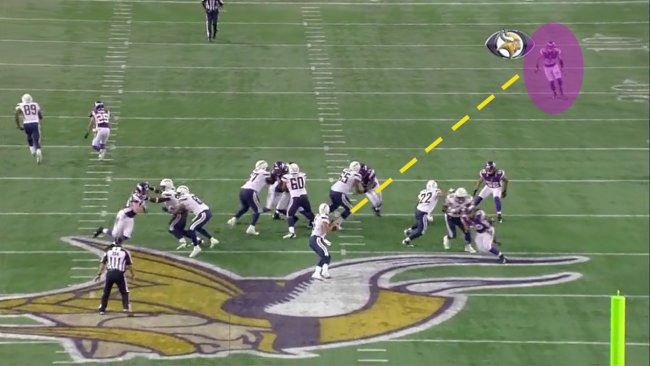 As he drops back into coverage, he does an outstanding job of watching the quarterback. He's got a good shot at knowing what will happen the instant the quarterback makes a decision.
In the next shot, this becomes a little bit of a liability. He's still watching the quarterback and appears to have only just noticed the receiver crossing on a slightly more shallow route.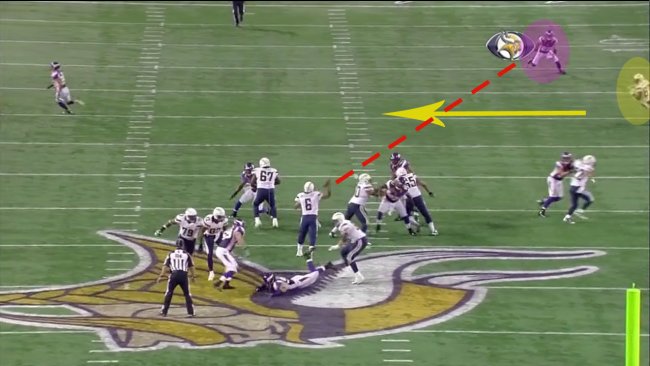 Whitehurst is already throwing, so Smith is not reacting fast enough to make a play on the ball.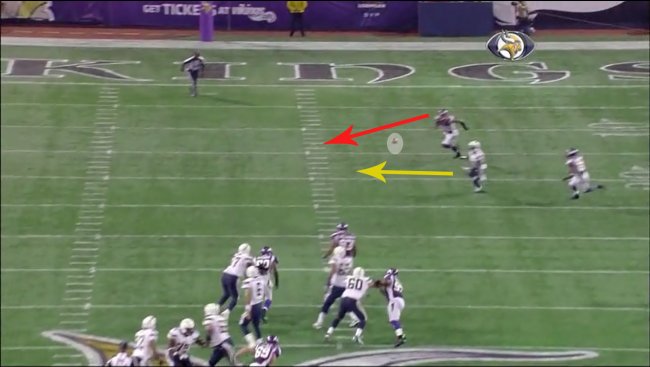 By the time Smith has adjusted, the ball is well on its way to being caught. He takes a good angle towards the ball and receiver, and thank goodness, because the cornerback isn't even in the same zip code.
But had he reacted just a second or so quicker, he could have been moving to deflect the ball rather than tackle the receiver when it's already been caught.
This will be something that should come to him in time. It's more of an experience thing, and as he gets more comfortable in the defense, he'll be a little quicker in his anticipation. The fact that he is locked onto the quarterback is a good first step, though a little more awareness of his surroundings (or, since we aren't in his head, a little quicker reaction to the crossing receiver) would allow him to react more swiftly and break the play up.
Smith is a solid safety. His strength isn't being a great cover guy, though he has the raw skill, but a guy who can hit hard and contain the play. He does that pretty well, though as you can see, does take some questionable angles at times.
He's going to get even better, and he's an upgrade over what they have already—that in and of itself is a big step.
Check out the B/R NFC North Facebook page—like us and keep up with everything NFC North on Bleacher Report! Follow me on Twitter at @andrew_garda.
This article is
What is the duplicate article?
Why is this article offensive?
Where is this article plagiarized from?
Why is this article poorly edited?

Minnesota Vikings: Like this team?