4 Things Keeping Manny Pacquiao from Being Top Pound-for-Pound Fighter Ever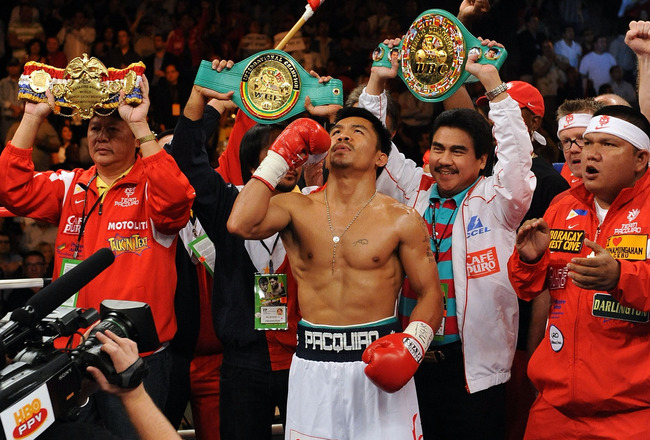 Harry How/Getty Images
Manny Pacquiao has had a career in the boxing ring that has been as successful and storied as that of just about any fighter to ever lace up a pair of gloves.
Winning titles in eight different weight divisions truly makes Pacquiao (54-4-2, 38 KOs) a pound-for-pound great, accomplishing a feat that no boxer has ever done.
Although Pacquiao has a resume that will make him an instant Hall of Famer, he still lacks a few things that would make him the greatest pound-for-pound fighter of all time.
Here are four scenarios that will help Pacquiao become a contender for being the top P4P fighter of all time.
1. A Convincing Victory over Juan Manuel Marquez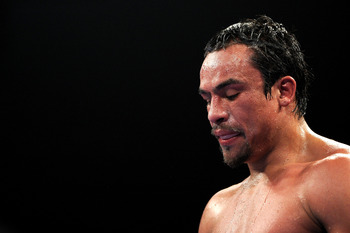 Harry How/Getty Images
The longtime pain in the neck of Manny Pacquiao, Juan Manuel Marquez (54-6-1, 39 KOs), is the one man he struggles with time and time again.
Going 2-0-1 in their previous three bouts, Pacquiao could have, arguably, lost in any one of the past three contests against Marquez, and he needs to beat the four-division champ decisively, leaving no questions as to who won if a fourth fight does take place.
Marquez himself is one of the top pound-for-pound boxers of the past decade, so a getting a convincing win over Pacquiao's longtime foe is the first step towards making Pacquiao the best P4P fighter ever.
2. Avenge His 'Loss' to Timothy Bradley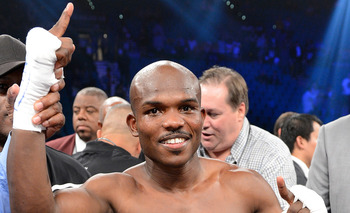 Kevork Djansezian/Getty Images
After the decision that shocked the world this past June, when Timothy Bradley (29-0, 12 KOs) was awarded a split-decision victory over Manny Pacquiao—despite Pacquiao dominating most of the bout—a possible rematch was instantly speculated.
The loss was Pacquiao's first in seven years, and to set his career straight, Pacquiao must fight Bradley again to avenge the only blemish on the "Pac-Man's" career during his prime.
If Pacquiao can beat Bradley in a possible rematch, his legacy in the ring will be reinstated and will bring a pound-for-pound, best-ever label that much closer to reality.
3. Beat an Up-and-Comer Before He Calls It Quits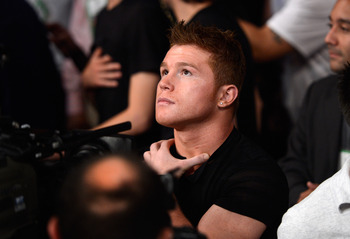 Kevork Djansezian/Getty Images
Before Manny Pacquiao hangs up his gloves and calls it a career, he must beat one of the best younger fighters in the sport today.
Beating a young, skilled fighter will show that even though he is older, Pacquiao can still beat the talent that will follow him and continue to carry the torch once Pacquiao leaves boxing.
Some fighters that Pacquiao could possibly face to accomplish this are: junior middleweight Saul "Canelo" Alvarez, welterweight Andre Berto or junior welterweight Danny Garcia.
4. Pacquiao Must Beat Mayweather in Mega-Fight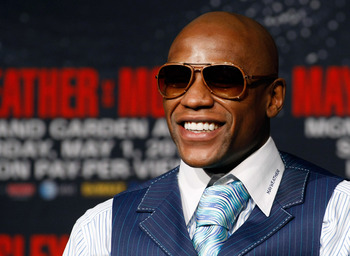 Ethan Miller/Getty Images
One of the most wanted events in all of sports, Manny Pacquiao vs. Floyd Mayweather, Jr. (43-0, 26 KOs), must happen in order for either of the two fighters to be considered for the best pound-for-pound fighter ever title.
In a bout that will break all financial records, the winner of the long-awaited fight would have to be in the talks for being one of the top, if not the best boxers ever.
Currently, Pacquiao and Mayweather are the best fighters, and it would only be fitting that the victor of the hopeful bout would not only be crowned the best fighter of the last decade, but also be a candidate for being the best fighter of all time.
Keep Reading