South Carolina at Vanderbilt: Live Score, Analysis and Results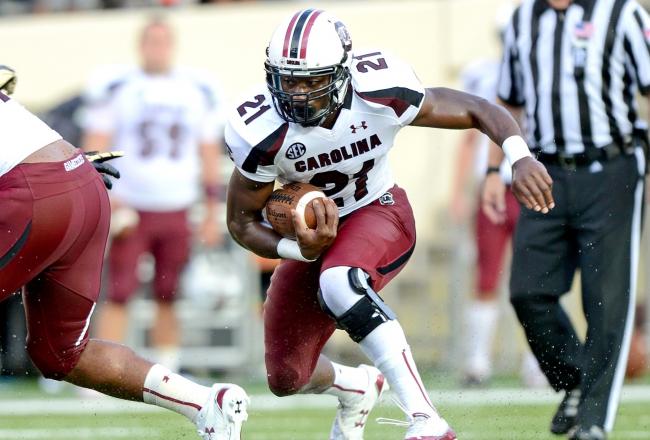 South Carolina defeated Vanderbilt 17-13 in the college football season opener.
Marcus Lattimore scored in his return from injury, while South Carolina QB Connor Shaw sustained a shoulder injury that could be a concern going forward.
Scroll down for updates from throughout the game.
SC: 17 Vandy: 13
And just like that, the Gamecocks go 1-0, and narrowly escape from Nashville with a win. With that win, college football has now begun in earnest. With that, this is Donovan Colby Lanham, signing off
This game showed me several things.
One, Lattimore still isn't 100 percent. Two, Connor Shaw still hasn't proven he can throw the ball. Three, still no proven weapons in the passing game. Four, they are seriously missing Jeffery. Five, Vanderbilt is still Vanderbilt. Six, SC's defense is the only thing that kept them in the game.
And like that's it's virtually over.
SC - 17 Vandy - 13
Vandy might have one more shot if they can get a three and out here. Maybe. But it's Vandy.
Should have been a pass interference there. Don't think defender can grab his arm like that....
Nice sack by SC. Big play to keep the clock running. Pretty consistent d-line.
Evasive run by Rodgers there. Good pick up. Least he got his bro's mobility.
Let's see if Jordan inherited his brother's clutch gene. For SC's sake, they'd better hope not. It'd be big if No. 9 went down tonight.
And the ruling: incomplete pass. 4th down.. and possibly last chance for the Commodores.
Vandy linebacker said GET BIG! Monster hit on Lattimore.
Running Connor Shaw = very, very unwise move by Spurrier.
This may be coming to a close sooner rather than later if Vandy doesn't make a stop here.
Vandy pins SC deep in their own territory, fails to capitalize. Sounds like the same Vandy to me. Let's see what the limited Shaw does now. Must be something when your badly injured starter is better than the healthy backup.
One nice kickoff return from Vandy. Great speed.
SC: 17 Vandy: 13
SC's got the lead.. for now. Let's see if Vandy has changed.
And Shaw goes back to the sideline. Got hit and landed on the shoulder the one time they call a QB run.
Lattimore still not back at full speed from that knee injury. It's to be expected though. Still playing it safe with no QB runs.
And like that, SC's in the red zone
Connor Shaw showing plenty of toughness tonight. But he's keeping that shoulder safe. Shaw's putting the team on his back.
Lat 5 SC posessions: Punts. And they're still only down by three. Still shows the kind of team Vandy is right now.
SC: 10 Vandy: 13
And the FG is... no good. Vandy missed out. Can't keep SC in this game if they want the upset.
Second time they've mentioned Aaron Rodgers.
This article is
What is the duplicate article?
Why is this article offensive?
Where is this article plagiarized from?
Why is this article poorly edited?