Real Madrid's Champions League Draw: Getting to Know the Group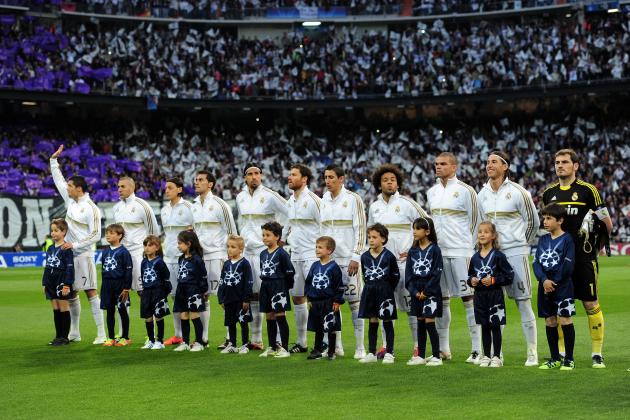 Shaun Botterill/Getty Images

Unthinkable.
Unimaginable.
Unfair.
Real Madrid have found themselves in the so-called "Group of Death."
Along with Eredivisie winner's Ajax, English Premier League winner's Manchester City and Bundesliga winner's Borussia Dortmund, Jose Mourinho and Real Madrid will compete for a spot in the knockout stages of the competition.
It's certainly not a pleasing draw for Madrid fans. Other top clubs, like Manchester United and rival FC Barcelona, have comparatively easier groups. Not to mention that it's more than a little questionable why a Premier League champion was in the second pot and a Bundesliga champion was in the last pot.
But nevertheless, this is a fate that Madrid are left with.
However...it's worth reminding that Real Madrid are what makes the group so menacing in the first place. They will deservedly be favorites to progress. Anything short of another semi-final would be a major disappointment—and even that is selling this talented unit short.
And so let's meet the other competitors in the group and see how they match up...
Begin Slideshow

»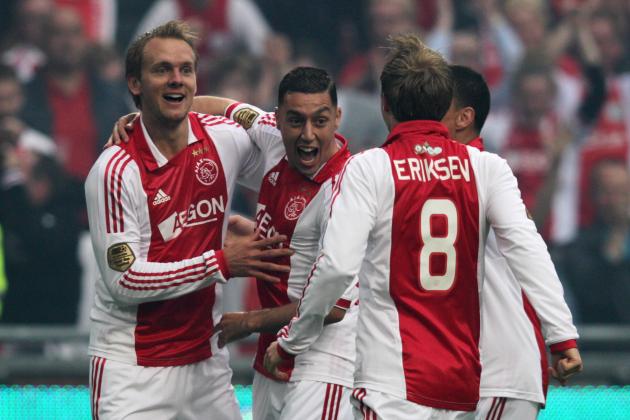 Dean Mouhtaropoulos/Getty Images

And so we meet again.
Real Madrid will play Eredivisie (Dutch League) winner's AFC Ajax for third time in three season's in the Champions League Group Stage.
While it's not desirable to play an opponents so many times, Real Madrid haven't lost to Ajax in any of those seasons, with a lone draw a few seasons ago being the only blemish.
Part of the reason is that Ajax are rather brave. They play attacking, expansive football of a lesser Barcelona mold. It's perhaps not the worst way to play Real Madrid—Barcelona has had rather good success head-to-head versus the Spanish champions—but Ajax don't have a Xavi, an Iniesta or, of course, a Lionel Messi.
But they do have Christian Eriksen. A 22-year-old world-class playmaker, Eriksen is a nightmare for oppositions who underestimate his talent and ability. With seven goals and a staggering 19 assists last season, Real Madrid will do well to contain the young footballer.
Another bright spot is Siem de Jong, the leading scorer last season for Ajax. Fast, tall and powerful in the air, de Jong can play any spot in the front three for the Dutch champions. He'll look to trouble the robust partnership of Serio Ramos and Pepe—a difficult task, to say the least.
Overall, Ajax would be the unlikeliest of teams to progress from Group D. But a tie, perhaps in the difficult away fixture in Amsterdam, could be just enough to unseat Los Blancos from the much-desired top spot in the group.
Projected Starting XI (4-3-3) Vermeer; Blind, Van der Wiel, Moisander, Alderweireld; Eriksen, Lukoki, Schone; Serero, de Jong, Sana
Player to look out for: Christian Eriksen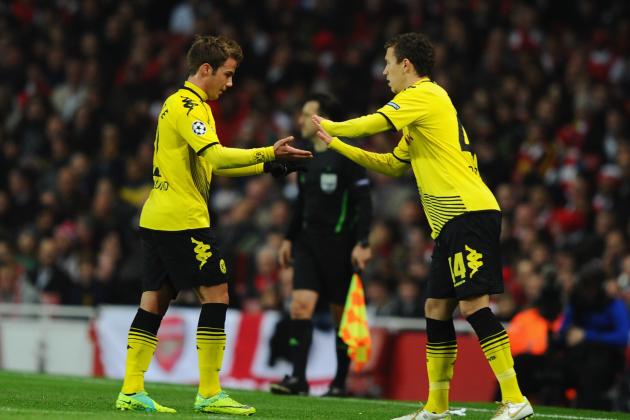 Mike Hewitt/Getty Images

Borussia Dortmund are one of the more puzzling teams in European football. With a convincing unbeaten streak (29 games) in the perennially underrated Bundesliga, Dortmund are not a team to be taken likely.
Just ask Bayern Munich—the team that knocked out Real Madrid in the Champions League last season—who were routinely frustrated by the young Dortmund squad, losing three times (twice in the league, once in the German Cup) last season.
And yet the Bundesliga champions have been woefully underwhelming in European competitions, as they were knocked out of the Champions and Europa league with surprisingly little fight. Be it youth or inexperience, or both, Dortmund are nonetheless a team capable of doing better.
Despite losing Shinji Kagawa to Manchester United, Borussia Dortmund appear to still be strong. For one, the majority of the team has remained intact, particularly the defense, which are one of the more impressive back lines in Europe.
Mats Hummels and Lukasz Piszczek has been on a lot of radars in the transfer market, but it appears Dortmund will keep both, along with stalwarts Neven Subotic and Marcel Schmelzer.
And then there's Mario and Marco.
Mario Gotze has been touted for a few years now as the next "something" (Iniesta, Ozil, who knows?), and at only 20, the German international is ready to take the next step up. Despite being injured for nearly half of the season, Dortmund still won the Bundesliga comfortably. Scary.
He'll be complimented by Marco Reus. Reus has been on a tear since the beginning of the 2011-2012 season. At Borussia Monchengladbach, Reus was a top-three scorer in all of Germany. He'll not only try to replace the offensive output of Kagawa, but add further dimensions—particularly on the wings—that should improve Dortmund strongly.
Will this Dortmund team finally make the jump? It's tough to say. They'll be seen unlikely to progress due to the big names of Real Madrid and Manchester City, but that's a bit unfair. Dortmund play a frustrating, flexible style of football, and nobody should be surprised to see them finish second in the group.
Likely Starting XI (4-2-3-1): Weidenfeller; Schmelzer, Subotic, Hummels, Piszczek; Leitner, Gündoagn; Großkreutz, Reus, Gotze; Lewandowski
Star player: Marco Reus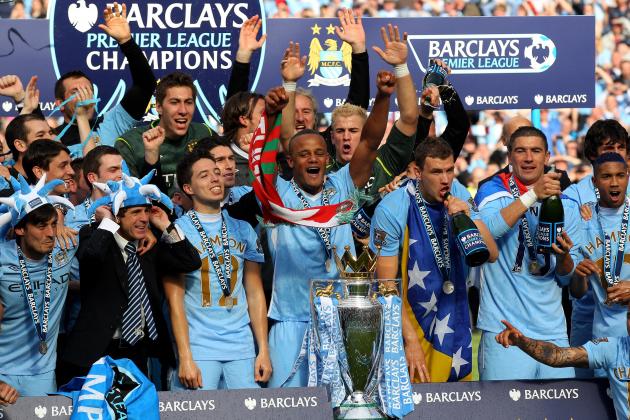 Alex Livesey/Getty Images

Manchester City are probably the other favorite in the group.
After performing horribly in the group stages last season in the Champions League, coach Roberto Mancini will look to see his squad progress this year. Unfortunately, It's City's bad luck that they are again in the "Group of Death," as it was last year that they had to face Bayern Munich, Napoli and Villareal in the group stages.
Manchester City are a very unique team in terms of playing style. They have a "base" formation of a 4-2-2-2 that is very successful in England where two-striker teams thrive. However, their forays into Europe last season looked not very promising. The reasons may very well have nothing to do with tactics, but it's a thought worth considering.
Star players abound at Manchester City, but the team lives and dies by three key players. The first is central defender Vincent Kompany, who is both fast and physical—very much like Madrid's Pepe.
Next is David Silva. A silky, frustrating playmaker, Silva is essentially to making City tick. Without the Spaniard, Manchester City frequently lacks creativity, an asset that Silva is no short supply of.
Finally, there's Yaya Toure. Madrid fans may know him from Barcelona, or from Mourinho's pursuits; either way, the Ivorian is a rarity in football: both physically powerful and technically superb. How Mancini uses Toure, as either a box-to-box midfielder or as an attacking central midfielder, will be essential to City's chances.
And what are City's chances? They should be good. The squad is very deep, and even with star forward Sergio Aguero out, Manicni has a wealth of attacking options to play with.
Likely Starting XI vs. Madrid: (4-2-2-2) Hart; Richards, Lescott, Kompany, Clichy; Toure, de Jong; Silva, Nasri; Tevez, Ballotelli
Star player: Yaya Toure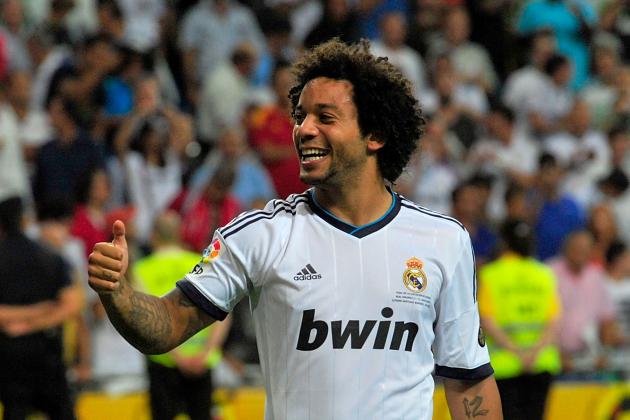 Gonzalo Arroyo Moreno/Getty Images

Real Madrid fans should be wary but confident. An invitation to a "Group of Death" is never desirable, but it may very well prove to be an early indication of the team's ability to progress far in the Champions League.
It will be slightly unfortunate if Madrid are unable to play their substitutes and reserves as much as last season, when the team had a few pointless games at the end of the group stages (having already wrapped up a knock-out stage berth). However, this could prove important in keeping the team fresh and focused.
Final predictions:
1. Real Madrid
2. Manchester City
3. Borussia Dortmund
4. Ajax