1 Reason for Each NFL Team to Celebrate After Week 3
Streeter Lecka/Getty Images

There were plenty of reasons for a number of teams to celebrate following Week 3. Even some of the teams that lost this week have something they can celebrate.
Unfortunately, there were a few teams this week (New Orleans Saints, Carolina Panthers) that will have a difficult time celebrating, but even they can take joy in the little things.
Here is a look at one reason for each NFL team to celebrate after Week 3.
Begin Slideshow

»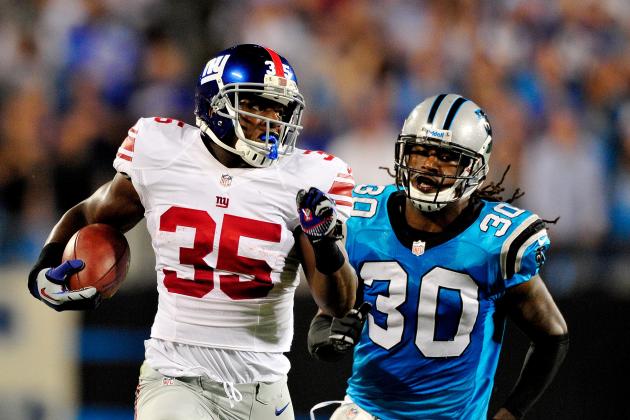 Grant Halverson/Getty Images

One Thing They Should Celebrate: Backups
You see Andre Brown running away from the Carolina Panthers defender in the picture above? Yeah, he did that quite a bit during his Thursday night game.
Brown finished the game with 113 yards and two rushing touchdowns while looking like the best backup running back in the NFL. However, that wasn't the only stellar performance the New York Giants got out of a second-string player.
With Hakeem Nicks sitting out this game, backup wide receiver Ramses Barden had the game of his life, with nine receptions for 138 yards. In their crushing victory on Thursday, the Giants proved that they have one of the deepest and most talented benches in the league.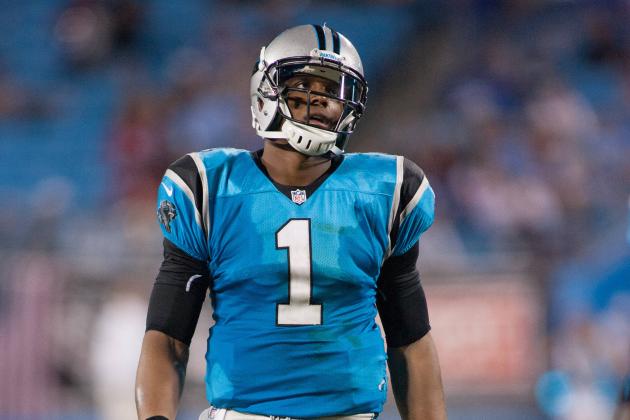 Jeremy Brevard-US PRESSWIRE

One Thing They Should Celebrate: Cam Newton Can't Play Much Worse
It was a hard night for Newton and the Carolina Panthers, but the good news is that Carolina's franchise quarterback can't be much worse than he was on Thursday night.
Newton barely completed 50 percent of his passes (53.3 to be exact) and threw three interceptions. He wasn't any better on the ground, as he gained only six yards on six carries.
The Panthers desperately need Newton to cut down on his mistakes, but at least he can only go up from here.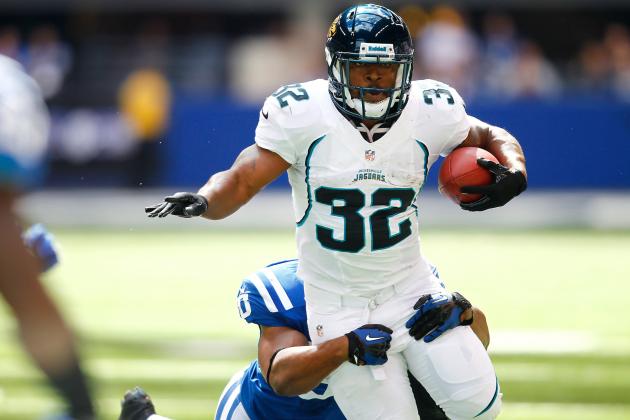 Michael Hickey/Getty Images

One Thing They Should Celebrate: Maurice Jones-Drew Is Officially Back
After only 137 rushing yards in the first two games of the season, Jones-Drew went off against the Indianapolis Colts on Sunday. His 177 yards helped the Jacksonville Jaguars beat their division rival by a score of 22-17.
The Jaguars aren't going to the playoffs this year, but at least they'll be competitive now that Jones-Drew is back to being one of the best running backs in the league.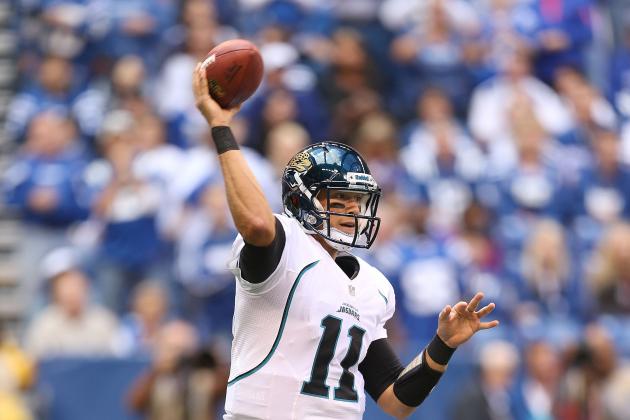 Andy Lyons/Getty Images

One Thing They Should Celebrate: You Completely Shut Down Blaine Gabbert...Almost
Until Gabbert threw the game-winning 80-yard touchdown pass with under a minute remaining, the Indianapolis Colts had him completely shutdown.
Without that pass, Gabbert was 9-of-20 with only 75 yards. For a team that was supposed to have a terrible defense, that is pretty solid play against a quarterback.
It was a tough loss for Indianapolis, but at least the defense is improving under Chuck Pagano.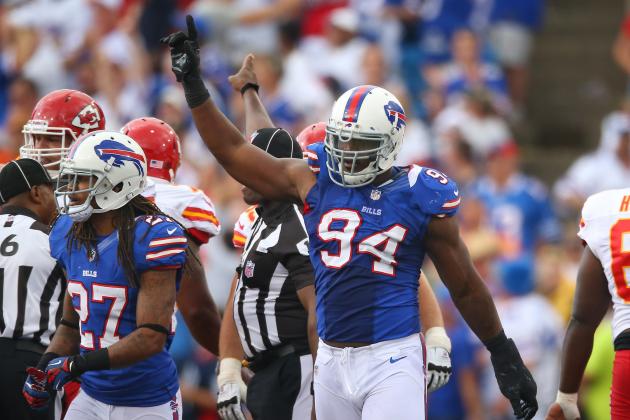 Tom Szczerbowski/Getty Images

One Thing They Should Celebrate: The Defensive Line Is Clicking
Mario Williams, Marcell Dareus, Kyle Williams and Mark Anderson combined for four sacks on Sunday against the Cleveland Browns. That is the exact type of performance that the Buffalo Bills were hoping to get from their new and improved defensive line.
This unit is beginning to play much better together, and that should give nightmares to the rest of the NFL.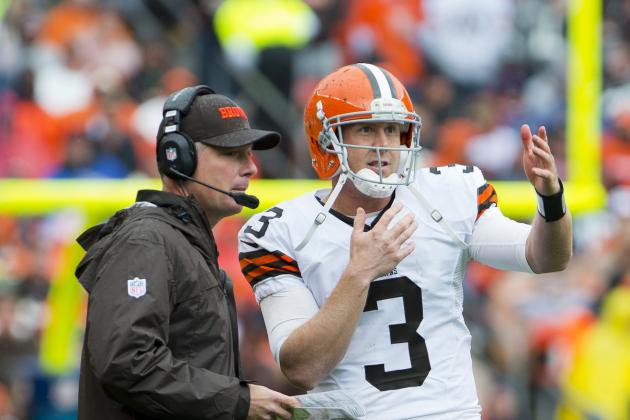 Jason Miller/Getty Images

One Thing They Should Celebrate: You're Not as Bad as Expected
No one expected the Cleveland Browns to put up a fight in any game this year. However, through three games, the Browns haven't only been decent, they've been extremely competitive.
A one-point loss in Week 1 was followed by a seven-point loss and then a close 10-point loss this week. Yes, they're 0-3, but they look much better than anyone could have expected.
They might not win many games this year, but at least they'll win some.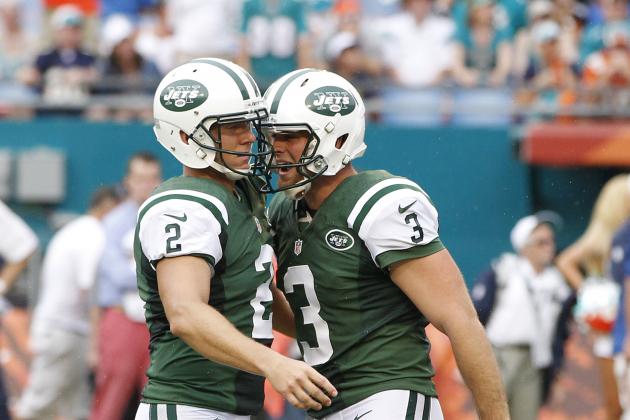 Joel Auerbach/Getty Images

One Thing They Should Celebrate: You Won
That is the only thing that the New York Jets should be celebrating. It was the ugliest of wins this week against an over-matched Miami Dolphins team, but at least they won.
Only 16 teams can say that, and you are one of them. Congratulations.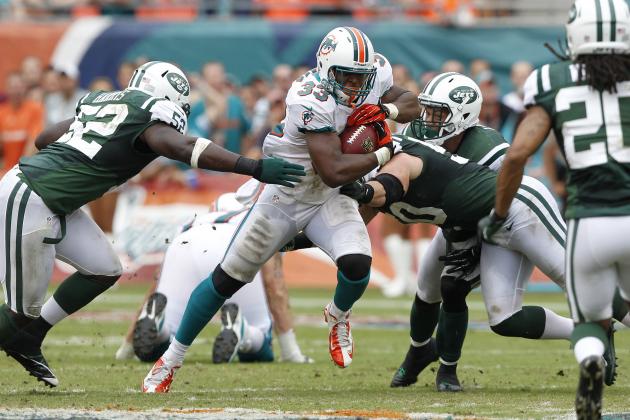 Joel Auerbach/Getty Images

One Thing They Should Celebrate: The Running Backs Have Potential
When Reggie Bush went down with a left-knee injury, backup Daniel Thomas came in and played very well for the Miami Dolphins. He finished the game with 69 yards on 19 carries with a touchdown.
While that performance was certainly promising from Thomas, the more impressive performance might have been from rookie Lamar Miller. For the second straight week, Miller looked extremely good running the ball.
With Bush, Miller and Thomas in the backfield, the Dolphins need to be celebrating the potential of having the best young backfield in the NFL.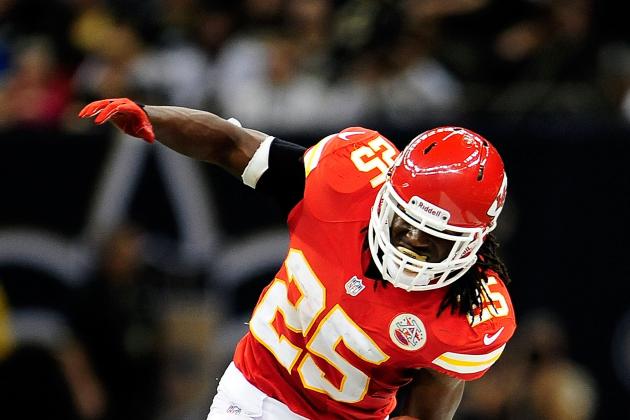 Stacy Revere/Getty Images

One Thing They Should Celebrate: 233 Yards
That is the amount of yards that Jamaal Charles gained on Sunday in a huge win for the Kansas City Chiefs.
Charles averaged 7.1 yards per carry and finally looked like he did back in 2010. If Charles can continue to dominate in this way, the Chiefs will be a difficult team to beat.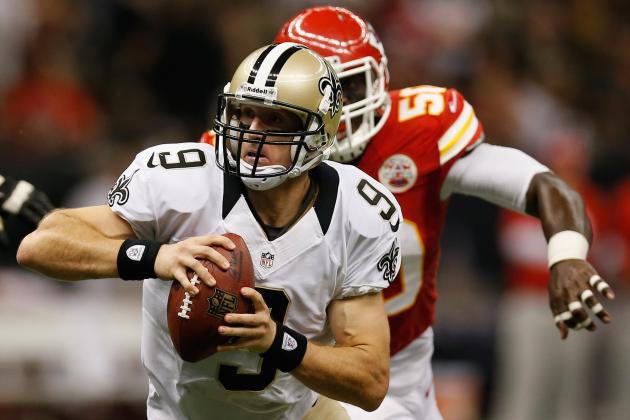 Chris Graythen/Getty Images

One Thing They Should Celebrate: It is Only One Season
The New Orleans Saints need to stop thinking about this year and start focusing on next season.
They're 0-3, and a loss to the Kansas City Chiefs is about as bad as it can get for the Saints. Every team has a terrible season every now and then, and the 2012 season looks like it'll be New Orleans' terrible season.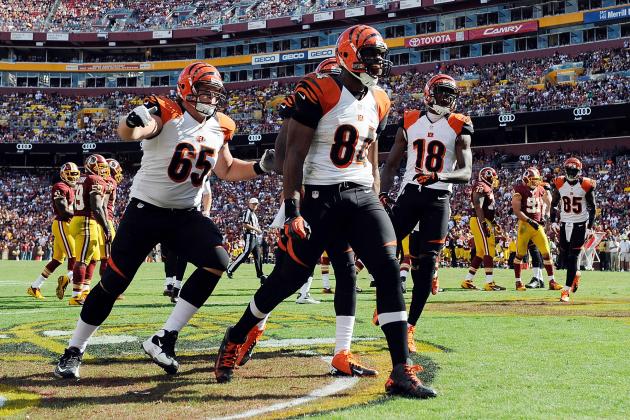 Patrick McDermott/Getty Images

One Thing They Should Celebrate: The Offense Continues to Excel
The Cincinnati Bengals put up 34 points last week and put 38 points on the board this week against the Washington Redskins. Cincinnati also gained 478 offensive yards to go with those 38 points.
This is a team that rode its defense to the playoffs last year, but it now looks like the offense is the biggest weapon for this team. With Andy Dalton continuing to improve as a quarterback, the Bengals offense needs to be celebrated in Cincinnati this week.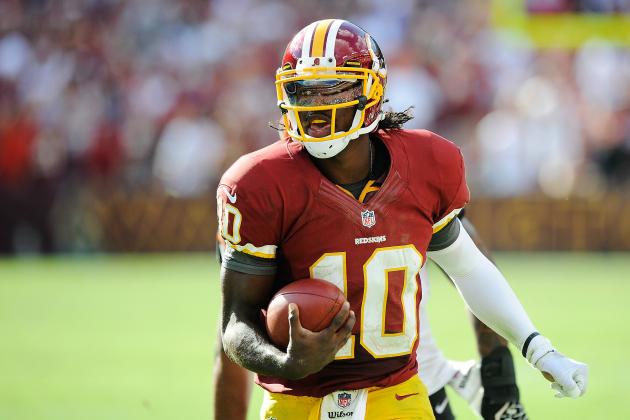 Patrick McDermott/Getty Images

One Thing They Should Celebrate: Robert Griffin III Continues to Impress
Yes, the Washington Redskins lost this week, but they need to feel good about how incredible Griffin has looked through three games.
This week, we saw Griffin throw for 221 yards and a touchdown and run for another 85 yards and a score. It has to be hard for the Redskins to be too upset when they know that this type of player is going to be leading their team on offense for the next 10 years.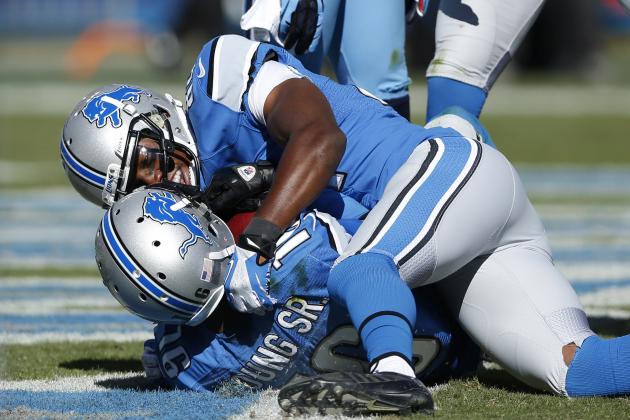 Joe Robbins/Getty Images

One Thing They Should Celebrate: 14 Points in 18 Seconds
The Detroit Lions didn't look as explosive as many expected through the first two weeks of the season. However, they put up 41 points on Sunday against the Tennessee Titans, including two touchdowns in the final 18 seconds of regulation.
While one of those plays was rather lucky, it doesn't negate the impressiveness of the feat. Detroit doesn't have much to celebrate after this loss on the road, but that type of offensive output is something special.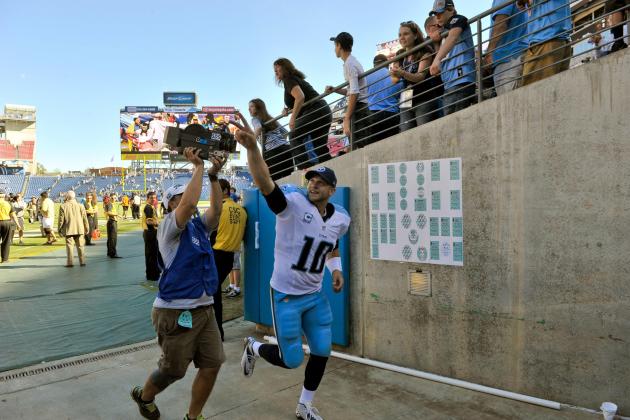 Jim Brown-US PRESSWIRE

One Thing They Should Celebrate: The First Win of the Jake Locker Era
No one would have been surprised if the Tennessee Titans started the season 0-4, considering how difficult their schedule was.
However, Locker and the Titans shocked the world when they came away with a crazy win over the Detroit Lions this week. What makes this win such a celebratory event is how incredible Locker played throughout the game.
He completed nearly 70 percent of his passes for 378 yards and two touchdowns with no interceptions. It was a beautiful win for the Titans and Locker, and there should be much celebrating in Tennessee this week.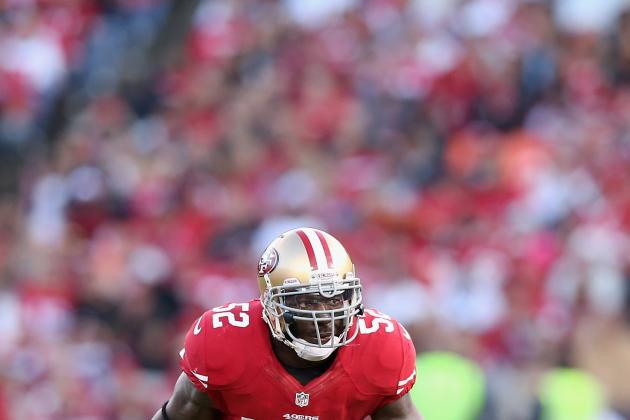 Ezra Shaw/Getty Images

One Thing They Should Celebrate: Your Run Defense Is Still Amazing
It isn't easy to keep Adrian Peterson under 100 yards rushing and out of the end zone, but that is exactly what the run defense for the San Francisco 49ers did on Sunday.
Despite losing their first game of the season, the 49ers still need to celebrate the fact that their defense remains one of the most dominant in the league.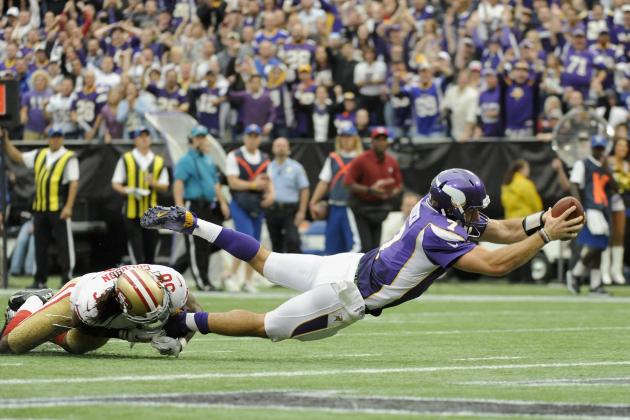 Hannah Foslien/Getty Images

One Thing They Should Celebrate: You're Tied For the Division Lead
I never thought I'd see the Minnesota Vikings tied for the division lead in the NFC North this season. However, after their win over the San Francisco 49ers on Sunday, the Vikings sit at 2-1.
This entire team looks much improved on both sides of the ball, so don't be surprised if it continues to play at this high of a level for the rest of the season.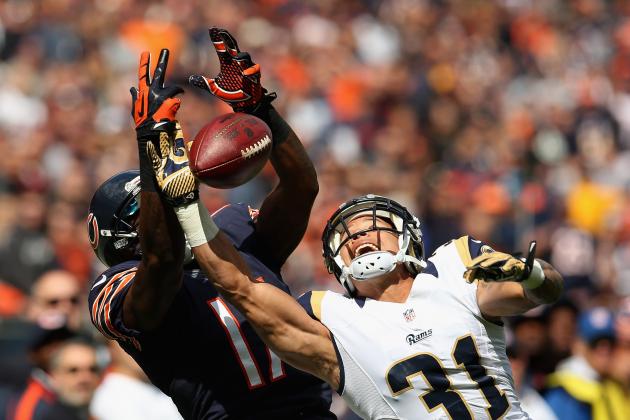 Jonathan Daniel/Getty Images

One Thing They Should Celebrate: Cortland Finnegan Is Playing at an All-Pro Level
Finnegan has recorded an interception in each of his first three games this season, as he had one against the Chicago Bears on Sunday.
Not only has he looked like one of the best cornerbacks of the season, but his offseason signing is looking like the best offseason signing in the league. The St. Louis Rams will need Finnegan to continue to play at this incredible level if they want to win games this year.
The good news is that it appears that he is 100 percent up to that challenge.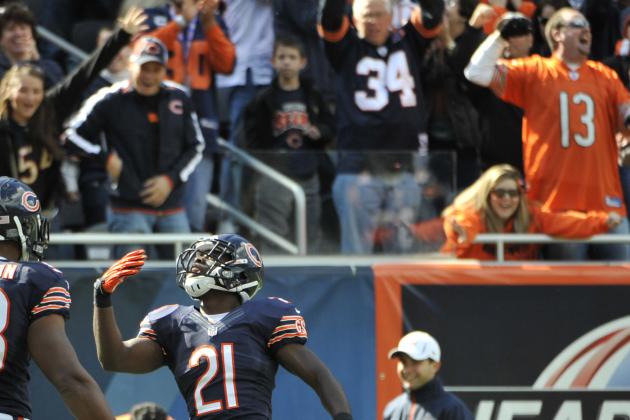 David Banks/Getty Images

One Thing They Should Celebrate: The Defense is Moving Towards Elite
The defense of the Chicago Bears has always led the way, but this year it finally looked like the offense would be the strong point for this team.
Unfortunately, Jay Cutler continues to struggle with turnovers and Matt Forte continues to be made of glass. However, the defense has stepped up in a huge way, especially in Week 3 against the St. Louis Rams.
This unit completely shutdown the Rams offense by keeping them to 160 total yards. In fact, the Bears defense outscored the Rams offense by a score of 7-6.
If this unit continues to get back to its elite ways, it won't really matter how bad Cutler and the offense is. They'll still win plenty of ugly games, like they did on Sunday.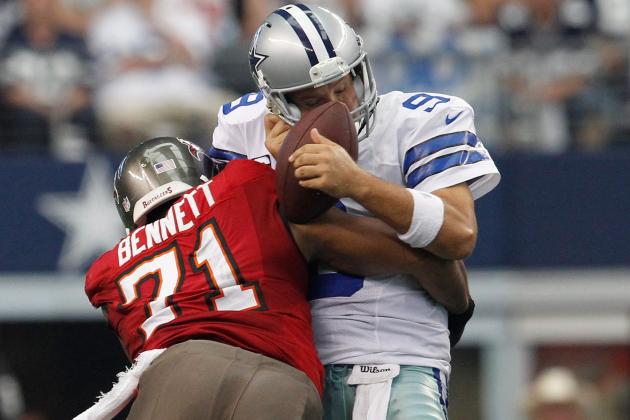 Tom Pennington/Getty Images

One Thing They Should Celebrate: You Appear To Have a Defensive Line
The biggest weakness for the Tampa Bay Buccaneers heading into this season was their defensive line. They lost Da'Quan Bowers in the offseason, and no one really knew what to expect.
While they haven't been stellar so far this season, their performance this week against the Dallas Cowboys was spectacular. They put constant pressure on Tony Romo, and both Michael Bennett and Gerald McCoy finished the game with two sacks.
There is still plenty of room for this unit to improve, but at least Tampa Bay can celebrate that it is moving in the right direction.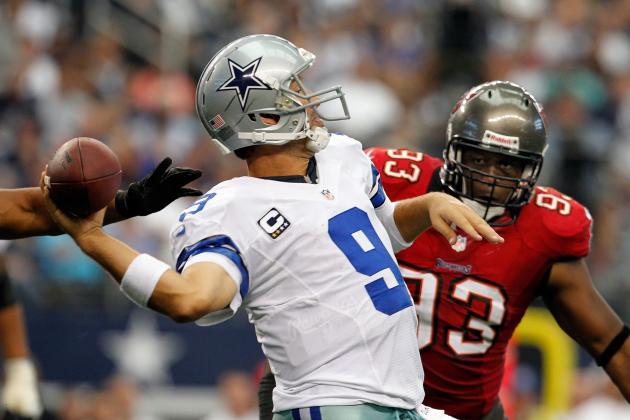 Tom Pennington/Getty Images

One Thing They Should Celebrate: A Sloppy Victory
It's hard to find something to celebrate about after a 16-10 victory at home, but every team needs a sloppy victory every now and then to keep them humble.
This was that game for the Dallas Cowboys, so they should celebrate that fact for a moment. It should be an extremely short celebration because there is plenty of room for improvement for this team, but a celebration is a celebration.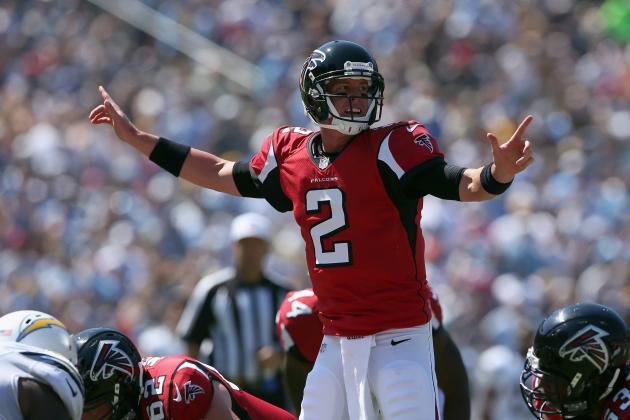 Jeff Gross/Getty Images

One Thing They Should Celebrate: The NFC South Is Yours
Can we just give the NFC South title to the Atlanta Falcons right now?
The New Orleans Saints are 0-3, and neither the Tampa Bay Buccaneers nor Carolina Panthers look ready to contend for the division crown. I'm guessing that the Falcons will only need to win another six games this year to lock up a playoff spot, and that is a great reason to celebrate.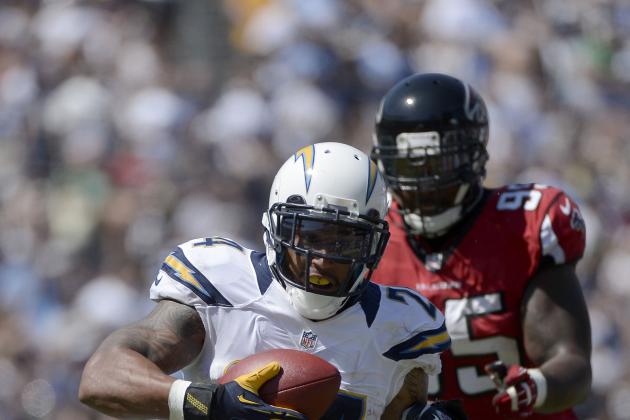 Donald Miralle/Getty Images

One Thing They Should Celebrate: Ryan Mathews Is Back
It was a long game for the San Diego Chargers on Sunday, and the only good news they got is the fact that they'll have Mathews for the remainder of the season.
Of course, that depends on him staying healthy, which he hasn't been able to do during his career. It would probably be a good idea for San Diego to celebrate extremely hard this week because it might be the last that Mathews is back.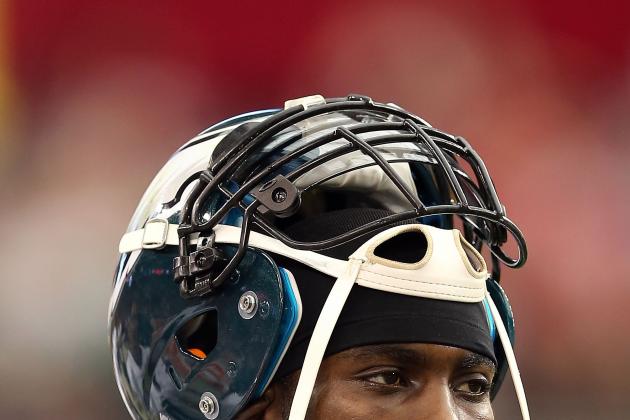 Christian Petersen/Getty Images

One Thing They Should Celebrate: No Injuries for Michael Vick
I honestly couldn't think of anything positive for the Philadelphia Eagles this week other than the fact that Vick made it through another game without being injured.
I can't be certain, but I'm guessing that three straight games without an injury has to be some type of record for Vick since he joined the Eagles. That is a good enough reason to pop a bottle of champagne for me.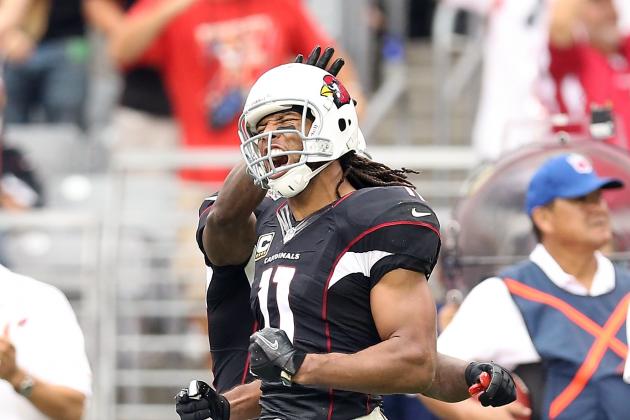 Christian Petersen/Getty Images

One Thing They Should Celebrate: 3-0
How bad do you think the Arizona Cardinals want the season to end right now? Do you think they are trying to figure out how to create a mid-season strike to end the season early?
It's been an incredible first three weeks of the season, and their win on Sunday against the Philadelphia Eagles was the most impressive of the bunch. This team will surely come back to Earth, but for now, they need to be celebrating that perfect record as long and hard as possible.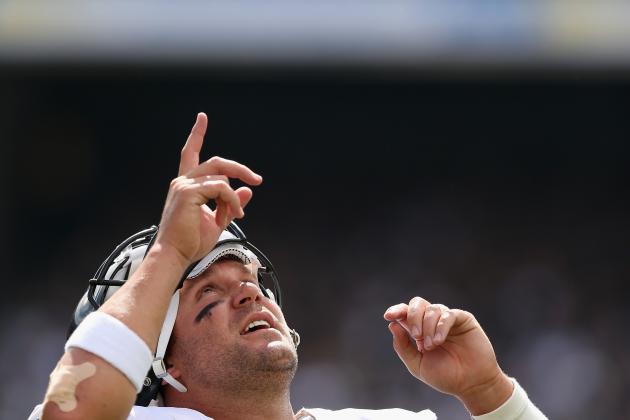 Ezra Shaw/Getty Images

One Thing They Should Celebrate: Ben Roethlisberger's Incredible Game
Yes, you lost to the worst team in the NFL, but look on the bright side for a second. Not only did your quarterback manage to only get sacked once, but he also had his best game in a long, long time.
Roethlisberger finished the game with 384 yards and four touchdowns. He completed over 73 percent of his passes and finished the game with a 123.2 quarterback rating.
If he continues to play at this level, it is going to take a perfect game like the one the Oakland Raiders played on Sunday to beat the Pittsburgh Steelers.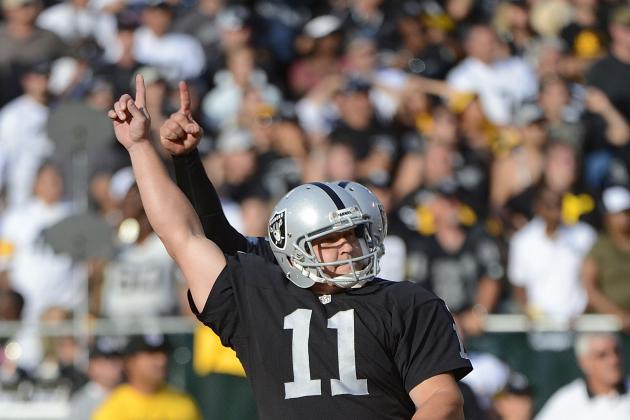 Thearon W. Henderson/Getty Images

One Thing They Should Celebrate: Sebastian Janikowski Has a Foot of Gold
Did anyone have even a sliver of a doubt that Janikowski was going to miss that game-winning field goal on Sunday?
He's the best kicker in the world, and he further cemented his status as such with two huge field goals against the Pittsburgh Steelers.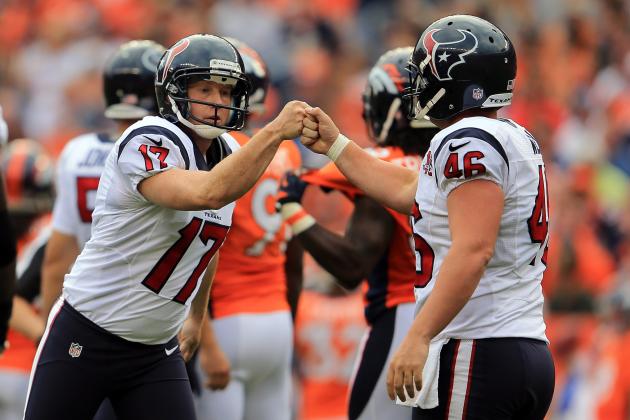 Doug Pensinger/Getty Images

One Thing They Should Celebrate: You Are Officially the Best Team in the NFL
Yes, the Houston Texans are the best team in the NFL. Their offense is as explosive as any other in the league, and their defense should give every offense in the league the chills.
With their third straight dominating performance, the Texans look like legitimate Super Bowl contenders. In fact, I'd feel confident calling them the Super Bowl favorites at this point in the season.
Doug Pensinger/Getty Images

One Thing They Should Celebrate: You're Able to Make Comebacks Now
Could you imagine what the Denver Broncos would have done if they were down by 20 points with Tim Tebow as their quarterback?
My guess is that they would have simply forfeited and moved onto next week's game. However, now that Peyton Manning is in town, this offense has the ability to score 14 points in under seven minutes to get back in the game.
While the Broncos weren't able to make the full comeback this week, the fact that they can even get close is a huge reason to celebrate.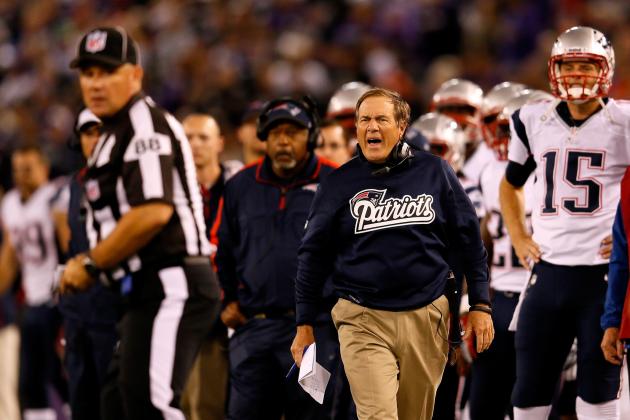 Rob Carr/Getty Images

One Thing They Should Celebrate: There Will Be No Celebrating This Week
After losing to the Baltimore Ravens on Sunday night and moving to 1-2 on the season, Bill Belichick has banned any word related to "celebrate" for the rest of the season.
For fear of the wrath of Belichick, I'm going to stop writing about celebrations right now.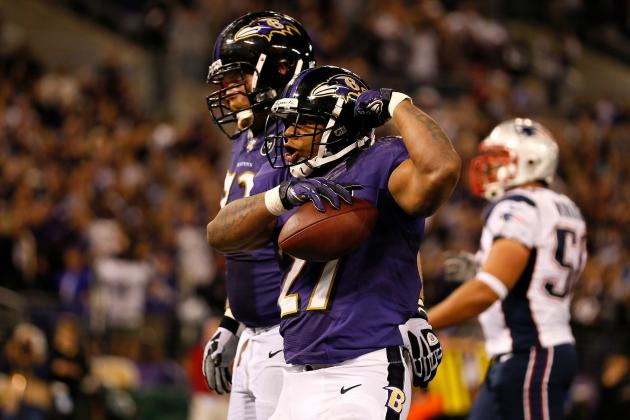 Rob Carr/Getty Images

One Thing They Should Celebrate: You Look Like You'll Be Heading Back to the AFC Championship Game
While I don't think the Baltimore Ravens are quite as good as the Houston Texans, they're easily the second-best team in the AFC.
Their victory over the New England Patriots showed just how good they can be both offensively and defensively. They'll need to improve in a few areas to surpass the Texans as the best team in the AFC, but they've looked extremely good through the first three weeks.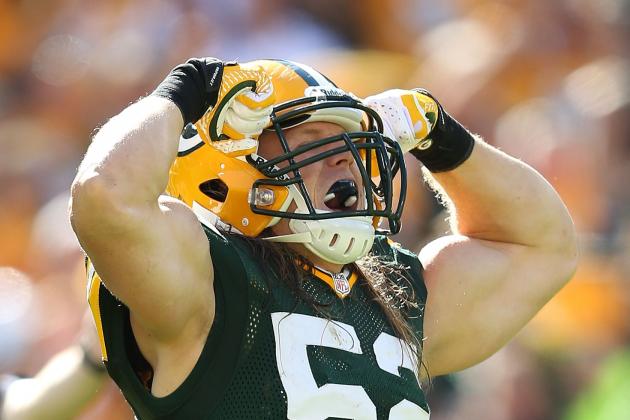 Andy Lyons/Getty Images

One Thing They Should Celebrate: The Defense Continues to Improve
The Green Bay Packers only gave up 238 total yards against the Seattle Seahawks on Monday. They held the Seahawks to 14 points if you want to count those final seven points as legitimate points.
After being the one of the worst defenses in the league, the Packers have put together very impressive performances on defense in back-to-back weeks.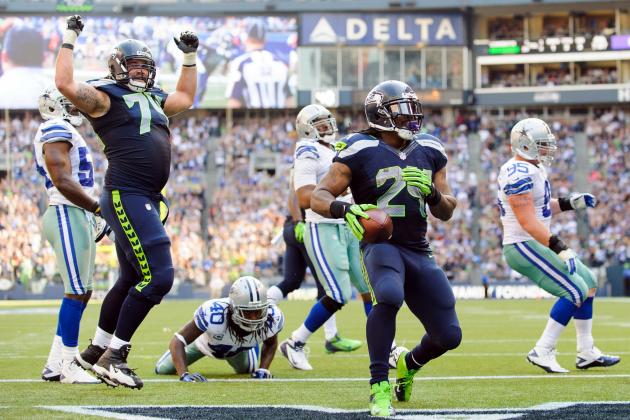 Steven Bisig-US PRESSWIRE

One Thing They Should Celebrate: You Were in Position to Win on Monday
We can debate whether Golden Tate actually came down with the final reception all year, but what the Seattle Seahawks need to be celebrating is the fact that they were in position to win that game on Monday night.
Had their defense not stuffed the Green Bay Packers the previous possession it wouldn't have mattered. Russell Wilson successfully moved the ball down the field with time running out and that is what the Seahawks need to be celebrating this week.