When you think of Boston College against Miami, it's hard to think of anything other than Doug Flutie's famous Hail Mary pass.
But those teams were competing with national implications on the line. These days, Miami and Boston College are just hoping to start 2012 off with a win after disappointing 2011 campaigns. Neither is expected to win the ACC this year, let alone make noise nationally.
Still, there is much to be excited about, especially for a young Miami team loaded with freshman talent. For the Hurricanes, 2012 may be a preview of the very exciting future this team has.
For now, however, an early-season win in the ACC is on the line. Let's get previewing.
When: Saturday, September 1 at 3:30 p.m. ET
Where: Alumni Stadium, Chestnut Hill, Massachusetts
Watch: ABC/ESPN2
Listen: Sirius 91
Live Streaming: ESPN3
Betting Line: Miami (-2.5), according to Bet Online.
Miami Injuries
DL Curtis Porter, Appendix, Questionable
LB Raphael Kirby, Leg, Out
OL Seantrel Henderson, Concussion, Out
Boston College Injuries
RB Rolandan Finch, Foot, Questionable
TE Mike Naples, Undisclosed, Doubtful
DB Al Louis-Jean Jr., Foot, Out
TE Chris Pantale, Ankle, Out
What's At Stake
For both teams, an early foothold in the ACC would be nice. Really, a nice start to the season for a Boston College side that finished 4-8 last year is a must. Miami surely was disappointed by a 6-6 season last year as well. Neither is likely to win the ACC, but each must get off to a fast start to have a chance.
Miami Players to Watch: The Freshmen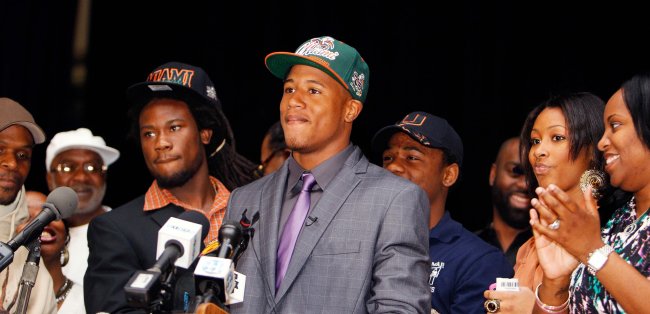 Robert Mayer-US PRESSWIRE
Quite a few freshman will play key roles for Miami in this one. Al Golden went so far as to say 14 or 15 could play in the opener. 15!
Ereck Flowers will try to replace Seantrel Henderson at right tackle. Defensive backs Tracy Howard, Deon Bush, Rayshawn Jenkins and Antonio Crawford should all see the field. Jelani Hamilton and Tyriq McCord will see time at defensive end. Malcolm Lewis, Herb Waters and Robert Lockhart could see time at wide receiver.
The future is bright for Miami. It's uncertain how the team will fare in the present, however.
Boston College Player to Watch: Chase Rettig, Quarterback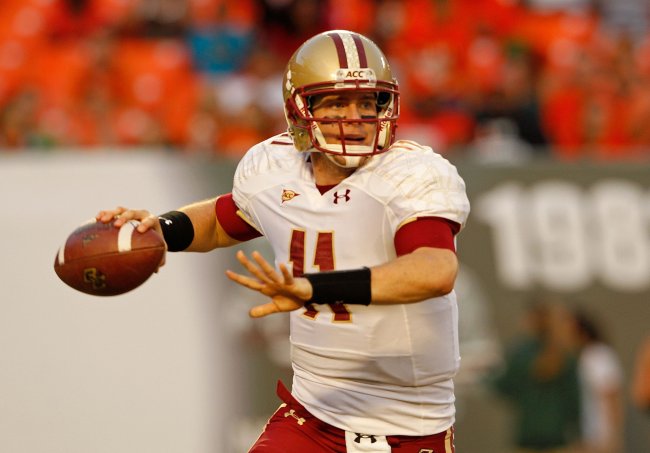 Mike Ehrmann/Getty Images
Returning starter Chase Rettig only threw for 1,960 yards last season, and he'll need to do better than that this year if BC is to be competitive.
He'll have some help, as former Kent State head coach Doug Martin—praised as one of the finer quarterback coaches in the land—was brought in to improve the play of the signal-callers.
Boston College is already without last year's leading rusher, Montel Harris—dismissed by the team this offseason—so a healthy passing attack will be vital moving forward.
What They're Saying
As Michael Casagrande of the Sun Sentinel notes, a scheduling quirk makes this one a very interesting contest:
Never before has Miami closed and opened consecutive regular seasons with the same opponent. That streak ends Saturday when the Hurricanes face Boston College for a rematch of Miami's 24-17 season-ending loss to the Eagles last November.
It creates an interesting dynamic that only the 2004 Miami Hurricanes can understand. The team faced Florida State on opening weekend after meeting the Seminoles in the previous Orange Bowl. The 'Canes won both games.
Both teams will look a bit different this time around. Namely Miami, with all those freshman seeing time.
Key Matchup: Boston College Passing Game Against Miami Secondary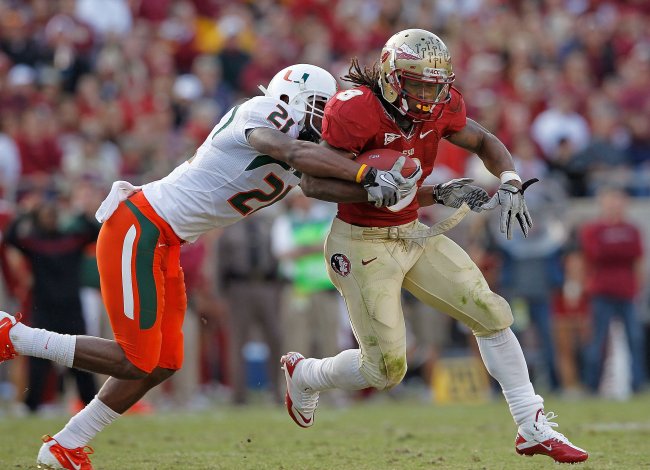 Mike Ehrmann/Getty Images
Whoever wins this battle of potential weaknesses for each side should win the game.
Boston College had an abysmal passing attacking a year ago, ranking 100th nationally at just 167.8 passing yards per game last year. Still, this is a young Miami secondary, and one BC must take advantage of if they hope to win this game.
Prediction
Expect a sloppy, tightly-contested affair. Boston College has more experience, but they will struggle to keep up with the speed of Miami. Still, a young Hurricanes team will make its fair share of mistakes. Miami will survive in the end, however, winning 24-21.
Hit me up on Twitter—my tweets have an ADP of one.