Stephon Gilmore and Stud Rookies Who Will Dominate on Defense in 2012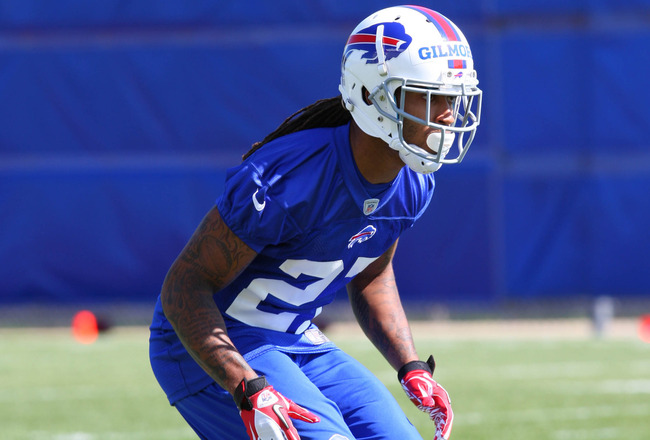 Timothy T. Ludwig-US PRESSWIRE
There is much more pressure on defensive rookies nowadays than ever before.
Not only is this because the NFL is featuring more explosive offenses, but because we're seeing more and more rookies expected to make an immediate impact in general.
Defensive rookies have no choice but to develop just as quickly—if not more quickly—and become the franchise players at their respective positions.
Cornerback Stephon Gilmore is a great example for the Buffalo Bills, because he was arguably the best defensive player in the 2012 NFL draft.
The Bills needed a shutdown corner and took him at No. 10 overall.
If Buffalo wants to contend with the New England Patriots in the AFC East, Gilmore has to develop fast. Otherwise, the Pats will continue to rule the division with their offense.
Gilmore certainly has the potential and isn't alone, either. Along with him, let's see which rookies will put on an impressive show in 2012.
Mark Barron: Safety, Tampa Bay Buccaneers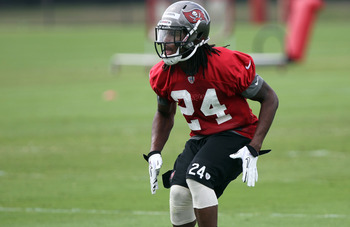 Kim Klement-US PRESSWIRE
The Tampa Bay Buccaneers fielded one of the worst defenses in the league in 2011.
Ranking No. 21 against the pass, No. 32 against the run and allowing an NFL-worst 30.9 points per game, it's no secret that the Bucs needed help on defense.
Mark Barron was a great pick at No. 7 overall. Coming from an aggressive defense at Alabama, the guy knows how to tackle, make plays on the ball and help with run support. Through the preseason, he had four tackles, two defended passes and took one interception back for a touchdown.
Yes, when he intercepted Tom Brady, it was a tipped pass. However, that means Barron read the play correctly, reacted fast to get into position and simply took advantage of the opportunity.
Last season, the Bucs recorded just 14 picks and defended only 59 passes. Presenting a young talent like Barron will improve the overall defense in 2012. Barron should have plenty of opportunities to defend against the pass because the NFC South is filled with high-powered passing offenses.
Whether it's a Cover 1, Cover 2 or a Cover 3 look, Barron possesses the instincts to read and anticipate quite well. When required, he can also move into the box to replace a blitzing linebacker and help against the run.
Fletcher Cox: DT/DE, Philadelphia Eagles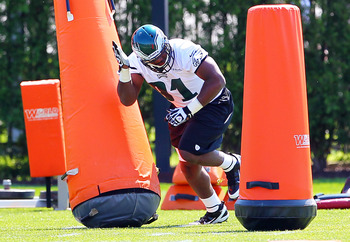 Rich Schultz/Getty Images
Not only was stopping the run a challenge for the Philadelphia Eagles in 2011, but lacking an interior pass rush hurt as well.
The Eagles allowed 112.6 rushing yards per game and an average of 4.4 yards per carry.
Despite recording 50 sacks as a team, it's important to note that 29 of them came from defensive ends Trent Cole and Jason Babin. Therefore, quarterbacks were often able to step up in the pocket and attack Philly's exposed pass defense at the intermediate level over the middle.
This season, however, the Eagles have a dynamic interior lineman in Fletcher Cox who can help limit the run and provide interior pressure. Having said that, Cox won't consistently make plays against the run, since he'll see a lot of double-teams.
He's so quick at the snap, though, that he'll likely force opposing running backs to alter their course and allow the rest of Philly's D to take over.
Against the pass is where he'll shine. There's no reason to try to double-team him with Cole, Babin and fellow rookie Vinny Curry coming off the edge.
Cox will face one-on-one situations while the outside pressure collapses the pocket.
All he'll have to do is make one move—once the quarterback steps up inside to avoid the external rush, the rookie will be in position to make a play.
Stephon Gilmore: CB, Buffalo Bills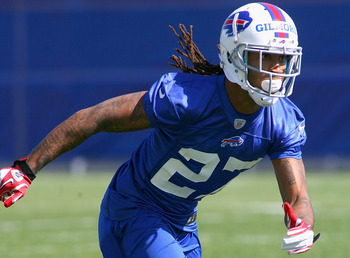 Rick Stewart/Getty Images
The Buffalo Bills got a complete defensive player in Stephon Gilmore.
He can play corner, safety, sit on the outside of the box and contribute as a return man when needed.
This will play perfectly into Buffalo's new defense, with guys like Mario Williams, Mark Anderson and second-year man Marcell Dareus. Gilmore is the next piece in the puzzle.
The Bills allowed 371 total yards per game in 2011 and recorded only 29 sacks.
Unsurprisingly, Buffalo allowed 27 points per game and lived off turnovers with a total of 31 (20 picks, 11 recovered fumbles).
Fortunately, Gilmore has the size, instincts, physical play and quickness to lock down one side of the field and provide much assistance against the run. He's been consistently reliable in the preseason and his potential alone will take away half of the field this season.
The versatile defender compiled 140 tackles as a corner in three seasons at South Carolina. Sure, he gave up a reception on occasion, but that many plays coming from a corner shows how well he reads the run.
If there's one Defensive Rookie of the Year candidate to watch for, this is the guy.
Nick Perry: LB/DE, Green Bay Packers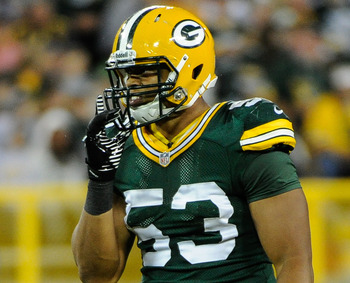 Benny Sieu-US PRESSWIRE
You'd think seeing a team go 15-1 means that both sides of the ball were extremely dominant, especially in pro football.
However, that wasn't the case for the Green Bay Packers. They fielded the NFL's worst defense in 2011.
Ranking dead last against the pass and in overall defense, the Packers also allowed 4.7 yards per carry and 22.4 points per game.
Even worse, the Pack recorded just 29 sacks, and the lack of pass rush ultimately cost them in the postseason.
Fear not, Titletown, because Nick Perry is here to help. The first-round pick out of USC is the ideal complement opposite of Clay Matthews, because he can rush the passer and is disciplined when defending the run.
The Packers need that other pass-rushing presence and Perry's hand techniques and strength will beat any one-on-one blocking situation. He's also an underrated athlete when defending the pass and reacts well against quick-hitting plays (i.e. three-step drops).
Facing a pass-dominant division with teams like the Chicago Bears and Detroit Lions, Perry's presence will take much pressure off the secondary. This will allow Green Bay to force more three-and-outs instead of living off turnovers like we saw last fall.
Follow John Rozum on Twitter.
Keep Reading