WWE SmackDown: 5 Things to Watch for During This Week's Edition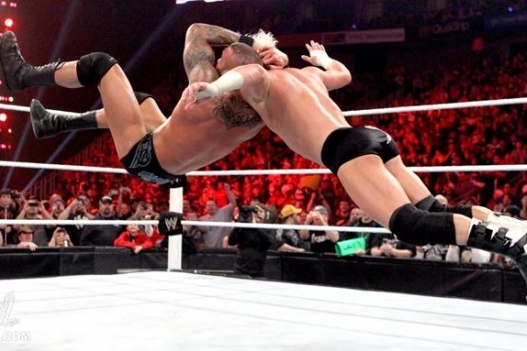 Photo courtesy of WWE.com
It may not have the awesomeness of CM Punk's heel turn or the hilarity of Daniel Bryan and Kane attending anger management classes, but there are plenty of reasons to watch SmackDown this week.
Widely regarded as WWE's "B" show, SmackDown typically features a lot more wrestling than Raw and focuses on the midcard as well. As somebody who likes everything to be very well-rounded, I'll be interested to see what happens with the United States Championship, the Tag Team Championships and the rest of the midcard this week.
On top of that, the Sheamus vs. Alberto Del Rio feud promises to continue despite its staleness, but perhaps new life will be breathed into it. Also, don't forget about Mr. Money in the Bank Dolph Ziggler, as he is scheduled to face Randy Orton in what should be a fantastic matchup.
SmackDown doesn't receive as much hype as Raw, but it focuses on the auxiliary feuds and does a pretty nice job of developing midcard storylines. Look for that to continue this week.
Here are the top five things you should be on the lookout for while watching the latest edition of SmackDown.
Begin Slideshow

»
Last week, SmackDown general manager Booker T put Alberto Del Rio and Randy Orton against each other in a No. 1 contender's match for the World Heavyweight Championship. Most were probably hoping that Orton would come out on top, but Del Rio won the match by shockingly forcing Orton to tap out with the Cross Armbreaker.
That means that Del Rio is currently scheduled to face Sheamus for the World title yet again at Night of Champions. As we know, however, nothing is ever set in stone in the WWE. Prior to SummerSlam, Del Rio was penciled in to face Sheamus, but Booker T canceled the match. He then reinstated it the following week, but the point is that things can change at the drop of a dime.
The fans are largely fed up with this feud and desperately want to see something different, so perhaps the wheels will be set in motion this week. I originally called for a championship scramble match at Night of Champions between Sheamus, Del Rio, Orton, Big Show and perhaps Wade Barrett if he returns.
I'm not particularly optimistic that any movement will be made on that front, but I'm certainly hoping for something to shake up the World title scene.
It was announced on Raw that Dolph Ziggler and Randy Orton would compete in a match on this week's edition of SmackDown, and it is one that both I and the WWE Universe as a whole are very much looking forward to.
Ziggler and Orton have had several matches in the past, and I can't think of one that has fallen flat, so this could potentially be the highlight of the show.
Orton has been getting the better of Mr. Money in the Bank over the past week as he foiled his attempt to cash in on Sheamus on SmackDown by leveling Ziggler with an RKO. He then stopped Ziggler from using his briefcase in a tag-team match as he and Sheamus defeated Ziggler and Alberto Del Rio on Raw.
Since returning from a 60-day drug suspension, Orton has been used curiously. He wasn't on the SummerSlam card and lost cleanly to Del Rio last week. That makes me wonder whether he is being punished for his mistake. If that is the case, it will be interesting to see if Ziggler is given a clean win over Orton, which is something the Show Off could really benefit from.
Whatever the case, I'm hopeful this will lead to a match at Night of Champions if Orton doesn't end up in the World title scene. Ziggler needs wins over credible, established guys, and Orton definitely is one.
With Night of Champions coming up in a couple weeks, the creative team is scrambling to create some storylines for each of the company's titles. The Tag Team Championships in particular haven't really had any direction in at least a year, but it seems like the SmackDown writers are finally committed to doing something worthwhile with them.
Last week, incumbent champions Kofi Kingston and R-Truth got into it in the backstage area with teams such as the Prime Time Players, Primo and Epico, Justin Gabriel and Tyson Kidd and The Usos. Those teams proceeded to brawl as they fought over who should receive the next shot at the tag straps.
Later in the night, Eve submitted an advanced statistical analysis of each of the company's tag teams to Booker T. Therefore, it is likely that Booker will address the situation this week.
There are a number of different routes that Booker could take. He could name a No. 1 contender right away, hold a No. 1 contender tournament or even announce a match featuring all the teams at Night of Champions.
I'm guessing that a tag-team turmoil match is in order for NOC, which will feature all of the aforementioned teams. As I have been saying for the past couple of weeks, however, the odd couple of Daniel Bryan and Kane will reign supreme. They will form a reluctant partnership and win the titles at Night of Champions.
Antonio Cesaro defeated Santino Marella for the United States Championship at SummerSlam, but he hasn't made much of an impact since. I had hoped that Cesaro would defend the title against Santino last week in order to get Santino out of the picture, but that didn't happen. Perhaps it will come to fruition on this week's SmackDown, however.
Champions who lose their title are always entitled to a rematch, so there is no way of getting around another Cesaro vs. Santino match. I don't dislike Santino as much as most because I understand that there is a place for his gimmick in the company, but at the same time, I don't believe that he needs to be in any type of title picture.
I really want to see Cesaro feud with somebody like Christian. I believe that going over a legitimate veteran with main-event experience could do a lot for the Swiss superstar as well as the floundering United States Championship. In order for that to happen, though, Cesaro must dispatch Santino one more time.
It seems like the writers are probably leaning toward saving the match for Night of Champions, but hopefully they get it over with on SmackDown so Cesaro can move forward. Beating Santino on another pay-per-view simply wouldn't do anything for Cesaro.
Whether you like him or not, Ryback has been one of SmackDown's main attractions over the past couple of months and is certainly a sight to behold. There haven't been many physical specimens over the course of WWE history who can measure up to the big man.
Ryback had been squashing two local jobbers at once for quite some time, but he seems to have officially graduated.
On last week's SmackDown, Ryback seemed to effectively end his mini-feud with Jinder Mahal by defeating him. Ryback proceeded to take out former World Heavyweight Champion Jack Swagger on Raw.
Now that Ryback is starting to beat somewhat credible opponents, it is time to put him in an actual rivalry with extended matches and true purpose.
I'm not sure whether or not that's going to happen this week, but I feel like Ryback needs to be put in a feud with either Tensai or Big Show.
Tensai has really fallen off the map and is rarely used, but he would be the perfect opponent for Ryback because of his size and ferocity. If Ryback can get Tensai up in his finisher, it will really make him look strong.
The same can be said for Big Show, although that would be even bigger for Ryback. Big Show is an established star who has been world champion several times in the past. Not only that, but he was just involved in a WWE Championship angle.
If the WWE is serious about pushing Ryback, put him in a rivalry with Big Show.
Follow @MikeChiari on Twitter and listen to him on Ring Rust Radio.