MLB Trade Rumors: Live Coverage of the August 31 Waiver Trade Deadline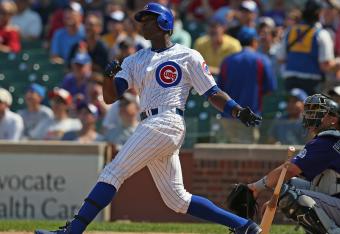 Is there any chance the Chicago Cubs deal Alfonso Soriano within the next 48 hours?
Jonathan Daniel/Getty Images
The final two days of any type of trading for the 2012 MLB season are now upon us.
The waiver trade deadline is officially at midnight ET on Friday night/Saturday morning, and heading into Thursday morning, only 10 trades have been completed in the month of August.
Of course, the deal between the Los Angeles Dodgers and Boston Red Sox was by far the biggest August trade ever pulled off in MLB history, but other than that, activity has been light.
That could change over the next two days, and Bleacher Report will keep you up to date on all of the latest rumors, rumblings, grumblings and actual transactions right up until the clock strikes 12 on Friday night.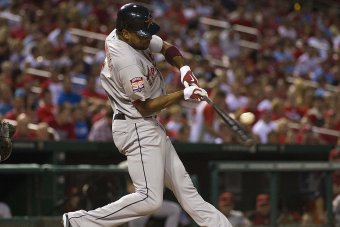 Scott Rovak-US PRESSWIRE
Yet another deal gone down just mere hours short of the waiver-trade deadline. This from Danny Knobler of CBSSports.com:
Astros announce Ben Francisco traded to Rays for PTBN

— DKnobler (@DKnobler) September 1, 2012
Francisco was dealt earlier in the season to the Astros from the Toronto Blue Jays in a nine-player trade between the two teams.
Francisco has hit .244 thus far with the Jays and Astros in 58 games this season.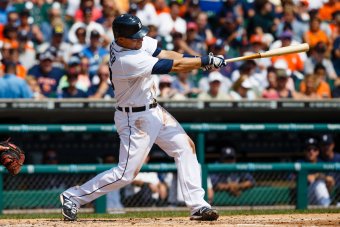 Rick Osentoski-US PRESSWIRE
Finally, a deal to report!
Jeff Baker, who was designated for assignment earlier today by the Detroit Tigers, has been dealt to the Atlanta Braves for a player to be named later.
#Tigers trade Jeff Baker to #Braves for PTBNL on or before Sept. 30.

— Jon Morosi (@jonmorosi) September 1, 2012
Baker will give the Braves some added depth down the stretch as they try to avoid the same fate that befell them last season.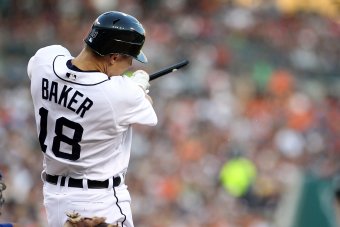 Dave Reginek/Getty Images
An interesting transaction was just reported up in Detroit.
Tigers have recalled Avisail Garcia from Erie today. Jeff Baker has been designated for assignment. #tigers

— Brian Britten (@BBritten_Tigers) August 31, 2012
Baker had been acquired by the Tigers in a waiver-trade deal with the Chicago Cubs on Aug. 5 for two PTBNL. Baker hit just .200 in 15 games before being DFA'd.
Baker could very well be on the radar for the San Francisco Giants, who are still in search of right-handed hitting help.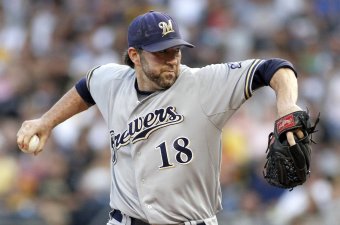 Justin K. Aller/Getty Images
Somehow, this blog has turned into a list of players who won't be dealt by the waiver-trade deadline, rather than an accounting of players actually being dealt.
Tom Haudricourt of the Milwaukee Journal-Sentinel adds two more players to that growing list.
I'm hearing #Brewers trade of Shaun Marcum is unlikely today. Same for Francisco Rodriguez.

— Tom (@Haudricourt) August 31, 2012
Both Marcum and Rodriguez are free agents at the end of the season, and it's likely that neither will be retained by the Brewers as they continue a rebuilding process.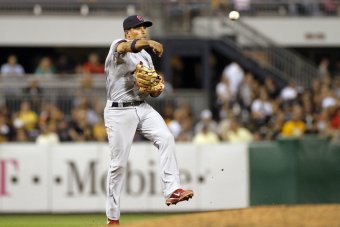 Justin K. Aller/Getty Images
The St. Louis Cardinals suffered a severe blow to their playoff hopes when shortstop Rafael Furcal left Thursday night's game with the Washington Nationals with what appeared to be an elbow injury.
Joe Strauss of the St. Louis Post-Dispatch tweeted that the Cardinals are fearing the worst.
@stltoday reporting Rafael Furcal to undergo MRI Friday for confirmation of torn ulnar collateral ligament. Season believed over.

— Joe Strauss (@JoeStrauss) August 31, 2012
Furcal was replaced last night by Daniel Descalso, and according to Ken Rosenthal of FOXSports.com, the Cardinals have no plans to look outside the organization for a replacement.
#STLCards do not plan to pursue shortstop from outside to replace Furcal. Likely to promote Pete Kozma.

— Ken Rosenthal (@Ken_Rosenthal) August 31, 2012
The Cardinals are currently 8.5 games behind the Cincinnati Reds in the NL Central Division, but do hold a slim half-game lead over the Pittsburgh Pirates in the race for the second Wild Card slot.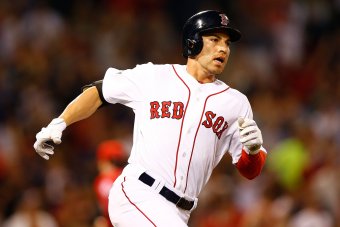 Jared Wickerham/Getty Images
For fans of the Boston Red Sox, you can at least be encouraged by the fact that GM Ben Cherington isn't looking to completely implode your team.
This according to Jon Paul Morosi of FOXSports.com:
#RedSox won't trade Jacoby Ellsbury or Cody Ross today.

— Jon Morosi (@jonmorosi) August 31, 2012
At least fans will have something to look forward to.
However, Ross is a free agent at the end of the year, and considering his performance thus far (.277 BA, 19 HR, 67 RBI), he could command a nice payday.
Ellsbury is still under team control for one more season, and with Cherington jettisoning over $250 million in payroll in one fell swoop, he very well could be looking at something long-term for Ellsbury.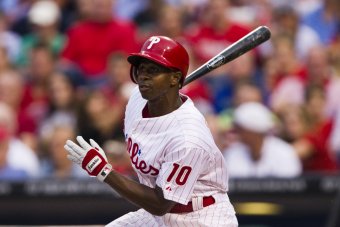 Howard Smith-US PRESSWIRE
The Philadelphia Phillies have already started a purge of sorts, unloading Hunter Pence, Shane Victorino, Joe Blanton, Chad Qualls, Jim Thome and Brad Lidge at various times this season.
Another one could be on the way out as well—outfielder Juan Pierre.
According to Jon Paul Morosi of FOXSports.com, Pierre successfully cleared waivers.
#Phillies OF Juan Pierre has cleared trade waivers, source tells FOXSports.com. Could be dealt by midnight tonight.

— Jon Morosi (@jonmorosi) August 31, 2012
Pierre was signed to a minor league contract by the Phillies during the offseason and became one of their most consistent contributors in an otherwise dismal season, hitting .300 with 32 stolen bases.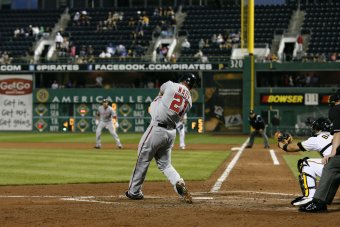 Charles LeClaire-US PRESSWIRE
The San Francisco Giants have been in pursuit of a left fielder ever since learning that Melky Cabrera's MVP-type season was a complete sham and is now lost for the rest of the regular season. However, that search proved fruitless.
Sources: #SFGiants discouraged about chances of adding "needle mover" in LF. Still possible, but immediate plan is to promote Nady tomorrow.

— Ken Rosenthal (@Ken_Rosenthal) August 31, 2012
As Rosenthal mentioned, Xavier Nady will be the next candidate to assume Cabrera's position in the lineup.
Nady, a career .271 hitter with 100 lifetime home runs, is currently hitting .270 with six homers and 18 RBI in 25 games at Triple-A Fresno.
Nady can be called up on Saturday without the Giants having to sacrifice a roster spot—rosters expand to 40 players as of Sept. 1.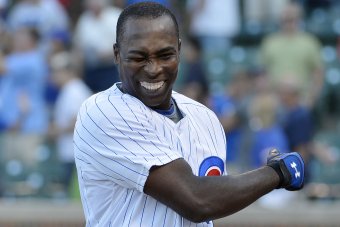 Brian Kersey/Getty Images
It would appear that Chicago Cubs left fielder Alfonso Soriano is not going anywhere, at least not for this season, anyway.
hearing no deal seems likely for alfonso soriano, who nixed the #SFGiants last month. winter trade possible.

— Jon Heyman (@JonHeymanCBS) August 31, 2012
There had been all kinds of speculation about Soriano, but in the end he's staying.
At least for now, that is.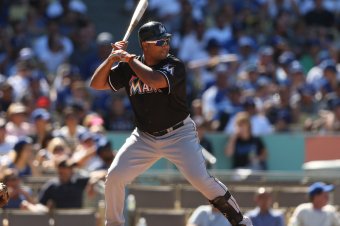 Stephen Dunn/Getty Images
This just might qualify as one of the vaguest tweets thus far.
Carlos Lee continues to draw trade interest from teams needing right-handed bat for final month. OPSing at .713 in 50 games with Marlins.

— Tim Brown (@TBrownYahoo) August 30, 2012
Okay, Tim—who are the teams?
The hyperbole that can be tossed around in July and August during the trade windows can oftentimes be very amusing. I wouldn't necessarily term a .713 OPS as 'OPSing,'.
Put that way, it makes it sound glowing. Not quite the term I'd use for Lee and his complete lack of power production.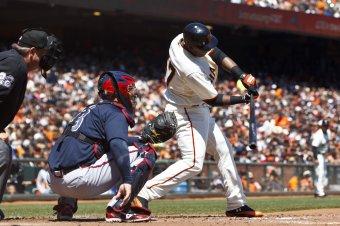 Jason O. Watson/Getty Images
Not much going on at the moment, however, ESPN's Jayson Stark shared this little tidbit of information.
<blockquote class="twitter-tweet tw-align-center">
Giants still looking for RH-hitting OF but clubs talking to them say they're aiming low.If they do anything, it'll be "maybe an extra guy"
— Jayson Stark (@jaysonst) August 30, 2012
New addition Hunter Pence has struggled at the plate since his arrival, hitting just .219 in 27 games, and there are no viable right-handed hitting options off the bench.
Prospect Francisco Peguero was just called up recently, making his major league debut on Saturday after hitting .305 through parts of seven seasons in the minors.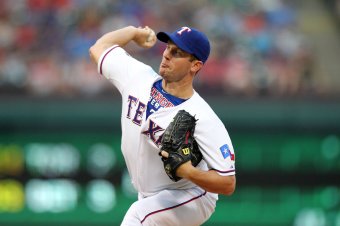 Layne Murdoch/Getty Images
On Wednesday, Texas Rangers pitcher Roy Oswalt successfully cleared waivers, paving the way for Texas to facilitate a trade between now and Friday night.
Jon Heyman of CBSSports.com tweeted late Wednesday afternoon that it's Oswalt's preference to start, but pickings might be slim.
#rangers willing to listen to offers for oswalt to accommodate interest in starting. not sure anyone's beating down door.

— Jon Heyman (@JonHeymanCBS) August 28, 2012
Oswalt hasn't helped his cause with his 5.94 in 11 appearances, eight of them starts.
That doesn't necessarily mean that interest won't be there, Oswalt does have a solid postseason resume, with a 5-2. record and 3.73 ERA in 11 playoff starts.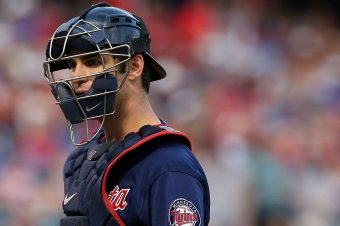 Ronald Martinez/Getty Images
According to Ken Rosenthal of FOXSports.com, Minnesota Twins catcher Joe Mauer has officially cleared waivers.
#Twins' Mauler clears waivers. Can be traded by Fri. 12 a.m. ET deadline for setting playoff rosters. Highly unlikely. Has full no-trade.

— Ken Rosenthal (@Ken_Rosenthal) August 29, 2012
Does this mean Mauer will be dealt by the midnight deadline tomorrow night? No, but anytime a name like Mauer's shows up on the waiver wire, it becomes instant fodder for discussion.
This article is
What is the duplicate article?
Why is this article offensive?
Where is this article plagiarized from?
Why is this article poorly edited?