Dolphins vs. Cowboys: Dallas' Biggest Winners and Losers from Preseason Week 4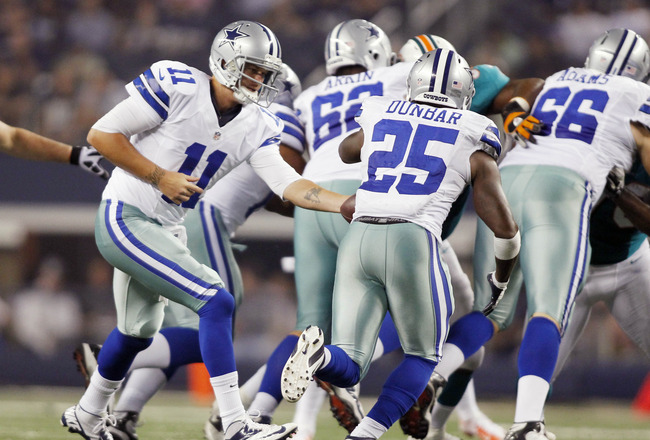 Tim Heitman-US PRESSWIRE
The preseason is finally over for the Dallas Cowboys, and they ended it on a high note. The Cowboys beat the Miami Dolphins, 30-13, on a night that was reminiscent of an older NFL.
There was a lot of ball running.
Dallas racked up 238 rushing yards on 35 carries. The team averaged 6.8 yards per carry with two touchdowns.
The rushing attack was led by rookie Lance Dunbar and his 105 yards on the ground. He was followed by Jamize Olawale and Phillip Tanner.
For the first, and possibly last time this season, the Cowboys ran the ball more than they passed it. That was probably due to the talent at quarterback, but I digress.
So as we move toward the Cowboys' regular-season opener against the Giants, here are the night's biggest winners and losers from the Cowboys' final preseason game.
Winner: Lance Dunbar, RB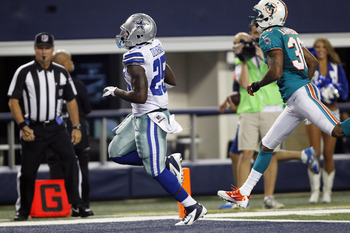 Tim Heitman-US PRESSWIRE
Dunbar rushed for 105 yards, scored a touchdown and averaged a healthy seven yards per carry. I don't care if it is against the first- or last-team defense; it is pretty impressive.
Dunbar may not make the final roster as Tanner is still above him, but how he performed against the Dolphins got him a second and third look from more than a few NFL teams.
Loser: Rudy Carpenter, QB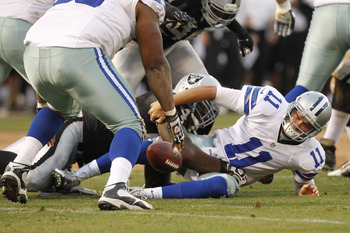 Cary Emondson-US PRESSWIRE
I was really disappointed in Carpenter's performance. He had the chance to take McGee out as the team's last quarterback, and he did no such thing.
McGee started the first half, underperformed and proved why the Cowboys were right for bringing in Carpenter in the first place.
Then Garrett handed the keys to the offense over to Carpenter, and he flooded the engine.
McGee completed 9-of-18 passes and averaged almost seven yards per attempt.
But Carpenter was worse. Forty-eight yards passing with a paltry 4.8 yards per attempt.
Now I can't place all of the blame on McGee and Carpenter, as the running game was working well and the offensive line was a muddled mess.
Even so, Carpenter allowed a golden opportunity to slip through his fingers.
Winner: Alex Albright, LB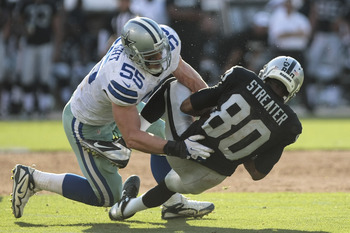 Kelley L Cox-US PRESSWIRE
Albright was the defensive player of the game in my eyes. He totaled 11 tackles and one sack.
Albright's position with the team seems safe, but if it wasn't, he should have changed the coach's mind tonight.
Loser: Stephen McGee, QB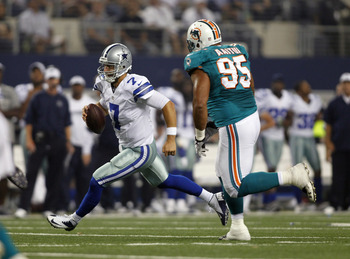 Tim Heitman-US PRESSWIRE
McGee had the chance to prove why he should remain with the Cowboys over Carpenter.
Just like Carpenter, he did nothing of the sort.
He led a touchdown drive capped off by a one-yard Phillip Tanner touchdown. He seemed erratic and unsettled at times, and he never got into a groove.
At this point, one can flip a coin and pick between McGee and Carpenter as the team's third quarterback.
Winner: Orie Lemon, LB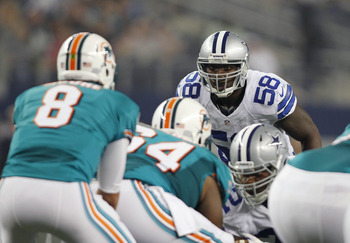 Tim Heitman-US PRESSWIRE
Lemon read Dolphin's quarterback Ryan Tannehill on a crossing route like a Dr. Seuss book.
Lemon picked the ball off and ran it back for a 26-yard touchdown.
He also had five tackles to cap off his exciting night.
If he was on the bubble before, his performance on the night should have saved his job.
Keep Reading

Dallas Cowboys: Like this team?