5 Miami Heat Role Players Who Need to Raise Their Game in 2012-13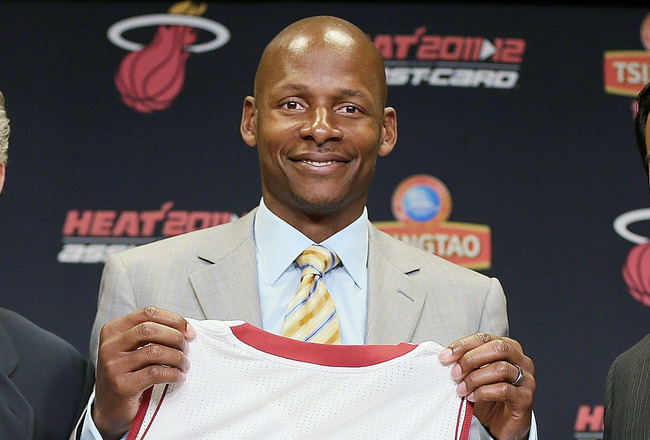 Ray Allen was all smiles when the Heat brought him aboard.
Mike Ehrmann/Getty Images
It's hard to fault a team that wins an NBA title, and 16 of the 19 league executives polled by Sam Amick of SI Sports picked the Heat to win the NBA title again. Still, there is always room for improvement, and role players stepping up to new heights could make the Heat even better.
With the additions of veterans Ray Allen and Rashard Lewis, the Heat have added some great outside shooting to complement the penetration of Dwyane Wade and LeBron James.
Adding to the mix are three Heat players who have already played big roles, but whose continued efforts should make the Heat an even stronger team.
Rashard Lewis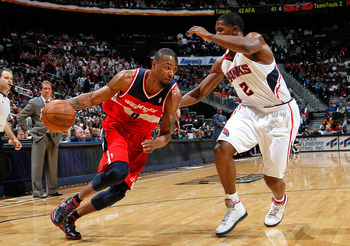 Rashard Lewis putting the ball on the floor. It happens sometimes.
Kevin C. Cox/Getty Images
To say the very least, Rashard Lewis has a long ways to go in terms of ever coming back to be half the player he was in his early days with the Orlando Magic, or even the years in his true prime as a member of the Seattle Supersonics.
He's slower, rebounds even less, and at times looks just lethargic on the court. Perhaps playing for a winning team will change that, as he had little motivation to do anything other than play mediocre basketball for a horrible Wizards team last year.
What do the Heat need from Lewis? Simply, just for him to knock down his open threes. Playing for the veteran min contract, Lewis isn't going to be relied upon to start anymore; he's just not at that point in his career now. Still, he can offer a lot of help to the Heat and his veteran leadership will only help.
Expect Lewis to battle through old age, for though he is "only" 33, he's been in the league since he was 19, so he has a lot of miles on his ankles and knees. The lack of lift in his jumper leaves him near flinging the ball towards the hoop now, but it's nearly unblockable due to his length and quick release. He could play a significant role for the Heat if his body cooperates.
Mario Chalmers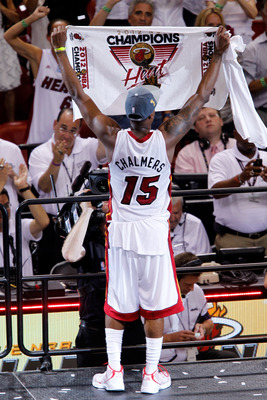 Chalmers won his first title at Kansas in 2008 and his second in Miami in 2012.
Mike Ehrmann/Getty Images
Chalmers may be the key to the Heat's improvement. He's been inconsistent throughout his career, but the 6'1" combo guard shot a career high 44.8 percent from the floor last year, and shot a career high from three as well, nailing 38.8 percent from behind the arc.
Chalmers will be pushed by backup Norris Cole for minutes, but remains both the more proven and the better of the two Heat point guards. Because LeBron James handles the ball so much, Chalmers is not relied upon to play the role of a "traditional" point guard; instead he spots up and has to continue to knock down the open shots.
So far his win shares have increased each year in the league, up to 5.2 last year, which ranks him on the level of former NBA point guard Greg Anthony and current Pistons guard Rodney Stuckey. Moreover, I still don't believe Chalmers, at only 26 years of age, has reached his full potential yet. He should just now be starting to enter his prime, and it couldn't come at a better time with the Heat being in the midst of a potential dynasty.
Shane Battier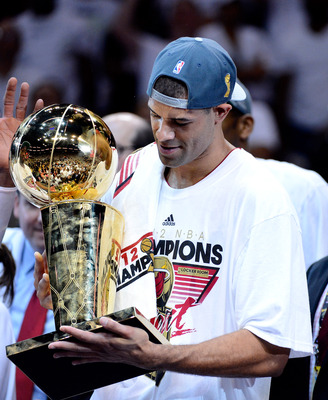 Shane Battier waited 11 years to hold the Larry O'Brien trophy for the first time.
Ronald Martinez/Getty Images
Battier has never offered a lot offensively, but his contributions as a defensive stopper increase his value to the Heat immensely.
Battier's an adept shooter from the corner three, which will continue to help spread the floor and open up penetration and passing lanes for the other Heat perimeter players. He's also able to play both forward slots and can cover a number of smaller power forwards in addition to his usual stellar defense on small forwards.
Battier will continue to be the defensive specialist for the Heat, a role which cannot be underestimated.
Udonis Haslem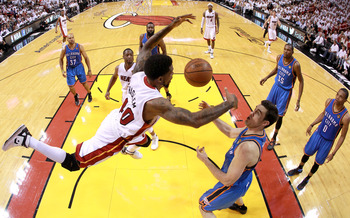 Haslem's hustle is instrumental to the Heat's bench.
Ronald Martinez/Getty Images
Haslem has consistently been one of the best role players at the power forward spot in the league. He's also able to pinch hit at center from time to time, further increasing the value of the 6'8" 230-pound forward from Florida. He now has nine years of experience under his belt to add veteran leadership and help develop the young Joel Anthony.
Haslem really struggled last year, though, shooting 7.1 percent below his career field goal average of 49.4 percent. He also saw the least amount of minutes since his rookie season, with only 24.8 minutes per night.
Even his shot attempts were at an all-time low with only 5.6 shots put up per game. Still, if Haslem can step up and play as well as he did from 2004 to 2010, the Heat have a lot of depth up front in case Chris Bosh gets in foul trouble.
Ray Allen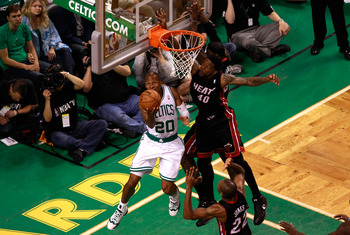 Ray Allen said if you can't beat 'em, join 'em.
Jared Wickerham/Getty Images
Last season was the worst for Ray Allen since his rookie year. Yes, he has 16 years under his belt and is now 37 years old, but I believe Allen has a lot left in the tank and can still provide very valuable contributions to a Heat team that can use some outside shooting.
Despite his scoring and field goal attempts dipping in 2011-12, Allen still shot an outstanding 45.3 percent from behind the arc, only further displaying the pure shooting that has rendered him the all-time NBA leader in three point shots made. Add this to the fact he shoots 91.5 percent from the line, and Allen will likely see a lot of crunch-time minutes to help the Heat close out close games.
Allen scored in double figures in all but game one of the seven-game series against the Heat in the Eastern Conference Finals, but shot under 45 percent from the floor in five of the seven games. He must remain healthy this year to maximize the talent that has made him a 10-time NBA All-Star.
Keep Reading

Miami Heat: Like this team?