2012 NFL Preview Part 1: The NFL Beasts of the NFL Easts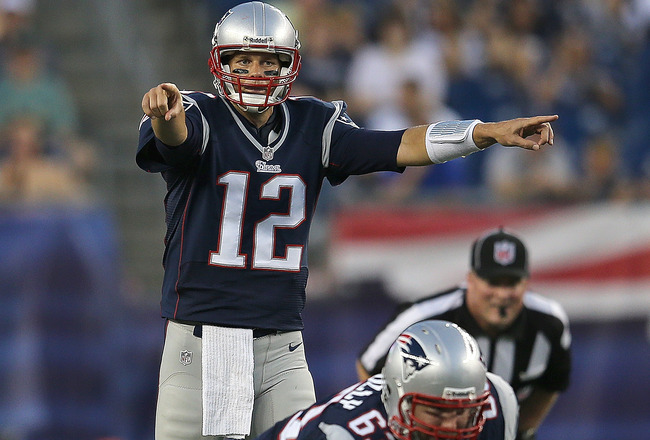 Jim Rogash/Getty Images
You know what sucks? You spend months and months preparing. You pour blood, sweat and tears into it. You are cleverer and wiser than every person on the planet. And then Maurice Jones-Drew and his inflated ego effectively ruins your fantasy season before it starts. Four days ago I thought I was getting a steal. Now I feel like he's never going to play again.
But at least it puts things in perspective. Does Maurice Jones-Drew care about fantasy football? Or my dreams? Obviously not. And neither does any other professional athlete. Stop kidding yourself, and remember that Tom Brady is owned by at least 5 million other people on the planet. You aren't his only suitor. What a floozy, right?
It's supposed to be about the actual football, about winning and losing, about the coveted Lombardi trophy.
With that in mind, I direct my attention to the real NFL season. And praise be to Tebow, it's only a week away! We better get started if we are going to cover all eight divisions and all 32 teams.
Brace yourself...
No really, brace yourself.
AFC East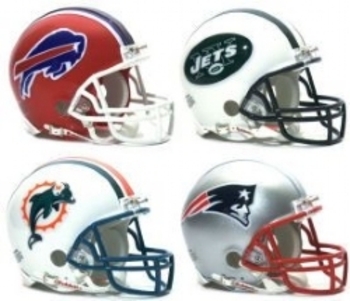 Last year, the New England Patriots clinched the division some time around preseason Week 3. They finished 13-3, with the Jets a distant second at 8-8. Apart from that fluky game against Buffalo, the Patriots faced almost no resistance, as they mercilessly stomped their "competition."
Buffalo came out hot in 2011. They went 4-1, edging New England in a crazy game in Week 3. But then, all of a sudden, Ryan Fitzpatrick remembered he was Ryan Fitzpatrick. The Bills dropped nine of their last 11 games, conceding nearly 28 points per game in those losses.
Running back Fred Jackson, who was on pace for 1,500 yards, went down to injury, and wideout Stevie Johnson was nowhere to be found (unless you were looking on my fantasy bench). Nobody circles the wagons like the Buffalo Bills. Because nobody else sets them on fire and crashes them into each other.
The Dolphins faced a completely different situation. Miami jousted with Indianapolis in the "Suck for Luck" competition all the way through Week 8. At that point, both teams remained winless and it appeared they would go down to the wire.
But then, all of a sudden Matt Moore forgot he was Matt Moore. The Dolphins started crushing people. First it was Kansas City, 31-3. Then it was Buffalo, 35-8. And Oakland, 34-14. They went 6-3 down the stretch, but obviously were so hampered by their poor start that they never held any playoff hope.
After reaching the AFC Championship game in 2009 and 2010, the Jets failed to make the playoffs last year. Mark Sanchez (who again, has been to TWO AFC CHAMPIONSHIP GAMES) at times looked just less than abysmal. I don't even know what to call it: He had only three games with over 300 passing yards, and only four games in which he didn't throw an interception.
They also saw a massive decline in their patented run game. Shonn Greene only notched two 100-yard games, and fell far below his expectations...again. Despite this, the Jets inexplicably sat at 8-5 with three games remaining. They promptly blew all three games and threw away a wild card spot.
Now, it is unusual for a division to be so lopsided (ignore the NFC North and West from last year, just humor me). The Patriots constantly stand atop the mountain, true. But I don't expect the margin to be five games again in 2012.
I expect it to be 6.
1. New England Patriots (13-3)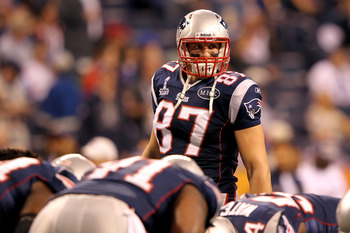 Jamie Squire/Getty Images
Besides the fact that the Patriots have been the favorites every year for the last decade, their schedule isn't quite what you would expect from a team that went 13-3 last season. I expect their division rivals to be just as horrendous, and they get to play 2011 division champions in Denver, Houston and San Francisco, all of whom I expect to decline.
Even throwing in a couple of slip-ups, I can't bring myself to give them less than 13 wins. Where in their schedule would you find a fourth loss? Arizona? Indianapolis? Jacksonville? It's pretty slim pickings.
Expect another easy breeze to the division crown for New England. And, as always, expect big things from Brady. Especially with new toy Brandon Lloyd.
2. Miami Dolphins (7-9)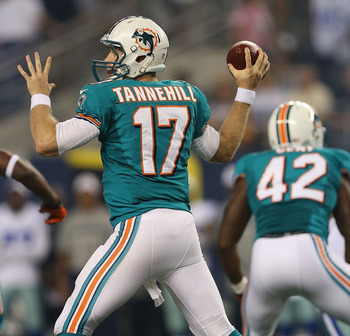 Ronald Martinez/Getty Images
Look, I don't dislike the Dolphins. I think they're cute, a fun team to watch. I think Reggie Bush is a legitimate NFL player. But he's about the only one I can think of who plays in Miami. Ryan Tannehill was just announced as the starter for Week 1, which is only frightening when you realize that the Dolphins don't actually have a wide receiver on the roster.
It is going to be one messy offense, I'll tell you that. But the defense is better than people think it is, or at least has the potential to be. They are great against the run and have a strong nucleus of players, headlined by Cameron Wake and Karlos Dansby, who could coalesce into a staunch unit in coming years.
With all that being said, it will be tough for the Dolphins to break even this year. Even with their schedule being as easy as it is, I'm not sure that they are better than half the competition. Matt Moore would inspire me to give them a few extra wins perhaps, but Ryan Tannehill invokes nothing in me. Not yet at least.
3. Buffalo Bills (7-9)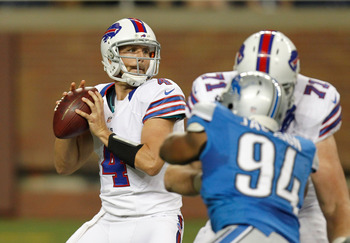 Gregory Shamus/Getty Images
Here are a couple things I know about Buffalo. First, Ryan Fitzpatrick is not worth $59 million for six years, ever. Under no circumstances is that acceptable. Secondly, Fred Jackson is a fine running back, but he will not run for 1,500 yards. Lastly, their defensive front seven could be something special (they certainly spent enough money on it this offseason) but the secondary seems to bring down the overall value of that defense.
The Bills will really need to focus on getting quick pressure on opposing quarterbacks to stand a chance. I guess Mario Williams is good at stuff like that. Their offense isn't going to put up a lot of points, I'm not sure that Fitzpatrick knows how to score, to be honest. So they have to stretch games out, keep the ball on the ground and in their possession. If the Bills can keep games close, they could pull a couple out at the end.
But I don't think they will.
Just like the Dolphins, 8-8 seems like a lofty goal for them.
4. New York Jets (5-11)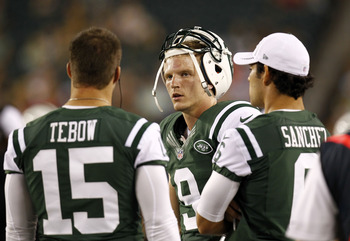 Jeff Zelevansky/Getty Images
This might seem harsh when you first see it. But think about it, is it so crazy to think the Jets will find themselves in the 2012 basement? I've done the math. I've gone through the schedule. I've watched Mark Sanchez and Tim Tebow. Honestly, five wins might be too many for them.
Here's my theory:
First, Mark Sanchez is thrown out there for the start of the season. He has to face Pittsburgh, San Francisco and Houston in three of the first five games. Admittedly, I do expect these teams to regress this year, but on the offensive side of the ball. These are arguably three of the best five defenses in football.
My faith in Mark Sanchez is running out quickly, and I wouldn't be shocked by a 1-4 start.
Next, the raucous fans start calling for Tebow, or Rex Ryan's massive head. Finally, the Jets coaching staff obliges, and they put Tebow in the game. Here is the part where I need you to listen closely. I promise you, I swear to you, nothing I'm about to say comes from bitterness or anger. It has absolutely zero percent to do with my personal feelings: Tim Tebow is not going to handle it well.
The Jets have worse players around the quarterback spot than Denver did, if you can even believe that. And remember, at this point, they haven't even played the Patriots once yet!
You hope that they can pick up wins against St. Louis, Arizona and Jacksonville, but I'm not even sure of that anymore. Following the second game against New England (which I assume will be a loss), the Jets will be lucky to have three or four wins.
As the season unravels, and the Jets fall far out of playoff contention, Rex Ryan's seat begins to get very toasty. You can keep putting Tebow out there but he's not going to get any help.
Mark Sanchez's career is effectively over. Shonn Greene will probably be cut. The defense will quit on the coaching staff (doesn't that sound like an all too likely possibility?). Everything snowballs and Rex Ryan is axed by season's end.
I am not saying that the Jets are a truly terrible team. They aren't the Jaguars. I just think that, after last season, they are standing on the very edge of a cliff, and it wouldn't take much to send them tumbling over the edge.
NFC East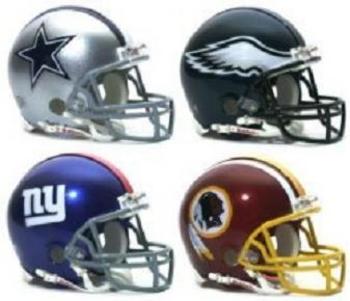 For all the things we say about the powerful NFC East, the best team in it last season was 9-7. You may say that all four teams underachieved, and I would agree with you wholeheartedly. Yes, even the lowly Redskins were better than their 5-11 record would dictate. They actually had something going before Mike Shanahan unleashed John Beck onto the world.
The Giants were by no means the best team in football. They were really a decent team, who stepped up when it mattered (mainly in weeks 14 and 17 in games against Dallas). One wrong move and they don't even make the playoffs. Not exactly the epitome of dominance.
If you want to see "dominance," look at what the Eagles did in their last four games. If there was a more impressive span in any team's 2011 season, I would love to see it. More than anyone else, their 8-8 record is a sign of a wasted season. With the overflowing pool of talent they have, they should have easily controlled that weak division. By my count, it will not be so weak this year.
I don't know what to say about the Cowboys. They are flip-floppier than John Kerry with a waffle iron. You don't know what you're going to get from them, but we all keep waiting for the season where they put it all together. Could this be the one?
Let's take a look inside.
1. Philadelphia Eagles (12-4)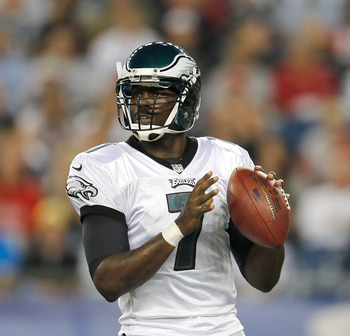 Jim Rogash/Getty Images
It has to be the Eagles, right? I mean, I only know what I saw, people. I don't know that I necessarily believe that their struggles last season were due to the lockout, that they never had the chance to mesh as a team. I believe it's possible, but I'm not convinced.
If Vick stays healthy (I will concede that this is a big "if") why are they not the best team in this division? Or the whole conference? Or the whole NFL? LeSean McCoy has proven himself. DeSean Jackson has proven himself (on the field). And besides, how cool is it that they have a LeSean and a DeSean? All we need now is JeSean Godfrey signed to a contract with Philly (real person, look it up. I don't play around).
But it's not just the offense. In Week 14, the Eagles recorded nine sacks against Miami. Nine! Overall, they tied for the league lead with 50. Plus, they held opponents to under 20 points in each of the last four games. In every loss last year, they allowed at least 21 points (they allowed over 30 five times). With that explosive offense, 20 points is nothing.
If anyone is going to rise above this cluttered group, it will be the Eagles. They are electrifying. They are so much fun to watch. We need them in the playoffs. Trust me. It'll be awesome.
2. Dallas Cowboys (10-6)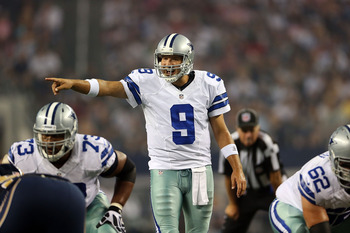 Ronald Martinez/Getty Images
The Cowboys are so talented, but they can't seem to avoid shooting themselves in the foot. Tony Romo has a real feel for game-shattering interceptions, and it seems stupid, but don't Dallas kickers lose at least two games a season with missed chip shots or extra points?
It is so strange to watch a team pulverize an opponent, drive up and down the field for three quarters, and then complete collapse with a 17-point lead. You know they have it in them, but you aren't sure where it goes. It's like the third season of "Lost."
I get the feeling that little Dezzy Bryant is about ready to explode... in a good way. And while I'm not sure DeMarco Murray is worth my second-round pick in fantasy, he definitely has the raw talent, as we saw last year.
They have addressed the glaring problem in their defense, that being the secondary. They picked up LSU star Morris Claiborne at No. 6 in this year's draft. If they can just improve their pass defense a little bit, they are going to wreak havoc on offense with that deadly front seven.
Watch for the Cowboys in the crowded NFC wild card chase.
3. New York Giants (8-8)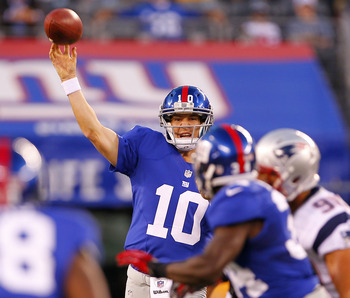 Rich Schultz/Getty Images
You would think that I would have learned my lesson by now: Don't underestimate the Giants. I know, I know. But this can't keep happening. They just aren't that good.
Considering that they were only 9-7 last year, 8-8 isn't as ludicrous as it seems. Have you looked at their schedule? It is hellish. Not only are they in a division with the Eagles and Cowboys (and the plucky Redskins) they won the division last year, so they get to play San Francisco and Green Bay (as opposed to the Eagles who, because they finished second, will play Arizona and Detroit).
Even if they split home and home with the Eagles and Cowboys, it is going to be tough for them to keep their heads above water. Ahmad Bradshaw needs to have a big year on the ground, and the receiving corps will have to pick up the slack left behind by Mario Manningham (who was a more important factor in that passing game than you thought he was).
I won't be surprised if the Giants are hanging around at the end of the season. They could be mathematically alive in Week 17, but I will be surprised if the Giants survive this season long enough to defend their title in the playoffs.
4. Washington Redskins (4-12)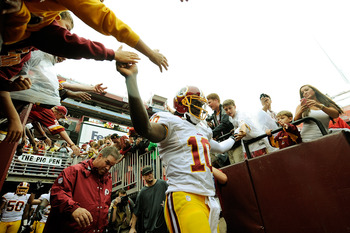 Patrick McDermott/Getty Images
I don't know if he's ever going to be a great quarterback, but I'm rooting for the kid.
This season is not going to be pretty in Washington. What is the best case scenario? RGIII does his best Cam Newton impression? Cam won six games. Do you expect him to be better than Cam Newton? Now you're just being ridiculous.
The Redskins have a lot of other problems to address, but they have taken steps in the right direction. Their division is stacked beyond belief, and it is very unlikely that the Redskins can hang with the rest. But keep an eye on Griffin and his progress. Hopefully they give him a chance. Hopefully they don't overreact to the mistakes, the pick 6's, the overthrows. Hopefully, they build a team around him.
This isn't the season Skins fans, but it's coming.
Coming Soon... Real Soon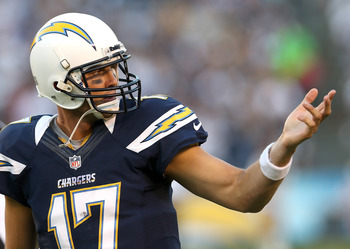 Stephen Dunn/Getty Images
Check back tomorrow, yes I said tomorrow, for part 2: the wests.
Keep Reading