Bucs vs. Redskins: Tampa Bay's Biggest Winners, Losers from Preseason Week 4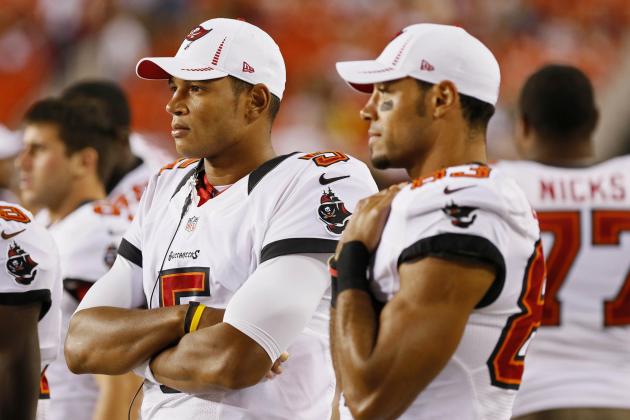 Geoff Burke-US PRESSWIRE

Ouch.
Anytime you are outscored 10-1 in anything at all, it stings.
But when you play as badly as the Buccaneers did Wednesday night against the Washington Redskins, it leaves a bruise that lingers for weeks on end.
Pretty much any one who has followed the Bucs throughout the preseason can tell you that while the starters have played well, the seconds, thirds and reserves have been mediocre at their best, with very few bright spots showing up in the back end of the depth chart.
This game revealed just how bad the situation is with the backup players.
There were some positives, sure, but they were few and far between.
Let's take a look at the biggest winners and losers from Tampa Bay's fourth and final preseason match of the year.
Begin Slideshow

»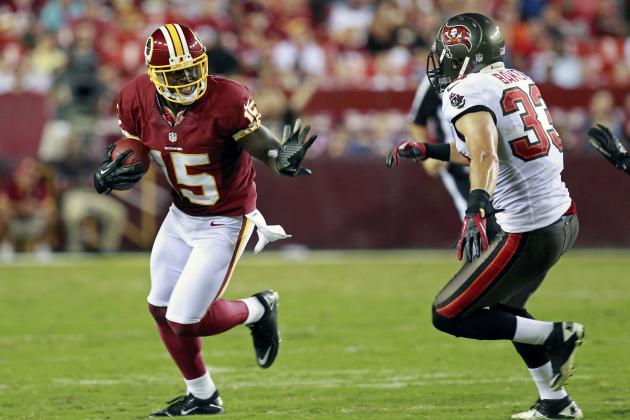 Geoff Burke-US PRESSWIRE

Well, he certainly came out of nowhere.
Sean Baker, the little-known UDFA out of Ball State, was among the only defensive players to make a positive impact on the Bucs' side. He recorded six total tackles and caught two interceptions, displaying great awareness for a guy who hasn't been on the field too much during the preseason. Two of the tackles Baker made were touchdown-saving stops.
I also forgot to mention his fumble recovery.
His chances of making the final roster have increased exponentially, as he outplayed both Keith Tandy and Cody Grimm, two safeties who he was in direct competition with for a chance to stay on the team as a fifth safety (assuming Ronde Barber, Mark Barron, Ahmad Black and Larry Asante aren't cut or traded.)
At the very least, Baker will make the practice squad.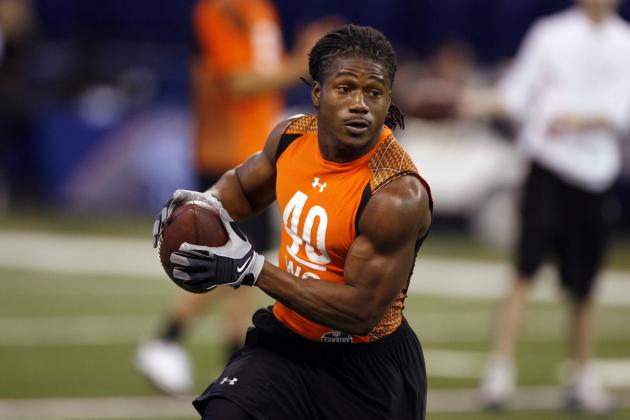 Brian Spurlock-US PRESSWIRE

This might be nitpicking, but I count James Rodgers as a loser on account of performance in the game.
The second-year man blew a few coverages, including a 47-yard deep streak from Kirk Cousins to receiver Brandon Banks.
He needed a great game to jump over Leonard Johnson and Myron Lewis on the depth chart, and unfortunately, he failed to put a great game together.
He's still candidate for the practice squad, though.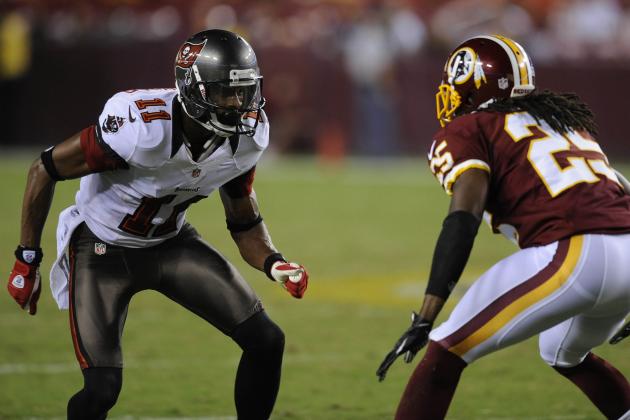 Rafael Suanes-US PRESSWIRE

If Tiquan Underwood doesn't make the 53-man roster, I'll have to assume that he did something incredibly antagonistic that would force Greg Schiano cut him, something like not putting his toes on the line, because there's no way Underwood's on-field play hasn't merited him making the final cut.
After opening the preseason, with a three-catch, 76-yard outing, Underwood seemingly took the next two games off so he could let everyone else catch up.
Apparently bored of that act of charity, the Rutgers product exploded against the Redskins, generating six receptions for 82 yards and also returning a kick for 39 yards. Those six catches were three times as many as any other Buc had in the game.
Underwood has had a fabulous offseason and ended it in the best possible way.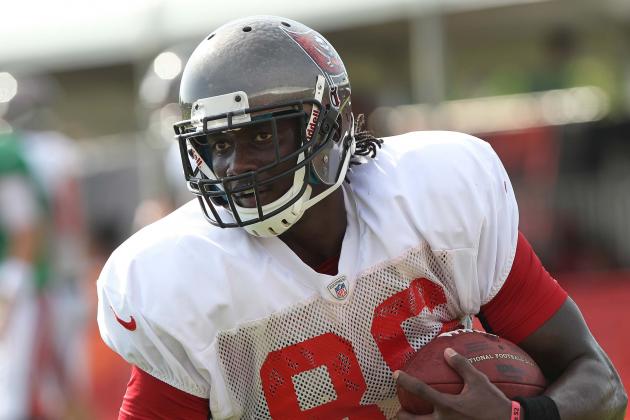 Kim Klement-US PRESSWIRE

Danny Noble, an undrafted rookie tight end out of Toledo, impressed in training camp and the early parts of the preseason with his talent as a receiver. At times it looked like he would make the 53-man roster as the third tight end, leapfrogging over veteran Zach Pianalto and seventh-round draft selection Drake Dunsmore on the depth chart.
His chances may have dried up, though, as Pianalto played much better in this last preseason game.
Noble struggled mightily in the blocking department, where Pianalto shines. In addition, Noble only caught one pass for one yard, and on another target, he was undercut by a defender for an interception. Pianalto caught one pass as well, but his went for 14 yards.
Yes, Noble still can make the final roster, but his chances are substantially decreased.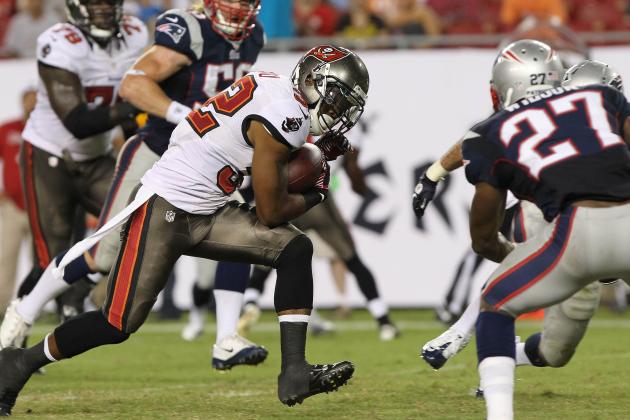 Kim Klement-US PRESSWIRE

Mossis Madu didn't get many chances to show his stuff, but when he did, he made it count.
It wasn't until the Bucs' final drive that the offensive actually opened up holes for Madu to run through, and even then, it only happened twice.
But Madu made those limited opportunities, knocking off two runs of nine and eight yards, respectively.
It should be also stated that he was also a strong blocker throughout the entirety of the game
Though Madu didn't surpass Michael Smith on the depth chart, he made a great case for Tampa to keep four running backs on the roster.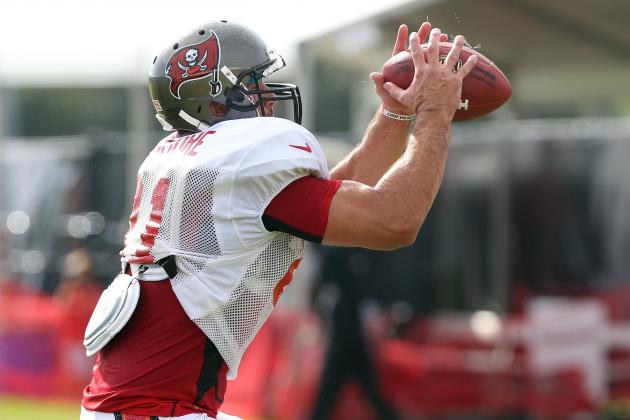 Kim Klement-US PRESSWIRE

While fellow rookie tight end Danny Noble might not have done particularly well, Drake Dunsmore did virtually nothing.
I remember seeing him blocking on the first drive, but after that, I do not recall seeing No. 81 make another appearance on the field.
Dunsmore was near the bottom of the depth chart, and unless the Bucs were just trying to hide his talents from opposing coaches by limiting his snap count, it doesn't appear that he will make the 53-man roster.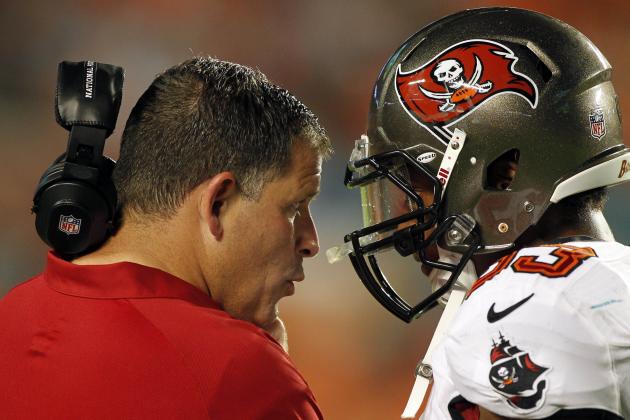 Robert Mayer-US PRESSWIRE

This was probably the last stand of both linebacker Najee Goode and safety Keith Tandy.
Up to this game, neither of the former roommates from West Virginia had stood out in the preseason and both were competing int hotly-contested positional battles.
Yet they both shone in the last game of the preseason and may actually have shots of making the final roster.
Goode's stat line of two solo tackles and one assist reads as fairly pedestrian, but he displayed good coverage skills throughout the match and seemed know his limitations when taking on run-blockers much better than he had in the past, which helped the defense as a whole. He provided some really good end zone coverage on Niles Paul, forcing the Redskins to kick their second field goal of the night.
Tandy, on the other hand, put up stats that looked better than his actual performance. The box score of four solo tackles and five assists may look impressive, but the defensive back missed a few tackles that he probably should have made. Still, his coverage wasn't bad.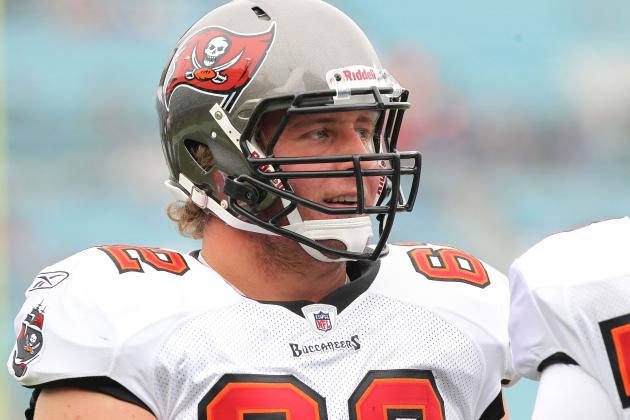 Kim Klement-US PRESSWIRE

Yes, that's right.
The entire offensive line counts as a loser from what we saw Wednesday night.
Including the starters.
Had guard Davin Joseph not been knocked out for the whole of the 2012 NFL season with a knee injury, everything O-line-related would not just be fine, but dandy as well.
But Murphy's Law is a very real and very cruel force of nature that refused to leave the Bucs be.
The Redskins game was something of an audition for the Bucs' interior lineman, to see who would fill the two-time Pro Bowler's spot at right guard. The top candidates for the position were Ted Larsen, Jamon Meredith and Derek Hardman.
Not one of the three performed to the level expected of a NFL starter.
The offensive line was a mess as a whole. It allowed Brett Ratliff to be sack five times, struggled with blitz pickups and consistently failed to overpower the defensive line to create running lanes. The net effect of this abysmal run blocking was a team-wide 1.8 yards per carry average.
At this point, Mark Dominik and Greg Schiano should seriously be considered filling the vacancy with an outside hire.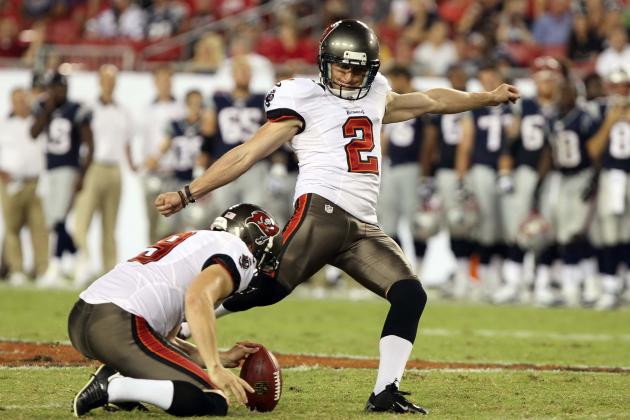 Kim Klement-US PRESSWIRE

There is no reason why Kai Forbath can't be a starting kicker in the NFL.
It just won't be on the Bucs, though.
The former UCLA placekicker spent his rookie season on the injured reserve and was waived by the Cowboys, his 2011 team, shortly before the 2012 draft. He was picked up by the Bucs the very next day.
In the preseason, Forbath has played just as good as Connor Barth, Tampa Bay's incumbent kicker, who is frequently recognized as one of the league's best. He hasn't missed a field goal in five attempts, two of which were for over 50 yards.
Forbath won't make the roster over Barth, as I've pointed out previously, so he will most likely end up on another team.
With the tape he has put together over the preseason, Forbath will get long looks from just about every franchise without an elite kicker.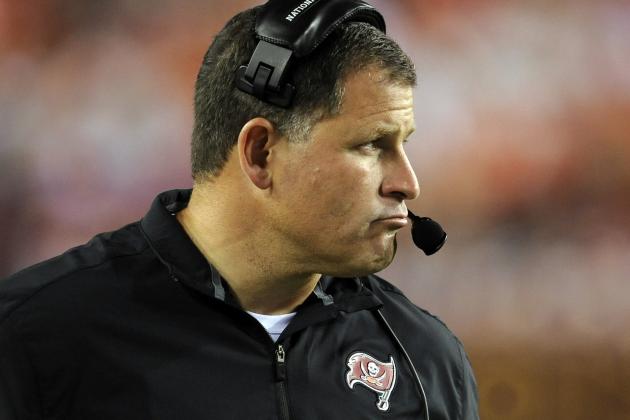 Rafael Suanes-US PRESSWIRE

Sorry, Bucs fans, but I think our playoff hopes have all but evaporated.
Without roster-wide depth, it is fairly close to impossible to succeed in the NFL. Injuries to starters cannot be avoided. Just ask the 2011 Houston Texans.
No one can say that the players on either sideline did not play their best football in this game. These guys are not millionaires who can take plays offer drop easy catches to avoid big hits. These were the guys fighting for their careers, their livelihoods.
And unfortunately, the men on the Tampa Bay side did not play well at all. They were outmatched on both offense and defense. The trouble with the rushing offense has already been discussed, but the real killer was the defense.
The Bucs allowed 228 rushing yards and three touchdowns on the ground. The pass defense may actually have been worse, though, as Tampa gave up an average 8.0 yards per pass attempt, with no recorded sacks.
If any more key starters wind up on the injured reserve, the season pretty much ends there.