Tottenham Hotspur: Recent History of Post-Summer Transfer Window Form
Emmanuel Adebayor made an immediate impact upon signing on loan for Spurs this time last year. Can he and his fellow new arrivals kick start their campaign this time around?
Jamie McDonald/Getty Images
Though not all have expressed it publicly (like Wigan Athletic's Roberto Martinez recently did), you would expect most Premier League managers agree their jobs would be simpler if the summer transfer window closed prior to the beginning of the season.
The reality is that it doesn't, and up until the end of August, most clubs are involved in negotiations to buy or sell players (or fend off advances from others for players they don't want to leave), all of which have implications for the present and the future.
For Tottenham Hotspur, their penchant for getting deals done late in the window has had considerable impact (both good and bad) in recent years on their form in the opening months of the season.
Have any precedents been set that are especially pertinent to Andre Villas-Boas and his side this time around?
Read on and make your own judgment...
2011/12: Late, but Smart Signings Help End Spurs' Poor Start to the Season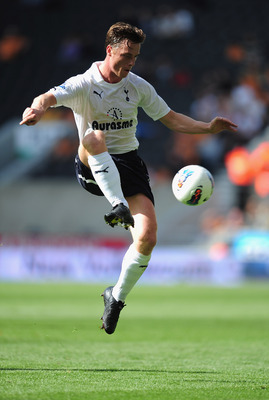 Scott Parker makes his Tottenham debut in a 2-0 away win at Wolves, 10 September 2011.
Jamie McDonald/Getty Images
Deals for Scott Parker and Emmanuel Adebayor had been mooted throughout the summer of 2011, but Harry Redknapp finally got his men in the last few days of August.
Tottenham had endured a difficult start to the campaign, with their opener against Everton postponed before they lost two in a row against Manchester United and Manchester City.
Those would be two difficult games regardless of other circumstances, but with Luka Modric still unsettled after advances from Chelsea and Redknapp's primary targets not fully signed on yet, Spurs were being undone by the uncertainty of the transfer window.
Looking back now, it is intriguing to wonder how Spurs may have begun in those first three games had their business affairs all been settled for the summer (and of course, had riots not intervened).
They dropped only one point in their next 11 games, and then followed up the subsequent loss to Stoke City with a seven-game unbeaten run.
The fact was, this was still a very good Spurs side. A side coming off two full seasons under Redknapp's stewardship that had seen it finish in the top four and embark on its first Champions League campaign in nearly fifty years.
So improvements, rather than an overhaul, were the order of the day.
What Adebayor and Parker (in addition to Brad Friedel, who had joined much earlier) now brought to the team immediately showed in the first game back, following the close of the window (and an international break added some distance too), a 2-0 win away at Wolverhampton Wanderers.
The dynamism that would quickly endear Parker to Tottenham fans was obvious straight away, even combining with Adebayor to assist the latter for the opening goal.
The Togo striker was an altogether more versatile proposition than the departing Peter Crouch.
Big and physical, but not so much as to be an inadvertently stifling figure, as Crouch had increasingly become as his teammates used his height as an easy excuse to hit long balls forward.
As already described, Spurs enjoyed a strong first half of the season.
One of their problems later on was they did not alter their squad as intelligently, as they had here, to improve any further in the final run-in.
2010/11: Solid Start for Spurs as Van Der Vaart Adds Some Continental Class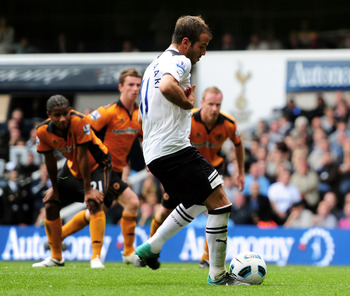 Rafael van der Vaart scores on his home debut against Wolverhampton Wanderers.
Mike Hewitt/Getty Images
Tottenham again left it until late August (you'll notice a theme developing here) to bring in new additions to the squad, though compared to what would occur a year later, it is harder to discern whether this had any impact on how they started.
A draw (0-0, Man City), a win (2-1, away at Stoke) and a loss (1-0 to Wigan Athletic) came before the window closed, while afterwards they were similarly inconsistent in the Premier League before a brighter run began in November.
Even with the promise of Champions League football, it had proven difficult to acquire the top-level talent to make them a formidable presence both there and on the domestic front, but in the end, a couple of such signings were secured.
Rafael van der Vaart was a Daniel Levy engineered coup in the final hours of the window, and one that would reap immediate benefits as he scored and starred in some great results throughout the autumn.
Less urgently required, but still an useful addition, William Gallas arrived on a free transfer to add some major European experience to the defence.
The Dutchman could definitely be regarded as a top talent (one whose positive outweighs the negative, make no mistake), but his arrival did bring with it tactical issues as Redknapp tried to find the best line-up to accommodate him.
That uncertainty as to what was his best (or most effective) team for each competition did slightly undermine any attempts for consistency.
Points that probably should have been won were dropped, which undoubtedly contributed to Spurs' failure to qualify again for the Champions League.
2009/10: After a Tough September, a Settled Spurs Soon Flourish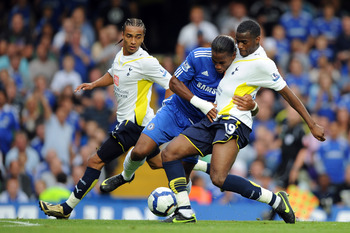 Sebastien Bassong's signing was secured prior to the start of the season, giving him some time to adjust to his new club.
Shaun Botterill/Getty Images
Ironically, in one season when most of Tottenham's transfer dealings had been done before the start of the season, they suffered their worst immediate post-window form...relatively speaking anyway.
These were losses to Manchester United at White Hart Lane, and then Chelsea away, two fixtures in which Spurs have notoriously fared poorly.
Coming off four straight wins in August, however, it could have been worse.
Peter Crouch and Sebastien Bassong had already signed, and with Wilson Palacios, Jermain Defoe and (to a lesser extent) Robbie Keane having (re)joined the previous January, Redknapp had been able to begin his first season proper at Spurs off the back of a pretty quiet summer.
The only late-arrival was Niko Kranjcar, and the Croatian was an enhancement rather than a necessity.
That settled August undoubtedly reaped benefits in those opening few months, giving them a solid foundation of points, form and confidence on which Spurs built a campaign that ultimately resulted in a fourth-place finish.
You only have to look at what happened a year prior to this to know the importance of getting wins under your belt as soon as possible.
2008/09: An Ill-Advised Overhaul of the Squad Leaves Spurs Weak and in-Balanced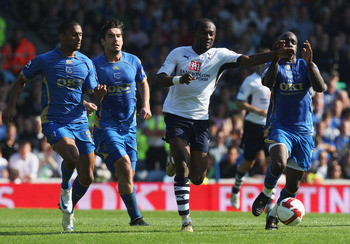 Didier Zokora in action against Portsmouth during Spurs' terrible run.
Hamish Blair/Getty Images
Tottenham Hotspur's worst start to a season in the Premier League era (no wins in eight games up until the end of October) was not one most had anticipated, but looking back it is not hard to see how it happened.
It is understandable new managers want to shape squads to their own liking and philosophy, but Juande Ramos (with the aid of sporting director Damien Comolli) unnecessarily dismantled too much of the squad that had carried Spurs to two fifth-place finishes and a League Cup victory.
Ramos had been at the club since October of the previous year, so he had time to evaluate the players he had inherited.
But even understanding the necessity of making some room for new arrivals (in particular Luka Modric and David Bentley), the decision to let go so many hard-working and popular pillars of the squad like Steed Malbranque, Teemu Tainio and Paul Robinson seemed hasty.
It made for a grand rebuilding job that undermined things at a crucial time when Spurs needed consistency as they faced the departure of two of their best players.
While Robbie Keane was sold fairly swiftly to Liverpool in July, the departure of Dimitar Berbatov to Manchester United was prolonged until the final hours of transfer deadline day as Daniel Levy sought to get as much money as possible for the Bulgarian.
That he certainly did, but even with the recruitment in attack of Roman Pavlyuchenko and Frazier Campbell (on loan, part of the Berbatov deal), Spurs were an injury or two from being lightweight in the position, and crucially were not a settled side.
What should not be underplayed in their awful start to the season was Ramos' failure to establish an effective working relationship with his players, a difficulty exacerbated by his poor English.
But even affording for this, the damage they did to themselves in allowing the club to begin the season with just one proven striker in English football and a midfield left wanting for balance and industry was inexcusable.
Back to the Present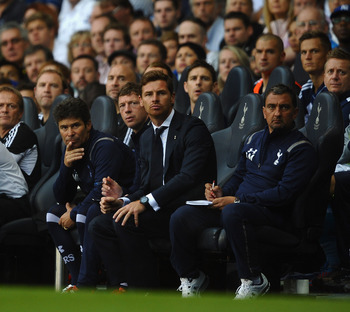 Andre Villas-Boas on the White Hart Lane bench during their 1-1 draw with West Bromwich Albion.
Laurence Griffiths/Getty Images
Andre Villas-Boas is one of three Tottenham managers in the past 20 years to not have been appointed during the season (the others being Ossie Ardiles in 1993 and Jacques Santini in 2004).
Unlike Ramos and Redknapp, or even Martin Jol, Glenn Hoddle or George Graham before that, he has not come in midway through a job, but has begun his tenure with that of the preseason of a new campaign.
Over the course of the seasons revisited here, objectives and challenges have stood out that Spurs' most recent managers faced in relation to transfers and their squads, ones that bare resemblance to the challenges Villas-Boas faces now.
Draw what comparisons you wish, and judge for yourselves if they are of any value.
What was most intriguing, and a little concerning from a Tottenham perspective, are the parallels to be found with Ramos' sole experience around the time of the window closing.
Villas-Boas too has had to deal with the protracted departure of one of his club's best players, though Modric's move to Real Madrid is not as damaging as Berbatov's was to Man United with good midfield options remaining.
Up-front there has been a paucity of forwards. While the permanent signing of Adebayor has helped somewhat, it will be interesting to see how Spurs do without him or Defoe for any substantial period of time (from the perspective of: if the goals dry up, there will be no experienced alternatives, numbers-wise only one is needed for the system the manager is currently using).
At the time of writing, Spurs are still said to be engaged in pursuit of new signings, even after the arrival of Mousa Dembele, something Villas-Boas would ideally have avoided as he attempts to implement his own ideas and shapes his squad.
The baffling rejection of Michael Dawson even feels a little familiar to the way Ramos treated some of the established players back then (perhaps even more so as Spurs look to find leadership in the wake of Ledley King's departure).
And as of right now, his side is still without its first win.
Two games in is not a major concern, but depending on the result against Norwich City, it raises the prospect of Spurs going into next week's international break feeling quite confident of their prospects or suffering from what will be increasing pressure from a football world that will quickly identify a manager in the hot-seat.
No team can ever truly be in perfect working-order for the start of a season, it takes competitive games and that sometimes means teething problems, especially if you're still in the process of confirming personnel.
Tottenham are a better team in many respects than they were four years ago, so their current form shouldn't be a problem, but they should caution against unsubstantiated confidence or the troubles of the transfer window will seem paltry in comparison to what they will face.
Keep Reading

Tottenham Hotspur: Like this team?