Tim Tebow vs. Mark Sanchez: Latest Buzz and Opinion on Jets' Dynamic Duo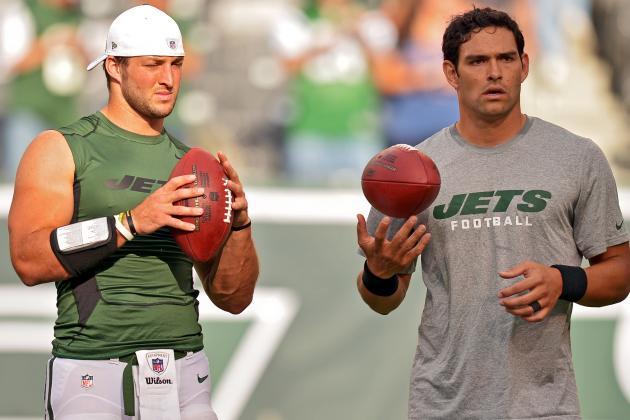 Drew Hallowell/Getty Images
New York Jets quarterbacks Mark Sanchez and Tim Tebow.
In case you live under a rock and haven't heard, the New York Jets acquired Tim Tebow this offseason by trading a fifth-round draft pick to the Denver Broncos. It can be argued whether this move was made for football purposes, or for Gang Green's incessant need to be under the media spotlight.
Regardless, for the deal to pay dividends on the field, the team is going to have to find an effective way to use him.
Though Tebow undoubtedly brings a new dimension to a Jets offense that has been stagnant throughout the preseason, the move is still perplexing on multiple levels. Not only do the Jets already have a young, developing quarterback in Mark Sanchez, but Tebow's 46.5 completion percentage in 2011 ranked last among NFL starting quarterbacks. He was ranked 28th in quarterback rating, coming in at a measly 72.9.
At perhaps the most important position on the gridiron, the Jets have created a quarterback competition between two players who have looked painstakingly inept in new offensive coordinator Tony Sparano's system. The team still swears by Sanchez as the starter, but in this league and in this city, things change virtually overnight.
Let's take a look at a few quarterback attributes and decide who has the advantage as the team prepares for the regular season.
Begin Slideshow

»
Let's start off by saying neither of these players has elite arm strength.
No general manager, scout, coach or player will mistake Sanchez or Tebow for Aaron Rodgers or Tom Brady. When it comes to NFL quarterbacks, Sanchez and Tebow are undoubtedly in the lower-echelon in terms of passing talent.
That being said, Tebow has the arm strength to make every throw that an NFL quarterback needs to make, while Sanchez does not.
Skip to the one-minute mark in the video above. Tebow runs a play-action pass and throws a 33-yard rocket into double coverage to Brandon Lloyd in the end zone. However, if you account for Tebow's drop and that the ball was caught at the back pylon, this pass was actually thrown more than 50 yards.
Although the throw was ill-advised, it takes a considerable amount of arm strength to throw the ball that far with that kind of velocity. Tebow has several deficiencies in his game, but arm strength is not one of them.
On the other hand, Sanchez has problems doing anything but throwing anything other than short passes over the middle of the field. His limited arm strength restricts the plays the Jets can run, which has more than likely been a major contributing factor to the Jets' noted offensive woes the past few seasons.
Better Arm Strength: Tebow
Accuracy is what separates good NFL quarterbacks from great ones. The ability to fit the ball into painfully tight windows is perhaps the most coveted skill that scouts look for in young prospects. While neither Tebow nor Sanchez has ever been heralded for his accuracy, there is a significant talent gap between the two in this category.
Tebow's dismal 46.5 completion percentage in 2011 means one of two things. Either he is the least accurate quarterback in the NFL or the poorest decision-maker. If you watched the tape on the previous slide, you probably realize that it's a combination of both.
Not only does Tebow's skill set keep an offense back from being successful, but his inexperience causes him to make reckless decisions throwing the ball.
On the other hand, Sanchez has the ability to make plays over the middle of the field. As stated in the video above, Sanchez thrives on seam routes and slipping the ball down the field in between the coverages.
At times, his arm strength can inhibit the success of the offense. However, Sanchez can be lethal if he makes the correct read.
Better Accuracy: Sanchez
Obviously, Tebow is, by far, more mobile than Sanchez. Although the Jets' poor offensive line play in 2011 did force Sanchez to become slightly more agile, ebow's ability to make plays while scrambling outside of the pocket is perhaps the only thing keeping him in the NFL.
That said, defensive coordinators have become more privy to Tebow's tendencies. In the video above, we see the Carolina Panthers push the pocket to Tebow's left, and even stunt with a defensive end, while opening up the entire right side of the field for Tebow.
As Tebow rolls right, he is presented with two options. He could either run for a marginal gain or throw across his body and into coverage. Although he probably should have tucked the ball and run, he elects to float the ball up for an easy interception.
Forcing mobile quarterbacks to roll out to their off-hand side is not a new strategy. The New York Giants have been using that method to contain Michael Vick for years. Not only does it limit a quarterback's receiving options, it also cuts the field in half and allows less room to scramble.
This was a designed play by the Panthers. Not only did they force Tebow to his off-hand side, but they rolled their coverage to the right in order to come up with the interception. In fact, by the time the ball is picked off, there are five Panthers in the frame waiting for the ball.
This was a brilliant play by Carolina, and Tebow will undoubtedly see it again this season. It should be interesting to see how adjusts his decision-making the next time around.
Better Mobility: Tebow
Tebow was sacked 24 times in just 12 starts for the Denver Broncos in 2011. Obviously, poor pass protection was a problem. With that, Tebow's mobility causes team's to blitz more, which results in him being brought down in the pocket more than most other quarterbacks.
However, a good quarterback knows how to either get rid of the ball quickly or throw it away and live to fight another play. Tebow has repeatedly shown an inability to avoid pressure, which puts his team in too many long down-and-distance situations. He needs to vastly improve in this area in order to see time as a starting quarterback.
Sanchez also has his issues in the pocket as well. Not only does he have a tendency to hold the ball for too long, but he is one of the worst quarterbacks in the league under pressure. In fact, while under pressure in 2011, Sanchez completed a mere 36.1 percent of his passes for a meager 3.4 yards per attempt. Obviously, those are unacceptable statistics that must be improved upon in 2012.
It's difficult to say who excels more in this area. Both players have major deficiencies. However, Sanchez at least had the ability to get the ball out of his hands and avoid a sack. While he does not complete most of those passes, it keeps the down-and-distance in a manageable range.
Better Pocket Awareness: Sanchez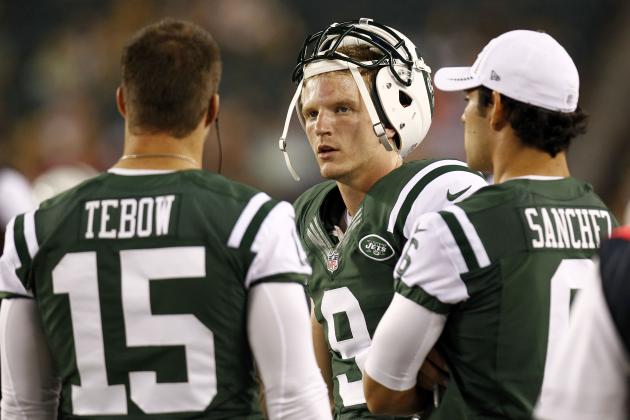 Jeff Zelevansky/Getty Images
New York Jets' quarterbacks Mark Sanchez and Tim Tebow.
Unfortunately for the New York Jets, their quarterback play will only go as far as the offensive line allows. Neither Sanchez nor Tebow has the ability play effectively behind a poor offensive line.
With the departure of Wayne Hunter, the Jets may well see an improvement in their offensive line performance in 2012.
If Sanchez is allowed time to throw in the pocket, he has the ability to become a successful NFL quarterback. In fact, despite intense media scrutiny, Sanchez had his best statistical season last year. He is the best all-around quarterback on Gang Green's roster, and he deserves the opportunity to further develop throughout the course of the upcoming season.
However, if the Jets' poor offensive line play continues, Tebow could be the best option behind center. In this scenario, Sanchez's 3.4 yards per attempt under pressure would not be helping anyone. Putting a more mobile quarterback into the game could help address those issues. That being said, the Jets are going nowhere if the offensive line underperforms.
Sanchez has been to two AFC Championship games. He has proven he can win in the NFL. Obviously, he has several areas of weakness and has serious room for improvement in almost all aspects of his game.
That said, he has emerged as a leader both on and off the field, and for what the Jets gave up to draft him, Sanchez should be the starter for the duration of Gang Green's 2012 campaign.
Better Overall Quarterback: Sanchez